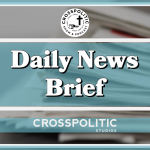 This is Toby Sumpter with your CrossPolitic Daily News Brief for Friday, March 5, 2021.
Today you will hear about Republicans failing to deny the premise "" and we're not sure if they are capable of denying any premise the Democrats bring "" and that's why the Democrats win and the Republicans lose over and over and over. And that's why Climate Shut Downs are not just right wing conspiracies anymore. And given all of that, we finish with Psalm-like Hymn for the day.
Have you registered for the Fight Laugh Feast Rally in Rapid City, South Dakota, April 29, 30, May 1? Gov. Kristi Noem was the only Governor in the Union not to overstep her authority. We want to support her and we want to encourage you wherever you are. Many churches are not meeting, many Christians feel alone. But you're not alone. So the theme of the Rally in South Dakota is Love God, Sing Psalms, Defy Tyrants. Come hear talks from Pastor Doug Wilson, Ben Merkle, Steve Deace, Sheriff Daryl Wheeler from Bonner County, Idaho, myself "" and hot off the presses, Pastor Joe Boot will be smuggled out of the Canadian tundra and will also be speaking at the Rally. Gather with likeminded Christians who love freedom, confess Jesus Christ is Lord over all, and be equipped to stand firm in these insane days. Go to flfnetwork dot com forward slash rally and register today. Remember if you're a Fight Laugh Feast Club Member, you get a $100 off your registration.
Remember: If you have a news story you think we might need to cover, please send articles and links to [email protected] and DeftWire.com
Republicans Need to Stop Accepting the Premise
https://www.youtube.com/watch?v=Krf0Cm-FKro
Remember that clip of Rand Paul questioning Dr. Levine last week?
Play Audio: 0:45-1:22
I really do appreciate Rand Paul's questioning, but as I noted on the Sunday Special this last week, the one thing that none of the Republican questioners did (that I'm aware of) was to deny the whole premise "" why are we questioning a man in a dress about health care at all? Period. Full Stop. Would you question the President of the KKK for a Racial Reconciliation position?
Why are we even asking a man in a dress about standards of health care? Republicans needed to come out swinging, but instead they actually weakened their own arguments by not denying the premise "" that a man in a dress could even give reasonable answers. If the Democrats nominated a Chimpanzee for Secretary of Defense, would the Republicans calmly ask the Chimpanzee about his foreign policy?
But this is not just an isolated problem. It's also happening with the COVID situation. And our friend Daniel Horowitz helps connect some of the dots. So, first the latest Viagra Spending Bill.
Senate Democrats Advance Viagra Spending Bill
https://www.wsj.com/articles/democrats-prepare-to-advance-covid-19-aid-bill-11614877012?mod=hp_lead_pos6
WSJ: Senate Democrats advanced a $1.9 trillion coronavirus relief package Thursday after making a series of adjustments related to student loans, infrastructure and other matters, with approval in the chamber expected within days.
Republicans can't block Democrats from passing the legislation, but they are planning to drag out the timeline. Sen. Ron Johnson (R., Wis.) forced Senate staff to read the 628-page bill aloud, which is expected to take several hours. After the reading, the Senate will conduct hours of debate and a blitz of amendment votes known as "vote-a-rama."
All 50 Democrats stuck together on the procedural vote, confirming that the party has coalesced around the broad relief package, while all 50 Republicans were opposed. Vice President Kamala Harris broke the tie in Democrats' favor.
The legislation would send a $1,400 direct check to many Americans, provide $350 billion to state and local governments, fund vaccine distribution, and expand the child tax credit, among other measures.
Democrats are using a legislative procedure called reconciliation that allows them to approve the legislation with a simple majority in the Senate, aiming to approve the legislation before forms of federal unemployment aid expire on March 14.
Republicans Need to Stop Accepting the Premise
https://www.theblaze.com/op-ed/horowitz-a-covid-stimulus-bill-that-republicans-should-push
Our Hero Horowitz: [Republicans] continue agreeing to the false premise that the way to treat COVID is with masks, contact tracing, massive dependency-inducing handouts, and shutdowns"¦ Republicans already passed two massive "stimulus" bills that flushed trillions of dollars into a lockdown by enabling governors and mayors to destroy people's lives without having to pay for it. Which is why, if you listen carefully to their objections to this third bill, they are extremely tangential and are only aimed at some of the extraneous earmarks for construction projects in some states.
Well, as a conservative, I will tell you, I'd take 100 Cuomo tunnel earmarks any day over spending trillions subsidizing the education cartel and blue states and the tracing and spying on Americans. Yet Republicans have spent all their time fighting against transit and bridge funding, but agreeing to the fundamental premise that we need trillions of dollars to treat COVID and that the way to do so is with these ritualistic and tyrannical mandates.
For example, House Minority Leader Kevin McCarthy railed against the "non-COVID waste in this bill." But that waste, as insidious as it is, only represents a fraction of the price tag. It's the "COVID" funding and the policies undergirding it that are the problem. Democrats are already agreeing to remove those minor expenditures anyway. Unfortunately, Senate Minority Leader Mitch McConnell praised the fact that Congress "passed five COVID-19 rescue packages" as "the largest peacetime fiscal expansion in American history … because both parties had shaped the bills together and they met Americans' urgent needs." He only cared about the fact that this bill is more partisan.
How about we end the shutdown and fund the cheap, efficacious protocols for prophylaxis and early treatment "" and actually solve the problem? To that end, a GOP that actually believes in freedom, health, science, prosperity, and the Constitution would create the following opposing legislative package:
End all COVID mandates: Using Section 5 of the 14th Amendment, Congress should declare that all COVID restrictions violate the privileges and immunities of citizens and are hereby suspended. They have not worked and have only brought pain to the country. That is the ultimate stimulus. Anything short of that would ensure that yet another $2 trillion goes towards stimulating shutdown and misery rather than freedom and growth.
Make ivermectin and hydroxychloroquine available over the counter: It's time to dispel the lie that there is no cure to this virus, absent expensive vaccines and ineffective drugs like Remdesivir. There are several proven protocols for both early stage use and prophylaxis, where a regimen of hydroxychloroquine or ivermectin mixed with other cheap supplementals completely cures the virus without hospitalization. India is doing this for $2.65 a person, rather than $1,500 checks being spent on nothingness. A World Health Organization meta-analysis found that ivermectin reduced fatalities by 75%. All 42 studies conducted on ivermectin use in COVID patients, half of which have been peer-reviewed, have found positive effects, including an 89% reduction in disease severity as a prophylaxis and even a 51% improvement in late stage treatment. The average of 214 studies on hydroxychloroquine show 65% improvement in early stage use. Despite the ironclad evidence behind their efficacy, people cannot get these medicines without a prescription, and many doctors will not prescribe them early on, nor will hospitals use them as part of an intermediate stage protocol. Anyone who opposes right to try is condemning many people to needless death by having the virus trigger super infections and cytokine storm, in which the options for treatment are very limited.
Mail out packets of supplementals to every family: Rather than spending trillions of dollars locking down people (and then subsidizing the fallout) who will get the virus anyway and then offer no treatment, why not build people up to take control over their own health and freedom? This virus has brought forth a wealth of research showing that vitamin D, vitamin C, quercetin, and zincwork great against this and other viruses as prophylactics. A pair of randomized controlled trials in Spain found a reduction in ICU admission among patients receiving high doses of vitamin D by 96% and 80% respectively. A Spanish study of zinc in COVID patients also found a 130% higher death rate among those COVID patients hospitalized with low zinc levels. In addition, there is evidence behind the efficacy of melatonin and aspirin and several other cheap drugs being used at early stages. If everyone were given such a kit, we'd see a reduction in all sorts of viruses, again, for a fraction of the cost.
Cancel all taxation and major regulations on small businesses for five years:
Such a plan would build up the citizenry rather than lock them down. It would empower them to remain healthy and defeat this virus rather than make them victim to helplessness and a death trap of expensive and ineffective treatments out of their hands. It would save lives from lockdown and COVID. However, that would short-circuit both the tyrannical politicians and their crony allies in big business. With power to seize and money to make, who in Washington is interested in saving lives?
Climate-COVID Lockdowns Every Two Years?
https://disrn.com/news/new-report-calls-for-covid-scale-economic-lockdowns-every-2-years-to-slow-climate-peril
A new report in the journal Nature Climate Change recommends governments consider imposing pandemic-scaled lockdowns on their populations every two years in order to decrease carbon emissions.
The report noted that the global arrest of economic activity stemming from COVID-19 stay-at-home orders caused carbon emissions to drop dramatically. In order to meet the aggressive goals set forth in the Paris Climate Agreement, the authors suggest similarly designed economic shutdowns may be the only option.
"Carbon emissions fell by about 2.6"‰billion metric tons in 2020 or roughly a 7% drop from the previous year, a historic decrease," the report states before noting, "further drops in carbon output "" 1 to 2 billion metric tons per year "" are needed for global emissions to meet the safe worldwide temperature range defined by the Paris Agreement to dodge the effects of climate change."
The report notes that even if such bi-annual lockdowns were enacted, more would still be required. It suggests that "structural changes" like an international abandonment of fossil fuels, coupled with the economic shutdowns, could close the gap.
This is why we have to question the premise. Climate Change is a dude in a dress.
Psalm of the Day: On Christ the Solid Rock
https://www.youtube.com/watch?v=uPSh6ywRzfk
Play Audio 0:00-1:30
You can listen to the whole setting at ChristKirk.com/Music-Library/
Where is your hope? Is it in the blood and righteousness of Jesus? Despite the storms, does your anchor hold within the veil? Then you stand on Christ the Solid Rock. Christ is the rock for your marriage, your family, your business, your church, your nation, your future. If you stand on Christ, you cannot be moved. You cannot fall. There is only His goodness, His blessing, His glory, now and forever.
This is Toby Sumpter with Crosspolitic News. You can find this and all of our shows at Crosspolitic.com or on our app, which you can download at your favorite app store, just search "Fight Laugh Feast" . Support Rowdy Christian media, and share this show or become a Fight Laugh Feast Club Member. Remember to sign up for the Fight Laugh Feast Rally. Go to FLFNetwork.com/Rally. Have a great day.