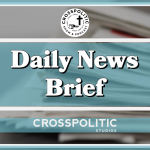 Louisiana prolife bill, Rand Paul, Baby Formula, and guns
…and more on today's CrossPolitic Daily News Brief. My name is Toby Sumpter and today is Friday, May 6, 2022.
We are just days away from the last stop of our CrossPolitic Liberty Tour in Phoenix, Arizona. I would love to meet you in person in Phoenix, on May 19th. I will be joined by Chocolate Knox, the Gabe Rench the Water Boy, Pastor Jeff Durbin of Apologia Church, and Political analyst Delano Squires, who's made appearances on the Blaze, and the Tucker Carlson show. Tickets are only $20, and we'll be talking about the Five Stones of True Liberty. Sign up now at crosspolitic.com/libertytour.
https://www.dailywire.com/news/republican-led-louisiana-house-fails-to-pass-bill-abolishing-abortion
Ben Zeisloft at the DailyWire reports: Members of the Louisiana House of Representatives failed to pass a bill that would have abolished abortion by applying homicide laws to women who procure the procedure.
The Abolition of Abortion in Louisiana Act (HB813) — which has gained national and international media attention — recognizes "the right to life and equal protection of the laws to all unborn children from the moment of fertilization by protecting them by the same laws protecting other human beings." Accordingly, it applied state laws about homicide to children in the womb.
Last week, lawmakers on the Louisiana House's criminal justice committee approved the bill by a 7 to 2 vote. However, after legislators approved an amendment on Thursday stating that "the pregnant female shall not be held responsible for the criminal consequences" of seeking an abortion by a 65 to 26 vote, State Rep. Danny McCormick — the Republican who sponsored HB813 — asked to pull the bill from the House floor.
Louisiana Right to Life announced its opposition to HB813 ahead of the House vote because it applied criminal penalties to mothers who procure abortion. Likewise, Governor John Bel Edwards (D-LA) — remarking that his "Catholic Christian faith" teaches him to be pro-life — followed suit in opposing the legislation. "I felt I had to join my voice to the chorus of pro-life organizations against HB813," he said in a statement.
Pro-life activist Abby Johnson recently condemned Louisiana Right to Life for opposing HB813. "Either the preborn are fully human or they aren't," she saidon Twitter. "When abortion is illegal, people must pay the penalty for killing their children. These children deserve justice."
Replying to Edwards' opposition to the bill, Johnson said, "Well, well, well. Look how many pro-aborts you have made happy!!"
Brian Gunter — the senior pastor of First Baptist Church in Livingston, Louisiana, who was instrumental in organizing other Christians in the state to support the legislation — told The Daily Wire that Edwards "believes there are no circumstances under which a woman should be held accountable if she knowingly and intentionally kills her preborn child."
"HB813 protects a woman who is coerced into an abortion and prosecutes the person who forces her to have an abortion," he said of the bill in its original form. "If Governor Edwards believes the preborn child is just as much a person as the born child, then it is absurd for him to suggest that the preborn child should be discriminated against and denied equal protection under law. No one should be allowed to murder preborn children without consequences."
Last week, Gunter remarked to The Daily Wire that Louisiana's current pro-life trigger law — the "The Human Life Protection Act" — only penalizes abortionists with $1,000 fines, even though animal cruelty is fined at up to $25,000 in Louisiana.
https://thehill.com/news/senate/3486654-rand-paul-objection-delays-40-billion-ukraine-aid-package/
Sen. Rand Paul (R-Ky.) hit the brakes Thursday on bipartisan hopes that the Senate could quickly pass nearly $40 billion in Ukraine aid before leaving town for the week.
Paul objected to a deal offered by Senate Majority Leader Charles Schumer(D-N.Y.) and Minority Leader Mitch McConnell (R-Ky.) that would have set up votes on Thursday afternoon on the funding and on an amendment from Paul, who wanted to include language in the bill to expand an Afghanistan inspector general role to include oversight of the Ukraine funds.
Paul blocked the votes because he wants his language inserted into the text of the bill instead of having to take his chance with an amendment vote, which could be blocked. The stalemate will delay the Senate's passage of the Ukraine package until at least next week, and potentially beyond.
"There is now only one thing holding us back, the junior senator from Kentucky is preventing swift passage of Ukraine aid because he wants to add, at the last minute, his own changes directly into the bill … He is not even asking for an amendment. He is simply saying my way or the highway," Schumer said.
"Ukraine is not asking us to fight this war. They're only asking for the resources they need to defend themselves against this deranged invasion, and they need help right now," McConnell said.
Paul, however, warned about the pace of spending, arguing that "we cannot save Ukraine by dooming the U.S. economy."
"Americans are feeling the pain [from inflation] and Congress seems intent only on adding to that pain by shoveling more money out the door as fast as they can," Paul said.
Did you know that more than 75% of those raised in evangelical, Presbyterian, and Reformed churches don't pursue any kind of Christian higher education? Surprising isn't it. Cornerstone Work & Worldview Institute is seeking to provide a new, exciting, and affordable option for Christians.
Their mission is to build Kingdom culture in the workplace by equipping their students in a Trinitarian worldview and vocational competencies. Their low-cost full-time program offers integrative course modules, internships, and mentoring so their students can finish debt-free with vocational preparation, a robust faith, and financial potential to build strong godly families and homes rooted in their communities and churches long-term.
Visit their website at www.cornerstonework.org to find out more about enrolling.
https://www.theatlantic.com/ideas/archive/2022/05/baby-formula-shortage-abbott-recall/629828/
Derek Thompson at The Atlantic:
America's baby-formula shortage has gone from curious inconvenience to full-blown national crisis.
In many states, including Texas and Tennessee, more than half of formula is sold out in stores. Nationwide, 40 percent of formula is out of stock—a twentyfold increase since the first half of 2021. As parents have started to stockpile formula, retailers such as Walgreens, CVS, and Target have all moved to limit purchases.
Three factors are driving the U.S. baby-formula shortage: bacteria, a virus, and a trade policy.
First, the bacteria. After the recent deaths of at least two infants from a rare infection, the Food and Drug Administration investigated Abbott, a major producer of infant formula, and discovered traces of the pathogen Cronobacter sakazakii in a Michigan plant. As a result, the FDA recalled several brands of formula, and parents were advised to not buy or use some formula tied to the plant.
That brings us to the second cause: the virus. The pandemic has snarled all sorts of supply chains, but I can't think of a market it's yanked around more than infant formula. "During the spring of 2020, formula sales rocketed upwards as people stockpiled formula just like they stockpiled toilet paper," Lyman Stone, the director of research at the consulting firm Demographic Intelligence, told me. Then, as "families worked through their stockpiles, sales fell a lot. This oscillation made planning for production extremely difficult. It was complicated to get an idea of the actual market size." Meanwhile, Stone's research has found that an uptick in births in early 2022 has corresponded with a "very dramatic decline in rates of breastfeeding" among new mothers, which pushed up demand for formula once again.
In brief: Demand for formula surged as parents hoarded in 2020; then demand fell, leading suppliers to cut back production through 2021; and now, with more new mothers demanding more formula in 2022, orders are surging faster than supply is recovering.
Finally, the third factor: America's regulatory and trade policy. And while that might not sound as interesting to most people as bacteria and viruses, it might be the most important part of the story.
FDA regulation of formula is so stringent that most of the stuff that comes out of Europe is illegal to buy here due to technicalities like labeling requirements. Nevertheless, one study found that many European formulas meet the FDA nutritional guidelines—and, in some ways, might even be better than American formula, because the European Union bans certain sugars, such as corn syrup, and requires formulas to have a higher share of lactose.
Some parents who don't care about the FDA's imprimatur try to circumvent regulations by ordering formula from Europe through third-party vendors. But U.S. customs agents have been known to seize shipments at the border.
U.S. policy also restricts the importation of formula that does meet FDA requirements. At high volumes, the tax on formula imports can exceed 17 percent. And under President Donald Trump, the U.S. entered into a new North American trade agreement that actively discourages formula imports from our largest trading partner, Canada.
America's formula policy warps the industry in one more way. The Department of Agriculture has a special group called WIC—short for Special Supplemental Nutrition Program for Women, Infants, and Children—that provides a variety of services to pregnant and breastfeeding women and their young children. It is also the largest purchaser of infant formula in the United States, awarding contracts to a small number of approved formula companies. As a result, the U.S. baby formula industry is minuscule, by design. A 2011 analysis by USDA reported that three companies accounted for practically all U.S. formula sales: Abbott, Mead Johnson, and Gerber.
Look, it can be a real blessing to have baby formula for any number of legitimate reasons, but in general, there's a God-given supply of baby formula ordinarily available through breast milk. Remember, we slaughter babies by the millions through abortion. This shouldn't be a crisis. If women embraced motherhood, if men embraced fatherhood, if sex was reserved for the covenant of marriage, and if our culture celebrated the motherhood as the highest calling of a woman, sure it would be a blessing to have alternative nutrition in unusual circumstances, but if women were not so concerned about getting back to work, we wouldn't be in this situation.
Lies, Propaganda, Story Telling, and the Serrated Edge DNB:
This year our national conference is in Knoxville, TN October 6th-8th. The theme of this year's conference is Lies, Propaganda, Storytelling and the Serrated Edge. Satan is the father of lies, and the mother of those lies is a government who has rejected God. We have especially been lied to these last two years, and the COVIDpanic has been one of the central mechanisms that our government has used to lie to us and to grab more power. Because Christians have not been reading their bibles, we are susceptible to lies and weak in our ability to fight these lies. God has given us His word to fight Satan and his lies, and we need to recover all of God's word, its serrated edge and all. Mark your calendars for October 6th-8th, as we fight, laugh and feast with fellowship, beer and Psalms, our amazing lineup of speakers, hanging with our awesome vendors, meeting new friends, and more. Early bird tickets will be available starting in the middle of March. Go to FLFNetwork.com and click on "Come to the Conference."
https://notthebee.com/article/a-federal-court-just-ruled-that-californias-under-21-prohibition-on-semiautomatic-firearms-is-unconstitutional-and-the-court-cited-the-revolutionary-war-as-precedent-
California's ban on semiautomatic weapons sales to adults under 21 was ruled unconstitutional by a federal appeals court on Wednesday…
The court agreed in a 2-1 decision with the argument of the Firearms Policy Coalition, which brought the case challenging the law that took effect last July, saying it infringed on the Second Amendment rights of adults between the ages of 18 and 20…
"America would not exist without the heroism of the young adults who fought and died in our Revolutionary Army," Judge Ryan Nelson wrote for the appeals court.
"Today we reaffirm that our Constitution still protects the right that enabled their sacrifice: the right of young adults to keep and bear arms."
The Psalm of the Day: Psalm 72
https://open.spotify.com/track/3tJNqzPNBKzIag3yQnLqG0?si=6b841d37db2141ba
0:00-0:43
Amen!
This is Toby Sumpter with CrossPolitic News. Remember you can always find the links to our news stories and these psalms at crosspolitic dot com – just click on the daily news brief and follow the links. Or find them on our App: just search "Fight Laugh Feast" in your favorite app store and never miss a show. If this content is helpful to you, would you please consider becoming a Fight Laugh Feast Club Member? We are building a cancel-proof Christian media platform, and we can't do it without your help. Join today and get a $100 discount at the Fight Laugh Feast conference in Knoxville, TN Oct. 6-8, and have a great day.