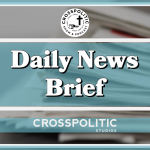 This is Gabriel Rench with your CrossPolitic Daily News Brief for Friday, May 14, 2021.
Have you signed up for our Magazine? Next issue ships in early June. Our magazine is a quarterly, mini-book-like experience that includes the best of authors and topics for a theological roundhouse kick to the face of our cultural gods. Read your magazine like you drink your scotch, and let the kick warm your belly. We don't water down our theology, why would we water down our scotch? Annual subscriptions are $60 – that's for four issues. So sign up and enjoy our Fight Laugh Feast theme park.
Colonial Pipeline reportedly paid $5M to hackers:
https://www.bloomberg.com/news/articles/2021-05-13/colonial-pipeline-paid-hackers-nearly-5-million-in-ransom?srnd=premium
Knox brought this story to our attention on Monday and Tuesday's Daily News brief, and look at us keeping you updated.
"Colonial Pipeline Co. paid nearly $5 million to Eastern European hackers on Friday, contradicting reports earlier this week that the company had no intention of paying an extortion fee to help restore the country's largest fuel pipeline, according to two people familiar with the transaction."
Colonial Pipeline Said to Pay Ransom to Hackers Who Caused Shutdown
https://www.wsj.com/articles/colonial-pipeline-expects-to-fully-restore-service-thursday-following-cyberattack-11620917499?st=x5h1zrjmulsr7e9&reflink=article_imessage_share
"The company, which estimates that it provides 45% of the East Coast's fuel, shut down the pipeline last Friday after being hit by a ransomware attack. U.S. officials and cybersecurity experts have linked the attack to a Russian-speaking criminal gang known as DarkSide, believed to be based in Eastern Europe.
DarkSide, which has said it has broken into networks on more than 80 companies dating back to August 2020, claims to be an experienced team of ransomware creators that previously made millions of dollars infecting victim networks.
DarkSide also claims to engage in extortion, threatening to publicly publish data belonging to its victims if they don't pay the ransom. The hackers have said they are willing to sell inside information about publicly traded companies if these companies refuse to meet their ransom demands.
Ransomware is a type of cyberattack that locks up a victim's computer systems and demands payment from a victim to have the files released. Payments are usually made with cryptocurrency.
Good news! People vaccinated against Covid-19 can go without masks indoors and outdoors, CDC says
https://www.cnn.com/2021/05/10/politics/hhs-transgender-healthcare-protections-biden-administration/index.html
Play video clip.
Play this clip and start at the 3:58min mark: https://www.breitbart.com/clips/2021/05/12/cdc-director-cant-give-data-showing-its-unsafe-for-vaccinated-people-to-unmask-says-guidance-will-be-updated-very-soon/
Biden Tweet regarding Uber and Lyft:
"We're working hard to ensure transportation is less of a barrier when it comes to getting a COVID-19 vaccine. And I'm excited to share that starting May 24th, Uber and Lyft will offer everyone in America free rides to vaccination sites."
Inflation Concerns Grow as Biden and the Democrats Don't Understand Basic Math
https://dailycaller.com/2021/05/12/joe-biden-spending-inflation-hidden-tax-everything-purchase-coronavirus/
According to the Daily Caller:
"President Joe Biden's relief package may not be the primary contributor to the rise in prices witnessed in recent weeks, experts say, his administration has proposed a $2.3 trillion American Jobs Plan and $1.8 trillion American Families Plan, which could pump an unprecedented $6.1 trillion into the economy in under two years."
But here is the thing. Within 12 months Congress passed $5T in stimulus packages. And this was because the government told you to stop working. Now math-ignoraumous Biden is proposing $6T in more spending this year. Here is how inflation works. Inflation is basically the result of having more dollars in the economy than goods. More cash to play with and fewer goods to purchase, price will inevitably go up. But what we have done this last year is self-inflicted inflation. The government told everybody to stop working, killing supply chains, and then the dumped a bunch of money into businesses they shutdown and into our bank accounts, and then add that to the long term unemployment benefits that everyone is getting to not go back to work, and we get the perfect formula for the spike in inflation we are seeing. It could be short term, but having the Biden economic incompetence in the drivers seat, I dont think it is going to be short term. Don't get me wrong, Republicans are to blame just as much as the Democrats in all this.
Closing
This is Gabriel Rench with Crosspolitic News. Support Rowdy Christian media by joining our club at fightlaughfeast.com, downloading our App, and head to our annual Fight Laugh Feast Conference next fall. With your partnership, together we will fight outdated and compromised media, engage news and politics with the gospel, and replace lies and darkness with truth and light. Go to fightlaughfeast.com to take all these actions. Have a great day. Lord bless