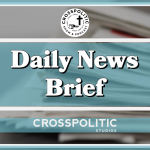 This is Garrison Hardie with your CrossPolitic Daily News Brief for Friday, May 19th, 2023.
Concordis Education Partners:
Classical Christian education has reminded us to aim education at truth, but the trivium has been used as a formula rather than a way of training students in discernment.
To teach well, you must coach.
Concordis Foundation is offering their third annual BOOT CAMP – a faculty summit – July 11-13th in Moscow, Idaho. This is a three-day intensive teaching training where you learn to coach students, using the trivium, so that you can meet students at all learning levels.
Learn more at concordispartners.com
https://hotair.com/john-s-2/2023/05/17/bryan-kohberger-indicted-by-grand-jury-in-killing-of-college-students-n551466
Bryan Kohberger indicted by grand jury in killing of college students
In order to continue to hold Kohberger prosecutors had two choices. They could go through a preliminary hearing where lawyers for both sides would spell out some of the evidence in the case or they could bring and indictment through a grand jury. Kohberger had been scheduled for a preliminary hearing in June but it appears prosecutors decided to take the other path and make the case to a grand jury in secret.
The prosecutors' decision to impanel a grand jury, however, was not anticipated and allows the state to avoid the week-long preliminary hearing that would have required it to present evidence before a judge as well as permit the defense counsel to cross-examine witnesses.
Since January, lawyers, police and other officials have refrained from making statements after Latah County Magistrate Judge Megan Marshall issued a gag order, which is being challenged by a coalition of news organizations…
Kohberger has yet to enter a plea, but is expected to do so at an arraignment Monday.
Kohberger will plead not guilty. He's potentially facing the death penalty and, possibly because he was a grad student studying criminology, may believe he can beat the system. However, there seems to be significant evidence linking him to the murders. The knife used in the murders has never been found but a sheath for what authorities believe was the murder weapon was left behind at the crime scene.
"The sheath was later processed and had 'Ka-Bar' 'USMC' and the United States Marine Corps eagle globe and anchor insignia stamped on the outside of it," Payne wrote. "The Idaho state lab later located a single source of male DNA (suspect Profile) left on the button snap of the knife sheath."
While police were investigation, Kohberger was driving home to Pennsylvania for winter break. Police got a DNA sample from the trash of the family home.
On Dec. 27, police collected garbage from outside the Kohberger home.
The evidence was sent to the Idaho State Lab for testing and a DNA profile was compared with DNA discovered on the knife sheath.
According to the affidavit, the DNA retrieved from the trash indicated a high probability it is from the biological father of the person who left DNA on the knife sheath at the crime scene in Moscow.
The other major evidence in the case is the cell phone data. It shows that Kohberger had been in the vicinity of the house where the murders took place at least 12 times in the months before the attack. It also showed that on the night of the killing, Kohberger left his home in Washington after midnight headed toward Idaho. Then his phone was switched off during the time of the killings. Then it was switched back on after the killings and showed him driving back from Idaho to Washington. And he made one more trip.
A few hours later, after 9 a.m. on Nov. 13, Kohberger traveled from Pullman to an area close to the crime scene and quickly returned home.
On top of all of that, one of the roommates saw the suspect leaving the house the night of the murders.
D.M. stated she opened her door for the third time after she heard the crying and saw a figure clad in black clothing and a mask that covered the person's mouth and nose walking towards her. D.M. described the figure as 5′ 10″ or taller, male, not very muscular, but athletically built with bushy eyebrows. The male walked past D.M. as she stood in a "frozen shock phase." The male walked towards the back sliding glass door. D.M. locked herself in her room after seeing the male. D.M. did not state that she recognized the male. This leads investigators to believe that the murderer left the scene.
What the case is lacking, at least so far, is any clear motive. It's still not clear whether Kohberger knew any of the victims or why though we do know that investigators have requested the social media information on the three female victims.
Search warrants recently executed by Idaho authorities demanded TikTok and Google hand over the user history dating back to January 2021 of three of the four victims: Madison Mogen, 21, Kaylee Goncalves, 21, and Xana Kernodle, 20…
Retired FBI agent Jennifer Coffindaffer said the warrants suggest police could be searching for a connection between Kohberger, 28, and his alleged victims that far pre-dates the murders.
We'll have to wait and see what those searches turned up. If Kohberger is arraigned Monday the judge will likely set his trial date at that time.
https://www.dailywire.com/news/ex-biden-nuclear-official-sam-brinton-arrested-as-fugitive-from-justice
Ex-Biden Nuclear Official Sam Brinton Arrested As 'Fugitive From Justice'
Sam Brinton, the "nonbinary" activist tapped by Joe Biden for a key nuclear role before he was fired for repeatedly stealing women's clothes, was arrested Wednesday night as a "fugitive from justice," The Daily Wire has learned.
Montgomery County, Maryland, police arrested him at his home on Wednesday, police logs show. He is currently in jail and being held without bond.
A neighbor told The Daily Wire that "four unmarked police showed up last night, they would not let his spouse Kevin leave. After about an hour Sam Brinton was escorted out in handcuffs."
Brinton is set to appear for a hearing before Judge Victor Del Pino on Thursday afternoon.
This is a breaking news story and will be updated.
https://www.theblaze.com/news/radical-us-rep-cori-bush-proposes-14-trillion-in-federal-reparations
Radical US Rep. Cori Bush proposes $14 trillion in federal reparations, says America has 'moral and legal obligation' to pay up 'for the enslavement of Africans
Far-left U.S. Rep. Cori Bush proposed $14 trillion in federal reparations Wednesday, saying America has a "moral and legal obligation" to pay up "for the enslavement of Africans."
National Public Radio characterized the Missouri Democrat's push as an "effort to see the federal government atone for the practice of chattel slavery and hundreds of years of racist policies that followed."
https://twitter.com/i/status/1659175389887864832 – Play Video
She added that "America must provide reparations if we desire a prosperous future for all," the outlet added.
"We know that we continue to live under slavery's vestiges. We know how slavery has perpetuated Jim Crow. We know how slavery's impacts live on today," Bush added, according to NPR, which also said she cited the racial wealth gap, voter suppression, infant mortality rates, and other negative health outcomes for black people.
More from NPR:
About three-quarters or more of white adults oppose reparations, and so do a majority of Latinos and Asian Americans.
Black Americans overwhelmingly support the proposal, and young people in general are more likely to support cash payments to the descendants of enslaved people than their older counterparts.
But more than 90 percent of Republicans say they oppose it, while Democrats are split nearly 50/50 on whether descendants should receive compensation.
Bush has been hard at work of late pushing leftist perspectives and policies:
She and U.S. Rep. Rashida Tlaib (D-Mich.) were the only two lawmakers who voted against a resolution Monday to honor law enforcement; this week is "Police Week."

Last month Bush suggested in a tweet that Republicans run on a platform that includes "white supremacy" and "gun violence."

In January, she angrily lashed out at black Republican Rep. Byron Donalds of Florida, calling him a "prop" for the GOP and and accusing him of backing a "policy agenda intent on upholding and perpetuating white supremacy."
https://www.breitbart.com/health/2023/05/17/poll-28-of-canadians-approve-of-assisted-suicide-for-homelessness/
Poll: 28% of Canadians Approve of 'Assisted Suicide' for Homelessness
Canada's National Post on Tuesday published the results of a poll that show nearly a third of Canadians believe assisted suicide should be offered to homeless people who are weary of their lives.
A fifth of the respondents said Medical Assistance in Dying (MAID) should be offered as an option to anyone, regardless of medical or psychological condition.
The poll, conducted by a public opinion firm called Research Co. founded by noted Canadian pollster Mario Canseco, looks like the rapidly approaching bottom of a slippery slope that began when Canada became one of the few countries to legalize assisted suicide for non-medical reasons in 2021.
A larger number of countries have legalized euthanasia and assisted suicide — similar but not identical procedures that vary based on how deeply a doctor is involved in the process — for people suffering from severe chronic pain or terminal illnesses. There is constant pressure to "liberalize" the procedure further with arguments that adults of sound mind should be able to request humane medically assisted death for any reason they see fit.
In some countries, the requirements for "sound mind" and even "adult" have been challenged. Belgium, for example, allows children of any age to request euthanasia if they have a terminal illness. In February, a Canadian parliamentary committee recommended expanding MAID to allow "mature minors" to request the procedure.
Canada lifted the requirement for adults to be suffering from a terminal illness in 2021, and in March 2023 it formally authorized euthanasia for people suffering from mental illnesses, although implementation of that change was pushed back to 2024 at the last minute.
Critics of the practice pointed to an explosion of suicides among Canadians as MAID was first destigmatized, and then actively promoted by doctors trained to bring euthanasia up in conversation with patients, rather than waiting for them to make the fateful request.
The ensuing surge of assisted suicides was remarkable, as the National Post reported: "While only 2,838 Canadians opted for assisted suicide in the first full year of legalized MAID, as of last count in 2021 that had risen to 10,064 – an increase of 32.4 per cent over just the year before."
When MAID was authorized for people with mental illness, skeptics predicted health officials would see it as a cost-effective method for cleaning out overcrowded clinics. Last August, a Canadian armed forces veteran suffering from post-traumatic stress disorder said he was offered medically assisted suicide by an employee from the Department of Veterans' Affairs even though he had never expressed any interest in dying.
MAID in Canada does not even require supervision by medical doctors, only nurse practitioners, and it is offered to prisoners, a measure even toddler-suicide Belgium balked at.
According to the Research Co. poll, 73 percent of Canadians are comfortable with the current state of MAID, and only 16 percent want to put restrictions back in place. The National Post noted a growing number of Canadians across all demographic lines believe assisted suicide should be liberalized even further:
Perhaps most strikingly, half of the poll respondents said they were untroubled by reports that people with severe illness are choosing MAID because they cannot obtain the medical treatment they need from Canada's overstressed socialized medical system. Over half, 51 percent, said they endorsed "inability to receive medical treatment" as a reason for requesting assisted suicide, which will come as grim news to MAID critics who thought killing patients because Canada is running out of medicine would be the last straw.
The only place Canada's enthusiasm for euthanasia appears to falter is the plan to offer MAID to people with mental illness, perhaps because securing legitimate consent from people who are not of sound mind is problematic.
Canadian Justice Minister David Lametti said MAID eligibility for the mentally ill was pushed back to March 2024 in order to "provide sufficient time to ensure our health care system fully protects those who may be vulnerable and supports autonomy and freedom of choice."
And now for the run down:
https://townhall.com/tipsheet/spencerbrown/2023/05/17/biden-considering-ban-on-chocolate-milk-in-schools-n2623260
As if President Joe Biden and his administration haven't already done enough to make life more difficult and usher in more hardship for the American people, his band of merry muck-ups are now setting their sights on school lunches and toying around with a ban on chocolate milk — as well as strawberry milk and other flavor alternatives — over concerns about added sugars.

Yes, the same administration that called it "outrageous" and "immoral" to prevent children from taking life-altering hormones to prevent puberty for the purpose of "transitioning" is worried that milk provided at school might have ill effects on their health.
https://townhall.com/tipsheet/rebeccadowns/2023/05/18/marjorie-taylor-greene-files-impeachment-articles-against-joe-biden-and-more-n2623423
Republicans are putting their money with their mouth is when it comes to holding President Joe Biden and his Cabinet accountable. On Thursday morning, Rep. Marjorie Taylor Greene (R-GA) announced that she was filing articles of impeachment against the president, but he's not the only one. She's also filed impeachment articles against FBI Director Christopher Wray, Attorney General Merrick Garland, Department of Homeland Security Secretary Alejandro Mayorkas, and U.S. Attorney Matthew, as part of what she is calling Impeachment Week.

During her press conference, the congresswoman referred to the Biden administration as "America last" and argued that it "has been working since January 20, 2021, to systemically destroy this country," specifically when it comes to how his handling of illegal immigration.
https://townhall.com/tipsheet/rebeccadowns/2023/05/17/nc-legislature-overrides-governors-veto-making-12-week-abortion-ban-law-n2623365
NC Legislature Overrides Gov. Cooper's Veto, Making 12-Week Abortion Ban the Law

In a post-Dobbs v. Jackson world, states are considering abortion legislation at an increasing rate. The latest includes North Carolina, where the state legislature on Tuesday night overrode a veto on a 12-week abortion ban from Gov. Roy Cooper (D-NC). North Carolina is a particularly interesting case as the state "experienced a greater spike in abortions than any other state" in the first two months after Dobbs fell, according to The Washington Post.

The new law, S.B. 20, the Care for Women, Children, and Families Act, also provides funding of foster care programs, as well as paid family leave and pregnancy resource centers. It's set to go into effect on July 1, 2023.

It was previously covered how the state legislature passed the bill earlier this month. While Cooper was expected to veto the bill, overriding his veto was likely but not necessarily certain. Republicans could only afford to lose one member. The bill was able to become law, though, thanks to members who refused to budge, including Rep. Tricia Cotham, who last month switched from the Democratic Party to the GOP, as Madeline also highlighted.