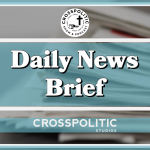 This is your CrossPolitic Daily News Brief for Friday, May 21, 2021. 
Huge thanks to everyone who attended and watched the Fight Laugh Feast Rally in Rapid City, South Dakota: all the talks were archived for Fight Laugh Feast Club Members in the club portal. Become a club member today so you don't miss any of them. And if you see some of the clips from the talks floating around on social media, don't forget to share them. That's a great way to share the love and encourage other folks to join.
We're already gearing up for the next conference back in Nashville: Sep. 9-11: the Politics of Sex. I hope many of you are planning to come. Registration will be opening soon.
Also, have you been following the Maricopa County ballot inspection recount? Well our friends down there need about 800 volunteers starting ASAP. This is very important for election integrity and for the future of our elections. I can't emphasis the importance of joining this effort enough. Please go to https://form.jotform.com/211226791828157 and fill out the form. Some volunteer positions require you to live in Maricopa County, other position do not. There are also a couple temporary paying positions that need to be filled. Regardless, fill out the form and put CrossPolitic in the referral text box.
And of course these efforts need your financial support, so go to https://fundtheaudit.com/ and give $25, $100, $500, or whatever you can. I know a lot of the leaders involved in this effort, and they are good Christian men. You money will be used by honest men for an honest audit.
California to pay $1.35M to settle Harvest Rock Church lawsuit against gathering restrictions
https://www.christianpost.com/news/calif-to-pay-135m-to-settle-churchs-lawsuit-over-covid-rules.html
"California will have to pay over $1 million in legal fees and attorney costs as part of a settlement reached with Harvest Rock Church over litigation surrounding the state's lockdown rules.
Last year, Harvest Rock and other ministries sued Gov. Gavin Newsom over a coronavirus pandemic lockdown order limiting the size and scope of worship gatherings they argued violated their religious freedom.
U.S. District Court Judge Jesus G. Bernal issued an order last week requiring the state to pay the plaintiffs $1.35 million in attorney's fees and legal costs incurred in the case.
The order also prohibited unfair treatment of houses of worship in emergency orders, explaining that the state government could "impose capacity or numerical restrictions on religious worship services and gatherings at places of worship that are either identical to, or at least as favorable as, the restrictions imposed on other similar gatherings of similar risk."
"This Order does not prohibit the State from issuing recommendations, best practices, precautions, or other measures, as long as such promulgations make clear to the public that they are voluntary and not enforceable," continued the order.
Liberty Counsel Chairman Mat Staver, whose legal nonprofit represented Harvest Rock, said in a statement released Monday that "Newsom has now been permanently quarantined and may not violate the First Amendment rights of churches and places of worship again."
"We are grateful for Pastor Ché Ahn, Harvest Rock Church, and Harvest International Ministry. Pastor Ahn's leadership and courage has toppled the tyranny and freed every pastor and church in California," he added.
Last July, Harvest Rock Church and Harvest International Ministry, which includes multiple member churches, filed legal challenges to California's gathering restrictions. A three-judge panel from the U.S. Court of Appeals for the Ninth Circuit ruled 2-1 against Harvest Rock last October, concluding that the limits were justified.
"The Orders apply the same restrictions to worship services as they do to other indoor congregate events, such as lectures and movie theaters," the court majority argued. "Some congregate activities are completely prohibited in every county, such as attending concerts and spectating sporting events."
But in December, the U.S. Supreme Court granted injunctive relief for Harvest Rock, in light of the court's 5-4 ruling in Roman Catholic Diocese of Brooklyn v. Cuomo.
In April, amid various legal challenges to the state restrictions, California lifted rules requiring houses of worship to adhere to capacity limits, changing the standards on places of worship from "mandatory" to "strongly recommended."
"In response to recent judicial rulings, effective immediately, location and capacity limits on places of worship are not mandatory but are strongly recommended," a government website explained. "The linked guidance is in the process of being updated. All other restrictions in the guidance remain in place."
Number of States Dropping Federal Jobless Boost Rises to 22
https://www.theepochtimes.com/number-of-states-dropping-federal-jobless-boost-rises-to-22_3823638.html?utm_source=partner&utm_campaign=BonginoReport
This week, Indiana, Oklahoma, and Texas joined 19 other Republican-led states moving to drop the $300 weekly federal jobless benefit boost in a bid to encourage the unemployed to get back to work amid sky-high levels of job openings and business hiring woes.
The move by the three states to opt out of the $300 top-up—which was part of President Joe Biden's $1.9 trillion American Rescue Plan—brings the number of states to do so to 22.
Alabama, Alaska, Arizona, Arkansas, Georgia, Idaho, Indiana, Iowa, Mississippi, Missouri, Montana, New Hampshire, North Dakota, Ohio, Oklahoma, South Carolina, South Dakota, Tennessee, Texas, Utah, West Virginia, and Wyoming all plan to end the $300 boost, along with other federal unemployment benefit programs, at some point this summer.
The governor of Texas, the biggest state of the lot, said in a letter (pdf) to the Biden administration that his state's economy is "booming" and employers are hiring in communities throughout the state.
"In fact, the amount of job openings in Texas is far greater than the number of Texans looking for employment, making these unemployment benefits no longer necessary," Texas Gov. Greg Abbott wrote.
In a further bid to encourage people to take jobs, some states—Arizona, New Hampshire, Montana, and Oklahoma—have announced plans to provide hiring incentives.
New Hampshire's Republican Gov. Chris Sununu said in a May 19 tweet, "Today, we launched our SUMMER STIPENDS program to get people back to work, and announced we're ending our participation in federal unemployment programs."
The Summer Stipends program offers $500 to $1,000 one-time bonuses for individuals who get a job that pays $25 an hour or less, and stay in that job for at least eight weeks.
"Let's get back to work," Sununu said.
Israel and Hamas agree Gaza truce to end 11 days of conflict
https://www.reuters.com/world/middle-east/hamas-official-predicts-ceasefire-soon-israel-gaza-fight-goes-2021-05-19/
Israel and Hamas will cease fire across the Gaza Strip border as of Friday, the Palestinian Islamist faction and Egyptian state TV said, bringing a potentially tenuous halt to the fiercest fighting in years.
Israeli Prime Minister Benjamin Netanyahu's office said his security cabinet had voted unanimously in favour of a "mutual and unconditional" Gaza truce proposed by Egypt, but added that the hour of implementation had yet to be agreed.
Hamas and Egypt said the truce would begin at 2 a.m. (2300 GMT Thursday), ending 11 days of Israeli-Palestinian hostilities.
Within minutes of the announcements, in the countdown to the ceasefire, the sides were trading blows again. Sirens warned of incoming rockets in Israeli border communities, and a Reuters reporter heard an air strike in Gaza.
There was no immediate word of casualties.
Amid growing global alarm at the bloodshed, U.S. President Joe Biden urged Netanyahu on Wednesday to seek de-escalation, while Egypt, Qatar and the United Nations sought to mediate.
Hamas said the ceasefire would be "mutual and simultaneous".
"The Palestinian resistance will abide by this agreement as long as the Occupation (Israel) does the same," Taher Al-Nono, media adviser to Hamas chief Ismail Haniyeh, told Reuters.
Egyptian President Abdel Fattah al-Sisi had ordered two security delegations into Israel and the Palestinian Territories to work towards upholding the ceasefire, Egyptian state TV reported.
In a televised speech Abu Ubaida, spokesman of the Hamas armed wing, said: "With the help of God, we were able to humiliate the enemy, its fragile entity and its savage army."
Rocket attacks by Hamas and the allied Islamic Jihad had resumed after an eight-hour pause earlier on Thursday, as Israel pursued shelling that it said aimed to destroy the factions' military capabilities and deter them from future confrontations after the current conflict.
Israeli Defence Minister Benny Gantz said on Twitter that the Gaza offensive had yielded "unprecedented military gains".
Speaking to his U.S. counterpart Lloyd Austin, Gantz said Israel's defence establishment would "continue to work closely and in full cooperation with the Pentagon and the U.S. administration to stabilise the region," Gantz's office said.
Since the fighting began on May 10, health officials in Gaza said 232 Palestinians, including 65 children, had been killed and more than 1,900 wounded in aerial bombardments. Israel said it had killed at least 160 combatants in Gaza.
Authorities put the death toll in Israel at 12, with hundreds of people treated for injuries in rocket attacks that caused panic and sent people rushing into shelters.
The violence was triggered by Palestinian anger at what they saw as Israeli curbs on their rights in Jerusalem, including during police confrontations with protesters at Al-Aqsa mosque.
Hamas previously demanded that any halt to the Gaza fighting be accompanied by Israeli drawdowns in Jerusalem. An Israeli official told Reuters there was no such condition in the truce.
"The only way there'll be a Hamas-Jerusalem linkage is if they agree to us drowning them on 'Jerusalem Beach' in Tel Aviv," security cabinet minister Tzachi Hanegbi told Israel's top-rated Channel 12 TV earlier on Thursday.
Biden discussed Gaza with Sisi and the White House said reports of moves toward a ceasefire were "encouraging". Hamas is deemed a terrorist group in the West and by Israel, which it refuses to recognise.
The United Nations said its Middle East envoy, Tor Wennesland, was in Qatar on Thursday as part of truce efforts.
Washington is rushing to regulate crypto. It's a mess.
https://www.protocol.com/fintech/bitcoin-cryptocurrency-regulations
The wild swings in crypto prices this year have enthralled and disheartened investors, alarmed Wall Street and focused the attention of regulators and lawmakers who already had cryptocurrency in their sights.
With shares of Coinbase, a prize of Silicon Valley investors who placed early bets on cryptocurrency markets, swinging along with the price of Bitcoin, tech is worried too.
The soundness and stability of cryptocurrencies has gone from a fascination of early, enthusiastic adopters to a mainstream concern. One particular worry is the ability of vague tweets from a single person — Tesla CEO Elon Musk, who has mixed his personal ardor for cryptocurrencies with the electric-vehicle company's business — to send crypto prices gyrating.
Washington once seemed befuddled by cryptocurrency, handing out confusing rulings. But the SEC is now chaired by Gary Gensler, who taught a course on blockchain at MIT. He made it clear at a recent House committee hearing that the crypto industry could come under greater regulation. "If one trades bitcoin in America today, there's not an investor protection regime," he said.
The early crypto scene was dominated by libertarian types seeking to evade or defeat regulation. But now, a substantial number of players in the crypto industry have been seeking more regulatory clarity. There are a number of areas where the industry interacts with regulators, from banking to securities to taxes.
That's part of the problem: Tokens that act like securities could fall under the Securities and Exchange Commission. The Commodity Futures Trading Commission is eager to keep its oversight of currency markets. And the Internal Revenue Service wants to make sure transactions that result in gains are properly taxed.
Currently, crypto exchanges have no overarching regulation, as equity markets do. Coinbase, for example, is registered in most states with a money transmitter license, but not as an exchange. The Office of the Comptroller of Currency has granted national trust charters to a handful of exchanges, but the agency's new chief has called for a review of crypto rules.
The House of Representatives passed a bill in April to create a digital asset working group with the SEC and CFTC. The group, which would include industry companies, would produce a report within a year on regulatory framework for digital assets. The fate of that bill in the Senate is unclear.
The Financial Action Task Force, a group of 200 countries and jurisdictions that sets international standards related to money laundering and terrorist financing released a draft of new guidance on regulating digital assets in March.
Some in the crypto industry aren't happy. Coin Center argued that the guidelines are overly broad in requiring companies that aren't acting as custodians of cryptocurrencies to register and conduct anti-money laundering activities. Currently FinCEN requires only those controlling the assets be regulated as money transmitters. The draft guidelines also seem to suggest prohibiting peer-to-peer cryptocurrencies and privacy coins, Coin Center said.
Then there's China. What happens in that country often has an outsized effect on the crypto market, due to China's role as a hotspot for crypto mining and a highly-active community of crypto traders on social apps like Weibo.
China's regulators this week effectively banned financial institutions and payment companies from most uses of cryptocurrencies. Chinese citizens can still trade crypto, but often need to do it through offshore exchanges. Yet the country remains interested in digital currencies, including the creation of a digital yuan.
The IRS has been less vocal on cryptocurrency, though on Thursday, the Treasury said the tax agency would require disclosure of cryptocurrency transfers worth more than $10,000.
Have you signed up for our Magazine? Next issue ships in early June. Our magazine is a quarterly, mini-book-like experience that includes the best of authors and topics for a theological roundhouse kick to the face of our cultural gods. Read your magazine like you drink your scotch, and let the kick warm your belly. We don't water down our theology, why would we water down our scotch? Annual subscriptions are $60 – that's for four issues. So sign up and enjoy our Fight Laugh Feast theme park.
Closing
This is Gabriel Rench with Crosspolitic News. Support Rowdy Christian media by joining our club at fightlaughfeast.com, downloading our App, and head to our annual Fight Laugh Feast Conference next fall. With your partnership, together we will fight outdated and compromised media, engage news and politics with the gospel, and replace lies and darkness with truth and light. Go to fightlaughfeast.com to take all these actions. Have a great day. Lord bless