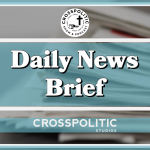 This is Garrison Hardie with your CrossPolitic Daily News Brief for Friday, May 26th, 2023.
https://www.dailywire.com/news/college-enrollment-keeps-sliding-even-three-years-after-lockdowns
College Enrollment Keeps Sliding Even Three Years After Lockdowns
Enrollment for most forms of postsecondary education in the United States continued to decline three years after nationwide lockdowns forced many students to temporarily continue their degrees online, according to a new analysis from the National Student Clearinghouse.
Public four-year institutions saw a 0.8% enrollment decline as of spring 2023, a somewhat less severe decrease than the 1.2% decline recorded in 2022 but more pronounced than the 0.3% decline in 2021 and the 0.2% decline in 2020. Private four-year nonprofit institutions meanwhile witnessed a 1.0% decrease in 2023, compared to the 1.2% decrease in 2022, the 0.4% decrease in 2021, and the 0.6% decrease in 2020.
There are currently 7.1 million students enrolled in public four-year colleges and 3.9 million students enrolled in private four-year nonprofit colleges, marking drops from 7.3 million and 4.0 million enrolled students, respectively, from spring 2019, the last year which was not affected by the lockdowns.
"Undergraduates at public and private nonprofit four-year institutions are still declining but at slower rates," the analysis from the National Student Clearinghouse summarized. "Total postsecondary enrollment remains well below pre-pandemic levels."
Community college enrollment nevertheless increased 0.5% as of spring 2023, a phenomenon driven by "dual enrolled high school students and freshmen," while the number of students pursuing graduate or professional degrees plummeted 2.2% from last year.
The postsecondary education marketplace has been critically disrupted by the lockdowns and the advent of virtual instruction, realities which increasingly prompted students to question the time and funds they devote toward their college degrees.
Elevated levels of student debt, which officials in the Biden administration are seeking to address through an executive order to cancel $10,000 in loans for every borrower earning less than $125,000, have also prompted many students to pause or discontinue their education. The debt forgiveness policy was recently examined by the Supreme Court, which is expected to release an opinion on the controversial move within the next month.
Lockdowns also severely diminished learning outcomes at the primary and secondary levels. The most recent National Assessment of Educational Progress showed that average reading scores for nine-year-olds plummeted five points and average mathematics scores dropped seven points, marking the first score decline for reading in three decades and the first score decline for mathematics in the history of the initiative. Stanford University economist and Hoover Institution senior fellow Eric Hanushek revealed in a recent study that learning losses could cause affected students to lose between 2% and 9% of their lifetime earnings as they miss the opportunity to learn critical skills, reducing prospects for future nationwide economic growth.
Parents concerned about the impact of lockdowns on education have removed their children from government schools at an unprecedented rate. The number of homeschooled students increased from 2.7 million in 2020 to 3.1 million in 2023, according to a study from the National Home Education Research Institute.
New Saint Andrews:
Today's culture shifts like sand, but New Saint Andrews College is established on Christ, the immovable rock. The college is a premier institution that forges evangelical leaders who don't fear or hate the world. Guided by God's word, equipped with the genius of classical liberal arts and God-honoring wisdom, with a faculty dedicated to academic rigor and to God's kingdom, New Saint Andrews College offers an education that frees people.
Logic and language, hard work and joyful courage, old books and godly professors — New Saint Andrews Colleges provides time-tested resources that can equip your student for any vocation. To find out more, visit: nsa.edu
https://www.theblaze.com/news/member-group-of-coalition-pushing-extreme-abortion-initiative-in-ohio-fighting-to-undercut-parental-rights
Coalition pushing extreme abortion initiative in Ohio says it isn't trying to undermine parental rights. A member group's explicit agenda suggests otherwise.
A leftist coalition is working to roll back Ohio's few remaining abortion restrictions by way of a proposed constitutional amendment.
Some opposition groups have suggested that this craftily worded proposal will not only enable late-term abortions, but undermine parental rights on these and other matters of life and death, including the ability to protect children from sex-change mutilations.
While proponents of member groups in the coalition have claimed the amendment will not undermine parental rights, recently highlighted remarks made by a key player behind the abortion initiative have done little to inspire confidence.
Ohio Physicians for Reproductive Rights and Ohioans for Reproductive Freedom PAC are leading the charge to enshrine abortion rights in the state constitution by way of an initiated constitutional amendment called the "Ohio Right to Make Reproductive Decisions Including Abortion Initiative."
The proposal to put this abortion initiative on the November 2023 ballot was certified in March by the state attorney general.
The proposed amendment further states that the "state shall not, directly or indirectly, burden, penalize, prohibit, interfere with, or discriminate against either: 1. An individual's voluntary exercise of this right or 2. A person or entity that assists an individual exercising this right, unless the State demonstrates that it is using the least restrictive means to advance the individual's health in accordance with widely accepted and evidence-based standards of care."
The only ostensible restriction on abortion admitted in the amendment leaves determinations as to whether a viable human being can be exterminated up to abortionists.
Parental rights are implicated and eroded under the amendment, argued the pro-life activists, because "'reproductive decisions' is a very broad term, and is intentionally included to stop any effort to put reasonable restrictions or enforce parental rights on a wide array of other destructive decisions—potentially including sex change surgeries."
Carrie Severino and Frank Scaturro of the Judicial Crisis Network concurred, noting in National Review that "'reproductive decisions' … is a very broad term. By explicitly defining such decisions as 'not limited to' the enumerated categories, the proposal establishes its scope as sweeping. A natural reading would extend to any medical procedure that involves the human reproductive system, including sex-change surgery."
Extra to potentially affecting parents' ability to protect their children from sex-change mutilations and devastating puberty blockers, Dannenfelser and Sekulow highlighted how "if Ohio adopts the amendment, the state's supreme court can be expected to go even farther than the U.S. Supreme Court ever did in undoing the state's parental consent laws," in part by "outlawing any legal requirement for a parent to be notified about or consent before an abortion—or any other procedure related to 'reproduction decisions'—is performed on their child."
https://twitter.com/i/status/1636019433578672130 – Play Video
https://www.military.com/daily-news/2023/05/23/va-cant-account-187-million-emergency-covid-19-funding.html
VA Can't Account for $187 Million in Emergency COVID-19 Funding
The Department of Veterans Affairs can't account for at least $187 million in supplementary COVID-19 funding spread across more than 10,000 transactions related to the pandemic, according to a House oversight committee.
Congress and the VA are at odds over the department's handling of nearly $37 billion in additional funding it received to address the COVID-19 pandemic, with House Veterans Affairs Committee leaders on both sides of the aisle critical of its failure to account for every dime.
Chairman Mike Bost, R-Ill., and ranking member Rep. Mark Takano, D-Calif., praised the department for its pandemic response overall but called the VA out for its inability to account for the money, during a hearing sidetracked by GOP rancor over the department's messaging on debt ceiling legislation.
Between 2020 and 2021, the VA received roughly $37 billion to address COVID-19 response, including an initial $60 million, followed by $19.6 billion in the Coronavirus Aid, Relief, and Economic Security Act and another $17 billion in the American Rescue Plan.
As part of the deal to receive the funding, the department was required to account for its spending, a mandate underscored by passage in November 2021 of the VA Transparency and Trust Act.
Across a series of 40 reviews and reports, the VA Office of Inspector General found numerous accounting issues involving the COVID-19 funds, including a lack of visibility over payroll, some contracts and medical supplies.
The IG said the problems are attributable to the department's decentralized management structure, as well as an outdated financial information technology software – that it doesn't expect to modernize for another decade.
It determined that the department was challenged by inaccurate payroll accounting; used manual transfers and adjustments to its financial management systems that led to at least 53 reporting errors; had problems with supply acquisition, such as duplicate purchases; and failed to properly oversee its efforts to provide telehealth hardware to veterans, namely distributing tablet computers and cell phones so they could access health care but not recouping the equipment when the veteran failed to use it.
Given the issues, both Bost and Takano said they have concerns for the $2.1 billion remaining in American Rescue Plan funds, with Bost and fellow Republicans saying the money should be returned, while Takano pressed the VA to be more transparent as it continues using the funding.
VA officials told the committee Tuesday that the department will spend the remaining American Rescue Plan money by the end of the fiscal year for programs initiated during the pandemic such as housing and telehealth for homeless veterans; prosthetics and medical research, including studies of long COVID; and on preventing the spread of contagious diseases in hospital and administrative settings.
https://www.outkick.com/matt-araiza-jets-workout-allegations-cleared-up/
NEW YORK JETS WORKING OUT MATT ARAIZA TWO WEEKS AFTER PUNTER'S NAME WAS CLEARED OF GANG RAPE ALLEGATIONS
Matt Araiza has landed his first workout with an NFL team since being cut by the Buffalo Bills ahead of last season over gang rape allegations. The New York Jets are giving the free-agent punter a look, according to Adam Schefter.
Matt Araiza was cut by the Bills in August 2022 shortly after an allegation was made public that he had taken part in the gang rape of a minor while attending San Diego State.
Fast-forward nine months to May of this year, and it has been determined that he was not present at the time of the incident that allegedly took place in October 2021.
The transcript of a meeting between the accuser and prosecutors was brought to light just over two weeks ago in which investigators explained that they do not believe Araiza was present at the time of the alleged assault.
Prosecutors in the San Diego District Attorney's Office declined to file criminal charges, but Araiza is still facing a civil suit that he has no plans of settling anytime soon.
Despite that there wasn't a single fact was known about the alleged incident, the Bills caved to the portion of the public who had already deemed the punter guilty and cut him shortly before the start of the 2022 NFL regular season.