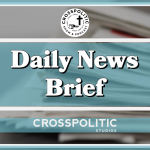 This is Toby Sumpter with your CrossPolitic Daily News Brief for Friday, May 28, 2021.
Eric Carle RIP
Play Audio: 0:15-0:31
Eric Carle, illustrator of more than 70 children's picture books, most famously The Very Hungry Caterpillar, has died at 91 years of age.
According to a family statement, Carle "passed away peacefully and surrounded by family members on May 23, 2021 at his summer studio in Northampton, Massachusetts."
Many of his books were often about insects. Spiders, lady bugs, crickets and of course, that famous caterpillar, all as colorful and friendly as Carle himself. The Very Hungry Caterpillar — came out in 1969 and became one of the bestselling children's books of all time.
AD: "Do you have a guitar at home that's calling out to you? Do you long to discover or rediscover your voice as a guitarist? Maybe you're overwhelmed and you don't know where to start. But there's a way. GuitarSuccess4U is a unique, online membership, founded by David Harsh, a fellow Cross Politic listener who has been touring nationally as a Christian artist, worship leader and guitar workshop clinician for the last 20 years. You can learn at your own pace, from home, alongside a community of guitarists who range from beginner to intermediate, worship leaders, hobbyists, retirees, stay-at-home moms and more. Through a fun, inspiring approach to the guitar, David shares from his decades of experience, and takes you step-by-step towards becoming the musician you were made to be. Learn more and join now at GuitarSuccess4U.com. That's Guitar Success, the number "4" and the letter "U," dot com."
Shooting in San Jose Claims the Lives of 10
https://www.usatoday.com/story/news/nation/2021/05/27/san-jose-shooting-suspect-samuel-cassidy-planned-attack/7471990002/
Samuel Cassidy prepared for years to unleash his rage.
He had weapons. He read up on terrorism and manifestos. He harbored bomb-making materials. He rigged his home to go up in an inferno as he set out to kill nine fellow employees at a light-rail hub in San Jose.
While he plotted intricately for a mass attack, appearing like a terrorist on a mission, his motive was much simpler: He just hated his co-workers.
That's the picture painted so far by law enforcement as detectives try to understand the pent-up animosity that Cassidy appears to have kindled for a decade against the people he worked alongside.
Cassidy, described by those who knew him as having alcohol issues, for years talked about his hatred of his workplace at the Santa Clara Valley Transportation Authority (VTA) light rail hub. The details make clear the suspect employed tactics not routinely seen in mass shootings.
Cassidy left his home around 5:39 a.m., armed with a duffel bag and what experts say was a plan to never return.
Before he left, he set a timer or slow-burn device to set his two-story on fire, Santa Clara County Sheriff Laurie Smith said. The fire was reported minutes after the first 911 calls came in about the shooting at the rail facility.
Footage captured by news helicopters showed law enforcement sifting through debris in the backyard of the beige home throughout Wednesday afternoon. The back of the home appeared to have the most visible damage with the roof charred and debris thrown in the yard.
"Everyone of these killers are different but it's clear he wanted to express his rage on others but also wanted to destroy himself — and that included his home," said Dr. Ziv Cohen, a forensic and clinical psychiatrist who consults on murder cases and serves as an expert witness in criminal trials.
Cohen noted it's possible the suspect may have been attempting to destroy evidence, but it was clear he didn't plan to return. "I don't really think I remember a specific example like this one where a person destroyed their home," he said.
Cassidy fired 39 shots during his rampage through two buildings at the sprawling VTA hub and appeared to target some of the victims, Smith told the Associated Press in an interview.
Smith said the shooter told at least one person: "I'm not going to shoot you" during the attack. The gunman then shot other people before he shot himself as deputies closed in.
Ryaniar Disputes Belarusian Account of Plane Diversion
https://www.wsj.com/articles/ryanair-ceo-calls-belarus-flight-diversion-a-premeditated-hijacking-11622142195?mod=hp_lista_pos1
Ryanair Holdings RYAAY 1.64% PLC rejected Belarus's account of the diversion of one of its planes Sunday, angrily condemning the forced landing in a private letter and calling on the government to identify three passengers the company said it suspects are security-services agents.
The letter, which hasn't previously been reported, was sent earlier this week by Ryanair Chief Executive Michael O'Leary to the director of Belarus's department of aviation. In the letter, reviewed by The Wall Street Journal, Mr. O'Leary described the incident as a "premeditated and unlawful" hijacking and "an illegal and reprehensible action."
On Sunday, Belarus scrambled a jet fighter to intercept a Ryanair commercial jet flying over the country en route from Athens to Vilnius, Lithuania. Belarus says it diverted the plane because of a suspected bomb aboard. While on the ground in Minsk, authorities arrested a prominent dissident living in exile who was a passenger, along with his girlfriend.
The European Union and the U.S. have called the incident a brazen case of interference with civilian aviation. The EU has urged its carriers not to fly over Belarus. Belarus said it acted responsibly and in accordance with international protocols for dealing with a bomb threat.
Belarus has put forward a sometimes-changing version of events that European leaders have called not credible. It published an email it said it received from Hamas, the mi litant group that rules the Gaza Strip, warning of a bomb aboard the aircraft. Hamas has denied involvement.
The company that operates the encrypted server through which the email was sent said Thursday it was delivered after the plane was diverted.
Belarus President Alexander Lukashenko has also said the country received a warning from Switzerland about a bomb threat on the plane. Switzerland has said it had no knowledge of such a threat and hadn't been in contact with Belarus about the matter. Mr. Lukashenko's office and the country's aviation department didn't immediately respond to requests for comment on Mr. O'Leary's letter or the timing of the bomb-threat email.
CrossPolitic has received word from a listener who points out that Belarus is also on the World Wide hate list for their general refusal to participate in COVID lockdowns and dramatically lower death toll to go along with it. Might be a factor. But of course bad guys can sometimes be smarter than good guys. Vladimir Putin may not be a virtuous man, but his condemnation of homosexuality and praise of masculinity in the Russian military is just really smart – way smarter than our nation's embrace of sodomy and women fighting on our front lines.
Huge thanks to everyone who attended and watched the Fight Laugh Feast Rally in Rapid City, South Dakota: all the talks were archived for Fight Laugh Feast Club Members in the club portal. Become a club member today so you don't miss any of them. And if you see some of the clips from the talks floating around on social media, don't forget to share them. That's a great way to share the love and encourage other folks to join.
We're already gearing up for the next conference back in Nashville: Sep. 9-11: the Politics of Sex. I hope many of you are planning to come. Registration will be opening soon.

Psalm of the Day: Psalm 122
I was glad when they said to me, let us go into the house of the Lord!
Play Audio
This is Toby Sumpter with Crosspolitic News. You can find this and all of our shows at Crosspolitic.com or on our app, which you can download at your favorite app store, just search "Fight Laugh Feast". Support Rowdy Christian media, and share this show or become a Fight Laugh Feast Club Member. You always get a free Fight Laugh Feast t-shirt with a membership and remember if you didn't make it to the Fight Laugh Feast Conference or Rally, club members have access to all the talks and lots more. Join today and have a great day.