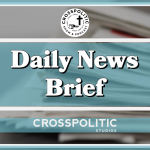 This is Toby Sumpter with your CrossPolitic Daily News Brief for Friday, May 7, 2021.
Huge thanks to everyone who attended and watched the Fight Laugh Feast Rally in Rapid City, South Dakota: all the talks were archived for Fight Laugh Feast Club Members in the club portal. Become a club member today so you don't miss any of them. And if you see some of the clips from the talks floating around on social media, don't forget to share them. That's a great way to share the love and encourage other folks to join.
We're already gearing up for the next conference back in Nashville: Sep. 9-11: the Politics of Sex. I hope many of you are planning to come. Registration will be opening soon.
First up, I need to issue a correction: In yesterday's newsbrief I butchered the name of the country with the highest per capita vaccination rate. Seychelles is pronounced "say-shells" and I repent in dust and ashes, especially to the surfers out there who I may have offended. And special thanks to Jim from Florida who called my church office to tell me he had a good laugh about it but loved me enough to set the record straight.
45,000 Sign up to Shoot Bison in the Grand Canyon
https://www.theblaze.com/news/nps-bison-overpopulation-grand-canyon
National Park Service (NPS) officials will hold a raffle to decide what 12 lucky people will have the opportunity to shoot bison in the Grand Canyon after they received 45,000 applications.
The park service is seeking 12 skilled shooters to reduce the population of bison from about 600 down to a more manageable 200.
This action is necessary due to the rapid growth of the bison population and the transition from the herd using state and U.S. Forest Service lands into almost exclusively residing within Grand Canyon. Impacts from grazing and trampling on water, vegetation, soils, and archaeological sites, as well as on visitor experience and wilderness character also necessitate action.
And that's not all.
Play Audio:
0:21-0:49, 0:56-1:01, 1:16-1:27
The volunteers have a high set of demands to meet in order to qualify for the opportunity to shoot the bison. They have to pass a criminal background check, have a firearm safety certification and pass a marksman proficiency test. They must also provide for their own lodging, firearm, equipment and food.
The volunteers selected will search for bison on foot at elevations of 8,000 feet or higher, the AP reported. The volunteers will be notified May 17.
The Grand Canyon is among the most popular of the national parks in the United States. The NPS said that in 2020 the Grand Canyon was the sixth most popular park with 2.9 million visitors. Yellowstone National Park came in second with 3.8 million visitors and the Great Smoky Mountains National Park came in first with 12.1 million visitors.
Todd Billings Misses the Point
https://www.christianitytoday.com/ct/2021/may-web-only/vaccine-skeptics-need-dose-of-creation-theology.html?utm_source=twitter&utm_medium=post&utm_campaign=article
Todd Billings writes: For evangelicals, the crux of the vaccine question does not hinge upon trust in a particular political party or agenda, but upon our response to God's workmanship in creation. With trust in God as the creator of the complex harmony we observe in the creation, we can receive the vaccine as a divine gift.
Sixteenth-century Reformer John Calvin taught this creational theology with particular verve. "Wherever you cast your eyes," he wrote in Institutes, "there is no spot in the universe wherein you cannot discern at least some sparks of God's glory." What many today call the "natural world" was, for Calvin, a "dazzling theater" of God's glory. He lamented that "scarcely one man in a hundred is a true spectator of it!"
How does all of this relate to our discernment about vaccines in our contemporary moment? Many of my fellow evangelicals hesitate about the COVID-19 vaccine because they worry about government overreach. They note the painful economic consequences of the government-imposed shutdowns and worry that the government "messaging" has been inconsistent during different points in the pandemic. If one disapproves of the government response to the pandemic, why trust the vaccine?
While these concerns can arise from genuine hardship, if we believe a biblical "creational theology," they are actually beside the point…In a truly astonishing way, leading scientists from across the globe, from numerous political contexts, worked together to amass a huge body of knowledge about COVID-19. This took place in a relatively short amount of time, but they shared their hypotheses, insights, data, and conundrums with one another in an unprecedented manner.
[Wait, wait. I'm not sure it is beside the point, Mr. Billings, especially since it was the same scientific community that gave our governments all the false information that led to the shut downs to begin with. They said millions would die. But the IFR turned out to be just a little worse than the flu, and that primarily for people over the age of 70.]

As evangelicals who affirm that this order and complexity are part of God's design, that humans are created in God's image to rejoice in and discover creation, we have all the more reason to cherish the past year's scientific progress. [I suppose it is possible that there has been some massive scientific breakthrough on this gene therapy, but it's also possible that a rushed vaccine for a bad flu that has complete legal immunity from sideeffects and is not even FDA approved yet could be a really bad human experiment. I mean remember, this is the same scientific community that cannot tell what baby is, or what a man or woman are.]
The decision about whether to get the vaccines based on this research is not a question about whether we approve of the president, governor, or mayor. For followers of Jesus, it's a question of whether we trust in the order and design of creation that makes scientific understanding possible, as scientists from around the globe have paid deep and close attention to the "theater of God's glory" in creation… [No, no, no… that doesn't follow. You can trust in the created order and still not trust fallen human beings. Creation is the theater of God's glory, but people are idiots who frequently can't tell what it is that God is saying in that theater. Refer back to chopping up little babies and dudes dressing up like women and running for governor of California.]
Chaos Still in Portland
Here's the audio of armed antifa activists in Portland stopping a vehicle with an older man in it. I'm not sure why the man got out of his car, but he did, gets shoved around, and he pulls a gun on the mob before they pounce on him and take away his gun.
Play Audio [needs some bleeps]
South Carolina Votes to Add Death By Firing Squad to Death Penalty Options
https://www.breitbart.com/crime/2021/05/06/south-carolina-house-votes-to-add-firing-squad-states-execution-methods/?utm_medium=social&utm_source=facebook&fbclid=IwAR1zO_M0Igs-ntv4vHVqfFAZ3Goa3aEd_IzGCpgnUKp1buKj-DznY9tw0uU
Members of the South Carolina House have voted to add death by firing squad as a state execution method due to a lack of lethal injection drugs.
The bill, approved in a 66 to 43 vote on Wednesday, would require inmates to choose between being shot or electrocuted if there are no lethal injection drugs available, the Associated Press (AP) reported.
"The state is one of only nine to still use the electric chair and will become only the fourth to allow a firing squad," the outlet continued:
The Senate already had approved the bill in March, by a vote of 32-11. The House only made minor technical changes to that version, meaning that after a routine final vote in the House and a signoff by the Senate, it will go to Republican Gov. Henry McMaster, who has said he will sign it.
In a social media post on Wednesday, McMaster said the House "has given second reading to a bill that will restore the state's ability to carry out the death penalty":
The bill makes it possible for South Carolina to resume its executions for the first time in about a decade, according to the State.
"The state has had to postpone three executions due to a nationwide shortage of lethal injection drugs, caused by drug companies who wanted to crack down on how their products are being used," the newspaper continued:
Under current South Carolina law, lethal injections are the default mode of execution, meaning that unless an inmate chooses another method of execution, they cannot be forced to die by any other means. The bill passed Wednesday would make the electric chair the default mode of execution, meaning that if no other method were available, an inmate would have to die in the chair.
Inmates will be offered the choice to die by firing squad if that method is available as well. Proponents of the bill say changing current law is the only way to carry out capital sentences within the state. Very few Republicans stood up to advocate for the bill Wednesday.
In a subsequent post, McMaster reiterated he would sign the legislation when it reached his desk:
"We are one step closer to providing victims' families and loved ones with the justice and closure they are owed by law," he wrote.
The three states that currently allow a firing squad are Mississippi, Oklahoma, and Utah, according to the AP report.
Psalm of the Day: Psalm 130
Play audio: 2:48-4:57
Out of the Depths, I cry to you O Lord! My soul waits for the Lord, more than watchmen for the morning, more than watchmen for the morning. O Israel hope in the Lord, for with the Lord is steadfast love and plentiful redemption. He will redeem Israel from all his iniquities.
This is Toby Sumpter with Crosspolitic News. You can find this and all of our shows at Crosspolitic.com or on our app, which you can download at your favorite app store, just search "Fight Laugh Feast". Support Rowdy Christian media, and share this show or become a Fight Laugh Feast Club Member. Remember if you didn't make it to the Fight Laugh Feast Rally, club members have access to all the talks. Have a great day.