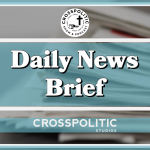 This is Garrison Hardie with your CrossPolitic Daily Newsbrief for Friday, November 11th, 2022. Happy Friday everyone. I hope you all have some great weekend plans lined up for you and yours, and does that include getting a club membership on CrossPolitic? Well it should!
Club Membership Plug:
Let's stop and take a moment to talk about Fight Laugh Feast Club membership. By joining the Fight Laugh Feast Army, not only will you be aiding in our fight to take down secular & legacy media; but you'll also get access to content placed in our Club Portal, such as past shows, all of our conference talks, and EXCLUSIVE content for club members that you won't be able to find anywhere else. Lastly, you'll also get discounts for our conferences… so if you've got $10 bucks a month to kick over our way, you can sign up now at fightlaughfeast.com.
https://www.foxnews.com/politics/georgia-senate-runoff-walker-hauls-3-million-first-day-new-campaign
Georgia Senate runoff: Walker hauls in $3.3 million on first day of new campaign
Republican Senate nominee Herschel Walker hauled in $3.3 million in fundraising on the first day of his Senate runoff campaign with Democratic Sen. Raphael Warnock, Walker's advisers shared first with Fox News on Thursday.
And on Thursday, the campaign raised an additional $1 million before noon.
Walker, who finished roughly 35,000 votes behind Warnock out of nearly 4 million votes cast in the Senate election in the battleground state of Georgia, is returning to the campaign trail Thursday, teaming up with conservative Sen. Ted Cruz at a rally in Canton, a small city about 40 miles north of Atlanta. Walker's campaign tells Fox News that it plans to be back up on television with an ad later this week.
The Georgia secretary of state's office announced Wednesday that the Senate election was headed to a runoff since no candidate received over 50% of the vote. According to the latest unofficial and incomplete returns, Warnock was at 49.4%, Walker at 48.5% and Libertarian Party nominee Chase Oliver at 2.1%.
Under Georgia law, if no candidate tops 50% of the vote in the general election, the two top vote-getters face off in a runoff, which this cycle is being held four weeks later on Dec. 6.
Warnock, who is the minister at Atlanta's famed Ebenezer Baptist Church, where Martin Luther King Jr. once preached, narrowly edged Republican Sen. Kelly Loeffler in Georgia's twin Jan. 5, 2021, Senate runoff elections. His victory, along with now-Democratic Sen. Jon Ossoff's razor-thin win over GOP Sen. David Perdue, gave the Democrats the Senate majority.
A Walker campaign source told Fox News that they plan to hold rallies in large-population areas where turnout happens, with the aim to energize supporters of former President Donald Trump, "soft Republicans" and independents to vote in the runoff contest.
The source said that it would make sense for Trump and for Florida Gov. Ron DeSantis, who is also extremely popular with conservatives nationwide, to stump with Walker in Georgia in the weeks ahead and added that the campaign is looking into the possibility of making that happen. The source added that GOP Georgia Gov. Brian Kemp may join Walker on the campaign trail as early as next week.
Kemp, who comfortably won re-election on Tuesday with an eight-point victory over Democratic challenger Stacey Abrams in a rematch of their 2018 nail-biter, said Wednesday on "Fox and Friends," "I feel very good about getting Herschel across the finish line."
The rival Democratic Senatorial Campaign Committee (DSCC) announced Thursday a new $7 million field organizing investment in the Georgia runoff, which the Senate Democrats' campaign arm says will fund direct voter contact programs, beefing up Warnock's already "robust" field organizing efforts.
Warnock, in a fundraising email to supporters, noted that "Donald Trump, [longtime Senate GOP leader] Mitch McConnell, and the entire Republican establishment have spent millions to prop up my opponent, Herschel Walker, and defeat me. And they're about to spend a whole lot more to definitively turn Georgia red."
https://thepostmillennial.com/breaking-arizona-election-results-delayed-until-after-weekend-maricopa-officials-say?utm_campaign=64487
Arizona election results delayed until after weekend, Maricopa officials say
The election results in Arizona will likely be delayed past the weekend as a Maricopa County spokesperson said the counting of ballots will not be done Friday as original expected. The nation anxiously awaits the results of the gubernatorial election and senate races.
Kari Lake faced off against Democrat Katie Hobbs, who refused to step onto the debate stage and address her opponent, while Blake Masters seeks to unseat incumbent Mark Kelly for an Arizona senate seat.
Ali Bradley reports, "AZ: Spokesperson for #MaricopaCounty elections tells me the majority of ballots won't be done being counted until after the weekend. They initially anticipated 95-99% of ballots to be completed by Friday. An historic 290k ballots were dropped off #ElectionDay causing the delay."
Since the early morning hours of Election Day, voters experienced issues with Maricopa County's tabulator machines, with one polling worker revealing that around 25 percent of ballots were being rejected.
Since then the counting of votes has been trickling in, especially after 290,000 ballots were dropped off Election day. There has been much speculation as to why there are so many delays, and accusations levied at election officials, who are blamed for delaying and stalling the process.
On Wednesday evening, Maricopa County officials revealed that 70 out of 223 voting locations, or nearly one out of every three, were impacted by printer issues on Election Day.
According to AZ Mirror, Republicans voting by mail was down during the lead-up to the election, with Democrats leading early turnouts. Republican voters had been expected to turn up in force on Election Day.
Speaking with Charlie Kirk on Tuesday, Turning Point Action Chief Operating Officer Tyler Bowyer revealed that his ballot, and many others, had been printed so badly that machines couldn't read the.
https://thepostmillennial.com/breaking-la-drops-charges-against-konnech-ceo-over-storing-data-on-chinese-servers?utm_campaign=64487
LA drops charges against Konnech CEO over storing data on Chinese servers
On Wednesday, Los Angeles County prosecutor George Gascon dropped criminal charges against Eugene Yu, CEO of the Michigan election software company Konnech.
Yu was arrested in October, and stands accused of storing data on poll workers in a China-based server, which was a breach of the company's contract with LA County.
In a statement, the district attorney's office said that it had dropped the case due to concerns regarding the "pace of the investigation" and the "potential bias in the presentation" of evidence in the case.
"Mr. Yu is an innocent man," said Gary Lincenberg, Yu's lawyer, adding that "conspiracy theorists" were using the arrest to "further their political agenda."
According to the New York Times, the sudden dismissal of the case leaves questions unanswered about Yu's activities.
"The district attorney's office did not clarify whether the company had, in fact, stored data in China. It was also not clear whether additional criminal or civil charges could be filed against Mr. Yu or Konnech from Los Angeles County or dozens of other counties that use Konnech's election management software," the New York Times reported.
Yu and Konnech had been at the center of a lawsuit against True the Vote, alongside leaders Catherine Engelbrecht and Gregg Phillips.
The organization said at a conference over the summer that its team had located and downloaded Konnech's poll worker data from the Chinese servers, and said that it had delivered the data to the FBI.
Konnech accused True the Vote of hacking and defamation.
The dropping of charges comes just days after Engelbrecht and Phillips were released from jail after refusing to release the name of a confidential informant to judges in the case.
According to Reuters, the District Attorney's Office had indicated that it had not ruled out refiling charges after a review of evidence.
The office said that it had created a new team of investigators to review the "immense volume of digital data" it has collected in the case.
Gascon has faced a recall effort since taking office, with those against Gascon accusing him of being soft on crime. In July, the recall effort had received enough votes to proceed, though in August, it was revealed that they did not in fact have enough signatures, with nearly 90,000 signatures of the 566,857 signatures being from not registered voters and roughly 45,000 were duplicates, according to Los Angeles Magazine.
A hearing has been moved up regarding the recall effort and their signatures to December 6, with the group being granted an expedited review of the signatures.
After assuming office in December of 2020, Gascon immediately began sweeping reforms to the criminal justice system in the city. Such reforms include ending sentence enhancements, doing away with cash bail, prohibiting anyone under the age of 18 from being tried as an adult, and refusing to work with immigration enforcement officials.
Dime Payments
Dime Payments is a Christian owned processing payment business. Every business needs a payment process system, so please go to https://dimepayments.com/flf and sign your business up. Working with them supports us. They wont cancel you, like Stripe canceled President Trump. They wont cancel you, like Mailchimp canceled the Babylon Bee. Check them out. At least have a phone call and tell them that CrossPolitic sent you. Go to https://dimepayments.com/flf.
Now it's time for my favorite topic, sports!
https://thepostmillennial.com/SHOCKER-biological-males-dominate-non-binary-division-in-new-york-city-marathon?utm_campaign=64487
SHOCKER: Biological males dominate 'non-binary' division in New York City Marathon
For the second year running, biological males have dominated the non-binary category of the New York City Marathon, and this year, their physical sporting advantage was awarded a cash prize, meaning equal prize money for men and women competing in the event is now a thing of the past.
The NYC Marathon made the decision to include a non-binary category for the first time in 2021 but didn't offer any prize money for the winners. This year, however, the non-profit organization New York Road Runners paid out $9,000 to Jacob Caswell who finished in first place.
In response, Mara Yamauchi, a two-time Olympic marathoner, and Robert Johnson, co-founder of LetsRun.com, published an article arguing that gender identity has no place in sport, and that the decision to pay out prize money to the winner of the non-binary category was a mistake and amounts to discrimination against female athletes.
"A non-binary category …introduces something which is irrelevant in sport – belief – as a sports category," they explain in the article. "Other beliefs, such as religion or political affiliation, are as irrelevant as the belief that one is non-binary."
"A non-binary category discriminates against females because males run, on average, about ten percent faster than females…So females in the non-binary category are not competing on a level playing field," the article continues.
The two athletes went on to question what the prize money was rewarding, stating that it clearly wasn't athletic excellence given that the winner of the non-binary category would have finished in 147th place if competing in the men's category. The NYRR had intended to pay out $15,000 in prize money but only two non-binary runners managed to finish within the 3:10 cutoff.
The article was shared on LetsRun.com and received a significant amount of feedback, with many agreeing that gender identity has no place in sports, while others felt being inclusive was more important than fairness. Johnson posted a statement in the website's chat forum defending the points made in the article.
In response to numerous people asking why he cared, Johnson responded that the truth matters and there "needs to be a respect for objective scientific facts for society to function."