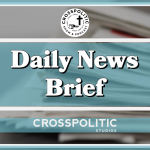 Good Friday to you. This is Pastor Toby Sumpter. Today is Friday, November 12, 2021. This is the CrossPolitic Daily Newsbrief. Find all our shows at Crosspolitic.com and download the Fight Laugh Feast App at your favorite app store so you don't miss anything. We are currently suspended by youtube for saying naughty COVID words, and we don't plan to abide by their rules, so even if we are back up on youtube soon, we will probably get sent back to the corner with a dunce cap shortly, so download the APP now and you can get notifications every time new content drops and never miss a show.
Supply Chain Woes Continue
https://www.dailywire.com/news/supply-chain-crisis-worsens-number-of-ships-off-california-coast-hits-new-record?%3Futm_source=twitter&utm_medium=social&utm_campaign=dwtwitter
There are now 111 container ships waiting to unload in California's ports.
For the past several months, shipping vessels delivering consumer goods from Asian markets have idled in the Pacific Ocean as the United States faces labor shortages, creating bottlenecks in key California ports. As a result, retailers and suppliers across the United States are short on inventory to meet consumer demand.
Even after action from the Biden administration, more consumer goods than ever remain stranded. As Business Insider reported on Wednesday:
According to data from the Marine Exchange, a total of 111 container ships are bobbing at sea around the ports of Los Angeles and Long Beach, waiting to dock and unload. That breaks the previous record of 108 vessels reported on October 21.

The two ports remain clogged despite efforts to speed up the processing of containers amid a surge in consumer demand for goods. The White House announced a shift to an around-the-clock schedule in October and a new looming threat of fines for leaving containers on the docks for several days.

Analysts expect that the crisis will endure for the foreseeable future. In a recent Wall Street Journal poll of economists, roughly half cited supply chain bottlenecks as "the biggest threat to economic growth in the next twelve to eighteen months" — with 45% estimating that bottlenecks will not recede until the second half of 2022.
Indictment for Russia Collusion
https://www.foxnews.com/politics/democrats-probed-russian-interference-steele-dossier-silent
Igor Danchenko, a Russian national who lives in Virginia, was charged with five counts of making false statements to the FBI last week. Danchenko is said to be the sub-source for Christopher Steele, a former British intelligence officer, who compiled the dossier that served as the basis for Foreign Intelligence Surveillance Act [FISA] warrants against Trump campaign aide Carter Page. [All of this was the basis for claiming that the Trump campaign colluded with Russia to win the 2016 presidential election.]
While a number of fair minded people were asking lots of questions about the accusations of collusion with Russia, almost every Democrat on the Intelligence Committee in 2017 and 2018, when the committee probed Russia's alleged interference in the 2016 elections, strongly defended the dossier.
For example, Adam Schiff, now the Intelligence committee's chair, was one of the most vocal voices in Congress in pumping the dossier. While the Republican majority issued subpoenas to get testimony under oath regarding the claims of the dossier, Schiff tweeted:
"Unilateral subpoenas issued by House Intel Majority appear to be part of effort to discredit Steele, rather than determine truth of dossier," Schiff tweeted in 2017.
Schiff also had this exchange with Rachel Maddow in 2017 on CNBC:
https://twitter.com/RepAdamSchiff/status/905468532061700096?s=20
Play Audio: 1:13-2:43
Rachel Maddow: The existence of the dossier is the scandal — the original sin — therefore the FBI is participating in some Russian plot. Actually… yes, that's about right, Ms. Maddow. And Hillary Clinton's campaign paid for it.
According to the Danchenko indictment, in March, May, June, October and November of 2017, the Russian national made false statements regarding the sources of specific information he provided to a U.K. investigative firm that, in turn, were included in reports prepared by the firm and subsequently passed to the FBI.
Speaking of corruption,
Kyle Rittenhouse Took the Stand Wednesday and Became Emotional
Play audio: 0:00-1:32
While we should be careful to note that mere emotions prove nothing, a great deal of the testimony and evidence would at least seem to indicate that it is not at all obvious that Kyle Rittenhouse is a mass murderer, like an article from the Gospel Coalition claimed.
But that didn't stop Lebron James who responded to Rittenhouse getting emotional with this tweet: "What tears????? I didn't see one. Man knock it off! That boy ate some lemon heads before walking into court."
Apparently, Lebron feels the same about the Uyghars in China as well as the people of Hong Kong. Fake tears everybody.
Apparently Social Media Agrees with Lebron
https://freebeacon.com/media/social-media-companies-suppressed-claims-of-kyle-rittenhouses-innocence/
Social media platforms rendered a verdict on Kyle Rittenhouse long before he went to trial, suppressing claims that he was innocent and blocking users from searching for details of the case.
Immediately after the anti-police riots that thrust Rittenhouse into the national spotlight, social media companies began to block users who expressed support for the Illinois teen. Twitter suspended the accounts of users who called Rittenhouse innocent, including the defendant's own lawyer. Facebook said it "designated this shooting as a mass murder and … removed the shooter's accounts from Facebook and Instagram." The platform also blocked searches for "Kyle Rittenhouse."
Social media platforms often intervene to suppress posts expressing a particular stance on controversial issues. Both platforms censored news stories about Hunter Biden's laptop in the month before the 2020 election. Facebook blocked a Gold Star mother's criticism of President Joe Biden and suppressed a song that criticized the president. Twitter and Facebook also suspended users who oppose vaccine mandates.
The fundraising platform GoFundMe also removed a page set up to support Rittenhouse, which the company said violated its ban on fundraisers involving "the legal defense of alleged crimes associated with hate, violence, harassment, bullying, discrimination, terrorism, or intolerance." GoFundMe supported fundraising for the family of one of Rittenhouse's assailants, Anthony Huber. The site regularly hosts fundraisers for individuals associated with Black Lives Matter. ​
When smaller platforms began raising funds for Rittenhouse, hackers breached the donation lists. News outlets doxxed paramedics and police officers who gave small donations to Rittenhouse's defense.
Twitter is still banning or suspending users for supporting Rittenhouse, even as the trial proceeds. Facebook searches for Rittenhouse's name turn up no results. Neither platform responded to requests for comment.
Rittenhouse faces six charges, including two counts of homicide, after shooting three men who attacked him during last August's anti-police riots in Kenosha, Wis. His murder trial began on Nov. 1. His defense hopes that videos that show rioters assaulting Rittenhouse will bolster his self-defense claim.
Let's just point out that to the extent that the Gospel Coalition represents something of conservative Christianity, Facebook and Twitter are just following their lead. We are supposed to be salt and light, but instead supposedly Bible-believing outlets are publishing hit pieces before the facts are in, joining the lynch mob. But this is not justice, and it is certainly not biblical justice.
A Man Who died of Gunshot Wounds is Listed as a COVID Death in New Zealand
Play Audio
And that's the world we live in.
Psalm of the Day: Psalm 30
"O where is the advantage if my blood should be shed?
Will dust declare you faithful, can praise come from the dead?
O Lord, to me be gracious, and hear me as I've prayed.
To you, O Lord, I cry out, O be my help, my aid."
You turned my grief to dancing, from sackcloth set me free.
You wrapped me up in gladness; I shall not silent be.
Indeed, my soul, my glory, will praise you and adore;
O Lord, my God, I'll thank you both now and evermore.
Play: 1:21-3:28
Amen!
Remember you can always find the links to our news stories and these psalms at crosspolitic dot com – just click on the daily news brief and follow the links.
This is Toby Sumpter with Crosspolitic News. A reminder: if you see news stories and links that you think we should cover on the daily news brief, please send them to news @ crosspolitic.com and don't forget to check deft wire dot com where we are constantly posting all our stories. Support Rowdy Christian media, and share this show or become a Fight Laugh Feast Club Member. You always get a free Fight Laugh Feast t-shirt with a membership and remember if you didn't make it to the Fight Laugh Feast Conferences, club members have access to all the talks from Douglas Wilson, Joe Boot, Jeff Durbin, Glenn Sunshine, Nate Wilson, David Bahnsen, Voddie Baucham, Ben Merkle, and many more. Join today and have a great day.