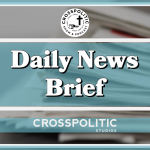 This is Garrison Hardie with your CrossPolitic Daily News Brief for Friday, November 17th, 2023.
Download our new app!:
You guys are aware that we have a new app right? If not you should download it right now! Head on over to your app store, and type in "CrossPolitic", "Fight Laugh Feast", or "PubTV". Once you find the app, you may need to update your app, or if you have a droid phone, you may need to delete your current FLF app, and re-download it! Once downloaded you'll be able to view or listen to our content right on your mobile device! As always, if you'd like to sign up for a pub membership, you can head on over to fightlaughfeast.com… that's fightlaughfeast.com.
https://www.foxnews.com/politics/house-ethics-committee-head-moves-to-expel-george-santos-after-release-of-damning-report
House Ethics Committee head to move to expel George Santos after release of damning report
The chairman of the House Ethics Committee will move to expel Rep. George Santos, R-N.Y., from Congress after the release of a damning report into the embattled Long Island Republican.
"Chairman Guest feels that the evidence uncovered in the Committee's investigation is more than sufficient to warrant punishment, and that the most appropriate punishment is expulsion," Republican Mississippi Rep. Michael Guest's personal office told Fox News Digital on Thursday.
"So, separate from the Committee process and his role as Chairman, he plans to file an expulsion resolution during tomorrow's 9:00 am pro forma session."
The ethics committee released a damning report that accused Santos of having "used campaign funds for personal purposes" and "engaged in fraudulent conduct," among other allegations.
Guest filing the resolution on Friday tees up an expected vote on whether to boot Santos from the House sometime after lawmakers return from the Thanksgiving break on Nov. 28.
A 56-page deep dive into the allegations against Santos by the panel's Investigative subcommittee detailed campaign funds being spent at spas and luxury stores, among other questionable places.
The bipartisan subcommittee unanimously agreed that Santos "knowingly caused his campaign committee to file false or incomplete reports with the Federal Election Commission; used campaign funds for personal purposes; engaged in fraudulent conduct in connection with RedStone Strategies LLC; and engaged in knowing and willful violations of the Ethics in Government Act as it relates to his Financial Disclosure (FD) Statements filed with the House."
That includes $50,000 in campaign donations that were wired to Santos' personal account on Oct. 21, 2022, and allegedly used to, among other things, "pay down personal credit card bills and other debt; make a $4,127.80 purchase at Hermes; and for smaller purchases at OnlyFans; Sephora; and for meals and for parking."
Santos also spent more than $2,200 at resorts in Atlantic City, New Jersey, from July 23, 2022, to July 24, 2022, according to the report, despite a staffer telling the subcommittee that "he was not aware of any events in Atlantic City and did not attend any campaign events in Atlantic City."
Santos posted a lengthy response to the report on X, in which he announced he would not seek re-election in 2024 and accused the House Ethics Committee of bias.
"If there was a single ounce of ETHICS in the 'Ethics committee', they would have not released this biased report. The Committee went to extraordinary lengths to smear myself and my legal team about me not being forthcoming (My legal bills suggest otherwise)," Santos wrote. "It is a disgusting politicized smear that shows the depths of how low our federal government has sunk. Everyone who participated in this grave miscarriage of Justice should all be ashamed of themselves."
GOP lawmakers from New York previously moved to expel Santos earlier this month, but the effort failed along bipartisan lines. Most Democrats who said they voted to punt the measure explained they were waiting for the findings of the ethics committee report.
https://dailycaller.com/2023/11/16/chinas-xi-receives-standing-ovation-american-business-leaders/
China's Xi Receives Standing Ovation From American Business Leaders
Chinese President Xi Jinping received a standing ovation from American business leaders during an exclusive dinner in San Francisco on Wednesday.
Xi met with President Joe Biden on the sidelines of the Asia-Pacific Economic Cooperation (APEC) conference in San Francisco Wednesday and had talks on a broad range of issues, including military communications, fentanyl trafficking and Taiwan. During a private dinner in the city's downtown Hyatt Regency hours later, Xi gave a speech about the need for China-U.S. cooperation and received praise from hundreds of high-level American business executives.
"China is pursuing high-quality development, and the United States is revitalizing its economy," Xi said during his speech. "There is plenty of room for our cooperation."
Among the leaders at the reception and dinner were Apple CEO Tim Cook, Blackrock CEO Larry Fink, Tesla and X CEO Elon Musk and a number of executives from FedEx, Qualcomm, KKR, Blackstone and Boeing, according to The Wall Street Journal. Tickets to attend the dinner started at $2,000 per person, up to $40,000 for a chance to dine with Xi at his table.
"I think it's important Americans and Chinese are meeting again face to face," said managing director for China of McLarty Associates John L. Holden, who attended the dinner, according to The New York Times. "This is not a magic bullet, but it is something that can provide possibilities that wouldn't exist otherwise."
"All of you here this evening remain keenly interested to do business in China, and to find ways to advance our bilateral economic relationship," Commerce Secretary Gina Raimondo told the audience at the dinner, CNBC reported. "I know that, because half of you have come to see me to tell me that."
During his speech, Xi claimed that China is "ready to be partners and friends" rather than adversaries with the U.S, according to the Times. He also evoked China's history with the U.S., recalling American and Chinese cooperation to defeat the Japanese during World War II.
Democratic California Gov. Gavin Newsom gifted Xi a Golden State Warriors Basketball jersey during the dinner, according to a Chinese Foreign Affairs spokesperson in attendance.
In his meeting with Biden hours prior, Xi agreed to reestablish military-to-military communication lines with the U.S., which had been cut off in February. Xi also agreed to take steps to "dramatically curtail" the creation of fentanyl precursors created in China, which often end up in Mexico to be made into completed products and are subsequently trafficked into the U.S.
Biden praised his Wednesday meeting with Xi and then called him a "dictator" minutes later.
"Well, look, he is," Biden said during a press conference Wednesday.
Biden again calls Xi 'dictator' after Chinese prez warns against 'turning back' on Beijing-Play Clip
The White House and China's foreign ministry did not immediately respond to a request for comment.
https://www.foxnews.com/us/pro-palestinian-protesters-block-bridges-boston-san-francisco-rush-hour
Pro-Palestinian protesters block bridges in Boston, San Francisco during rush hour
Pro-Palestinian protesters blocked traffic on bridges in Boston and San Francisco during rush hour Thursday morning to call for a cease-fire in Gaza as Israel continues to target Hamas leadership more than a month after the militant group's deadly incursion into Israel.
On the Boston University bridge, the group IfNotNow, which says it represents members of Boston's Jewish community, chanted "Cease-fire now!" and demanded that Sen. Elizabeth Warren, D-Mass., support an immediate cease-fire and use her influence to stop the Israeli government's military action in Gaza.
The protest slowed traffic to a trickle on the bridge, which connects Boston and Cambridge, as the group held signs that said, "Let Gaza Live," and unfurled a banner across the roadway that read, "Jews say: Ceasefire now."
"We care about Palestinian lives, we only want to hurt Hamas," one protester on the bridge told NBC Boston, while another said, "There can't be peace for Jews unless there is peace for Palestinians."
Meanwhile, Pro-Palestinian protesters also shut down the Bay Bridge in San Francisco, where President Biden was courting world leaders at the Asia-Pacific Economic Cooperation summit.
The Arab Resource and Organizing Center planned the demonstration, in which protesters were heard shouting, "Free Palestine" and "We want justice." Others chained themselves to the bridge or lay in the road covered with sheets smeared with fake blood, FOX2 KTVU reported.
Authorities had closed one lane on the bridge as a preventative measure during the summit, the station reported, citing the California Highway Patrol.
Israel vowed to wipe out Hamas after the militant group launched its Oct. 7 surprise attack, in which at least 1,200 people died in Israel and around 240 were taken captive by militants back to Gaza.
More than 11,200 Palestinians have been killed since the war began, according to the Health Ministry in Hamas-run Gaza.
The protest came as Israeli forces dropped leaflets warning Palestinians to flee parts of southern Gaza, residents said Thursday, signaling a possible expansion of their offensive.
https://www.breitbart.com/politics/2023/11/15/nolte-miserable-chicagoans-drop-mayor-brandon-johnsons-approval-rating-to-28/
Miserable Chicagoans Drop Mayor Brandon Johnson's Approval Rating to 28%
In Wednesday's glorious edition of Democrats Getting What They Voted For, newly elected Democrat Chicago Mayor Brandon Johnson has an approval rating of just 28 percent.
Echelon Insights polled 800 registered voters in Chicago between October 18 and 22.
So how is it possible that Johnson, who won a majority just seven short months ago, is now sitting with a dismal 28 percent approval rating, which is only one point higher than Lori Lightfoot (the sitting mayor he defeated) had in February 2023, which was only one month before she lost her reelection campaign?
I think the answer to this disconnect is obvious.
In Chicago, dead people can vote, but dead people cannot be polled over the telephone.
When asked about Chicago's worst issues, 69 percent of those polled said crime. That's only a two-point decrease since February. Then came high taxes (31 percent) and homelessness (20 percent). Everything else was under 15 percent.
When asked how Mayor Johnson is doing on those top three issues, only 21 percent approved of the job he's doing on crime, while 66 percent disapproved. On economic development, only 32 percent approved, while 43 percent disapproved. On housing and homelessness, only 18 percent approved, while 63 percent disapproved.
On the specific issue of "management of immigrants transported to the city," only 23 percent approved, while 64 percent disapproved. This question relates directly to His Fraudulency, Joe Biden, throwing the southern border wide open to millions of unvetted, third-world illegal aliens.
On that same question, living Chicago voters were asked, "How do you feel about Mayor Brandon Johnson's proposed plan to house migrants in 'base camps' made up of large, heated tents in various parts of Chicago?" Only 28 percent approved, while 63 percent disapproved. Those who said they "strongly oppose" on this question made up nearly half, 46 percent.
When asked if they supported or opposed Chicago's status as a sanctuary city, a majority of 52 percent opposed, while 42 percent supported.
In February 2023, the month before Chicago voted Lightfoot out, 28 percent said the city was headed in the right direction. That number has now dropped to just 20 percent, while 65 percent say things are headed in the wrong direction.
Now that cash bail has been eliminated statewide, it hurts Chicago more than any other city. Only 35 percent of Chicagoans support that policy, but the Democrat governor who instituted that suicide pact won around 80 percent of the vote in Cook County, which is where Chicago sits.
This poll tells us that Chicagoans are getting exactly what they voted for and are quite upset over it, which tells you just how damaged Democrats are.