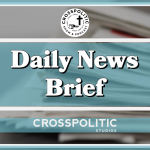 Play during opening music: 0:11-0:18
MSNBC is out of the Rittenhouse trial … and more on today's CrossPolitic Daily News Brief. This is Toby Sumpter. Today is Friday, November 19, 2021.
Find all our shows at Crosspolitic.com and download the Fight Laugh Feast App at your favorite app store so you don't miss anything. We are currently suspended by youtube for saying naughty COVID words, and we don't plan to abide by their rules, so even if we are back up on youtube soon, we will probably get sent back to detention, so download the APP now and you can get notifications every time new content drops and never miss a show.
DeSantis Signs Law at Brandon Honda in Florida
Play: 0:25-1:10
4:00-6:23
But it really is refreshing to hear things like natural immunity, individual choice, as well as pointing out the fact that mandates don't work. Near universal vaccination status has not stopped the surges.
Christmas Box Plug
Did you hear about the CrossPolitic Christmas Man Box? Merry Christmas! We want to offer you some special CrossPolitic cheer this year. This is a special offer for new annual Club Members, Silver and above. Signup and support our show and we'll send you the Christmas Man Box as our gift to you before Christmas. If you're already a Club Member and you want in on this, you can purchase the box for just $50 while supplies last. What's in the box? I'm glad you asked: Special Fresca Holiday T-Shirt, "I drink Fresca and punch tyrants, and I'm all out of Fresca: Merry Christmas," plus a CrossPolitic Leather Patch Hat, 3 Fight Laugh Feast Cigars, and CrossPolitic Ceramic Camper Mug.
https://flfnetwork.com/product/christmas-man-box/
Explanation for Bitcoin?
Naomi Brockwell was on Newsmax and gave this explanation of Bitcoin:
Play: 0:30-1:20, 1:56-2:05, 2:11-3:35
The thing that still sticks with me from our interview of Jimmy Song a number of months ago was the security value. Having a way to secure money and information that is secure from governments — that's looking more and more advantageous. Jimmy Song told us about missionaries and refugees already using Bitcoin to protect their assets from antagonistic politicians.
Judge Ejects MSNBC from Kyle Rittenhouse Courthouse After 'Extremely Serious' Incident of Freelancer Allegedly Following Jury Bus
Judge Bruce Schroeder has ejected liberal cable news organization MSNBC from the Kenosha County Courthouse for the remaining duration of the Kyle Rittenhouse homicide trial.
Schroeder said the court received a report from the Kenosha Police Department that an individual who indicated he was employed by MSNBC ran a red light while authorities think he may have been following a "sealed bus" containing the Rittenhouse jury. But NBC News said the authorities were mistaken as to the individual's intent.
Play full clip
The individual ticketed, who Schroeder identified as James Morrison, said he was operating under the supervision of Irene Byon. Schroeder said Morrison identified Byon as an MSNBC manager in New York.
In a subsequent statement to Law&Crime, NBC News characterized the situation differently.
"Last night, a freelancer received a traffic citation," an NBC News spokesperson said. "While the traffic violation took place near the jury van, the freelancer never contacted or intended to contact the jurors during deliberations, and never photographed or intended to photograph them. We regret the incident and will fully cooperate with the authorities on any investigation."
The Kenosha Police Department issued yet another version of the events via twin tweets on Thursday afternoon.
"Last night a person who is alleging to be affiliated with a national media outlet was briefly taken into custody and issued several traffic related citations," the first tweet read. "Police suspect this person was trying to photograph jurors. This incident is being investigated much further."
"There was no breach of security regarding the jury, nor were there any photographs obtained," the second tweet indicated. "This investigation remains active and open, no further information."
Elsewhere on Twitter, some court reporters claimed that it is common practice for reports to trail jury buses in hopes of identifying jury members' license plates for contact after a verdict is rendered.
Psalm of the Day: Psalm 125
On Tuesday I introduced you to Brian Sauve's new album called "Sing Psalms, Let Joy Resound." You can find it on Spotify and if you like it, you should go to briansauve.com and click on his music link and look for the album "Sing Psalms, Let Joy Resound." I'm pretty sure you can find a way to buy the album in order to support this kind of work. Here's a few verses from another one of his psalms: Psalm 125.
Play: 0:07-1:14
Amen!
Remember you can always find the links to our news stories and these psalms at crosspolitic dot com – just click on the daily news brief and follow the links.
This is Toby Sumpter with Crosspolitic News. A reminder: if you see news stories and links that you think we should cover on the daily news brief, please send them to news @ crosspolitic.com and don't forget to check deft wire dot com where we are constantly posting all our stories. Support Rowdy Christian media, and share this show or become a Fight Laugh Feast Club Member. You always get a free Fight Laugh Feast t-shirt with a membership and remember if you didn't make it to the Fight Laugh Feast Conferences, club members have access to all the talks from Douglas Wilson, Joe Boot, Jeff Durbin, Glenn Sunshine, Nate Wilson, David Bahnsen, Voddie Baucham, Ben Merkle, and many more. Join today and have a great day.