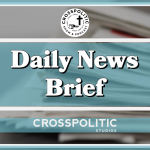 This is Garrison Hardie with your CrossPolitic Daily News Brief for Friday, November 3rd, 2023.
Smart Pricing Table:
Do you own a business and write a lot of proposals?
If so, you should check out SmartPricingTable.com.
Smart Pricing Table cuts down on back and forth, incorporates powerful upsells, and allows you to create proposals at lightning speed. When your prospect is ready, they can e-sign and you're off to the races.
Download their free guide: "The Profitable Proposal Blueprint" at smartpricingtable.com.
https://www.breitbart.com/border/2023/11/02/source-187k-migrants-apprehended-at-border-in-first-month-of-new-year-30k-more-gotaways/
187K Migrants Apprehended at Border in First Month of New Year — 30K More Gotaways
Border Patrol agents assigned to the southwest border with Mexico apprehended more than 187,000 migrants during October — the first month of the new fiscal year. A source within U.S. Customs and Border Protection stated another 30,000 migrants were reported as "known gotaways."
Agents assigned to the nine southwest Border Patrol sectors apprehended more than 187,000 migrants during October, according to documents reviewed by Breitbart Texas. This is the fourth consecutive month that agents apprehended more than 130,000 migrants.
In addition to the more than 187,000 apprehensions, agents reported more than 30,000 migrants as known gotaways. This is a conservative estimate of migrants observed crossing the border but not apprehended by agents.
The unofficial report revealed the Tucson Sector had the most apprehensions. More than 55,000 migrants were apprehended in this sector alone. This is up from 51,000 in September. One year ago, agents in this sector apprehended less than 23,000 migrants. This represents a year-over-year increase of 149 percent over the prior October.
The Del Rio Sector followed Tucson with the apprehension of approximately 38,000 migrants. This is down slightly from the nearly 43,000 migrants apprehended in October 2022 and is up significantly from the 28,000 apprehended in October 2021.
The Rio Grande Valley, San Diego, and El Paso Sectors rounded out the top five sectors with approximately 32,000, 29,000, and 22,000, respectively. The Rio Grande Valley and San Diego Sectors are up significantly from the prior October reports.
Along the Canadian border, the Swanton Sector continues its spike in migrant apprehensions. Agents in the sector that covers the Canadian border in eastern New York, Vermont, and New Hampshire apprehended more than 1,000 migrants in the first month of FY24.
This is up by nearly 200 percent over October 2022 and is roughly equal to the apprehensions for the entire Fiscal Year 2022.
https://dailycaller.com/2023/11/01/dc-hands-vehicle-tracking-residents-keep-cars-stolen/
Blue City Hands Out Vehicle 'Tracking Tags' To Residents Because People Keep Getting Their Cars Stolen
Democratic D.C. Mayor Muriel Bowser announced on Wednesday that she has started a pilot program that will give some drivers a tracking device to attach to their cars so they will be able to find their vehicle if it gets stolen.
The tags, which will be given to residents in six of the city's most vehicle theft-prone areas, will be installed inside the car and will be trackable via an app on the owner's phone, the mayor's office said in a press release. The devices appear to be Apple AirTags, according to a photo posted by Bowser on social media.
Auto thefts in D.C. have increased 101% since last year, with 5,916 cars being stolen since January, police data showed. Violent crime in the city has increased 41%, while total crime has grown by 27% since last year.
Local officials claimed that the apps would help citizens recover their stolen cars more quickly and would allow officers to solve crimes more quickly or efficiently.
"Our goal is not just to prevent carjackings and motor vehicle thefts, but also to ensure swift law enforcement action when these incidents occur," acting Chief of Police Pamela A. Smith said in the press release. "These tracking devices allow our officers and detectives to be better positioned to quickly locate stolen vehicles, recover property, and gather vital evidence for investigations."
Bowser has attempted to walk back the city's lenient approach toward crime in the past few months, unveiling a crime bill that eliminates several police reforms D.C. enacted after the George Floyd riots in 2020. D.C. first responders have said that they feel less safe because of the rising crime in the area, while many locals throughout the city complained at a House Judiciary meeting about the open crime that often takes place in broad daylight.
"Last week, we introduced legislation to address recent crime trends; this week, we are equipping residents with technology that will allow the Metropolitan Police Department to address these crimes, recover vehicles, and hold people accountable," Bowser said in the press release. "[W]e will continue to use all the tools we have, and add new tools, to keep our city safe."
https://www.breitbart.com/politics/2023/11/01/exclusive-republicans-grill-hhs-unconstitutional-trans-pronoun-mandate-employees/
Republicans Grill HHS Over 'Unconstitutional' Trans Pronoun Mandate for Employees
Republican lawmakers are demanding answers from President Joe Biden's Department of Health and Human Services (HHS) about its new guidelines ordering agency employees to refer to transgender coworkers by their "preferred pronouns."
Rep. Mary Miller (R-IL) is leading several other GOP lawmakers in sending a letter to HHS Secretary Xavier Becerra, grilling him for answers about the "unconstitutional" guidance and how it applies to religious employees. Breitbart News exclusively obtained a copy of the letter on Wednesday before it was sent.
"We recently learned that the Biden Department of Health and Human Services (HHS) is compelling political speech and violating the religious liberty rights of HHS employees by imposing a transgender pronoun mandate on your employees," the letter reads. "We write to express our strong opposition to your illegal and unconstitutional transgender pronoun mandate, the so-called 'HHS Gender Non-Discrimination and Inclusion Policy,' which is a violation of the First Amendment rights of HHS employees."
"Your pronoun mandate clearly infringes upon the religious liberty and free speech rights of employees, who cannot be coerced into engaging in political speech or speech that violates their deeply held religious beliefs," the letter continues.
Lawmakers wrote the letter based on an alleged HHS internal email obtained by Roger Severino, vice president of domestic policy for the Heritage Foundation and former director of the HHS Office for Civil Rights during the Trump administration.
The HHS, which employs approximately 80,000 people in the United States and abroad, imposed its new "Gender Identity and Non-Discrimination Guidance" in early October; it outlines "employee rights and protections related to gender identity," the alleged email reads.
"All employees should be addressed [by] the names and pronouns they use to describe themselves," the email continues.
The HHS also posted a video to YouTube — designated as "unlisted" — in which HHS Secretary Andrea Palm says the policy allows colleagues "to show up every day as their whole selves."
https://youtu.be/Zm3p1nKTPs8 – Play 0:00-1:10
While Palm did mention religion, neither the video nor the email disclosed if the HHS plans on accommodating or exempting employees with religious objections to affirming transgender delusions.
HHS Assistant Secretary for Health Admiral Rachel Levine, who describes himself as "an out and proud transgender woman" in the video, said this policy ensures that "all HHS employees, including transgender and nonbinary employees, have equal protections in the workplace." He added that all supervisors and managers are responsible for enforcing the policy.
"Every one of us can play a role in creating a welcoming workplace," he said. "Every one of you can make a difference in improving the feelings of inclusion for your coworkers."
https://www.defensenews.com/congress/2023/10/31/us-seeks-to-ramp-up-munitions-production-for-ukraine-israel/
US seeks to ramp up munitions production for Ukraine, Israel
President Joe Biden's $106 billion defense spending supplemental request to Congress aims in part to bolster munitions production capacity to continue rushing arms to Ukraine and Israel.
The Senate Appropriations Committee questioned Defense Secretary Lloyd Austin at a Tuesday hearing on the status of U.S. stockpiles and the workforce, supply chain and infrastructure constraints of weapons manufacturers racing to replenish them.
The Senate is formulating its supplemental spending bill encompassing both Ukraine and Israel aid, while the House is set to vote on a stand-alone Israel aid bill later this week.
"There are some limitations in terms of how quickly they can do certain things," said Austin. "There will continue to be workforce challenges. And when you expand capacity, there's this issue of the time it takes to build the capacity and make sure the lines are running smoothly."
Austin noted some defense contractors have required workers to take on additional shifts to keep up with production rates.
"What they've done in a lot of cases to meet urgent needs is double and triple shifts so that they can in some cases crank out munitions and weapons at a much greater speed," he said.
Austin's comments come as Israel rapidly burns through munitions as it continues to bomb the 2.2 million Palestinians in the Gaza Strip, killing more than 8,500 people and wounding more than 21,500, per the Gaza Health Ministry. Shortly before the hearing, Israel bombed the Jabalia refugee camp, which the Health Ministry lambasted as a "horrific massacre" that killed at least 50 people and wounded hundreds.
It is the latest of many civilian targets Israel has bombed in its campaign to destroy Hamas. Israel launched its campaign following Hamas' massacre of approximately 1,400 Israelis and abduction of 240 hostages, per the Israel Defense Forces.
On top of that, the Biden administration has less than $5.5 billion remaining to continue transferring weapons to Ukraine as the nation's slow-moving counteroffensive fails to retake significant tracts of territory.
Biden's requested defense supplemental includes $44.4 billion to continue arming Ukraine and $14.3 billion in military aid for Israel. That request includes more Iron Dome interceptors to stop Hamas rockets and additional munitions for Israel to continue its bombardment of Gaza.
A large portion of the requested funding would go toward backfilling U.S. stockpiles of weapons the Biden administration has so far sent Ukraine and Israel. There's also $3 billion requested to expand industrial base capacity.
"We simply do not have the workforce, supply chain or infrastructure necessary to meet the coming threats," Sen. Deb Fischer, R-Neb., said at the hearing. "Building out this capacity is going to take time and resources, but we can start now by making targeted investments in our munitions production base."
Biden's supplemental request includes $30 billion to replenish weapons sent to Ukraine as well as funding to backfill stocks given to Israel.
"As a general rule, we're going to do everything that we can to meet the demands that we see in both Ukraine and Israel," Austin said.
The U.S. and NATO continue to face a shortage of 155mm ammunition and are providing those shells both to Ukraine and Israel.
https://www.breitbart.com/sports/2023/11/01/adam-johnsons-aunt-demanding-justice-after-reckless-kick-that-left-him-dead/
Adam Johnson's Aunt Demanding 'Justice' After 'Reckless' Kick that Left Him Dead
Former NHL player Adam Johnson's family is demanding that officials in the U.K. do something to bring justice to the man whose actions ended Johnson's life during an Oct. 28 game.
The 29-year-old Johnson, who played with the Pittsburgh Penguins from 2018 to 2020, was playing in a Challenge Cup game for the Nottingham Panthers against the Sheffield Steelers in the UK's Elite Ice Hockey League (EIHL) when Steelers player Matt Petgrave raised his leg into the air and slammed Johnson in the neck with his deadly skate blade.
Johnson was rushed to a local hospital, but he lost too much blood and was pronounced dead.
Now, Johnson's 62-year-old aunt is charging that Petgrave's actions were negligent, and she wants the police in the U.K. to charge him in Johnson's death.
"It was very reckless," Kari Johnson said of the "horrific tragedy" of her nephew's death, according to the New York Post. "I just want them [authorities investigating] to get it right. We are looking for justice for Adam."
She added that Pergrave's kick was "not hockey" and insisted, "My nephew was 6 feet tall, and whether you lost your balance or not, to have that leg come up that high and do a kicking motion like he did, that is just unacceptable."
"That's not a hockey play, that's not a check. I understand that every team has an enforcer, per se, on their team," Johnson reiterated.
Still, Kari Johnson has carefully noted that she does not think Petgrave struck Johnson in the neck with his skate on purpose.
"I'm sure Mr. Petgrave probably didn't even think about the consequences could be of that happening, but there comes a time when you have to realize that's not hockey," she said. "And I'm sure he's going through a lot, too, but he took our boy. There are a few of us in the family that think it was a totally unnecessary, very, very bad action to take."
As for Petgrave, he is reportedly "distraught" and has been "receiving vile messages online."
Meanwhile, South Yorkshire Police officials said they are investigating the incident.
Police did not say, though, if they were investigating the incident as a criminal act.