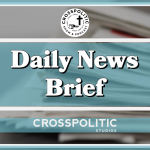 This is Garrison Hardie with your CrossPolitic Daily NewsBrief for Friday, November 4th, 2022. It's Friday everyone! We made it! Seeing as it's Friday, let's go ahead and start with a little trip down memory lane… with on this day in history!
On this day in history… November 4th:
1841 First wagon train arrives in California

1845 First nationally observed uniform election day in the United States, the first Tuesday after the first Monday in November

1862 American inventor Richard Jordan Gatling patents the hand cranked Gatling machine gun in Indianapolis

1879 African American inventor Thomas Elkins patents the Refrigerating Apparatus

1922 Howard Carter discovers the intact tomb of the Pharaoh Tutankhamun in Egypt

2008 Barack Obama becomes the first African-American to be elected President of the United States, defeating Republican candidate John McCain

Famous Birthdays: Walter Cronkite, Matthew McConaughey, P Diddy
And that, was on this day in history for November 4th!
Club Membership Plug:
Let's stop and take a moment to talk about Fight Laugh Feast Club membership. By joining the Fight Laugh Feast Army, not only will you be aiding in our fight to take down secular & legacy media; but you'll also get access to content placed in our Club Portal, such as past shows, all of our conference talks, and EXCLUSIVE content for club members that you won't be able to find anywhere else. Lastly, you'll also get discounts for our conferences… so if you've got $10 bucks a month to kick over our way, you can sign up now at fightlaughfeast.com.
https://www.theepochtimes.com/new-forecast-predicts-republicans-will-have-a-good-night-on-tuesday_4839469.html?utm_source=partner&utm_campaign=BonginoReport
Republicans are projected to have a good night on Nov. 8 in the Senate, according to a new forecast released Thursday.
The model from RealClearPolitics shows that the GOP will control the Senate with 54 seats, as compared to Democrats' 46 seats. It predicted that Republicans will now likely take seats in Arizona, Nevada, Georgia, Pennsylvania, and New Hampshire.
It comes as recent polls signaled that Americans are increasingly dissatisfied with the direction the United States is heading. One from Gallup found that 17 percent of respondents said they're satisfied with where the country is going, which is the worst of any midterm since at least 1982, according to the pollster.
Meanwhile, decades-high inflation appears to remain the top issue for many voters. A poll from Quinnipiac released Wednesday found that 36 percent of voters view inflation as the top issue, which far outpaces the No. 2 choice, abortion, which garnered 10 percent.
Republicans have targeted the Biden administration and Democratic policies as a primary cause of decades-high inflation. They've also said that polices around oil drilling and COVID-19 lockdowns have harmed the U.S. economy and that Democrats are to blame.
In that poll, 34 percent said that they believe President Joe Biden is handling the economy well, whereas 61 percent said he isn't.
Biden and members of his party have focused on abortion following the Supreme Court's historic reversal of Roe v. Wade over the summer as well as accusing Republicans and supporters of former President Donald Trump of being extremists who will undermine U.S. institutions.
On Wednesday evening, Biden continued that trend and attempted to tie the alleged attack targeting Paul Pelosi to claims that the 2020 election was stolen. The suspect in that incident last week, David DePape, was known to be involved in far left-wing circles and reportedly had a history of mental illness.
Several polling analysts on Wednesday told The Epoch Times that polls—even those that show Republicans pulling slightly ahead of Democrat candidates—could suffer from a "bandwagon effect."
Poll results from FiveThirtyEight, RealClearPolitics, and others like The New York Times have frequently favored Democrats in Senate and gubernatorial races.
But Lonny Leitner, vice president of the government affairs firm LS2 Group, said that many polls don't sample enough people.
https://townhall.com/tipsheet/mattvespa/2022/11/01/kari-lake-takes-another-blowtorch-to-the-media-over-hobbs-hq-break-in-n2615240
Kari Lake Torches the Media: You Idiots Will Fall for Anything
Arizona secretary of state and Democratic gubernatorial candidate Katie Hobbs is desperate. Her Hail Mary throw in the waning days of the 2022 cycle was akin to some pathetic exercise to remind voters there's a Democrat on the ballot.
Last week, there was a break-in at her campaign headquarters where Hobbs, without evidence, accused Republican opponent Kari Lake of inspiring the burglary. The media ran with it, but Lake is just too good at slapping down narratives.
For example, when Lake was recently asked about being an "election denier," she shut it down by sharing statements dating back to 2000 from a slew of high-profile Democrats who questioned our elections where Republicans won. With Hobbs hiding in the bunker, even refusing to take questions about the break-in, Lake trots out there and torches the media over how their narrative about this event aged like milk. The culprit who broke into Hobbs' campaign office was arrested, and there's no evidence that the attack was politically motivated
She knows how to counterpunch, especially on the narratives where the liberal media can mount no defense because they're wrong. There are no shades of gray or nuance—nothing politically motivated about the Hobbs campaign office incident.
https://twitter.com/i/status/1585770475111579649 – Play Video
She doubled down her attack on the press:
https://twitter.com/i/status/1585777715906457600 – Play Video
I wouldn't be asking a question that's for sure…
Lake has been making the most of her free media opportunities, leading to an impressive poll surge. Recent surveys have Lake ahead, including liberal polls—Data for Progress has her leading Hobbs by four points. Most attempts to smear Lake as a crank have been mitigated by her two-decade career as a television journalist; Arizona voters are familiar with Lake. Hobbs' antics could have been avoided if she had just agreed to debate Lake, but it's too late for that, and the Arizona Democrat most likely would have been eviscerated on the stage.
Democrats, you nominated an atrocious candidate for whatever reason, and now you can't do much with her.
From Arizona to Ohio we go…
https://humanevents.com/2022/11/03/ohio-education-board-vp-insists-biological-sex-is-not-a-scientific-fact?utm_campaign=64487
Ohio Education Board VP Insists Biological Sex Is Not a 'Scientific Fact'
The vice president of the Ohio State Board of Education does not know what the definition of biological sex is, and does not think it is a scientific fact to say that there is just one definition.
Martha Manchester, who holds a Bachelor of Science degree in Education and has served on the State Board since Jan 2017, made the comments at an executive committee meeting convened to debate a resolution that seeks to reject Biden's proposed Title IX change adding gender identity as a protected characteristic alongside sex.
The resolution, titled "Resolution to support parents, schools, and districts in rejecting harmful, coercive, and burdensome gender identity policies and to protect federal funding subject to Title IX" was introduced in September by board member Brandon Shea. It argues that "sex is not arbitrarily 'assigned at birth' but rather identifies an unchangeable fact" and suggests that the Title IX change would "require that K-12 schools socially transition minor children to a different gender without requiring parental consent."
A video clip of the vice president's confusion during the debate about the most fundamental fact of human existence was shared on Twitter by child-safeguarding advocate Chris Elston.
https://twitter.com/i/status/1587901632955961344 – Play Video
Manchester's confusion about such a basic fact of biology evidently stems from gender identity ideology pushing the idea that sex is complicated and impossible to define. Google "What is biological sex?" and the first page of hits contains a baffling array of articles about how sex is complex and there are more than two sexes.
On the top spot is Planned Parenthood, telling readers that the term biological sex "doesn't fully capture the complex biological, anatomical, and chromosomal variations that can occur. Having only two options (biological male or biological female) might not describe what's going on inside a person's body."
In an article titled The Myth of Biological sex, Forbes informs readers that "there is no one parameter that makes a person biologically male or female."
That is simply not true. Sex is defined by which gamete type the reproductive system developed to produce. Males have the reproductive capacity to produce small gametes (sperm), and females have the reproductive capacity to produce large gametes (eggs).
In an effort to push the idea that the categories of male and female are blurry or don't exist and that therefore males can be women if they say so, a favorite tactic of trans activists is to use people who are born with Disorders of Sex Development (DSDs) as pawns in their linguistic game.
Activists will point to people born with X0 Turner syndrome for example and suggest that these individuals are neither male nor female, ignoring the fact that Turner syndrome is a DSD that can only affect females. This exact argument was made by expert witness Dr. Greta Bauer in the hearing of a Canadian nurse on trial in British Columbia for allegedly transphobic beliefs, one of which is the belief that there are only two sexes.
The executive committee voted to hold an additional meeting on Nov 14 to continue the debate, according to WOWK 13 News.
Moving overseas…
https://www.foxnews.com/world/us-south-korea-threaten-end-kim-regime-north-korea-uses-nuclear-weapon
US, South Korea threaten to 'end' Kim regime if North Korea uses nuclear weapon
The U.S. and South Korea issued a joint warning to North Korea on Thursday, warning that any use of nuclear weapons would result in the end of Kim Jong Un's regime.
North Korea fired an unprecedented 23 missiles in a single day on Wednesday amid extensive joint air force exercises between the U.S. and South Korea. Kim's regime has made veiled threats about nuclear weapons in recent days as well.
"Any nuclear attack against the United States or its allies and partners, including the use of non-strategic nuclear weapons, is unacceptable and will result in the end of the Kim regime," South Korean Defense Minister Jong-Sup Lee said Thursday, in a joint news conference with Defense Secretary Lloyd Austin.
The U.S. and South Korean militaries announced an extension to a joint air force exercise earlier on Thursday. The move came in response to North Korea launching an intercontinental ballistic missile (ICBM) and two short-range missiles after Wednesday's barrage.
South Korean media reported that officials believe the North's ICBM failed in flight but did not elaborate. Meanwhile, North Korea's two short-range ballistic missiles fell into the sea to its east. Japan initially sounded alarms after tracking suggested the ICBM would fly over the island nation, but officials later said they lost track of it mid-flight, according to Reuters.
North Korea has grown increasingly aggressive since the U.S. and South Korea began joint military exercises in September. The country also flew 12 warplanes near the South Korean border in early October. The sortie included eight fighter jets and four bombers. South Korea responded with a flight of 30 warplanes, but the two groups did not engage.
The U.S. and South Korea's joint air force exercise, Operation Vigilant Storm, was scheduled to end Friday but will now extend into the weekend following North Korea's launches.
South Korea had a failed missile launch of its own in October. The malfunction came as the U.S., South Korea and Japan were seeking to send a message to the North Korean regime after it sent its own ballistic missile flying over the island of Japan. U.S. military officials clarified that the warhead on South Korea's missile did not explode, but the propellant caused a large blast and flames.
No injuries were reported from the incident, civilian or otherwise, and South Korean officials say no buildings were damaged.
Redballoon
Not so long ago, the American dream was alive and well. Employees who worked hard were rewarded, and employers looked for people who could do the job, not for people who had the right political views. RedBalloon.work is a job site designed to get us back to what made American businesses successful: free speech, hard work, and having fun. If you are a free speech employer who wants to hire employees who focus on their work and not identity politics, then post a job on RedBalloon. If you are an employee who is being censored at work or is being forced to comply with the current zeitgeist, post your resume on RedBalloon and look for a new job. redballoon.work, the job site where free speech is still alive!
Now y'all know what time it is… my favorite topic, sports!!!
https://nypost.com/2022/11/01/philly-restaurants-refused-to-serve-astros-before-game-3/
Loyalty is Philly Special.
The World Series intensity in the City of Brotherly Love was amplified when two local businesses refused to feed the Astros ahead of Game 3 on Tuesday.
Angelo's Pizzeria in South Philadelphia, an institution in the city, refused to provide catering for the visitors.
"If you think I'd cook for the Astros, you're out of your mind," a man said in a video posted to the eatery's Instagram account. "We said no to them."
The Astros didn't have much luck at Mike's BBQ, either. The restaurant posted a text exchange with the team that didn't seem to get very far.
While Houston is widely loathed by a number of fanbases across MLB — and at least one Phillies player on the roster — the treatment might not have anything to do with the franchise's recent history of cheating. It seems more likely it's just a good old fashion dose of Philly hospitality.
The Astros didn't get any reprieve on the field as the Phillies routed them 7-0 in Game 3 to take a 2-1 series lead after Tuesday's game was postponed due to rain.
The Phillies crushed five homers with Bryce Harper getting the festivities started with a two-run blast in the first inning. The Phillies are now 6-0 this postseason at Citizens Bank Park.
"A lot of really good hitters in the lineup," said third baseman Alec Bohm, who added a solo shot to leadoff the second inning against Astros starter Lance McCullers Jr.
Games 4 and 5 are in Philadelphia on Wednesday and Thursday night as the Astros look to fight back in series — and find a place that will serve them food.
Now, we go from pettiness, to a genuinely disturbing story…
https://www.boundingintosports.com/2022/11/four-players-suspended-after-brawl-breaks-out-after-msu-vs-michigan-game/
Four Players Suspended After Brawl Breaks Out After MSU Vs. Michigan Game
An altercation broke out between players following the Michigan-Michigan State game on Saturday. A crowd of Michigan State Spartans appeared to be attacking Michigan players in the tunnel following the in-state rivalry game. Michigan AD Ward Manuel said Michigan's postgame fight is being reviewed by law enforcement.
University of Michigan Police Assistant Chief Melissa Overton said the investigation is ongoing, working in conjunction with the Michigan State Police and Michigan's athletics and football programs. Spartans head coach Mel Tucker said Michigan is working with law enforcement, the Michigan campus leadership, and the Big Ten Conference to assess what happened, including identifying additional players involved and contributing factors in the altercation. Tucker added that the suspensions will stay in place until the investigation, which includes law enforcement, Big Ten, and Michigan, is completed.
As a result, Mel Tucker suspended Four Michigan State players – Tank Brown, Khary Crump, Angelo Gore, and Zion Young, saying that decisions were made based on video evidence from the incident. Neither Michigan head coach Jim Harbaugh nor Manuel would disclose on Saturday which Wolverines were involved in the altercation, although Harbaugh said two players were involved – one, he said, suffered a nasal injury.
In the immediate aftermath on Saturday evening, MSU coach Mel Tucker said at his postgame news conference that he was not aware of any altercations after the game between the Michigan players inside the Michigan Stadiums tunnel and that a fact-finding process was underway. The suspensions were ordered after school officials reviewed video of Saturday's 29-7 loss to host team Michigan in Ann Arbor and discovered the four were part of a group of teammates surrounding a rival, Michigan coach Mel Tucker said in a statement.
The incident comes amidst a frustrating season for the Spartans. The 29-7 loss to Michigan puts Michigan State at 3-5 overall and 1-4 within their conference, last in the East division. With games looming against #14 Illinois and $16 Penn State, MSU is in real danger of not reaching bowl eligibility. A result that would add further embarrassment to a proud program.
Here's my take… those players who jumped the Michigan players, should be expelled from Michigan State, and should never put the pads on again… what an absolute disgrace.