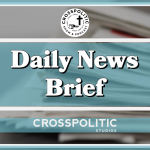 There are no legitimate religious exemptions. This is Toby Sumpter. Today is Friday, October 1, 2021.
AD: Did you know that more than 75% of those raised in evangelical, Presbyterian, and Reformed churches don't pursue any kind of Christian higher education? Surprising isn't it. Cornerstone Work & Worldview Institute is seeking to provide a new, exciting, and affordable option for Christians. Our mission is to build Kingdom culture in the workplace by equipping our students in a Trinitarian worldview and vocational competencies. Our low-cost full-time program offers integrative course modules, internships, and mentoring so our students can finish debt-free with vocational preparation, a robust faith, and financial potential to build strong godly families and homes rooted in their communities and churches long-term. Our program is offered face-to-face in beautiful Southern Illinois or remotely, anywhere you are. Visit our website at www.cornerstonework.org to find out more about enrolling.
Don't Make it Harder On Your Co-Workers
Play Audio:
Gov. Kathy Hochul is apparently now an expert on world religions. Also, apparently the courts are experts on world religions. Or at least they will be telling world religions what they may or may not believe.
This is why incidentally, there is no such thing as nuetrality. There is no place in the universe that you can stand that is not charged with morality. There is no place in this universe where you can pretend that there is no God, or that Jesus did not rise from the dead. To pretend such a monstrosity is to be evil. It is to be immoral. When Christians say that it is OK for the public square to be agnostic about God or religion, we are saying that it is OK for the public square to pretend that there is no God, that Jesus did not rise from the dead, and we are still in our sins. But if it's OK do that in the public square, then you have just handed the keys of the car of civilization to the drunkard at the wheel. He is drunk. He's insane. The fool says in his heart there is no God.
The other thing is that you cannot really banish God. You never actually banish religion. You merely replace one religion with another. And so Kathy Hochul and the rest of our political elites are quickly becoming our new priestly class, telling us what is or is not religious or a legitimate religious exemption.
No, Jesus is Lord, and all authority in heaven and on earth comes directly and personally from Jesus. This includes the authority of fathers and mothers, the family government to protect the health and well-being of themselves and those under their care. When the civil government demands a certain course of action with regard to health, with no clear emergency necessity, it oversteps its authority, and individuals and families are fully within their rights to insist on exemptions from their pagan scientism. We don't worship that false god of the state. And of course, if an individual desires to get the vaccine, he or she is free to do so, but care must be taken to clearly communicate that you don't believe that false religion.
Speaking of false religions…
Chinese President Xi Jinping Says that Democracy is not a special right but the common right of all humans.
Play Audio
The irony here is pretty thick. It's hilarious, if it weren't so sad.
The communist dictator of China is saying that democracy is not just a special right for a few but it is the common right and value of all humanity. The communist dictator. He also said that Tiananmen Square Massacre was a delightful tea party and would anyone like a biscuit?
Remember, this is the same Communist Dictator who has imprisoned Pastor Wang Yi for 10 years for refusing to submit to the authority of the Chinese government over the church. Likewise, the Uigars have been and as far as we know are still being harassed and persecuted. And Hong Kong has been brutally taken over.
Democracy is a common value to all humans. But apparently by democracy the Chinese communist dictator means whatever the ruling class says is good for you is what you meant to pick. And if you disagree too loudly, you will go to jail.
Play audio: 0:02-0:45
Special jail for journalists. Slow? Jail. Too high prices for sweaters? Jail. Undercook, overcook? Jail. We have the best patients in the world, because of jail.
We have the best democracy in the world. Because of jail.
Angelo Codevilla Died on Sept. 20 Said this about Democracy back in 2021
Play 0:21-1:32
Democracy simply reflects the "Demos."
"Educated incapacity" — this is what we are suffering under, "educated incapacity." What do Gov. Hochul and Dictator Xi JinPing have in common? Educated incapacity.
Psalm of the Day: Psalm 99
Play audio: 0:00-1:10
Remember you can always find the links to our news stories and these psalms at crosspolitic dot com – just click on the daily news brief and follow the links.
This is Toby Sumpter with Crosspolitic News. A reminder: if you see news stories and links that you think we should cover on the daily news brief, please send them to news @ crosspolitic.com and don't forget to check deft wire dot com where we are constantly posting all our stories. Support Rowdy Christian media, and share this show or become a Fight Laugh Feast Club Member. You always get a free Fight Laugh Feast t-shirt with a membership and remember if you didn't make it to the Fight Laugh Feast Conferences, club members have access to all the talks and lots more. Join today and have a great day.