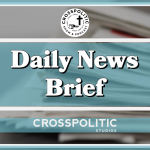 Dime Payments
Dime Payments is a Christian owned processing payment business. Every business needs a payment process system, so please go to https://dimepayments.com/flf and sign your business up. Working with them supports us. They wont cancel you, like Stripe canceled President Trump. They wont cancel you, like Mailchimp canceled the Babylon Bee. Check them out. At least have a phone call and tell them that CrossPolitic sent you. Go to https://dimepayments.com/flf.
This is Toby Sumpter and today is Friday, October 14, 2022, and this is your CrossPolitic Daily News Brief.
https://news.sbts.edu/2022/10/13/fall-trustees-meeting-board-commends-mohlers-stance-on-meaning-of-pastor-in-bfm-2000/
At their annual fall board meeting Monday, trustees at the Southern Baptist Theological Seminary unanimously adopted a resolution commending the public stance seminary President Albert Mohler took on the office of a pastor during the 2022 SBC annual meeting in Anaheim.
In June, Messengers at the SBC's annual meeting in Anaheim, CA, considered precisely what the Baptist Faith & Message 2000 means when it refers to the office of a pastor. Mohler argued that the SBC's confession of faith unequivocally reserves the office, function, and title of pastor to biblically qualified men.
Mohler served on the committee that drafted the BF&M 2000. On the convention floor in June, Mohler told messengers that there was no debate or confusion among BF&M 2000 committee members as to what is meant by the term "pastor:" it is an office which Scripture defines clearly in terms of qualifications and limits to men.
The trustees' resolution commends Mohler's stance. It concludes: "It is further resolved that this Board encourages The Southern Baptist Theological Seminary administration and faculty to continue its theological training with this stated conviction—graduating both men and women for service to the church, but with men alone reserved for the office and function, and thereby title of pastor."
Seminary leaders also reported on the institution's financial health. With financial instability in the United States, Southern Seminary's fiscal position, by God's grace, remains strong, Mohler said. Enrollment continues to be robust; during the 2021-22 school year, Southern experienced its second highest total of student hours sold. In addition, Boyce College has its highest-ever on-campus enrollment with 509 students.
Momma Bears are coming out.
You can't slap "family friendly" on anything and thereby make it "family friendly" –
This is called "grooming"
https://twitter.com/BrittRooted/status/1580065815059046400?s=20&t=1wM-ibBvVBNP71OxZd0_WQ
Play full audio
This is great, but parents need to realize that they let this happen. This happened on their watch when they handed the responsibility of educating children over to the state. You didn't protest when the state said they would be taxing your property to pay for schools that they would oversee. You didn't protest when the state implicitly threatened your authority and responsibility through state sponsored education. I appreciate this push back, but we need to take responsponsibility for our complicity in how we got here.
Pastor Wilson likes to say that you have to throw down at the first crime scene. When the men in ski masks pull up in their dark van, you don't go with them, you don't go with them to some warehouse, sit down in a chair and calmly let them tie you up and gag you, and then finally when they hang you upside down and point a gun at you, do you start screaming. When we get to the part in the story where elected school boards are sponsoring Drag Queens grooming children for sexaulization, transgenderism, etc, that's a third or fourth crime scene. We didn't yell when they insisted on government sponsored education. We didn't scream when they told us that we don't know how to raise and educate our own children.
Club Membership Plug:
I want to invite you into the Fight Laugh Feast Club membership. By joining the Fight Laugh Feast Army, not only will you be supporting our work, and helping us take down legacy media, you will also receive access to the content placed in our Club Portal, such as past shows, all of our conference talks, and EXCLUSIVE content for club members that you won't be able to find anywhere else. Lastly, you'll also get discounts for our conferences… so if you've got $10 bucks a month to kick over our way, you can sign up now at fightlaughfeast.com.
Tampa Bay Bucs HC Todd Bowles
https://twitter.com/JakeBequette91/status/1580661393141166080?s=20&t=1wM-ibBvVBNP71OxZd0_WQ
Play full audio
Stop making a big deal about color of skin. Focus on the game. Focus on life.
Stop it. This is the marxist play: cultivating difference in order to cultivate envy, enmity, animosity in order for the state to come in and save us. But when the peace of Christ cuts through animosities and enmities, it makes men free. We don't need your government programs. We have Christ. We have His people. We have our families.
Life's short: And this teaches us to number our days. Confess your sins. Get right with God. Get right with your family. Don't nurse grudges. That makes you susceptible to socialism and marxism. Get clean. Get forgiven. Get free.
Psalm of the Day: Psalm 90, Song of Moses
0:00-2:05
Amen!
This is Toby Sumpter with CrossPolitic News. Remember you can always find the links to our news stories and these psalms at crosspolitic dot com – just click on the daily news brief and follow the links. Or find them on our App: just search "Fight Laugh Feast" in your favorite app store and never miss a show. We are now doing a daily show, with daily backstage content for Fight Laugh Feast Club Members. Have a great weekend.