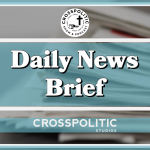 You're done, get out… and more on today's CrossPolitic Daily Newsbrief. I'm Toby Sumpter and today is October 15, 2021.
Do you love the CrossPolitic Daily News Brief? Do you wake up in the morning wondering what Gabe might mispronounce today? Does the sound of Chocolate Knox crumpling up paper just put a little skip in your step, a little extra warmth in your heart? Would you consider becoming a Fight Laugh Feast Club Member? Go to FLF Network dot com and click "join the club." We are committed to continuing to bring the sword of God's word to everything on this planet. This is what we mean by rowdy Christians. God's word cuts all our folly, slices through all our pride, and confronts all our sin. This is considered very rude and unseemly to all the fleshly elites. And we are not sorry at all. In fact, we plan to do it more. So if you want to help us make the ungodly squirm, become a club member today. Go to FLF Network dot com and click on "join the club." And we promise not to stop.
Dem. Governor Candidate Says He Will Never Allow School Choice in Virginia
Play Audio
Terry McAuliffe has four kids going to 30K per student tuition private school and opposes the use of vouchers to send poorer kids to private schools.
But it's actually not just that. He opposes allowing parents to keep their own money to pay for the education that they believe is best for their own kids. He supports taking money from hard working families whether or not they want to pay for government schools.
Why would anyone want to get their kids out of government schools?
Loudoun County School Board Meeting Erupt in Chaos Back in June https://www.dailymail.co.uk/news/article-10083783/Loudoun-County-father-arrested-school-meeting-says-daughter-raped-boy-girls-bathroom.html#v-4656337064846966859
Play Audio: 0:21-0:31
That's the video/audio of the school board meeting back in June where Scot Smith was arrested for exploding at the school board.
What was the board discussing that day? Transgender policies.
What was the frustrated 48-year old father trying to say? He was trying to tell the room that his daughter had been raped by a boy at school in the girls' bathroom.
In an interview with The Daily Wire that was published on Monday, he explained that he was trying to stick up for his daughter, who was attacked at Stone Bridge High School in a girl's restroom on May 28 by a boy 'wearing a skirt.'
Smith says the boy took advantage of the school's trans policies to get into the girls' bathrooms and assault her.
On the day of the incident, Smith says the school told him to come to the campus because his daughter had been physically assaulted. They did not say she had been sexually assaulted. Once he got there, he says school staff told him they would handle it internally, choosing not to call the police for an as-yet unexplained reason.
He was enraged by the decision and challenged them on it. The school board then did call the police but to report Smith, not the boy, for making a scene.
The school's principal sent out an alert that day warning parents of what had happened involving Smith, but it said nothing of the sexual assault allegations in the bathroom.
Smith and his daughter ultimately ended up at the hospital where a rape kit was performed that verified his daughter's claim. They took it to the police and a case was then opened.
Meanwhile, it would be two months before the boy was arrested, a month after the crazy school board meeting.
So the boy in a skirt who had assaulted his daughter in a ladies' room was still at large, when at the meeting on June 22 the board took up discussion of their trans policy. During the meeting, Loudoun County School Superintendent Scott Ziegler said the school had never had any form of incident inside a bathroom or locker room involving a transgender child.
'To my knowledge, we don't have any record of assaults occurring in our restrooms,' he said. He went on to quote Time magazine research that he said disproved the notion transgender kids might sexually attack cisgender kids, and said: 'I think it's important to keep our perspective on this, we've heard it several times tonight from our public speakers but the predator transgender student or person simply does not exist.'
And it was this claim that caused Smith to became irate. He started arguing with another woman at the meeting, and called her names after she allegedly denied his daughter's claim. He was then charged with disorderly conduct and resisting arrest.
The boy was finally arrested a month after that, but here's the crazy part: earlier this month in October, the same boy was arrested again on different charges for allegedly assaulting a different girl, at a different school. He is now in a juvenile detention center.
The Smiths were understably stunned when the same boy was arrested again on October 6, at a different school in the same district. On this occasion, he was charged with 'with sexual battery and abduction', allegedly holding a different girl in a classroom to attack her in Broad Run High School – 2.5miles from the high school where Smith's daughter was assaulted.
The Loudoun County Sheriff's Office did confirm the October 6 incident, saying in a press release on October 7: 'A teenager from Ashburn has been charged with sexual battery and abduction of a fellow student at Broad Run High School.
All of this comes on the heels of the Biden Justice Department announcement last week that the FBI would now investigate and prosecute any parent who it deems to be 'threatening' towards school staff.
The order from Attorney General Merrick Garland was in response to a request from the National School Board Association to President Biden, asking him to protect them from angry parents.
All of this reminds me of the day that James Coates was arrested in Alberta, Canada for holding church services against COVID regulations. On the very same day, a sexual predator was released into the community from the same jail where Coates was admitted. Not only was the sexual predator released but law enforcement officials released the criminal with a community warning advising that he was considered likely to recommit crimes.
This is what happens when you abandon God's word. When you have no anchor, no foundation, everything is tossed by the wind and waves. You have the storm of liberals, the storm of conservatives, rage, hate, shame, and chaos. And there will only be more if we do not turn back to Christ and His word. And the first thing you ought to do is get your kids out of those schools. It is worth the sacrifice. It is worth working longer hours.
Guitar AD
Have you always wanted to play guitar but didn't know where to start? Learning to play the guitar can be a lonely, confusing and expensive experience. But it doesn't have to be that way. Fight Laugh Feast member David Harsh has created a unique, online monthly membership, that has community, a clear success path, and it's super affordable. David has spent decades of touring, leading worship, and teaching guitar. He's helped thousands of guitar players discover their potential. You may have heard us talk about GuitarSuccess4U. Here's an update. Several of our listeners have joined this membership, and they are having a blast! Maybe it's time for you to hop on board! When you join this membership, you can learn at your own pace, from home, alongside a community of guitarists including worship leaders, hobbyists, retirees, stay-at-home moms and more. Through video lessons, worksheets, and weekly Zoom calls, David will take you step-by-step towards becoming the musician you were made to be.
GuitarSuccess4U is only $29 a month – that's less than a dollar a day, and a fraction of the cost of guitar lessons. Learn more and join now at GuitarSuccess4U.com. That's "Guitar Success," the number "4" and the letter "U," dot com. Join today and get 5 instant bonuses to help accelerate your progress! Head on over to GuitarSuccess4U.com to start your guitar journey. That's Guitar Success, the number "4" and the letter "U," dot com.
George Clooney Supports Mandatory Vaccines
Play Audio: 0:00-1:28
They screwed up the polio vaccine and a bunch of kids died, but hey, we'll get this one figured out, and in the meantime, mandate, mandate, mandate.
Yeah, I don't think so, Mr. Clooney.

Psalm of the Day: Africa "Now Shall My Inward Joys Arise"

Can a kind woman e'er forget
The infant of her womb?
Among a thousand tender thoughts
Her suckling have no room?
Yet saith the Lord should nature change
And mothers monsters prove
Zion still dwells upon the heart
Of everlasting love.

Deep on the palms of both of my hands
I have engraved her name
My hands shall raise her ruined walls
And build her broken frame.
God loves His church more than the fiercest mother's love, and if in our day, so many mother's have become monsters, how much more does God's love burn for Zion. The Church is engraved on both of His hands, and He will raise her ruined walls.
1:33-3:06
Remember you can always find the links to our news stories and these psalms at crosspolitic dot com – just click on the daily news brief and follow the links.
This is Toby Sumpter with Crosspolitic News. A reminder: if you see news stories and links that you think we should cover on the daily news brief, please send them to news @ crosspolitic.com and don't forget to check deft wire dot com where we are constantly posting all our stories. Support Rowdy Christian media, and share this show or become a Fight Laugh Feast Club Member. You always get a free Fight Laugh Feast t-shirt with a membership and remember if you didn't make it to the Fight Laugh Feast Conferences, club members have access to all the talks from Douglas Wilson, Joe Boot, Jeff Durbin, Glenn Sunshine, Nate Wilson, David Bahnsen, Voddie Baucham, and many more. Join today and have a great day.