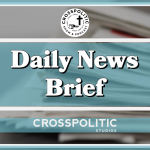 This is Garrison Hardie with your CrossPolitic Daily News Brief for Friday, October 20th, 2023.
PUB MEMBERSHIP PLUG:
Summer has been great here at CrossPolitic, and we want you to join us on this ride… First, we're no longer calling it the Fight Laugh Feast club… it's now called the Pub! Second, we've launched a new line of content, focused on family entertainment. We will have our new show "This America" and our exciting new "Rowdy Christian Guides" highlighting the practical guides to fun and godly life! Additionally, we will have the live streaming of our conferences, and our past conference talks, all bundled within our new polished Fight Laugh Feast App. Sign up today! Head on over to fightlaughfeast.com, and join the Pub! that's fightlaughfeast.com.
https://www.breitbart.com/middle-east/2023/10/18/watch-pro-palestinian-protesters-stage-insurrection-in-u-s-capitol-office-building-cannon/
Pro-Palestinian Protesters Stage 'Insurrection' in U.S. Capitol Office Building
Pro-Palestinian protesters, who want a ceasefire that would benefit the Hamas terrorist organization in Gaza, stormed the U.S. Capitol on Wednesday and staged a protest inside the Cannon Rotunda that one observer likened to an "insurrection."
The Cannon Rotunda is part of the Cannon House Office Building. It is separate from the iconic Capitol building but is considered part of the Capitol complex. It is the oldest congressional office building on Capitol Hill.
Rep. Rashida Tlaib (D-MI), who falsely accused Israel of bombing a Gaza hospital Tuesday, addressed the protesters.
Fox 5 in Washington, DC, reported:
A large group of pro-Palestinian protesters are demonstrating inside the Cannon Rotunda on Capitol Hill.
The Cannon House Office Building holds the House Committee offices.
U.S. Capitol Police say demonstrations are not allowed inside Congressional Buildings and are working to clear the crowd. Police have already detained some individuals as chants of "ceasefire" are echoing around the building.
Left-wing protesters have staged demonstrations inside the Capitol before, but none have been treated the way participants in the January 6, 2021 protesters have been treated, many of whom were detained and given harsh sentences for non-violent offenses.
The U.S. has seen anti-Israel protests in major cities and on college campuses since a Hamas terror attack Oct. 7 killed 1,400 Israelis and wounded roughly 4,400 more. About 200 people — including some Americans — were taken to Gaza as hostages.
FBI Director Christopher Wray called the Capitol riot "domestic terrorism." In this case, the pro-Palestinian protest is supporting terrorism against Israelis and Americans; a ceasefire would allow Hamas to escape without consequences for its atrocities.
https://www.washingtonexaminer.com/policy/education/israel-war-harvard-columbia-students-lose-job-offer-law-firm
Harvard and Columbia students lose law firm job offer for anti-Israel stance
A major law firm has rescinded its offer of employment to three students at Harvard and Columbia law schools who endorsed statements that blamed Israel for a series of terrorist attacks by Hamas.
The law firm Davis Polk notified employees in an internal email that the firm had withdrawn job offers to three students from Harvard and Columbia who had signed statements that blamed the Israeli government for the attacks by Hamas. The Columbia statement went further and said the attacks were justified acts of resistance. The attacks and the subsequent military response by Israel have claimed the lives of more than 4,000 people.
"These statements are simply contrary to our firm's values and we thus concluded that rescinding these offers was appropriate in upholding our responsibility to provide a safe and inclusive work environment for all Davis Polk employees," the firm said in the email to employees.
The firm's action is the latest example of students losing employment offers because of their support for the statement.
Ryna Workman, a law student at New York University and the president of the student bar association, lost an employment offer from the law firm Winston & Strawn after supporting a statement that said: "Israel bears full responsibility for this tremendous loss of life."
In addition to withdrawn job offers, other prominent figures have urged that the students be named publicly and face professional consequences. A number of the 31 student groups who signed the Harvard statement have since withdrawn their support for the statement.
Billionaire Bill Ackman, a Harvard alum, asked that the names of the students who signed the statement be publicly released "so as to ensure that none of us inadvertently hire any of their members."
Sweetgreen CEO Jonathan Neman echoed Ackman, saying, "I would like to know so I know never to hire these people."
https://www.theblaze.com/news/sen-vances-new-bill-would-protect-mothers-who-exit-the-workforce-to-care-for-their-babies-from-undue-healthcare-costs
Sen. Vance's new bill would protect mothers who exit the workforce to care for their babies from undue health care costs
Republican Sens. J.D. Vance (Ohio) and Marco Rubio (Fla.) introduced legislation Tuesday that would ensure that mothers "who choose to prioritize their child's early development and recover rather than return to work" after giving birth won't be retroactively stripped of their health care premiums for having done so.
Currently, the Family and Medical Leave Act of 1993 requires covered companies with over 50 employees to give their workers 12 weeks of unpaid medical leave in a 12-month period for the birth of a child as well as in cases of adoption. Furthermore, it requires the "continuation of their group health benefits under the same conditions as if they had not taken leave."
The bill, entitled "Fairness for Stay-At-Home Parents Act," would amend the FMLA to "prohibit an employer from recovering any health care premium paid by the employer for an employee if the employee fails to return to work due to the birth of a child, and for other purposes."
In addition to preventing clawbacks, the legislation would have employers continue their health premium contributions for the duration of the 12-week leave.
"Our laws should not penalize new parents who choose to stay home to care for their newborn babies," Vance said in a statement. "We should celebrate and promote young families, not punish them. This legislation would relieve a serious financial burden for working families all over America and steer Washington in a more pro-family direction."
America appears to be in dire need of a "pro-family direction."
The U.S. Census Bureau revealed in November 2022 that less than 24% of children under the age of 15 living in normal families had a stay-at-home mother. Only 1% had a stay-at-home father.
The Pew Research Center indicated that as of 2021, 26% of mothers stayed home with their children and 7% of fathers stayed home with their children.
According to the Mayo Clinic, over half of women return to work after their maternity leave.
Not only are fewer people staying home to raise their children, but fewer Americans are having children.
The Centers for Disease Control and Prevention indicated in a June report that the provisional number of births in the U.S. for 2022 was just over 3.6 million, a decline from the previous year. The fertility rate was 56.1 per 1,000 women ages 15-44. This figure is roughly half of what the rate was in the 1960s and more or less on par with the rate in 2020, which was the lowest rate on record.
The New York Times noted in 2018 that one of the key drivers behind Americans having fewer or no children is financial insecurity.
A poll conducted by USA Today last year confirmed that was still the case. About 46% of respondents suggested their personal financial situation influenced their planned or current childlessness; 40% indicated work-life balance was at least partly to blame.
The Washington Examiner noted that financial struggles hit parents straight out the gate. The national average cost of child delivery in a hospital exceeds $18,000, or $3,000 out of pocket for those with insurance.
The 12-week reprieve that some parents might find as a result of Vance's bill could go a long way.
"The Fairness for Stay-At-Home Parents Act supports mothers' and parents' invaluable role in raising the next generation," said Rubio, the original co-sponsor of Vance's bill. "This legislation stops employers from imposing harsh financial penalties if a parent decides not to return to work after unpaid leave, and it empowers families to make choices that prioritize the well-being of their children."
Rubio, like Vance, appears keen on bolstering the family. Following the Supreme Court's Dobbs ruling, Rubio released a pro-family framework, stressing the "need to adopt pro-life policies that support families, rather than destroy them."
Among the proposals in the Florida senator's framework were an expansion to the child tax credit; an allowance for new parents to pull forward up to three months of their Social Security benefits to finance paid parental leave; tax relief for adoptive parents; expanded support for pro-life crisis pregnancy centers; and the establishment of a grant program funding integrated mentoring services for poor mothers.
Following the overturning of Roe v. Wade, the Manhattan Institute's Brian Riedl prophesied to the Washington Post that Republicans would likely take a stronger lead on bolstering the family beyond just sparing the unborn from mass extermination.
"I could see if Republicans decide that abortion politics are working against them, there could be a push for child-care benefits, more maternal health care, and better adoption services to make it easy and more affordable for more mothers to carry the babies to term," said Riedl. "It would put their money where their mouth is when challenged on making it easier for mothers to afford their children and get their health care."
https://www.outkick.com/conor-mcgregor-no-charges-nba-finals-heat-sexual-assault-allegation/
CONOR MCGREGOR WON'T FACE CHARGES AFTER BEING ACCUSED OF SEXUAL ASSAULT DURING NBA FINALS
Conor McGregor won't face charges stemming from allegations he sexually assaulted a woman during the NBA Finals.
McGregor was accused by a woman of sexually assaulting her in the bathroom of Kaseya Center during a Heat/Nuggets NBA Finals game, and the UFC star always maintained he didn't do anything wrong.
Prosecutors have now decided there is "insufficient evidence" to pursue the situation further, according to TMZ. Authorities also cited "contradicting and/or no corroborating witnesses" as another reason for why no charges will be brought.
"In light of the above facts and circumstances, the State would not be able to satisfy its burden of proof beyond a reasonable doubt," prosecutors wrote in a closeout memo, according to the same TMZ report.
The woman initially claimed security separated her from her friends to get her in a bathroom with McGregor, but video of the situation told a very different story.
She was filmed entering the bathroom with McGregor on her own freewill, and nobody was forcing her to go anywhere.
TMZ also reported she was seen at a club with McGregor AFTER they left the bathroom together where she alleged she was assaulted.
An attendant outside the bathroom told authorities they "did not hear any signs of distress or sounds that would corroborate that whatever was occurring was not consensual."
McGregor's attorney told TMZ, "After a thorough investigation, including a review of videos and interviews with eyewitnesses, the authorities have concluded that there is no case to pursue against my client, Conor McGregor. On behalf of my client, his family and his fans we are pleased this is now over."
The situation is now behind McGregor, and that means he can focus on getting back in the octagon.