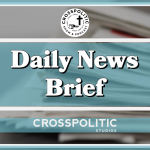 This is Garrison Hardie with your CrossPolitic Daily News Brief for Friday, October 21st, 2022. Happy Friday everyone…
Since it's Friday, I thought we'd go ahead and kick things off with a "On this day in history!" On this day in history, October 21st:
1918 In order to secure a WWI armistice, Germany agrees to further concessions

1921 Germany and Allies comes to an agreements over reparation payments in a meeting at Wiensbaden

1924 1st Negro League World Series: KC Monarchs shuts out Hilldales, 5-0

1930 Adventures of Sherlock Holmes, premieres on NBC radio

1934 MLB All-Star team led by Connie Mack and including Babe Ruth, Jimmie Foxx and Lou Gehrig sails to Japan for 18-game series against Big-Six University League

1944 US forces under General Douglas MacArthur return to the Philippines with the landing of the US 6th army on Leyte (There's even a statue of MacArthur and his troops commemorating MacArthur keeping that promise of a u.s. return.)

1954 Leigh, Charlap, Styne, Comden and Green's musical "Peter Pan", starring Mary Martin and Cyril Ritchard, opens at Winter Garden Theater NYC; runs for 152 performances

1955 A historic Publication of "The Return of the King", the 3rd and final volume of "The Lord of the Rings" by J. R. R. Tolkien by George Allen and Unwin in London

1963 Jim Brown sets NFL single-season rushing record, 1,863 yds

1973 Queen Elizabeth II opens the Sydney Opera House

2019 1st New York to Sydney non-stop test flight by a commercial airline achieved by a Qantas Boeing 787 Dreamliner, takes 19 hours 42 minutes
And that, was on this day in history for October 21st…
Accountable2You
Is your smartphone a tool in the service of Christ, or a minefield of distractions and temptations?
With soul-killing seductions just a few taps away, our families and churches must embrace biblical accountability on our digital devices.
Accountable2You makes transparency easy on all your family's devices, by sharing app usage and detailed browsing history—including "Incognito" mode—with your spouse, parent, or chosen accountability partner.
Accountable2You helps your family to proactively guard against temptation, so you can live with integrity for God's glory! Learn more and try it for free at Accountable2You.com/FLF
https://www.dailywire.com/news/hunter-bidens-laptop-documents-at-least-459-legal-violations-watchdog-group-says
Hunter Biden's Laptop Documents At Least 459 Legal Violations, Watchdog Group Says
A year-long exploration of Hunter Biden's laptop has yielded a 630-page report that its authors say document 459 violations of state and federal laws and regulations by President Joe Biden's son and his business partners.
Marco Polo, a nonprofit formed by a one-time aide to former President Trump to enable a team to take a deep dive into the laptop that the crack-addled Biden left at a Delaware repair store, claims the report is a road map for local, state, or federal prosecutors to pursue charges. The group also sent its report to each member of Congress.
The timing of the report's release, coming two weeks before the midterm elections, has a certain symmetry to the laptop's initial introduction to the public. In 2020, days before the election, the New York Post published news of the laptop's existence, as well as bombshells from it, but social media suppressed the story after the FBI had warned companies of so-called misinformation.
This time around, the timing is similar, but other factors are reversed. Legacy outlets have acknowledged that the laptop's files are authentic, Twitter founder Jack Dorsey admitted that censoring the laptop was a mistake, and the social media platform is being sold to free-speech advocate Elon Musk.
The report, which reviewed the laptop's emails, videos, calendar items, photographs, phone records, financial documents and more, but also provided context and explanation, serves as a "Rosetta Stone of white- and blue-collar crime under the patina of 'the Delaware Way,'" the report says. "We were able to illuminate previously convoluted network webs of the people leading the charge for global governance," cutting through shell companies and middlemen."
Crimes Hunter Biden allegedly committed include serving as an agent for foreign entities without disclosing it, tax fraud, and falsifying business documents. The alleged crimes also include prostitution, non-consensual pornography, and distribution of narcotics.
https://www.washingtonexaminer.com/news/washington-secrets/voters-agree-gop-to-take-house-senate
Voters agree: GOP to take House and Senate
Weeks of reporting that the Republicans are poised to take control of the House, and maybe the Senate, have sunk with voters who now mostly agree that the November elections should show Democrats the door.
In the latest Rasmussen Reports survey, just shared with Secrets, likely voters expect the Republicans to win control of the House. And it's not even close, with 67% agreeing to 17% who don't. Even 56% of Democrats expect their party to lose control of the House.
As for the Senate, it's closer, with 58% of likely voters believing it's likely the Republicans will edge out the Democrats. Just 25% don't agree. Among Democrats, the split is even, 42% agree and 42% don't.
Much of the media have recently raised expectations that the House will turn red by 10-40 seats. There has been some reporting of tightening Senate races that could give the Republicans a 1-2 seat edge after the elections are over on Nov. 8.
The survey also quizzed likely voters on if they plan to cast ballots early or on Election Day. Most, by a 53%-44% margin, chose Election Day, though that was mostly a GOP preference as with past elections.
https://pjmedia.com/news-and-politics/matt-margolis/2022/10/20/former-fbi-official-will-testify-about-white-house-pressure-to-inflate-domestic-extremism-numbers-n1638595
Former FBI Official Will Testify About White House Pressure to Inflate Domestic Extremism Numbers
Republicans on the House Judiciary Committee announced on Thursday that they would be calling a former top FBI official to testify before Congress to address claims that the Biden administration pressured agents to label cases as domestic extremism or a white supremacist threat even if they did not meet that criteria in order to match Joe Biden's rhetoric.
Last month, current and former FBI agents came forward claiming the Biden administration has been deliberately exaggerating the danger posed by white supremacists. According to the whistleblowers, high-ranking FBI officials were pressuring field agents to fabricate domestic terrorism cases and label people as white supremacists in order to "meet internal metrics."
"The demand for white supremacy" coming from FBI brass "vastly outstrips the supply of white supremacy," one agent told the Washington Times. "We have more people assigned to investigate white supremacists than we can actually find."
On December 2, members of the House Judiciary Committee will interview Jill Sanborn, a former assistant director of the FBI Counterterrorism Division and executive assistant director of its National Security Branch, who has been accused of pressuring agents to reclassify cases per the White House's requests.
The FBI claims it only investigates those "who commit or intend to commit violence and criminal activity that constitutes a federal crime or poses a threat to national security" and that it does not target individuals or organizations based on their political beliefs.
Last year, the administration previously came under fire for using the resources of the Department of Justice to target angry parents at school board meetings and treat them like domestic terrorists. Merrick Garland authorized the FBI to investigate parents who protested school board meetings alleging a "disturbing trend" of teachers being threatened or harassed. However, PJ Media's Megan Fox looked into those allegations and concluded that they're mostly bunk.
https://thepoliticalinsider.com/arizona-refuses-to-comply-with-biden-demand-to-remove-makeshift-border-wall/
Arizona Refuses to Comply With Biden Demand to Remove Makeshift Border Wall
Arizona's Department of Emergency and Military Affairs is refusing a demand by the Biden administration to remove the shipping containers they are using to close gaps in the wall at the southern border.
A letter written to the U.S. Bureau of Reclamation and signed by Allen Clark, Director of Arizona's DEMA, states "the containers will remain in place until specific details regarding construction are provided."
Clark goes on to argue that the residents of Arizona "cannot rely on the federal government to ensure its security."
"The myriad of federal agencies that claim jurisdiction on the southern border but do nothing to prevent the public nuisance caused by illegal immigration and criminal activity that exploits the open border is quite frustrating to those that live, work and recreate on that border and in our state," he added.
The letter comes in response to a demand by the Biden administration to remove the shipping containers that are predominantly being used to seal up gaps in the border wall near Yuma.
The U.S. Bureau of Reclamation penned its own letter last week claiming Arizona's shipping containers are trespassing on its lands and those of the Cocopah Indian Tribe's West Reservation.
The Bureau indicates contracts have been awarded to close the gaps in question and they 'anticipate' awarding more.
As such, they insisted the containers be removed so the project can continue "without unnecessary delay."
Arizona Republican Governor Doug Ducey issued an executive order to seal up gaps in the border wall in August.
Meaning the White House had no less than 18 months to get those contracts awarded and pushed out to start construction.
The shipping containers stand 22 feet high, are welded together, and feature an additional four feet of razor wiring added to the top.
Ducey's reasoning behind installing the containers includes the Biden administration's "lack of urgency on border security," which he labeled a "dereliction of duty."
Armored Republic
The Mission of Armored Republic is to Honor Christ by equipping Free Men with Tools of Liberty necessary to preserve God-given rights. In the Armored Republic there is no King but Christ. We are Free Craftsmen. Body Armor is a Tool of Liberty. We create Tools of Liberty. Free men must remain ever vigilant against tyranny wherever it appears. God has given us the tools of liberty needed to defend the rights He bestowed to us. Armored Republic is honored to offer you those Tools. Visit them, at ar500armor.com
Now it's time for my favorite topic… sports!
https://www.boundingintosports.com/2022/10/nascar-suspends-bubba-wallace-after-intentionally-wrecking-kyle-larson/
NASCAR Suspends Bubba Wallace After Intentionally Wrecking Kyle Larson
NASCAR announced they suspended Bubba Wallace one race for his actions at Las Vegas Motor Speedway where he deliberately retaliated against Kyle Larson on the track.
During the South Point 400, Larson had a strong run going into turn 3 and he dove to the inside of both Kevin Harvick and Bubba Wallace. Harvick got out of the gas and let Larson and Wallace race for the position.
As they continued into turn four, Larson got loose and began to chase his car up the track inching ever close to Wallace. However, he never made contact with Wallace. Coming off the turn, Wallace slammed into the outside wall hard, bounced off it and down into Larson.
Larson dove to the inside of the track to avoid Wallace. Wallace believing Larson had wronged him by chasing his car up the track chased him down the track and ran into his right rear quarter panel sending both cars spinning up the track. Larson would make contact with Christopher Bell before making contact with the wall. Wallace would smash nose first into the outside wall.
NASCAR.com reports Wallace violated "Sections 4.3A and 4.4 C & E of the NASCAR Member Code of Conduct laid out in the NASCAR Rule Book. Rule 4.4.C lists "intentionally wrecking or spinning another vehicle, whether or not that vehicle is removed from Competition as a result' as one of five member actions that could result in a penalty."
As noted above, NASCAR chose to suspend Wallace one race. NASCAR's Chief Operating Officer Steve O'Donnell appeared on SiriusXM NASCAR Radio to explain the decision.
https://twitter.com/i/status/1582488669625077762 – Play Video – 0:00-1:38
https://www.boundingintosports.com/2022/10/nhl-embraces-anti-white-racism-says-they-have-too-many-white-employees-aims-to-change-that/
NHL Embraces Anti-White Racism, Says They Have Too Many White Employees, Aims To Change That
The National Hockey League (NHL) released a workforce demographic study as part of a report on "Accelerating Diversity & Inclusion" that claims the organization's teams are too white and the league plans to make changes to reduce the percentage of white people that work for them.
Introducing the report, NHL Commissioner Gary Bettman made clear the organization's goals saying, "Our belief is stronger than ever that hockey has a powerful platform to build character, teach life skills, and support our society and our communities."
As part of one of their initiatives to promote diversity and inclusion, the report notes, "The NHL developed a new, best-in-class Workforce Demographic Study to understand the diversity of full-time League and Club employees and accelerate inclusive hiring."
This Workforce Demographic Study was also highlighted as one of the NHL's 7 Dimensions, specifically under their Employment section. This section specifically notes the NHL is engaging in racist activities, "Data from the survey will help guide future decision-making about our workforce. In late 2021, the NHL hired a full-time Director of Recruiting who is focused on attracting diverse talent to the organization. Additionally, the League engaged Jopwell with the intent of creating a more diverse and inclusive workplace by expanding our talent pool through Jopwell's network of Black, Latinx, and Native American professionals."
The report further notes they will be excluding white people from a mentorship program, "Clubs are also taking action: 22 Clubs have launched or are about to launch a mentorship/fellowship/hiring program to develop BIPOC and female talent to work in the organization's Hockey Operations or front office roles."