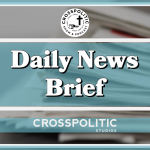 We need to go into the capitol building….. and more on today's CrossPolitic Daily Newsbrief. I'm Toby Sumpter and today is Friday, October 22, 2021.
Do you love the CrossPolitic Daily News Brief? Do you wake up in the morning wondering what Gabe might mispronounce today? Does the sound of Chocolate Knox crumpling up paper just put a little skip in your step, a little extra warmth in your heart? Would you consider becoming a Fight Laugh Feast Club Member? Go to FLF Network dot com and click "join the club." We are committed to continuing to bring the sword of God's word to everything on this planet. This is what we mean by rowdy Christians. God's word cuts all our folly, slices through all our pride, and confronts all our sin. This is considered very rude and unseemly to all the fleshly elites. And we are not sorry at all. In fact, we plan to do it more. So if you want to help us make the ungodly squirm, become a club member today. Go to FLF Network dot com and click on "join the club." And we promise not to stop.
Thomas Massie Questions Garland About the January 6 Shenanigans
Play Audio
At the end of the video, the same guy who is heard saying let's go into the capital several times is then seen saying something into the ear of a younger guy who then begins pushing on a blockade with several other guys and knocking it over — knocking over one security guard in the process.
So Thomas Massie played that video for Merrick Garland and then questioned him about it:
Play: 0:56-2:18
Garland will not comment on whether that suspicious guy has been investigated, and he will not comment on whether any or how many federal agents may have been involved in going into the capitol building on January 6.
Garland Also Questioned About Conflict of Interest
Mike Johnson From Louisiana
Play Audio: 0:24-4:30
So Rep. Mike Johnson pointed out that Attorney General Merick Garland's Son-in-Law is the co-founder of Panorama Education, a curriculum company that provides Critical Race Theory curricula to public schools. Rep. Johnson wonders if there is an ethics violation on the part of Merick Garland and presses him on why he didn't have that check by an independent source.
Mission First Coffee: "Calling all coffee lovers! Mission First Coffee is a company owned and run by friends of ours that offer specialty coffee shipped directly to your doorstep. 10% of every order goes to Paul Washer's HeartCry Missionary Society. With a no-questions-asked, money-back guarantee, you know the coffee is going to be good. Head over to missionfirstcoffee.com to try it out yourself and support missionary work around the world!"
Florida Surgeon General Speaks Sense
Joseph Ladopo
Sticking with intuition and sensibilities. We don't have the data yet.
Psalm of the Day: 110
The Lord at thy right hand shall smite earth's rulers in his wrath
Among the nations He shall judge, The slain shall fill his path
In many lands he'll overthrow their kings with ruin dread
And marching, he'll drink from the brook, and so lift up His head.
Play: 0:00-2:10
Amen!
Remember you can always find the links to our news stories and these psalms at crosspolitic dot com – just click on the daily news brief and follow the links.
This is Toby Sumpter with Crosspolitic News. A reminder: if you see news stories and links that you think we should cover on the daily news brief, please send them to news @ crosspolitic.com and don't forget to check deft wire dot com where we are constantly posting all our stories. Support Rowdy Christian media, and share this show or become a Fight Laugh Feast Club Member. You always get a free Fight Laugh Feast t-shirt with a membership and remember if you didn't make it to the Fight Laugh Feast Conferences, club members have access to all the talks from Douglas Wilson, Joe Boot, Jeff Durbin, Glenn Sunshine, Nate Wilson, David Bahnsen, Voddie Baucham, Ben Merkle, and many more. Join today and have a great day.