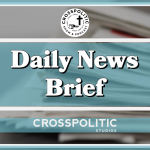 This is Garrison Hardie with your CrossPolitic Daily News Brief for Friday, October 27th, 2023.
Classical Conversations
Classical Conversations supports homeschooling parents by cultivating the love of learning through a Christian worldview in fellowship with other families. They provide a classical Christ-centered curriculum, local like-minded communities across the United States and in several countries, and they train parents who are striving to be great classical educators in the home. For more information and to get connected, please visit their website at ClassicalConversations.com. Again that's ClassicalConversations.com.
We start today's show with tragic news coming out of Lewiston Maine, as a gun man shot and killed at least 18 people, and wounded 13 more…
https://www.foxnews.com/live-news/lewiston-maine-mass-shooting-october-26
Maine State Police have released a detailed timeline of the mass shooting in Lewiston that killed at least 18 people and injured 13 more at two separate locations Wednesday night as the manhunt for suspect Robert Card intensified across the state.
At 6:56 p.m., the Auburn Communications Center was alerted that an unidentified man walked into Just-In-Time Bowling, which was recently renamed from Sparetime Recreation, on Mollison Street in Lewiston and began shooting. Police said multiple 911 calls that followed confirmed the shooting.
At 7:08 p.m., the Auburn Communications Center received multiple calls that a man had entered a Bar and Grille Restaurant on Lincoln Street and opened fire.
Police said multiple law enforcement agencies and emergency medical personnel were immediately dispatched to the locations, which are about 4 miles apart.
At 8:06 pm, police released a photo of the alleged shooter to the media. The surveillance photo showed a man wearing a brown sweatshirt and holding a rifle while walking through doors decorated with bowling pins and a bowling ball.
At 9:26 p.m., the Lewiston Police Department received a call identifying the man in the distributed photos as Robert Card, 40, of Bowdoin, Maine.
At 9:56 p.m., the Lisbon Police Department notified Lewiston Police that it had located a white Subaru at the at a Boat Launch in Lisbon. The vehicle was confirmed to belong to Card.
Card remains at large as more than 350 law enforcement personnel from federal, state and local agencies continue to search for him. Authorities stress that Card should be considered armed and dangerous.
Card is a "trained firearms instructor" who recently reported mental health issues,including "hearing voices and threats to shoot up the National Guard Base in Saco, ME," according to a Maine law enforcement bulletin shared with Fox News Digital.
Card is also a Petroleum Supply Specialist in the Army Reserve, having enlisted in December 2002, an Army spokesperson told Fox News, adding that Card has had no combat deployments.
Officials have yet to publicly name any of the 18 victims, and police said Thursday morning 10 of the victims killed have yet to be identified.
Police have confirmed that seven people — one female and six males — were killed at the bowling alley, which was holding a youth league at the time of the shooting. Eight males were killed at the Bar and Grille. Three additional people died after first responders rushed them to Central Maine Medical Hospital in Lewiston.
An additional 13 people were injured in the shootings.
At least 80 FBI agents are involved in the search for Robert Card, in addition to agents from the Bureau of Alcohol, Tobacco, Firearms and Explosives, Drug Enforcement Administration, and Coast Guard, according to Sen. Susan Collins, R-Maine.
Collins made the comments during a press conference on Thursday evening.
"I had a call from the deputy director of the FBI who told me that there were 80 FBI agents on site participating in the search for the killer," Collins said.
State and local law enforcement agencies are also searching for Card.
Before we move on, I want to ask that you be praying for the community of Lewiston Maine today… pray that the Lord would be near the broken hearted as is promised in His word… that He would bind up their wounds, and grant comfort and peace to those who are grieving the loss of loved ones. Be praying that the Lord would be with local leaders in Maine, both political and law enforcement… and that justice would be served on the one responsible for this heinous crime, and tragic loss of life.
https://justthenews.com/government/congress/johnson-begins-house-speakership-focus-debt-inflation-and-border-catastrophe
Johnson begins House speakership with focus on debt, inflation, 'border catastrophe' as top issues
Rep. Mike Johnson, R-La., the newly elected Speaker of the House of Representatives kicked off his leadership role on Wednesday with a commitment to establish a fiscal commission dedicated to rolling back excessive government spending as a way to reduce inflation. He also called on the Senate and White House to stop ignoring the "catastrophe" at the southern border.
Johnson described the nation's rising $33 trillion national debt as the greatest threat to national security and connected it to the level of inflation that America's families have been grappling with the last few years.
JUST IN: Mike Johnson Delivers First Remarks As Speaker Of The House
Just a note, not a lot of clapping from democrats on that last part.
https://www.19fortyfive.com/2023/10/u-s-aircraft-carriers-and-marines-are-on-the-move-towards-irans-military-backyard/
U.S. Aircraft Carriers And Marines Are On The Move Towards Iran's 'Military Backyard'
The situation in Israel continues to be tense as the Israeli Defense Forces are on standby to launch a large-scale ground invasion of Gaza. As of now, Tel Aviv has agreed to hold off invading until the U.S. military puts more forces in the area.
The Israeli Air Force is pounding hundreds of targets within Gaza, killing and wounding hundreds of Hamas terrorists and Palestinian civilians.
On the other end, Hamas continues to be defiant, launching missiles and small-scale attacks against Israel. The terrorist group also holds scores of hostages and is threatening to execute them if Israel invades.
According to the German newspaper Bild, the Israelis won't hold back a possible ground invasion of Gaza over the issue of the hostages. Hamas is currently holding over 200 hostages and has been using them as deterrence against an Israeli ground invasion.
But with more than 1,400 Israelis killed and thousands more wounded, the Israeli government might very likely choose to go in and destroy Hamas despite what might happen to the hostages.
The Israeli Army is likely waiting for the air force to take out the most important targets before it rolls in with tanks and armored personnel carriers.
Meanwhile, two more hostages were released this week as two elderly women, were released on Wednesday.
One of the women said, "When we arrived in Gaza, they first told us that they believed in the Quran and would not harm us, they fed us well, were kind, a doctor and paramedic visited us regularly, everything was provided for us."
But their experience leading up to their captivity in Gaza was traumatic. Hostages were beaten and humiliated as they were snatched from their homes in Israel to Gaza's underground tunnel complex.
Meanwhile, the international military presence around Israel continues to grow.
European countries are getting ready for forceful evacuations of their citizens from Israel and Lebanon. German and French special operations forces have set up camp in Cyprus and are on standby for contingencies.
The U.S. military has already sent two aircraft carrier strike groups in the region and the 26th Marine Expeditionary Unit (MEU), which is special operations capable. The Pentagon has also relocated a number of C-130 tactical transport aircraft and support personnel to Greece to be on standby for potential evacuation operations.
Thus far, Israel has been adamant that it doesn't want any direct military assistance or foreign boots on the ground. However, Tel Aviv was allowed a number of U.S. military advisors to support the Israeli Defense Forces. According to Axios, U.S. Marine Corps Lt. Gen. James Glynn, a former commander of the Marine Forces Special Operations Command and with experience against the Islamic State, is leading the advisory group.
The increased presence of U.S. forces in the region is also in response to credible threats about U.S. citizens and facilities in the region.
According to U.S. defense officials, the Pentagon assesses that state and non-state actors in the region—mainly Iran—are considering escalating the ongoing hostilities between Israel and Hamas into a wider regional conflict.
The U.S. military is ready to counter any hostile actions in the area. Whether Iran understands the danger is another thing.
Now in entertainment news…
https://www.hollywoodintoto.com/jenna-fischer-angela-kinsey-office-reboot-update/
'Office' Alums Jenna Fischer, Angela Kinsey: No News on a Reboot (Yet)
"The Office" is one of the most streamed sitcoms around.
The show, spun from the British version created by Ricky Gervais and Stephen Merchant, aired on NBC for nine seasons. The workplace comedy nearly got canceled after its first year, but it found its creative footing and became a modern TV classic.
The show said goodbye in 2013, with cast members like Steve Carell and John Krasinski drawing raves for follow-up projects like "Foxcatcher" and "A Quiet Place," respectively.
Now, Puck News reports show runner Greg Daniels is prepping an "Office" reboot. That's news to show alums Jenna Fischer and Angela Kinsey, AKA the hosts of the popular "Office Ladies" podcast.
The two discussed a possible show return via their podcast, throwing some cold water on the possibility.
"We get asked all the time, there are always these rumors of another American version [of 'The Office']," Fischer said in the latest episode of "Office Ladies." "Like a reboot or a remake or a spinoff."
"No one has ever in all of these years … contacted me about being on another version of 'The Office.' Or any cast member," said Fischer, who played receptionist Pam Beesly on the series. "Whenever I talk to the cast members., 'never heard of anything. Not a word.'"
"Do we need a 50-year-old Pam sitting at a desk at Dunder Mifflin?" referring to turning that age next year. One cast member should definitely be invited back, she suggested.
"I like the idea that Creed still works there .. he comes down from the ceiling at night," Fischer said of the mercurial character played by ex-rocker Creed Bratton.