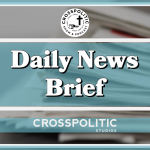 This is Garrison Hardie with your CrossPolitic Daily NewsBrief for Friday, October 28th, 2022. I'm on my way to Boise to see my mom as we speak, but first, I figured I should get you the news heading into the weekend!
https://thepostmillennial.com/facebook-fined-25m-for-breaking-washington-state-election-law?utm_campaign=64487
Facebook fined $25M for breaking Washington state election law
Facebook's parent company Meta was issued a $25 million fine Wednesday for violating Washington state's campaign finance laws.
According to court documents, King County Superior Court Judge Douglass North found Meta to be in violation of Washington's political disclosure law 822 separate times between 2019 and 2021 and issued the maximum possible fine for each instance, which totaled up to $30,000 per violation.
Meta was also ordered to "come into full compliance" with the state's election transparency laws within the next 30 days as well as pay the attorney's fees for the case, which Ferguson has requested be tripled for a total of $10.5 million. The final total will be decided by North at a later date.
According to The Seattle Times, the state's election transparency laws, which have been in place since 1972, require ad sellers to "disclose the names and addresses of political buys, the targets of such ads and, the total number of viewers of each ad." The judge found that Meta had intentionally violated the standards.
Washington Democrat Attorney General Bob Ferguson said "that he had "one word for Facebook's conduct in this case – arrogance."
He told the Times, "It intentionally disregarded Washington's election transparency laws," Ferguson said. "But that wasn't enough. Facebook argued in court that those laws should be declared unconstitutional. That's breathtaking."
Ferguson originally sued Meta, then still known as Facebook, for violation of the 1972 transparency laws in 2018 for $200,000. In response the company said they would stop selling political ads in the state rather than comply with the law. Ferguson filed a second lawsuit against the company in 2020 after a report revealed that the company was still selling political ads which were out of compliance with state law.
According to the Times, the company said that the laws "unduly burden political speech" and were "virtually impossible to comply with."
In a motion filed in July, Ferguson wrote that Meta had failed to respond to multiple inspection requests regarding political advertisements on its platform in Washington between 2019 and 2021 and after several complaints were filed to the state Public Disclosure Commission, the Executive Director of the agency Peter Lavallee referred the case to Ferguson in September 2021 for potential legal action.
This spring, Meta filed a motion asking the court to strike down the regulations for commercial advertisers which was denied by North in September.
https://www.dailyfetched.com/lori-lightfoot-demands-5-pay-rise-as-chicago-crime-rates-spiral-out-of-control/
Lori Lightfoot Demands 5% Pay rise as Chicago Crime Rates Spiral Out of Control
Chicago Mayor Lori Lightfoot proposed giving herself a 5 percent annual pay increase despite mounting criticisms of soaring violent crime in her city.
Lightfoot currently takes home an annual salary of $209,915, but the Mayor now demands an increase of up to 5 percent each year.
The ordinance announced on Wednesday it would give Lightfoot, city clerk, and treasurer access to a pay increase each year.
This would mirror the process used by aldermen who are already eligible for the pay rise.
"To be clear, the ordinance that was introduced today would put the Mayor, the city treasurer, and the clerk in line with all the other elected officials regarding a cost of living increase," Mayor Lightfoot said.
The pay increase comes as violent crime in Chicago have increased by 37 percent since last year.
Shootings in the city are up from the previous weekend when nine murders and 31 victims were reported.
There have been a total of 2,313 shooting incidents reported in 2022.
Last weekend, a total of 51 people were shot in Chicago, with some 11 victims dying in the 43 separate incidents – nine of the victims being juveniles.
In 2022, 49,433 more crimes were reported in Chicago than 35,746 in 2021.
Lori Lightfoot vowed to tackle the city's crime rates after she was sworn into office in May 2019, but up to now, she has failed.
The Chicago mayor also made a massive U-turn on her proposal to cut $59million from the Chicago Police Department's budget amid the defund the police' protests in the summer of 2020.
Despite Lori Lightfoot denouncing the 'defund the police' movement, Chicago's police union has since issued a vote of 'no confidence in the Mayor.
Club Membership Plug:
Let's stop and take a moment to talk about Fight Laugh Feast Club membership. By joining the Fight Laugh Feast Army, not only will you be aiding in our fight to take down secular & legacy media; but you'll also get access to content placed in our Club Portal, such as past shows, all of our conference talks, and EXCLUSIVE content for club members that you won't be able to find anywhere else. Lastly, you'll also get discounts for our conferences… so if you've got $10 bucks a month to kick over our way, you can sign up now at fightlaughfeast.com.
https://humanevents.com/2022/10/27/russian-parliament-gives-preliminary-approval-to-bill-banning-gay-propaganda?utm_campaign=64487
Russia Advances Bill Banning 'Gay Propaganda' and Content Promoting Transgenderism to Children
On Thursday, the lower house of Russia's parliament, the Duma, voted to approve amendments to the country's 2013 legislation banning "gay propaganda."
These amendments will expand the 2013 law, which banned the dissemination of "propaganda of non-traditional sexual relations" to children, expanding it to include those 18 and older, according to the Associated Press.
Lawmakers in the Duma voted unanimously to approve the amendments, but still faces the upper house of Russia's parliament, the Federation Council, before it can be signed into law by Russian President Vladimir Putin, France 24 reported.
New provisions in the amendment set out to ban "gay propaganda" for all Russians, not just minors, in advertisements, the internet, media, literature, and cinema. Also set to be banned is "propaganda of pedophilia."
The amendments would also look to ban the "denial of family values," and seeks to stop propaganda that could "cause minors to desire to change their sex."
Foreigners found in violation of the law could face expulsion.
https://newsbusters.org/blogs/business/joseph-vazquez/2022/10/27/soros-gave-176m-lefty-group-pushing-facebook-tiktok-censor
Soros Gave $17.6M to Lefty Group Pushing Facebook, TikTok to Censor So-Called Election Disinfo
Another group heavily financed by liberal billionaire George Soros is joining a growing network of organizations he funds calling on Big Tech to do more to censor so-called election "disinformation" before the midterms.
Leftist group Global Witness released a co-authored piece of propaganda disguised as an "investigation" with New York University's Cyber Security for Democracy team (C4D) whining that Facebook and TikTok weren't censoring enough.
The group's Oct. 21 press release on its report, headlined "Facebook and TikTok fail to block deceptive ads with blatant US midterms disinformation," claimed its "experiment" was engineered to "determine how well social media platforms are living up to their promises to stop disinformation that can destabilise democratic processes."
Soros' Open Society Foundations gave Global Witness $17,657,000 between 2016 and 2020 alone. The group has offices in London, Brussels and Washington D.C.
The group complained that TikTok "approved 90 percent of ads featuring misleading and false election disinformation" while Facebook allegedly "approved a significant number of similarly inaccurate and false ads." Global Witness Senior Advisor John Lloyd tried to drum up fear about a supposed threat to "democracy" if Big Tech companies didn't up the ante on their censorship operations:
It is high time they got their houses in order and started properly resourcing the detection and prevention of disinformation, before it's too late. Our democracy rests on their willingness to act.
Multiple media outlets like The New York Times and The Hill gobbled up and regurgitated Global Witness' talking points without mentioning the group's financial ties to Soros:
The New York Times: "TikTok failed to stop most misleading political ads in a test run by researchers."
The Hill: "TikTok, Facebook failed to remove ads spreading election misinformation: report."
Fortune: "TikTok let through 90% of ads spreading baseless claims around U.S. midterms, new report finds."
Associated Press: "Report: TikTok bad at culling US election misinformation ads."
The Guardian: "'We risk another crisis': TikTok in danger of being major vector of election misinformation."
Global Witness, however, praised YouTube for its obsession with censoring election content while still finding room to suggest it doesn't go far enough in censoring election content in Brazil. Could that be because Brazilian president Jair Bolsonaro is an ally of former U.S. President Donald Trump? Bolsonaro is currently in the middle of a highly contested election against leftist and disgraced former Brazilian President Luiz Inácio "Lula" Da Silva.
Classical Conversations
Classical Conversations supports homeschooling parents by cultivating the love of learning through a Christian worldview in fellowship with other families. They provide a classical Christ-centered curriculum, local like-minded communities across the United States and in several countries, and they train parents who are striving to be great classical educators in the home. For more information and to get connected, please visit their website at ClassicalConversations.com. Again that's ClassicalConversations.com.
And now… it's time for my favorite topic… sports!
I've got requests from my coworkers on this one: Our behind the scenes all-stars here at CrossPolitic Anna Hadfield, and Neil Alcomendras. By the way ladies he's still single… I'll go ahead and start with Neil's request… and that is Anderson Silva will be fighting Jake Paul in the ring this weekend… For those that don't know, Anderson Silva is one of the more decorated fighters in mixed martial arts. He is a former UFC Middleweight Champion and holds the record for the longest title reign in UFC history at 2,457 days. This started in 2006 and ended in 2013 and included a UFC record 16 consecutive victories in that span. Now a lot of people think Jake Paul is a joke, but my friend Neil, who knows a thing or two about fighting, says Paul is actually a solid boxer, and an athlete… but… the fight may reportedly be in jeopardy…
https://www.badlefthook.com/2022/10/27/23426896/paul-vs-silva-arizona-commission-meet-regarding-anderson-eligibility-fight-boxing-news-2022
Jake Paul's fight with Anderson Silva on Saturday is in at least potential jeopardy, as the Arizona Boxing & MMA Commission will meet this evening about the event, following remarks recently made by Silva that he'd been knocked out twice during training camp.
The 47-year-old Silva said in an interview that was released this week — but reportedly actually took place a month ago — that he'd been knocked out twice in sparring leading up to the fight, and the Arizona commission told ESPN's Marc Raimondi that they will "review additional documentation submitted" by Silva
Silva has said he "misspoke" in the interview, noting that English is not his first language, and also that he was joking.
But a misspoken joke could threaten what is a major money event for himself, Paul, and Showtime Sports.
The most likely outcome, just at a wager, is that the fight will go on unless Silva — or Paul, for that matter — failed a medical examination from the commission. It would seem pretty hard to prove that he wasn't simply joking or that he didn't just use the wrong words. But it's a situation where the commission have to at least review the issue officially, too.
If the fight does happen — and we'll know by tonight if it's going ahead or not, with the official weigh-in set for tomorrow morning — then the fight is on!
Alright, time for the other item. Anna's family, and little brother's specifically, are big time Eagle's fans, and the Philadelphia Eagles are doing incredibly well this year. They're undefeated at the moment, with a perfect 6-0 record. They also just traded for a talented, and veteran defensive lineman in Robert Quinn. According to The MMQB's Albert Breer, the Bears are picking up $7.1 million of Quinn's remaining salary for this season. In turn, the Eagles will pay Quinn a shade over $700,000 for the duration of the campaign.
Quinn, 32, has had a quiet season for the Bears, posting one sack, three quarterback hits and eight tackles in seven games. It's a far cry from his 2021 season when he notched 18.5 sacks.
Dating back to 2018, however, Quinn has rotated mediocre sack totals with big seasons:
2018: 6.5 sacks in 16 games
2019: 11.5 sacks in 14 games
2020: Two sacks in 15 games
2021: 18.5 sacks in 16 games
Depth on the edge became a major need for the Eagles after Derek Barnett was lost for the season with a torn ACL in September.
But folks it gets better…
The next four quarterbacks the Eagles are scheduled to face have 12 career wins.T
They have 49 touchdowns and 41 interceptions, lifetime passer ratings ranging from 66.7 to 87.0 three wins this year and three career wins over winning teams.
If the Steelers, Texans, Commanders and Colts continue with their current starting quarterbacks, the undefeated Eagles over the next four weeks will face rookie Kenny Pickett, who's thrown two TDs and seven INTs in his first three career starts; Davis Mills, who's won three of 17 career starts; Taylor Heinicke, who's played for three fewer NFL teams (five) than career wins (eight); and Sam Ehlinger, a 6th-round pick who's never thrown an NFL pass.
So, yes, the Eagles appear to be wins over Pickett, Mills, Heinicke and Ehlinger away from a 10-0 record. This coming off a win over Cooper Rush in his sixth career start.
Those quarterbacks will be facing a pass defense that through seven weeks is No. 1 in the NFL opposing passer rating and yards allowed and No. 2 in completion percentage and sacks.