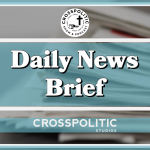 FLF Conference Plug
In the beginning was the Word, and the Word was with God, and the Word was God, and the Word didn't stay in Heaven. The Word became flesh and dwelt among us, and we beheld His glory, the glory of the Father, full of grace and truth. Grace and Truth became flesh. The Word became flesh. The story of God's grace became flesh. And it is that Word, that truth, that story that will fill the world. That is why this year's Fight Laugh Feast Conference in Knoxville Tennessee is on Lies, Propaganda, storytelling, and the serrated edge. The Word is a sword. The Word is our glory. So join us, October 6-8, as we fight, laugh, and feast, with beer & psalms, speakers including Pastor Doug Wilson, George Gilder, Ben Merkle, Jared Longshore, and Pastor Toby Sumpter, Chocolate Knox will be doing a round table with the Wilsons and Merkles on why stories are so potent for building family cultures that wine, all culminating in a live show with Megan Basham and Jason Whitlock talking Lies and Journalism. And we just announced a one day Saturday-only pass for 99$. Find out more and register or become a vendor at fightlaughfeast.com.
This is Toby Sumpter, and today is Friday, September 16th, and this is your CrossPolitic Daily Newsbrief.
https://www.foxnews.com/politics/gavin-newsom-asks-consider-kidnapping-charges-gop-governors-ship-migrants-out-state
California Gov. Gavin Newsom has asked the Department of Justice to look into whether sending migrants to other parts of the country constituted kidnapping or other federal crimes.
In a letter to Attorney General Merrick Garland, Newsom asked whether actions by Texas Gov. Greg Abbott and Florida Gov. Ron DeSantis sending illegal immigrants from their respective states to destinations such as New York City, Washington, D.C. Chicago, and Martha's Vineyard were illegal.
"Several of the individuals who were transported to Martha's Vineyard have alleged that a recruiter induced them to accept the offer of travel based on false representations that they would be transported to Boston and would receive expedited access to work authorization," Newsom wrote. "I urge US DOJ to investigate whether the alleged fraudulent inducement would support charges of kidnapping under relevant state laws."
DeSantis most recently sent migrants to Massachusetts on Wednesday after promising he would relocate them to a "sanctuary destination."
"States like Massachusetts, New York and California will better facilitate the care of these individuals who they have invited into our country by incentivizing illegal immigration through their designation as 'sanctuary states' and support for the Biden administration's open border policies," the governor's communications director, Taryn Fenske, told Fox News Digital.
https://thepostmillennial.com/universities-to-offer-climate-change-counseling-for-stressed-out-students?utm_campaign=64487
In recent years, more and more young people have reported feeling anxious or depressed as a result of the dire warnings about climate change that are presented to them everywhere they look. Perhaps nowhere is this more prevalent than in institutions of higher learning.
In an attempt to address the mental health consequences of being constantly warned that the planet is on its last leg, there has been a push from within colleges and universities to provide climate change counseling services to students.
In 2020, members of the University of British Columbia's Sustainability Initiative released a report detailing the relationship between climate change and mental health, offering a "systemic approach to action in post-secondary education."
"Direct and indirect stressors from climate change," they wrote, "as well as the overarching psychological and psychosocial challenges associated with acknowledging the magnitude of the crisis, lead to mental distress and disrupt mental health and wellbeing. Addressing the challenges that the climate crisis poses to mental health, and finding ways to live with and adapt to the overarching psychological and psychosocial weight of the crisis is needed to build healthy and resilient individuals and communities."
The report recommended that existing counselors be trained to discuss climate change, and that more direct lines of communication be opened between them and climate change activist groups on campus.
At the University of Michigan, a pilot program has been set up creating a therapy group that will meet for one hour every week for just over three months to see how receiving emotional support can help students overcome their anxiety.
Assistant director of the University of Oregon's Office of Sustainability, Sarah Stoeckl, argued that without such services available to students, they will feel "paralyzed in … uncomfortable emotions."
Of the counselors who have chosen to integrate knowledge of climate change into their skillset, some have argued that "eco-anxiety" is unlike other mental health challenges in that in this case, "the psychological part is really meant to go hand in hand with climate action."
According to research from The Lancet, 84 percent of children and young adults around the world are "at least moderately worried" about climate change, while over half said they are "very or extremely worried."
Perhaps most striking, however, was the finding that 45 percent of those surveyed said that their thoughts and feelings about climate change "negatively affected their daily life and functioning," with many reporting a "high number of negative thoughts about climate change."
Or maybe we could just tell the kids the truth?
https://dailysceptic.org/2022/09/14/climate-emergency-not-supported-by-data-say-four-leading-italian-scientists/
For example: earlier this week it was reported that four leading Italian scientists have undertaken a major review of historical climate trends and concluded that declaring a 'climate emergency' is not supported by the data. Reviewing data from a wide range of weather phenomena, they say a 'climate crisis' of the kind people are becoming alarmed about "is not evident yet". The scientists suggest that rather than burdening our children with anxiety about climate change, we should encourage them to think about issues like energy, food and health, and the challenges in each area, with a more "objective and constructive spirit" and not waste limited resources on "costly and ineffective solutions".
https://www.washingtonexaminer.com/restoring-america/faith-freedom-self-reliance/harvard-students-could-be-punished-for-not-using-preferred-pronouns-report
Of course this is not at all unrelated to the fact that A Title IX training at Harvard University reportedly told students that failing to use a person's preferred pronoun could be a violation of university policy.
The mandatory training contained multiple fictional scenarios explaining possible violations of the university's Title IX policies, including one in which a student repeatedly uses the "wrong pronouns" to address someone while making comments about gender identity, according to the Washington Free Beacon.
The training said the behavior described in the scenario "contribute[s] to a climate of disrespect and may also violate Harvard's policies." Violations of university Title IX policy on sexual harassment can be punished by "admonition" or even "termination, dismissal, [or] expulsion."
Another slide contained a diagram of a "Power and Control Wheel," which reportedly detailed a number of possible behaviors that could violate the university's policies, including sexual, verbal, emotional, and physical abuse, as well as "cultural/identity abuse," which included "using the wrong pronouns."
The wheel diagram is surrounded by words describing "attitudes, beliefs, and systems," including "racism, xenophobia, sexism, classism, cisheterosexism, ableism-sizeism & fat-phobia."
Harvard's treatment of incorrect pronoun use as a violation of Title IX is not unique. In May, a school district in Wisconsin initiated disciplinary proceedings against three male students who refused to address another student by his or her preferred pronouns. In June, Fairfax County Public Schools strengthened district policies that could see students punished for the same infraction.
Smart Pricing Table:
Do you own a business and write a lot of proposals? If so, you should check out SmartPricingTable.com.
Smart Pricing Table allows you to create quick and accurate proposals; and it's loaded with features like recurring fees, quantities and line item upsells. When your prospect is ready, they can e-sign and you're off to the races.
Visit SmartPricingTable.com and mention Cross Politic to get 25% off your first 2 months
The Psalm of the Day: Psalm 124
0:46-2:17
This is Toby Sumpter with CrossPolitic News. Remember you can always find the links to our news stories and these psalms at crosspolitic dot com – just click on the daily news brief and follow the links. Or find them on our App: just search "Fight Laugh Feast" in your favorite app store and never miss a show. We are now doing a daily show, with daily backstage content for Fight Laugh Feast Club Member. Join today and get access as well as a $100 discount at the Fight Laugh Feast conference in Knoxville, TN Oct. 6-8, and have a great day.