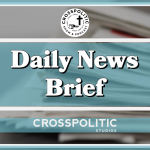 This is Garrison Hardie with your CrossPolitic Daily News Brief for Friday, September 22nd, 2023.
Samaritan Ministries
Tired of someone else telling you where to go when you have a medical need? Are you ready to take control of your health care? Then it's time to take a look at Samaritan Ministries. It's Biblical, affordable health care sharing, with no restrictive networks. Here's how it works. When a medical need arises, you choose the health care provider that's right for you, and have a say in the treatment you receive. Send your medical bills to Samaritan Ministries, and they'll notify fellow members to pray for you and send money directly to you to help you pay those bills. Join 80,000 Christian households across the nation who have already taken control of their health care. Go to samaritan ministries dot org slash cross politic.
https://townhall.com/tipsheet/leahbarkoukis/2023/09/21/migrants-traveling-north-trade-n2628700
Massive Number of Migrants Traveling Toward US Border Is Now Affecting International Trade
The massive number of migrants heading north, most toward the U.S. border, is now affecting international trade, as a Mexican railway operator was forced to temporarily suspend operations over the hitchhikers.
On Tuesday, Ferromex halted 60 trains carrying cargo due to recent spate of injuries and deaths occurring from migrants catching rides.
"Despite the grave danger," some hitchhikers even jumped aboard moving freight cars, the company said.
"There has been a significant increase in the number of migrants in recent days," Ferromex said in the statement, according to AP, noting that the temporary suspension of operations was being done "to protect the physical safety of the migrants."
On Wednesday, President Andres Manuel Lopez Obrador called the company's decision "strange" and "unusual."
According to Ferromex, the worst problems appeared to be further north.
The company said there were about 1,500 people gathered at a rail yard in the city of Torreon. The company also reported about 800 migrants waiting at the freight yards in Irapuato, in the north-central state of Guanajuato.
About 1,000 people were reported to be riding freight cars on the train line that connects the northern border city of Ciudad Juarez.
Ferromex is Mexico's largest concessionary rail operator and the impact of the train stoppage will be "very important," said Ana Bertha Gutiérrez, the international trade coordinator for the Mexican Institute for Competitiveness.
According to estimates from the company, the decision to halt the 60 trains translated into a daily loss of about $2.34 million.
On Wednesday, some operations had been restarted for routes where there was no "heightened risk," Reuters reported, but company executives are set to meet on Friday with members of the U.S. Customs and Border Protection and members of the Mexican government to discuss next steps.
https://www.dailyfetched.com/opening-the-floodgates-greg-abbott-accuses-biden-admin-of-cutting-razor-wire-at-border/
'OPENING THE FLOODGATES:' Greg Abbott Accuses Biden Admin of Cutting Razor Wire at Border
The news comes amid tension between Texas officials and the White House over the migrant crisis at the Southern border.
Abbott made the announcement Wednesday.
"Texas installed razor wire in Eagle Pass to stop illegal crossings," Abbott explained on X, formerly known as Twitter.
"Today the Biden Admin CUT that wire, opening the floodgates to illegal immigrants."
"I immediately deployed more Texas National Guard to repel illegal crossings & install more razor wire," the Republican governor added after accusing the Biden admin of cutting it at the border.
Abbot later posted a letter he sent to Joe Biden, declaring that the President's policies caused "an invasion at our border,' The New York Post reported.
"We are building a border wall, razor wire & marine barriers," Abbott wrote.
"We are also repelling migrants," he added.
Earlier this year, the Department of Justice (DOJ) sued Texas for installing a buoy barrier, which was designed to prevent illegal immigration, on the Rio Grande.
The barrier was part of Abbott's Operation Lone Star.
The DOJ claimed that the barrier obstructed "the navigable capacity of waters of the United States," adding that it raised humanitarian, environmental, and public safety concerns.
A federal judge initially told Texas to move the buoys, but a US Court of Appeals upheld that decision.
The case is currently being deliberated through courts.
The Daily Fetched reported earlier in September that the Biden administration allowed thousands of illegal immigrants to pour into America through "welded open" floodgates on the Arizona border.
The open floodgates in Tuscan are now the busiest point of illegal entry into the country."
A post on Instagram by James Breeden showed illegal aliens arriving "from as far away as Senegal, India, and China."
The Biden administration is also dismantling, disposing, and auctioning portions of the Mexican-American border wall constructed under Donald Trump.
Border wall material, including "thick wall tubes," has been sold on the auction site GovPlanet since April 2022.
https://www.washingtonexaminer.com/policy/defense-national-security/poland-stop-weapons-ukraine-grain-imports
Poland to stop providing weapons to Ukraine as dispute over grain imports intensifies
Poland will stop providing weapons to Ukraine the Prime Minister announced on Wednesday, due to a growing dispute over grain.
"We no longer transfer weapons to Ukraine because we are now arming Poland," Morawiecki said on social media.
While Poland has been one of Ukraine's staunchest allies since Russia invaded in February 2022, due in part to concerns about further aggression from Moscow should it successfully topple Kyiv, they are currently in dispute over Poland, Hungary, and Slovakia's intention to defy a European Union decision to suspend a ban on Ukrainian grain imports which had been in place to protect the livelihood of local farmers.
The ban had been put in place earlier this year by several EU nations to protect local farmers who were worried about being undercut by low prices of Ukrainian grain. Ukraine has filed lawsuits against each of the three countries at the World Trade Organization over their intent to defy the ending of the restrictions.
Ukrainian President Volodymyr Zelensky referenced the subject during his address to the United Nations General Assembly, saying, "It is alarming to see how some in Europe, some of our friends in Europe, play out solidarity in a political theater — making a thriller from the grain."
The remarks prompted immediate condemnation from Polish leaders, who went as far as to summon the Ukrainian ambassador to Warsaw to share their "strong protest."
Polish Foreign Minister Pawel Jablonski told Ukraine's ambassador that Zelensky's statement was "untrue," given Poland had been "supporting Ukraine since the first days of the war." He also said, "Putting pressure on Poland in multilateral forums or sending complaints to international tribunals are not appropriate methods of resolving disputes between our countries," according to a statement from the ministry.
The Polish-Ukrainian standoff has escalated ahead of Poland's upcoming elections on Oct. 15.
Poland has provided Ukraine with Soviet-era tanks, fighter jets, and other weapons, making it the sixth biggest military donor to Ukraine, according to the Kiel Institute for the World Economy, and it has taken in more than 1.5 million refugees. Now, Poland, Morawieki told Polsat News, "will protect our country." "We are no longer transferring any weapons, because we will now arm ourselves with the most modern weapons."
https://www.newsmax.com/newsfront/kevin-mccarthy-volodymyr-zelenskyy-joint-address/2023/09/21/id/1135367/
McCarthy Denied Zelenskyy's Wish to Address Congress
House Speaker Kevin McCarthy, R-Calif., declined Ukraine President Volodymyr Zelenskyy's request to deliver a joint address to Congress, as he did last December, multiple outlets reported.
The New York Times first reported the denial Wednesday.
Zelenskyy is in Washington, D.C., in part, to beseech lawmakers for more aid in Ukraine's war against Russia.
Instead, McCarthy met with Zelenskyy privately along with House Minority Leader Hakeem Jeffries, D-N.Y., and other committee chairs and ranking members. Zelenskyy met with senators after that meeting.
McCarthy's denial, citing time constraints of a busy week, comes amid House Republicans' struggle to beat a Sept. 30 deadline to pass spending bills in order to prevent a government shutdown.
The U.S. has sent more than $100 billion to Ukraine in military, financial, and humanitarian aid since Russia invaded in February, 2022, but Republican lawmakers are pushing back on sending any more.
In an exclusive interview with Newsmax on Wednesday, Zelenskyy said the cost of Russia prevailing in Ukraine is greater than American dollars.
Zelenskyy is also meeting with President Joe Biden at the White House and will visit the Pentagon.
https://thenationalpulse.com/2023/09/21/almost-3-4-of-americans-think-the-nation-is-becoming-a-police-state/
Almost 3/4 of Americans Think The Nation is Becoming a Police State
Almost three-quarters of Americans – 72 percent – admit to being concerned that the United States is becoming a "police state" engaging in mass surveillance, censorship, ideological indoctrination, and the targeting of political opponents, according to a recent survey from Rasmussen Reports.
Of those concerned, 46 percent told pollsters that they were "very concerned" that the state is becoming tyrannical, with 26 percent answering "somewhat concerned." Only 23 percent of Americans said they were not concerned, with less than one in ten Americans answering "not at all concerned."
Rasmussen also asked the 998 likely American vetoers whether they agreed with the statement: "The FBI is a danger to the freedom and security of law-abiding Americans?" Half of the respondents agreed with the statement, with the majority answered "strongly agree." Republicans overwhelmingly agreed, with 45 percent answering "strongly agree" and another 23 percent answered "somewhat agree."
A total of 45 percent disagreed with the statement, with 26 percent strongly disagreeing. Democrats felt more strongly that the FBI assists freedom and security as 36 percent strongly disagreed, and a further 22 percent somewhat disagreed.
Lastly, Rasmussen asked whether those surveyed: "Which political party is a bigger threat to basic liberties in America: Democrats or Republicans?" Unsurprisingly, the vast majority of both parties – 76 percent of Republicans and 65 percent of Democrats – told pollsters the opposition party was the greater threat. However, more Democrats believe their party is a bigger threat at 26 percent than Republicans at 20 percent.