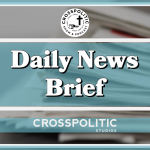 FLF Conference Plug
In the beginning was the Word, and the Word was with God, and the Word was God, and the Word didn't stay in Heaven. The Word became flesh. The story of God's grace became flesh and dwelt among us, and we beheld His glory. It is that Word, that truth, that story that will fill the world. That is why this year's Fight Laugh Feast Conference in Knoxville Tennessee is on Lies, Propaganda, storytelling, and the serrated edge. The Word is a sword. The Word is our glory. So join us, October 6-8, as we fight, laugh, and feast, with beer & psalms, speakers including Pastor Doug Wilson, George Gilder, Ben Merkle, Jared Longshore, and Pastor Toby Sumpter, Chocolate Knox will be doing a round table with the Wilsons and Merkles on why stories are so potent for building family cultures that wine, all culminating in a live show with Megan Basham and Jason Whitlock talking Lies and Journalism. And we just announced a one day Saturday-only pass for 99$. Find out more and register or become a vendor at fightlaughfeast.com.
This is Toby Sumpter, and today is Friday, September 16th, and this is your CrossPolitic Daily Newsbrief.
https://www.wsj.com/articles/trumps-declassification-defense-draws-skepticism-from-judges-11663868282
Former President Donald Trump's assertion that he declassified documents seized at Mar-a-Lago has come under judicial scrutiny this week, as judges highlighted the limits of that defense and noted a lack of courtroom evidence substantiating it.
Mr. Trump has for weeks said he declassified materials taken to Mar-a-Lago, his home in Florida. In a Fox News interview that aired on Wednesday night, he said a sitting president doesn't need to have a formal process for declassifying documents, and can carry out such an order "even by thinking about it."
Mr. Trump's lawyers have been more circumspect in their courtroom statements. They have said declassification is a potential defense they may raise later on, once they have a better understanding of what was seized, but haven't asserted that any specific documents were declassified.
Even those lawyers' carefully worded statements drew scrutiny this week, both from an appeals court and the court-appointed arbiter tasked with reviewing the approximately 11,000 documents seized at Mar-a-Lago.
Senior U.S. District Judge Raymond Dearie, the semiretired jurist serving as special master, has pressed for specific evidence of a declassification order, telling Mr. Trump's lawyers at a hearing this week: "You can't have your cake and eat it."
And in a written order on Wednesday, the 11th U.S. Circuit Court of Appeals noted the lack of evidence at this point validating Mr. Trump's declassification defense.
"Plaintiff suggests that he may have declassified these documents when he was President," the unanimous three-judge panel said. "But the record contains no evidence that any of these records were declassified. And before the special master, Plaintiff resisted providing any evidence that he had declassified any of these documents."
The three-judge panel, which included two Trump-appointed judges, also called the declassification argument a "red herring." Even if Mr. Trump had declassified the documents, the appeals court said, that wouldn't convert them from government records into his personal property or establish a reason for him to have retained them.
Classical Conversations
Classical Conversations supports homeschooling parents by cultivating the love of learning through a Christian worldview in fellowship with other families. They provide a classical Christ-centered curriculum, local like-minded communities across the United States and in several countries, and they train parents who are striving to be great classical educators in the home. For more information and to get connected, please visit their website at ClassicalConversations.com. Again that's ClassicalConversations.com.
https://nsa.edu/posts/liberal-arts-college-oppose-bidens-student-loan-relief
Moscow, Idaho–New Saint Andrews College, one of only a handful of colleges across the US to refuse federal money, is taking a stand against the White House's attempt to cancel federal student loans and is calling on more schools to speak out against Biden's plan.
"Redistributing federal student loan debt to taxpayers reinforces poor financial decisions, ruins the public's trust in higher ed, exacerbates our current inflationary economy, penalizes colleges that decline to take federal funding, and prolongs higher education's game of hide and seek with financial realities," said Dr. Benjamin Merkle, president of the Idaho-based Christian liberal arts college.
"I've been referring to this as our 'Big Ed' problem," Dr. Merkle said. "I believe more and more parents and students have added higher ed to a growing list of other "big" businesses that abuse power to get easy money."
Dr. Merkle added that many political leaders on both sides of the aisle can see the road this is taking us down and how it drives higher ed to an even more precarious position than it's already in.
Dr. Merkle gave three reasons why more colleges should oppose this new program.
First, Biden's plan doesn't really cancel student loan debt.

It just redistributes it to other taxpayers – many of whom did not attend college or have already paid back their debt. Adding more taxes to already over-taxed households to cover someone else's bad debt is not equitable, fair, or right.

Second, moving the debt from the students who signed up for the student loan payments in the first place to the taxpayers who didn't will create a series of ripple effects that will be hard to reign in.

Our nation's young people will learn that loans don't need to be paid back and taxpayers will grow more skeptical and bitter toward higher ed. Further, each successive generation will expect the federal government to bail them out of their higher ed debt.

Third, the more that higher education participates in these federal loan programs the more it becomes dependent on federal handouts.

If the federal government is the primary funder of postsecondary education in America, then colleges and universities are disincentivized to perform better or to offer improved services to their primary consumers: students and parents. Essentially, we are fostering yet another industrial-complex where American industry and the government are embroiled in a "too big to fail" mindset that fosters highly irresponsible financial behaviors. Meanwhile, colleges that decline to take federal funding must work even harder to compete for students against institutions that are artificially propped up by the government and where the true cost of education is obscured by a loan cancellation program.
https://dailycaller.com/2022/09/21/josh-hawley-introduce-legislation-student-debt-make-universities-pay-act/
Republican Missouri Sen. Josh Hawley will introduce legislation Wednesday that puts colleges and universities on the hook for student debt.
The bill was first obtained by the Daily Caller and is titled the Make the Universities Pay Act. The Legislation would require institutions of higher education participating in the Federal Direct Student Loan Program to pay 50% of any student loan balance that is in default.
The Make the Universities Pay Act would also allow student loan debt to be discharged in bankruptcy and allow undergraduate student loan debt to be discharged five years after the first payment is due, while graduate student loan can be discharged 15 years after the first payment is due. In addition, the bill requires each institution of higher education participating in federal financial aid programs to publish post-graduate outcomes, including mean and median earnings of graduates and student loan default rates, disaggregated by each degree or program of study.
The Biden administration is taking executive action to forgive $10,000 per borrower. The move would clear $321 billion of federal student loans and clear the student debt for almost 12 million people, according to CNBC.
"For decades, universities have amassed billion-dollar endowments while teaching nonsense like men can get pregnant. All while charging extortionary tuition. Now Joe Biden wants to give away another $1 trillion to prop up the system. That's wrong. Instead, it's time to put universities on the hook and give students the information they need to make informed decisions," Hawley told the Caller before introducing the legislation.
Hawley plans on introducing the legislation later Wednesday afternoon.
The Psalm of the Day: Psalm 115
https://open.spotify.com/track/2qvDdOEbYxRinuuarNVBCA?si=64917b6789fd4427
0:37-1:33
Amen!
This is Toby Sumpter with CrossPolitic News. Remember you can always find the links to our news stories and these psalms at crosspolitic dot com – just click on the daily news brief and follow the links. Or find them on our App: just search "Fight Laugh Feast" in your favorite app store and never miss a show. We are now doing a daily show, with daily backstage content for Fight Laugh Feast Club Member. Join today and get access as well as a $100 discount at the Fight Laugh Feast conference in Knoxville, TN Oct. 6-8, and have a great day.