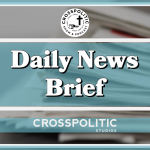 Biden Administration colluding with social media, Gov. Abbot of Texas bussing illegal immigrants to Chicago, Oregon tells California to hold its beer on electric cars…
… and more on today's CrossPolitic Daily News Brief. My name is Toby Sumpter and today is Friday, September 2, 2022.
Blue Ridge Reformed Church, a potential CREC church plant in the Roanoke Valley, will begin worship services on Sunday September 4th at 6:00 p.m. They are located at 6032 Cloverdale Rd, Roanoke, VA 24019. For more information folks can check out our website blueridgereformed.org
https://www.theepochtimes.com/over-50-biden-administration-employees-12-us-agencies-involved-in-social-media-censorship-push-documents_4704349.html?utm_source=partner&utm_campaign=BonginoReport
Over 50 Biden Administration Employees, 12 US Agencies Involved in Social Media Censorship Push: Documents
Over 50 officials in President Joe Biden's administration across a dozen agencies have been involved with efforts to pressure Big Techcompanies to crack down on alleged misinformation, according to documents released on Aug. 31.
Senior officials in the U.S. government, including White House lawyer Dana Remus, deputy assistant to the president Rob Flaherty, and onetime White House senior COVID-19 adviser Andy Slavitt, have been in touch with one or more major social media companies to try to get the companies to tighten rules on allegedly false and misleading information on COVID-19, and take action against users who violate the rules, the documents show.
In July 2021, for instance, after Biden said that Facebook was "killing people" by not combating misinformation effectively, an executive at Meta reached out to Surgeon General Vivek Murthy, a Biden appointee, to say that government and Meta teams met after the remarks "to better understand the scope of what the White House expects from us on misinformation going forward."
The same executive later wrote to Murthy saying, "I wanted to make sure you saw the steps we took just this past week to adjust policies on what we are removing with respect to misinformation, as well as steps taken to further address the 'disinfo dozen,'" including removing pages linked to the group.
The White House publicly pressured social media companies to take action against a group officials dubbed the "disinformation dozen," which a nonprofit claimed were producing the bulk of "anti-vaccine misinformation" on the platforms. Also in July 2021, Murthy said Facebook had not done enough to combat misinformation.
Rob Flaherty, director of digital strategy for the White House, told Slavitt and others in April 2021 that White House staff would be briefed by Twitter "on vaccine misinfo," with the meeting including "ways the White House (and our COVID experts) can partner in product work," according to one of the messages.
In another exchange that year, a Department of Treasury official working on "mis, dis, and mal-information" told Meta workers that the deputy treasury secretary wanted to talk about "potential influence operations."
In a text in February 2021, meanwhile, U.S. Cybersecurity and Infrastructure Security Agency (CISA) Director Jen Easterly, wrote to another agency official that she was "trying to get us in a place where Fed can work with platforms to better understand the mis/dis trends so relevant agencies can try to prebunk/debunk as useful."
The documents were part of a preliminary production in a lawsuitlevied against the government by the attorneys general of Missouri and Louisiana, later joined by experts maligned by federal officials.
"If there was ever any doubt the federal government was behind censorship of Americans who dared to dissent from official Covid messaging, that doubt has been erased," Jenin Younes, a lawyer with the New Civil Liberties Alliance who is representing some of the plaintiffs in the case, said in a statement. "The shocking extent of the government's involvement in silencing Americans, through coercing social-media companies, has now been revealed."
Club Membership Plug:
Let's stop and take a moment to talk about Fight Laugh Feast Club membership. By joining the Fight Laugh Feast Army, not only will you be aiding in our fight to take down secular & legacy media; but you'll also get access to content placed in our Club Portal, such as past shows, all of our conference talks, and EXCLUSIVE content for club members that you won't be able to find anywhere else. Lastly, you'll also get discounts for our conferences… so if you've got $10 bucks a month to kick over our way, you can sign up now at flfnetwork.com
https://www.theepochtimes.com/texas-gov-greg-abbott-begins-busing-illegal-immigrants-to-chicago_4703681.html?utm_source=partner&utm_campaign=BonginoReport
Texas Gov. Greg Abbott Begins Busing Illegal Immigrants to Chicago
Texas Gov. Greg Abbott on Wednesday said that illegal aliens apprehended along the U.S.-Mexico border are now being bused to Chicago in addition to New York City and Washington.
Abbott said his strategy to bus illegal immigrants from Texas to the Democrat-led sanctuary cities makes a strategic point about the impact of President Joe Biden's "open border policies" on American communities.
"President Biden's inaction at our southern border continues putting the lives of Texans—and Americans—at risk and is overwhelming our communities," the Republican governor said in a statement.
"To continue providing much-needed relief to our small, overrun border towns, Chicago will join fellow sanctuary cities Washington, D.C. and New York City as an additional drop-off location."
Acknowledging Chicago's sanctuary city policies, Abbott said Mayor Lori Lightfoot "loves to tout" that her city welcomes illegal immigrants as a matter of "responsibility."
"I look forward to seeing this responsibility in action as these migrants receive resources from a sanctuary city with the capacity to serve them," Abbott said.
Chicago Calls Busing Program 'Racist'
The Chicago mayor's office confirmed that around 60 illegal aliens arrived at Union Square from Texas on Wednesday night and were being provided with essential services while they "navigate the next steps of their journey."
"As a city we are doing everything we can to ensure these immigrants and their families receive shelter, food, and most importantly protection," the spokesperson said in a statement. "This is not new; Chicago welcomes hundreds of migrants every year to our city and provides much-needed assistance."
The spokesperson also accused Abbott of having no "shame or humanity" and described the busing program as "racist practices."
The mayors of Washington and New York City, Muriel Bowser and Eric Adams, have also criticized the busing program, calling it a political stunt.
But Abbott has said the illegal immigrants voluntarily chose to go to their cities where there is more capacity to serve them.
The Texas governor first directed the Texas Division of Emergency Management in April to charter buses to transport illegal immigrants who claimed asylum when apprehended along the U.S.-Mexico border to Washington.
New York City was added as a second drop-off location in August.
Since then, more than 8,900 illegal aliens have been bused out of Texas to those cities, providing "much-needed relief to Texas' overwhelmed border communities," according to Abbott's office.
Overwhelmed with the influx of illegal aliens arriving from Texas, Bowser has twice asked the Biden administration to deploy National Guard personnel to help her city cope. Both requests were denied.
Lightfoot signed Chicago's "Welcoming City Ordinance" measure in February 2021 to strengthen the city's sanctuary policies, which prevented local police from cooperating with federal immigration authorities.
"Chicago has been a welcoming city and a city of immigrants since its very founding, and proudly so," Lightfoot said at the time.
Abbott's office noted that under this policy Chicago doesn't deny city services to individuals based on their immigration status.
"With its 'Welcoming City Ordinance' making it a sanctuary city, Chicago will not deny city services to individuals based on their immigration status. The city also does not require local police to cooperate with federal immigration authorities," Abbott's office said.
Abbott promised to keep busing illegal aliens to so-called sanctuary cities until the Biden administration "does its job" to secure the border.
Redballoon
Not so long ago, the American dream was alive and well. Employees who worked hard were rewarded, and employers looked for people who could do the job, not for people who had the right political views. RedBalloon.work is a job site designed to get us back to what made American businesses successful: free speech, hard work, and having fun. If you are a free speech employer who wants to hire employees who focus on their work and not identity politics, then post a job on RedBalloon. If you are an employee who is being censored at work or is being forced to comply with the current zeitgeist, post your resume on RedBalloon and look for a new job. redballoon.work, the job site where free speech is still alive!
https://www.theepochtimes.com/oregon-to-join-california-in-move-to-ban-gas-powered-vehicle-sales_4704534.html?utm_source=partner&utm_campaign=BonginoReport
Oregon to Join California in Move to Ban Gas-Powered Vehicle Sales
Oregon has joined a list of more than a dozen states vowing to follow California's lead in banning the sale of new gas-powered vehicles by 2035.
The move comes as California urges residents to not charge their electric vehicles during a heatwave to avoid straining the electrical grid.
An Oregon Department of Environmental Quality advisory committee is now in the process of creating what it calls "Advanced Clean Cars II Rules," which will guide the state toward that new goal.
California announced on Aug. 24 that it would begin to phase out gas-powered vehicles beginning in 2026, when 35 percent of all passenger vehicles and light duty trucks sold in the state must be zero-emission vehicles (ZEVs).
With an anticipated increase of nearly 8 percent annually, the state has vowed that 100 percent of all vehicles sold in California will be ZEVs by 2035.
Oregon aims to follow suit.
"The transportation sector accounts for more than 40 percent of Oregon's greenhouse gas emissions," the Oregon Department of Energy said in a statement. "Moving to cleaner, alternative fuel transportation options, like zero-emission vehicles, can reduce those harmful Green House Gases (GHGs) and help Oregon reach its climate goals."
Oregon had already been working toward a goal set by its legislature in 2019 to have 250,000 registered ZEVs in the state by 2025.
As of April, there were approximately 50,000 ZEVs on Oregon roads, falling well short of the pace to meet that goal in the first three years.
"We're committed to getting more electric vehicles [EVs] on Oregon's roads and 50,000 registered EVs is a major milestone," said Amanda Pietz, administrator of the Oregon Department of Transportation's Climate Office. "EVs make up about 8 percent of new cars, trucks, and SUVs sold in Oregon, and we'll support that growing market through partnerships to build out EV charging stations along major roads and in Oregon's communities."
The state will also "support" that market by banning gas-powered vehicles and using taxpayer-funded subsidies to prime the pump.
Oregon offers as much as $7,500 in taxpayer-funded rebates on top of the federal tax credit of $7,500 toward the purchase of a ZEV. Utilities in the state are offering additional rebates of up to $1,500 for a vehicle purchase and up to $1,000 to install a residential home charger or workplace-commercial charging station.
The Go Electric Oregon website encourages buyers to "stack" government incentives to obtain more than $16,500 to use for the purchase of a ZEV.
According to Oregon Public Broadcasting, taxpayers have already subsidized the purchase of electric vehicles (at an average cost of $66,000) to the tune of $55 million.
One 2018 estimate puts the average income of an electric vehicle driver at $150,000 compared to the U.S. average of $63,000.
In May, the Oregon Department of Transportation committed to spending $100 million in federal and state funds over the next five years to expand Oregon's EV charging infrastructure.
The transition to ZEVs seems to overlook increasing concern over their environmental impact and national security implications.
Making ZEV batteries requires the use of fossil fuels to process ore and extract minerals, including lithium, cobalt, nickel, copper, and graphite. They also require steel, aluminum, plastic, and other materials. The extraction and processing of these minerals are dominated by China and the Democratic Republic of Congo.
According to Bloomberg, China controls 80 percent of the market for EV batteries.
The push to convert to ZEVs will also create challenges to the electrical grid.
In a 2018 analysis, energy economists at the University of Texas found that if California drivers were to go fully electric overnight, the state would need about 47 percent more electricity than it currently consumes. All the states that follow California's emission standards will face similar challenges.
But California's electrical grid is already strained and Oregon's faces uncertainty.
With a heatwave looming, California's grid operator issued an alert on Aug. 31, urging residents to avoid using large appliances and charging electric vehicles between 4 p.m. and 9 p.m. over the Labor Day weekend.
"Lowering electricity use during that time will ease strain on the system, and prevent more drastic measures, including rotating power outages," the alert reads.
Oregon Gov. Kate Brown has supported removing or breaching the Lower Snake River Dams to protect fish populations.
Carbon-free hydropower from dams makes up 45 percent of the electricity used in Oregon.
https://www.breitbart.com/sports/2022/08/31/report-20-mlb-teams-promote-fund-groups-perform-child-sex-change-operations/
Report: 20 MLB Teams 'Promote or Fund' Groups that Perform Child Sex Change Operations
The magazine reviewed the causes and organizations to which these teams are handing out millions of dollars in donations and found that many support sex-change surgery, hormone treatments, and other dangerous procedures for "transitioning" teens and pre-teens.
National Review found that almost every team in the league "promote or fund groups that encourage or provide sex-change procedures and gender-transition hormone treatment for minors as young as 12. Other organizations promote 'social transitions' — i.e., nonmedical changes in 'gender expression,' including the adoption of new names, pronouns, and clothing — for children as young as three."
Much of the support these teams are lending is organized under the rubric of the widespread LGBTQ "Pride Nights" that the league pushes.
Along with the yearly events in the stadiums, the teams also donate money to a number of advocacy groups — usually local groups, but often national groups, as well.
The Detroit Tigers, for instance, support the Ruth Ellis Center and Corktown Health in Detroit, the magazine noted.
At the checkout page for tickets to the Pride Night game, the Tigers website offered 'a chance to support a local Pride organization of your choice,' with a drop-down menu that included LGBT-focused clinics such as the Ruth Ellis Center and Corktown Health, both of which perform medical gender transitions on minors. On top of masculinizing and feminizing drugs, at least one — the Ruth Ellis Center — included irreversible 'gender affirming surgery' in its suite of 'transition care for transgender youth' options. Another charity promoted by the Tigers, the Trans Sistas of Color Project, was actively funding groups such as 'Trans Minors Rights,' which 'advocates for empowering transgender youth to make their own decisions regarding puberty blockers' — i.e., 'without requiring the consent of a parent.' (The group's tagline: 'Unblock blockers.')
The magazine noted that the Tigers are only one example and that the MLB "Pride Resource Guide" promotes a long list of "social justice" groups that also push transgenderism on kids.
The report found that five teams promoted groups that push dangerous surgeries on trans kids, including the Detroit Tigers, the Boston Red Sox, the Milwaukee Brewers, Tampa Bay Rays, and the Cleveland Guardians.
Four teams partner with organizations that provide counseling and referrals to youths for such medical procedures. That list includes the L.A. Dodgers, Pittsburgh Pirates, San Diego Padres, and the Oakland As.
And another five teams promote groups that offer guides and promotion of the transgender lifestyle, including the Cincinnati Reds, Houston Astros, Arizona Diamondbacks, Philadelphia Phillies, and the Colorado Rockies.
Finally, six teams support groups that have lobbyists for the trans cause and otherwise advocate for the transgender lifestyle. Those teams include the Chicago Cubs and White Sox, the L.A. Angels, Minnesota Twins, St. Louis Cardinals, and the Washington Nationals.
"It's a classic case of institutional capture by the Left," the magazine concluded. It is up to the fans to speak out and urge the league to reverse course on this outrageous advocacy.
Christ Church Events Coordinator
Looking to move to Moscow? Christ Church is hiring a full-time events
coordinator to plan and manage all events for our various ministries.
Coordinators have to understand what it takes to make sure the
logistics work out for our growing ministries, keep everything within
the allocated budget and ensure that the event itself is carried out
smoothly. For more information, Please contact Carson Sensing at
csensing@christkirk.com if you are interested in applying
Psalm of the Day: Fight Laugh Feast Theme Song: To the Word sea shanty
To the Testimony and Law, To the Word, to Word we go;
If they don't speak this word, they have no light at all;
Bend, break, burn, and blow.
0:00-1:07
Amen!
This is Toby Sumpter with CrossPolitic News. Remember you can always find the links to our news stories and these psalms at crosspolitic dot com – just click on the daily news brief and follow the links. Or find them on our App: just search "Fight Laugh Feast" in your favorite app store and never miss a show. We are now doing a daily show, with daily backstage content for Fight Laugh Feast Club Member. Join today and get access as well as a $100 discount at the Fight Laugh Feast conference in Knoxville, TN Oct. 6-8, and have a great day.