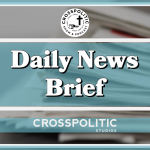 "Hands off our bodies, my body is my own"… and more on today's CrossPolitic Daily News Brief
This is Toby Sumpter. Today is Friday, September 3, 2021.
But first, have you become a CrossPolitic Club Member? First off, this is the best way you can support this newsbrief and rowdy Christian media. We believe that Jesus is Lord of all, and that means He is Lord of the public square, politics, economics, foreign policy, criminal law, and everything in between. Our goal is grow the Fight Laugh Feast Network into a full-blown Audio/Video Network that takes the whole Bible and applies it to all of life. That's what we mean by rowdy. Not that we don't have any manners, but just that in this crazy world, if you actually believe that we should obey Jesus when it comes to COVID regulations and eviction moratoriums and Afghan crises, well you'll get accused of being uncouth. If you haven't been paying attention, we'll be just outside of Nashville, Tennessee in Lebanon next week for the Fight Laugh Feast Conference. There's still room, if you're one of those last minute homeschooling road-trippers, but in the off chance you can't make it, all of the talks and some of the breakout sessions will be live-streamed for club members. So why not join today? Go to flfnetwork.com and click join.
A Texas Abortion Law Went Into Effect Yesterday and the Left Is in a Complete Panic
I believe this is one of the chants the prophets of Baal used on Mt. Carmel
Play Audio
Sounds coming from the Texas Statehouse on Wednesday after the Supreme Court Declined to grant an emergency injunction Tuesday allowing the Texas law to go into effect on September 1.
The law is ingenious in that simply makes abortions after heartbeats are detected around 6 weeks illegal and allows for a minimum of $10,000 per infraction, but prohibits the state from enforcing the law and instead leaves that to private citizens. Thus, the Supreme Court's majority argued they could not provide an injuction for something that the state and no identifiable private citizen had actually come forward with intention to sue anyone.
Meanwhile abortion clinics in Texas sought to fill up as much judgment as they could for themselves on Tuesday night, conducting murders until midnight, but then apparently immediately ceased from their blood-letting and leaders from the Left all announced the end of Roe v. Wade.
https://dailycaller.com/2021/09/02/critics-blame-ginsburg-texas-abortion-law-supreme-court/
Smelling all the blood, Critics on the left took aim at one of their own –the late Supreme Court Justice Ruth Bader Ginsburg who passed away in September of 2020, saying that she should have retired while former President Barack Obama was in office and had a majority in the Senate. That would have ensured that Obama would choose her replacement rather than former President Donald Trump, who replaced Ginsburg just before the 2020 presidential election with Justice Amy Coney Barrett.
The theory was that one more left-leaning judge might have made the difference on the Texas law before it was allowed to take effect on Sept. 1. One angry leftist tweeted:
Ruth Bader Ginsburg's categorical refusal to retire brought us here. So thanks you old dead white bitch.
But all panic on the left is actually quite puzzling. Isn't this just another heartbeat law with some fancy enforcement language? I'm scratching my head wondering why they don't just bulldoze through the law. It's really intriguing actually. Why not keep doing abortions and wait for the first lawsuit to come and then appeal it in court? What am I missing?
This feels almost supernatural. I mean, is there some group of grandmothers gathered for prayer in Texas, and now the liberals are terrified to mess with this Texas? And I'm actually very serious. It feels like that. Or is this the moment in the story where all the screaming and blood-letting of the prophets of Baal just doesn't look so powerful anymore?
And for what it's worth, when Reformation comes, it will be something like that. It won't be a perfect abolitionist bill that gets passed, it will be a duct-tape covered ark that doesn't sink because there are angels holding it up. We're at the point in the story where Elijah calls for more water to be poured on the altar in the middle of a three-year drought. More water. Because we need God's fire to fall.
Speaking of protection:" Let's talk about self defense and firearms. Jesus commanded in Luke 22:36 "he that hath no sword, let him sell his garment, and buy one"; should we likewise carry a pistol and defend those we love? <allow hosts to comment> Shan and his team at Werkz specialize in concealed carry holsters for pistols with lights. They believe defensive pistols should have a light and a holster because violent encounters often happen outside the home, and in the dark. Werkz offers holsters for 1,274 pistol and light combinations, plus can help outfit your pistol with a light. Go to Werkz.com/CrossPolitic and be prepared to defend day and night."
Meanwhile, in Australia…
The Atlantic reports: "People in South Australia will be forced to download an app that combines facial recognition and geolocation. The State will text them at random times, and thereafter they will have 15 miinutes to take a picture of their face in the location where they are supposed to be. Should they fail, the local police department will be sent to follow up in person. 'We don't tell them how often or when, on a random basis they have to reply within 15 minutes,' Premier Steven Marshall explained.
Rebel News Released Audio of Police Officers in Sidney Apparently plotting to trump up charges on a free-lance journalist
Play Audio 2:53-4:17
Psalm of the Day: Chester
Let tyrants shake their iron rod,
And Slav'ry clank her galling chains,
We fear them not, we trust in God,
New England's God forever reigns.

Howe and Burgoyne and Clinton too,
With Prescot and Cornwallis join'd,
Together plot our Overthrow,
In one Infernal league combin'd.

When God inspir'd us for the fight,
Their ranks were broke, their lines were forc'd,
Their ships were Shatter'd in our sight,
Or swiftly driven from our Coast.

Play: 0:00-1:18
Remember you can always find the links to our news stories and these psalms at crosspolitic dot com – just click on the daily news brief and follow the links.
This is Toby Sumpter with Crosspolitic News. A reminder: if you see news stories and links that you think we should cover on the daily news brief, please send them to news @ crosspolitic.com and don't forget to check deft wire dot com where we are constantly posting all our stories. Support Rowdy Christian media, and share this show or become a Fight Laugh Feast Club Member. You always get a free Fight Laugh Feast t-shirt with a membership and remember if you didn't make it to the Fight Laugh Feast Conference or Rally, club members have access to all the talks and lots more. Join today and have a great day.