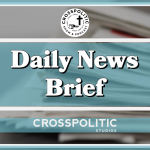 This is Garrison Hardie with your CrossPolitic Daily News Brief for Friday, September 8th, 2023.
Armored Republic
The Mission of Armored Republic is to Honor Christ by equipping Free Men with Tools of Liberty necessary to preserve God-given rights. In the Armored Republic there is no King but Christ. We are Free Craftsmen. Body Armor is a Tool of Liberty. We create Tools of Liberty. Free men must remain ever vigilant against tyranny wherever it appears. God has given us the tools of liberty needed to defend the rights He bestowed to us. Armored Republic is honored to offer you those Tools. Visit them, at ar500armor.com
https://dailycaller.com/2023/09/07/health-insurance-costs-increase-decade/
Health Insurance Costs Projected To Have Highest Increase In Over a Decade
Employer health insurance costs are expected to increase significantly in 2024, affecting both workers and businesses as hospital operating costs rise, according to data reported by The Wall Street Journal.
Next year, the costs for health insurance coverage from employers are expected to increase by around 6.5%, which could be the biggest increase in more than a decade, according to survey data acquired by the WSJ. Driving the increase in health insurance costs are inflated labor costs for hospitals and a large demand for expensive new diabetes and obesity drugs, which are being passed down to insurance companies in new contracts with the hospitals.
Individuals who do not receive insurance from their employer but rather through the Affordable Care Act will see their premium costs rise by about 6% next year, which is comparable to the increase this year, according to the WSJ.
https://twitter.com/i/status/1696593061545906458 – Play Video
Well at least Joe Biden feels your pain.
Workers are likely to pay more out of pocket as employers shift some of the cost of inflation down to employees, according to the WSJ. Despite the shift, a tight labor market may push employers to shoulder a bigger share as hiring and retaining workers remain competitive.
Unemployment ticked up in August but remained relatively low at 3.8%, up from 3.5% in July. The U.S. added 187,000 nonfarm payroll jobs in a sign of a slowing job market.
In August, the Biden administration released a list of ten drugs that Medicare will negotiate prices with drug manufacturers over in an effort to reduce costs. The negotiations are set to begin later in 2023 but will not go into effect until 2026, with companies being threatened with up to a 95% tax if they do not cooperate.
https://hotair.com/david-strom/2023/09/06/uk-you-may-soon-go-to-jail-if-you-dont-upgrade-your-energy-efficiency-n576157#google_vignette
UK: you may soon go to jail if you don't upgrade your energy efficiency
It is hardly an exaggeration to say that the Industrial Revolution began in the UK.
It was the mastery of energy–replacing muscle power with fossil fuels that fundamentally transformed everything. We still describe an engine's output as "horsepower" for a reason: for most of human history the fastest anything could travel was the speed of a horse.
Unless, of course, you were falling off a cliff. Then you could go faster, but the ride was short.
The UK–which is still led by the Tories only because Labour is even worse–is looking to undo the Industrial Revolution. In a ridiculous bid to save Gaia from an imagined threat, the government is proposing to create new criminal laws that would imprison and fine people for not complying with new energy efficiency standards. Soon they will make excessive energy use–and that will be energy use that rises above "Net Zero"–could be a criminal offense.
No, I am not kidding.
Property owners who fail to comply with new energy efficiency rules could face prison under government plans that have sparked a backlash from Tory MPs.
Ministers want to grant themselves powers to create new criminal offences and increase civil penalties as part of efforts to hit net zero targets. Under the proposals, people who fall foul of regulations to reduce their energy consumption could face up to a year in prison and fines of up to £15,000.
Tory backbenchers are set to rebel against the plans, which they fear would lead to the criminalisation of homeowners, landlords and businesses.
The proposals are contained in the Government's controversial Energy Bill, which is set to come before the Commons for the first time when MPs return from their summer break on Tuesday.
It provides for "the creation of criminal offences" where there is "non-compliance with a requirement imposed by or under energy performance regulations". People could also be prosecuted for "provision of false information" about energy efficiency or the "obstruction of… an enforcement authority".
Checking in on the Hollywood Strike…
https://www.breitbart.com/entertainment/2023/09/06/report-striking-hollywood-workers-facing-evictions-some-living-in-their-cars/
Striking Hollywood Workers Facing Evictions, Some Living in Their Cars
As the dual Hollywood strikes drag on with no end in sight, writers and actors are increasingly finding themselves in dire financial straits, with a growing number of striking workers reportedly facing evictions as they can no longer afford to pay rent. In certain cases, some have resorted to living in their cars.
Several charitable organizations that have been supporting striking Hollywood workers with grants said they are seeing housing difficulties impact actors and writers as well as blue-collar crew members, according to an account from The Hollywood Reporter.
Thousands of crew members ranging from lighting personnel to makeup artists have been forced into long-term unemployment due to the strikes.
For many non-celebrity actors, the strikes have been financially ruinous.
"The strike has had a massive impact on my housing situation. I worked one day in May, and since then all the work has stopped," actor David Baach told The Hollywood Reporter.
"I've almost depleted my entire savings, and I haven't been able to pay my rent the last few months. My building manager and property owners extended me a grace period due to the good social credit I had built up by doing some gardening and landscaping in our building's common area. However, in early August, I received an eviction notice from the building's management company taped to my front door."
Leaders of two Hollywood charities — the Entertainment Community Fund and the Motion Picture & Television Fund — told the magazine that people are losing their homes due to the strikes.
"People are becoming unhoused, they're being evicted from their apartments and they're not paying their mortgages so eventually they will lose their homes as well. We're talking to people who are living in their cars, in some cases with their families," MPTF president and CEO Bob Beitcher reportedly said.
The MPTF is giving away $1,500 grants to striking workers but the amount doesn't come close to covering monthly rent in a city as expensive as Los Angeles and its surroundings.
The actors' and writers' strikes against Hollywood studios show no signs of ending as the warring sides continue to dig in their heels on key negotiating points regarding streaming compensation and A.I. has brought TV and movie production to a virtual halt around the country, putting thousands of people out of work and damaging local economies coast to coast.
https://www.hollywoodintoto.com/sound-of-freedom-number-1-latin-america/
'Sound of Freedom' Nabs No. 1 Slot in 18 Latin American Countries
"Sound of Freedom" isn't done quite yet.
The summer's indie sensation finally fell out of the top 10 box office results after earning north of $180 million at the U.S. box office.
Those numbers are staggering and would be the summer's biggest story if not for a certain one-two punch dubbed "Barbenheimer."
"Freedom," which follows a Homeland Security agent (Jim Caviezel) tracking down a little girl abducted by sex traffickers, is now a global sensation.
The film scored 18 number-one slots across Latin America over the weekend, according to Angel Studios.
Mexico
Guatemala
Honduras
El Salvador
Nicaragua
Costa Rica
Panama
Colombia
Venezuela
Ecuador
Peru
Bolivia
Belize
Paraguay
Chile
Uruguay
Argentina
Dominican Republic
The film also performed respectively in other nations during its opening weekend:
#1 in New Zealand
#2 in Australia
#2 in South Africa
#4 in the United Kingdom
Disney infamously acquired the film during its 2019 takeover of 20th Century Fox but didn't know what to do with the property. So the Mouse House shelved it for five years before Angel Studios bought the rights to the film and released it independently.
The mainstream media savaged the film in cruel and unprofessional ways. Reporters attacked Caviezel for his political views and suggested the film addressed an issue that's based on conspiracy theory more than fact.
The most absurd line of attack?
Some outlets used one of the 6,000+ people who crowdfunded the movie's marketing efforts against the project. The person in question is tied up in a child custody dispute framed as "child abduction."
The film's global revenue is still dramatically lower than its domestic haul. So far, "Freedom" has earned more than $2 million outside the U.S.