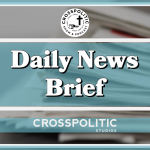 An Irish teacher has been jailed for refusing to call a boy a girl, Queen Elizabeth II has died, and jail time is being threatened in Europe for turning the heat up too high this winter.
… and more on today's CrossPolitic Daily News Brief. My name is Toby Sumpter and today is Friday, September 9, 2022.
https://nypost.com/2022/09/06/teacher-enoch-burke-jailed-over-trans-pronouns-flap/
A teacher in Ireland has been suspended from work and then jailed for contempt of court after he refused to use the correct pronouns to address a transgender student.
Enoch Burke was arrested on Monday for violating a court order barring him from teaching at Wilson's Hospital School in Westmeath, or even being present there, the news site RTE.ie reported.
Judge Michael Quinn found Burke guilty of violating an order made by the High Court last week and sent him to Mountjoy Prison, where he will remain until either he purges his contempt or the court gives further orders.
The teacher remained defiant in the face of jail time, telling the judge that "it is insanity" that he would be led out of the courtroom and taken to prison for refusing to give up his Christian beliefs.
"I love my school, with its motto Res Non Verba, 'Actions not words,' but I am here today because I said I would not call a boy a girl," Burke told the court.
The scandal surrounding Burke began unfolding after the educator, who teaches history, politics and German at the school in Multyfarnham, County Westmeath, refused to address a transitioning student as "they" instead of "he."
Burke's stance prompted school officials to place him on paid administrative leave pending the outcome of a disciplinary process.
But the teacher refused to stay away from campus, despite an injunction that was issued barring him from going to the school, or attempting to teach.
On Friday, the judge issued an order to arrest Burke after he was found sitting in an empty classroom at the school.
Burke was taken into custody at the school on Monday and taken directly to court, where he told the judge he could not comply with the injunction because it would violate his conscience.
"I am a teacher and I don't want to go to prison," Burke told the court. "I want to be in my classroom today, that's where I was this morning when I was arrested."
He added: "Transgenderism is against my Christian belief. It is contrary to the scriptures, contrary to the ethos of the Church of Ireland and of my school."
FLF Conference Plug
Do you like Jesus & beer? Then you and your family need to come to the Fight Laugh Feast Conference in Knoxville Tennessee, on October 6-8. The topic of this conference is Lies, Propaganda, storytelling, and the serrated edge. Satan is the father of lies, and the mother of those lies is a government that has rejected God. Christians haven't been reading their Bibles, so we as a society are more susceptible than ever to satan and his lies. So join us, October 6-8, as we fight, laugh, and feast, with beer & psalms, our amazing lineup of speakers, including Pastor Doug Wilson, George Gilder, and Pastor Toby Sumpter, and more… AND, stuff for the kids too, like jumpy castles, and accidental infant baptisms! Sign up to attend with you and yours, or become a vendor at fightlaughfeast.com.
https://www.bbc.com/news/uk-61585886
Queen Elizabeth II, the UK's longest-serving monarch, has died at Balmoral aged 96, after reigning for 70 years.
She died peacefully on Thursday afternoon at her Scottish estate, where she had spent much of the summer.
The Queen came to the throne in 1952 and witnessed enormous social change.
Her son King Charles III said the death of his beloved mother was a "moment of great sadness" for him and his family and that her loss would be "deeply felt" around the world.
He said: "We mourn profoundly the passing of a cherished sovereign and a much-loved mother.
"I know her loss will be deeply felt throughout the country, the realms and the Commonwealth, and by countless people around the world."
During the coming period of mourning, he said he and his family would be "comforted and sustained by our knowledge of the respect and deep affection in which the Queen was so widely held".
The King and his wife, Camilla, now Queen Consort, will return to London on Friday, Buckingham Palace said.
Senior royals had gathered at Balmoral after the Queen's doctors became concerned about her health earlier in the day.
All the Queen's children travelled to Balmoral, near Aberdeen, after doctors placed the Queen under medical supervision.
Her grandson and now heir to the throne, Prince William, and his brother, Prince Harry, also gathered there.
Prime Minister Liz Truss, who was appointed by the Queen on Tuesday, said the monarch was the rock on which modern Britain was built, who had "provided us with the stability and strength that we needed".
Speaking about the new King, she said: "We offer him our loyalty and devotion, just as his mother devoted so much, to so many, for so long.
"And with the passing of the second Elizabethan age, we usher in a new era in the magnificent history of our great country, exactly as Her Majesty would have wished, by saying the words 'God save the King'."
https://twitter.com/realchrisrufo/status/1567928907411910656?s=20&t=jRqdyIeyvfjUj4nDBZFGsg
Meanwhile, earlier this morning Uju Anya, Critical Race Theorist at Carnegie Mellon University tweeted: "I heard the chief monarch of a thieving raping genocidl empire is finally dying. May her pain be excruciating." Twitter did delete the Tweet as violating its rules, but i a follow up tweet she wrote: "If anyone expects me to express anything but disdain for the monarch who supervised a government that sponsored the genocide that massacred and displaced half my family and the consequences of which those alive today are still trying to overcome, you can keep wishing upon a star." Another tweet insists that Queen Elizabeth was not a remnant of colonial times but an active participant in colonialism, "she actively tried to stop independence movements & she tried to keep newly independent colonies form leaving the commonwealth. The evil she did was enough" and a video is linked to an elderly Kenyan woman who says she was tortured with axes during Kenya's struggle for independence from British colonial rule. The woman in the video demands that Elizabeth pay her back for what was done to to her.
Uju Anya writes so-called "anti-racist" curriculum for public schools as well as Diversity Equity and Inclusion training materials. I'm sure it's doing a lot of good. Not really.
The simple point I want to make here is that this is a great example of how CRT is not helping anyone at all. Let's grant the possibility that the history is being presented accurately here. I suspect that there might be more to it than is being presented, but let's just grant it for the sake of the argument. You cannot build families, cultures, or nations on this kind of exacting demand for justice. You cannot get it. It's not possible. And it's not possible for two reasons at least: first, you can't quantify the damage and harm and hurt. Can you put that woman's tears in a bottle and measure them out? When would it be enough? It would never be enough. And second, what standard would you use to measure anyway? By what standard? If you appeal to Darwin, you just threw away your standard. If you appeal to Marx, then you are only appealing to a momentary revolution and you're condemned to eternal feuding, since once the oppressed class gets put in charge they will no doubt oppress the previously ruling class, and we will just play see-saw with revenge.
The only way out of this is the blood of Jesus. The only way out of this tailspin of feuding bitterness and rage and spite and hate is through forgiveness in the blood of Christ. This is true for England, America, and Kenya, and all the nations of the earth. There will be blood. The only question is whose blood and will it be efficacious blood. The blood of Jesus is efficacious. It actually takes away sin and guilt. It actually allows you to lay down your arms, lay down your vengeance, and forgive. May Uju Anja, the people of Kenya, and all people find peace in the Cross of Christ.
As the Queen herself once said, "History teaches us we… need saving from ourselves, from our recklessness or our greed. God sent into the world… neither a philosopher or a general… but a Saviour with the power to forgive."
Classical Conversations
Classical Conversations supports homeschooling parents by cultivating the love of learning through a Christian worldview in fellowship with other families. They provide a classical Christ-centered curriculum, local like-minded communities across the United States and in several countries, and they train parents who are striving to be great classical educators in the home. For more information and to get connected, please visit their website at ClassicalConversations.com. Again that's ClassicalConversations.com.
https://www.dailywire.com/news/switzerland-may-jail-people-who-turn-heat-above-66-degrees-this-winter/
Citizens of Switzerland who dare to turn their thermostats above a balmy 19 degrees Celsius — 66 degrees Fahrenheit — over the winter may instead find themselves shivering in a prison cell.
The cost of natural gas in Europe has increased more than tenfoldamid the fallout from the Russian invasion of Ukraine, while Russia severed natural gas shipments through the Nord Stream 1 pipeline last week. According to a report from Swiss news outlet Blick, the nation's Federal Law on National Economic Supply permits authorities to fine and imprison residents who consume too much gas if energy rationing becomes necessary.
Those who fail to comply with the temperature mandates could receive sanctions between 30 and 3,000 Swiss francs, the equivalent of $31 and $3,090, Federal Department of Finance spokesman Markus Spörndli told the outlet. Those found intentionally violating the statute would receive up to three years in prison, and those found with negligent violations could be forced to pay 180 days' worth of fines.
Beyond the temperature controls, residents will be unable to heat swimming pools, saunas, radiant heaters, or warm air tents, while hot water will not be allowed to reach temperatures above 60 degrees Celsius, or 140 degrees Fahrenheit. The member states of the Swiss Confederacy have until September 22 to voice concerns over the law.
In the United States, a heatwave that has threatened power supplies in California led utility company Xcel Energy to lock the thermostats of 22,000 people in Colorado at 78 degrees Fahrenheit in the interest of protecting grid capacity. The residents had previously opted into an incentive program that let the firm "ease the strain on the electrical grid" during the "hottest summer days."
The European Union has adopted the official policy of becoming "a climate-neutral society" by 2050 in accordance with the European Green Deal and the Paris Agreement. Citing the failure of hydropower facilities amid drought conditions, European Commission President Ursula von der Leyen likewise proposed a "mandatory target" for reducing usage in the European Union, of which Switzerland is not a member.
"If you look at the costs of electricity, there are peak demands. And this is what is expensive, because, in these peak demands, the expensive gas comes into the market," she commented on Wednesday. "So what we have to do is to flatten the curve and avoid the peak demands. We will propose a mandatory target for reducing electricity use at peak hours."
Flatten the curve. Where have we heard that language before?
Christ Church Events Coordinator
Looking to move to Moscow? Christ Church is hiring a full-time events
coordinator to plan and manage all events for our various ministries.
Coordinators have to understand what it takes to make sure the
logistics work out for our growing ministries, keep everything within
the allocated budget and ensure that the event itself is carried out
smoothly. For more information, Please contact Carson Sensing at
[email protected] if you are interested in applying
Psalm of the Day: I Know that My Redeemer Lives
0:00-1:00
Amen!
This is Toby Sumpter with CrossPolitic News. Remember you can always find the links to our news stories and these psalms at crosspolitic dot com – just click on the daily news brief and follow the links. Or find them on our App: just search "Fight Laugh Feast" in your favorite app store and never miss a show. We are now doing a daily show, with daily backstage content for Fight Laugh Feast Club Member. Join today and get access as well as a $100 discount at the Fight Laugh Feast conference in Knoxville, TN Oct. 6-8, and have a great day.