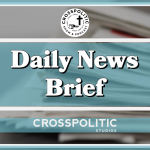 This is Garrison Hardie with your CrossPolitic Daily News Brief for Friday, September1st, 2023.
Olive Tree Biblical Software:
Discover why more than a million people use the free Olive Tree Bible App as their go-to for reading, studying, and listening to the God's Word.
Start by downloading one of many free Bibles and start taking notes, highlighting verses, and bookmarking your favorite passages. You can read at your own pace, or choose from a large selection of Reading Plans, including the Bible Reading Challenge. When you are ready to go deeper into your studies, Olive Tree is right there with a large selection of study Bibles, commentaries, and other helpful study resources available for purchase. There's also an extensive bookstore that allows you to build your digital library one book at a time and Olive Tree's sync technology lets you pick up where you left off on your tablet, pc or phone and get right to studying on another supported device.
Now here's the best part – You can start with the Olive Tree Essentials Bundle for FREE. Visit www.olivetree.com/FLF and download it today! 
https://dailycaller.com/2023/08/31/biden-admin-new-york-migrants-work/
America Last: Biden Admin Pledges Mass Campaign To Give Work Permits To Migrants
The Biden administration committed to working with the state of New York on Wednesday to help fill job vacancies with migrants who are straining the city's social safety net, according to a press release.
Democratic New York Gov. Kathy Hochul asked the Biden administration on Aug. 24 to expedite work permits for immigrants who are flooding New York City, provide more funds to build shelters and reimburse the state for the cost of deploying National Guard troops in response to the migrant crisis. Senior Biden administration officials met with Hochul on Wednesday, pledging to launch a campaign that will help migrants within the state apply for employment authorization.
"First, following the deployment of a Department of Homeland Security assessment team, the Administration highlighted data indicating that substantial number of recent migrants who arrived in New York City are currently work eligible but have not yet applied to get a work permit," the press release states. "For example, nationwide, only around 16% of working-age CBP One entrants have applied for work authorization. To date, roughly 20% of the noncitizens indicating New York, New Jersey or Pennsylvania as their intended destination this year were paroled in following an appointment scheduled through CBP One and are eligible to work immediately, if they apply."
The Biden administration and the New York state government will use text messages and email beginning in September to provide migrants who are "work eligible" with information on how to apply for employment authorization, the press release states. New York will also receive support from the federal departments of Health and Human Services, Education, Housing and Urban Development and the Interior to assist with the migrant surge.
Since Republican governors began busing migrants to New York City, the state has had to care for about 100,000 migrants, despite not having enough shelter and resources. The Biden administration was previously apprehensive about allowing Democrat-run cities to grant migrants work permits, fearing that the move could lead to more border crossings.
Leaders previously requested that the Biden administration temporarily waive the 180-day required waiting period before migrants can receive work authorization.
https://redstate.com/beckynoble/2023/08/30/parental-rights-win-as-mom-settles-with-school-district-that-transitioned-daughter-without-consent-n2163236#google_vignette
Parental Rights Win as Mom Settles With School District That 'Transitioned' Daughter Without Consent
The transgender mob has made no bones about exactly what their agenda is, and they are quick to brand anyone who speaks out about it a bigot or a transphobe. Much of their indoctrination is taking place in the nation's public schools. They love to claim that they are just helping kids to be their "true selves" or some such nonsense. But if what they are doing is so great, why don't they feel the need to involve parents, or in many cases, even tell them? One California mom fought back against the trans agenda, and the case could be a landmark victory for the rights of parents of public school children all over the country.
https://twitter.com/i/status/1696636080924303577 – Play Video
Jessica Konen's 11-year-old daughter, Alicia, is a student in the Spreckels Union School District in Monterey County, California. Alicia was told at school that she might be "upset" because "she didn't know who she 'truly was inside.'" Was she displaying signs of being "upset," such as failing grades or acting out in class? How did the school conclude she was upset about anything? The school then began socially transitioning Alicia's gender. She was allowed to use the boys' restroom and use male pronouns. All of this going on without Konen's knowledge or consent.
When Jessica Konen found out about this, she sued the school district. Konen was represented by the Center for American Liberty and obtained a settlement from the school district for $100,000. Thankfully, Jessica Konen's daughter continues to be her daughter. But Konen says the fight is far from over.
Even though the school district settled with Konen, they did not admit any fault. It would have been surprising if they had.
The Spreckels Union School District is just one of several school districts in liberal Democrat-run California where parents have had enough of being told they have no say in their children's education.
Keeping parents out of the gender loop is a problem that is not going away. Roughly 168 school districts overseeing 5,904 schools around the nation have guidance that prevents parents from knowing if their child identifies as a gender other than their birth gender at school. Faculty and staff cannot disclose this information without the student's permission. These numbers shake out to approximately 3.2 million public school students.
https://www.breitbart.com/latin-america/2023/08/30/argentine-presidential-front-runner-javier-milei-biden-threat-western-values/
Argentine Presidential Front-Runner Javier Milei: Biden a 'Threat to Western Values'
Argentina's presidential front-runner Javier Milei described socialists as "garbage" and "human excrement" during a radio interview, to which Colombia's far-left President Gustavo Petro, a former member of a Marxist guerrilla group, responded Tuesday by comparing Milei to Adolf Hitler.
Petro, a former member of the Marxist M19 guerrilla and Colombia's first-ever leftist president, made the outrageous comparison on his Twitter account hours after Colombia's RCN radio published an exclusive interview with Milei on Tuesday. During the interview, Milei suggested socialism was the greatest threat to his country.
"What is a socialist on the inside? He is garbage, he is human excrement," Milei railed.
Elsewhere in the interview, Milei listed leftist values as "envy, hatred, resentment, unequal treatment before the law, theft and murder" and branded American President Joe Biden a "threat to Western values."
"Biden is a left-wing president," Milei said. "So it is not surprising that he is also putting the world's leading power in check. Biden himself is a threat to Western values."
Milei's remarks garnered condemnation from Petro.
"This is what Hitler said," Petro wrote. Milei has not publicly responded to Petro's comparison as of press time.
Milei, a lawmaker and anti-establishment presidential candidate for the ("Liberty Advances") coalition, is known for his outspoken and no-holds-barred contempt for communism, denouncing it as a "murderous system" and socialism as a "disease of the soul." Milei is a far-right candidate who describes himself as libertarian and anarcho-capitalist.
Milei emerged as the most voted candidate in Argentina's Open Primary election process this month, leading to October's general election, with roughly 30 percent of the votes. During the open primary, all individuals who wish to be presidential candidates appear on the ballot; those who receive over 1.5 percent of the vote appear formally on the official ballot.
Milei continued his explanation by giving his hypothesis on the expansion of leftism in Latin America following the fall of the Berlin Wall, the dissolution of the Soviet Union, and the rise of the Sao Paulo Forum.
"After the fall of the Berlin Wall, here in 1989 the Sao Paulo Forum was set up and the intention of the Sao Paulo Forum was to create the Latin American Soviet Union," Milei said.
"This is a very concrete plan, there are three parts. In the first part, 90 percent of the battle is cultural and 10 percent is how to obtain resources," Milei continued his explanation. "The second stage is 50 percent cultural and 50 percent advancing in regulation and attacking companies. Perhaps the last part is the expropriation part."
The Sao Paulo Forum is a coalition of Latin American and Caribbean leftist governments and political parties established in 1990 by the Brazilian Worker's Party (PT) — a political party founded by Brazil's radical leftist President Luiz Inácio Lula da Silva. The Forum was established to help leftists in Latin America coordinate messaging, ideology, and policy execution across the region.
"What is, deep down, a socialist? He is garbage, he is human excrement, [someone] who basically, because he does not want to support the brilliance of another human being, is willing for everyone to be in misery," Milei asserted. "To be a socialist, deep down, is a sickness of the spirit, a sickness of the soul. They are bad people, that is the reality."
"The values of socialism are envy, hate, resentment, unequal treatment before the law, theft, and murder," he asserted.
https://www.outkick.com/video-released-of-nebraska-te-arik-gilbert-after-breaking-into-vape-shop-stealing-1-6k-in-products/
VIDEO RELEASED OF NEBRASKA TE ARIK GILBERT AFTER BREAKING INTO VAPE SHOP, STEALING $1.6K IN PRODUCTS
Now for my favorite topic, sports!
Nebraska tight end Arik Gilbert is in a world of trouble.
Gilbert, 21, was arrested early Tuesday on suspicion of burglary after breaking into SJ's Liquor and Vape Shop in Lincoln. Gilbert allegedly stole $1,672 worth of products, including cigars and vapes.
Authorities booked Gilbert at Lancaster County Jail. Bond was set at $5,000.
A security video circulating on social media shows a shirtless Gilbert, hiding behind a makeshift mask made from his shirt, using cement from the store's parking lot to break through the initial glass door. Once inside, Gilbert attempts to kick down another door.
Gilbert joined LSU in 2020 before leaving for Georgia ahead of his second year. The former top TE prospect posted 35 catches for 368 yards and two touchdowns in eight games with LSU.
Gilbert also flirted with going to Florida before joining the Bulldogs. Buried in Georgia's offense, Gilbert transferred to Nebraska this offseason but awaits eligibility from the NCAA for his second transfer.
Nebraska head coach Matt Rhule reacted to news of the arrest, as relayed by KETV7, and spoke on the ongoing struggles for Gilbert this offseason.
Rhule said in a press conference: "We're going to help him through some of the issues he's dealing with in his life, have been really proud of the job he had done in the spring and summer. But to be honest, during camp, he said he's had some struggles, he's working overcome them."