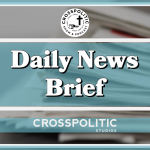 Hi, this is Garrison Hardie with your CrossPolitic Daily News Brief for Monday, April 11th, 2022. Today, we'll hear about Elon Musk, in a surprising reversal, no longer joining Twitter's advisory board. Steelers quarterback Dwayne Haskins was killed on Saturday after being struck by a truck, the Idaho supreme court blocks 'Texas Style' abortion bill from our friends at the Idaho Policy Center, and a congressman introduces a bill, to restart Trump's border wall!
But first, let's take a look at this day in history. Today is Monday, April 11, the 101st day of 2022. There are 264 days left in the year.
Today's Highlights in History:
In 1814, Napoleon Bonaparte abdicated as Emperor of the French and was banished to the island of Elba. (Napoleon later escaped from Elba and returned to power in March 1815, until his downfall in the Battle of Waterloo in June 1815.)
In 1865, President Abraham Lincoln spoke to a crowd outside the White House, saying, "We meet this evening, not in sorrow, but in gladness of heart." (It was the last public address Lincoln would deliver.)
In 1899, the treaty ending the Spanish-American War was declared in effect.
On April 11, 1968, President Lyndon B. Johnson signed into law the Civil Rights Act of 1968, which included the Fair Housing Act, a week after the assassination of Martin Luther King Jr.
Man April 11th sure sounds like an important day in history! You know what else is important? Protecting your family from the dangers of the internet. Using a smartphone or computer opens the door to a host of digital temptations. In a world saturated with pornography and other harmful content, what's a Christian to do? We need to take a proactive approach, welcoming transparency in our digital media choices—and Accountable2You makes that easy. Their accountability software shares detailed activity reports from all your devices, and your kids' devices, in real time to the accountability partners that you choose. With accountability in place, your family can effectively guard against temptations online and live with purity and integrity. Learn more and try it free at Accountable2You.com/FLF
Twitter says, that Elon Musk will no longer join its board:
https://www.nytimes.com/2022/04/10/technology/elon-musk-twitter-board.html
This is from the NY Times: Elon Musk, the world's wealthiest man and the biggest shareholder of Twitter, will no longer join the social media service's board of directors, the company said late Sunday.
Twitter had announced on Tuesday that Mr. Musk, 50, would be appointed to its 11-person board in a term that expires in 2024. That followed the revelation on Monday that Mr. Musk had accumulated a 9.2 percent stake in Twitter, making him its largest shareholder. Mr. Musk had agreed not to own more than 14.9 percent of Twitter's stock or take over the company, which is based in San Francisco.
But Parag Agrawal, Twitter's chief executive, tweeted late Sunday that the situation had changed. On Saturday morning, Mr. Musk told the company he would no longer be joining as a director, Mr. Agrawal said. No reason was given for the change.
Twitter's CEO tweeted out the following:
Elon Musk has decided not to join our board. Here's what I can share about what happened. The Board and I had many discussions about Elon joining the board, and with Elon directly. We were excited to collaborate and clear about the risks. We also believed that having Elon as a fiduciary of the company where he, like all board members, has to act in the best interests of the company and all our shareholders, was the best path forward. The board offered him a seat. We announced on Tuesday that Elon would be appointed to the Board contingent on a background check and formal
acceptance. Elon's appointment to the board was to become officially effective 4/9, but Elon shared that same morning that he will no longer be joining the board. I believe
this is for the best. We have and will alwavs value input from our shareholders whether they are on our Board or not. Elon is our biggest shareholder and we will remain
open to his input. There will be distractions ahead, but our goals and priorities
remain unchanged. The decisions we make and how we execute is in our hands, no one else's. Let's tune out the noise, and stay focused on the work and what we're
building.
A spokesman for Twitter declined to comment beyond Mr. Agrawal's post. Mr. Musk did not immediately respond to a request for comment.
Steelers quarterback Dwayne Haskins dead after being struck by dump truck on Florida interstate
https://www.foxnews.com/sports/steelers-quarterback-dwayne-haskins-killed-struck-car
This is from Fox News: Pittsburgh Steelers quarterback Dwayne Haskins was killed early Saturday morning in Florida after being struck by a dump truck in Broward County, authorities said. He was 24 years old.
Haskins, who was set to turn 25 next month, was in South Florida training with the team when he tragically died, ESPN's Adam Schefter reported first, citing Haskins' agent.
Haskins was attempting to cross the westbound lanes of Interstate 595 on foot when he was hit by a dump truck, according to the Florida Highway Patrol (FHP). Haskins was pronounced dead at the scene, and authorities said it was "unknown" why he was walking on the interstate.
A traffic homicide investigation is ongoing, FHP said.
The former Ohio State standout was reportedly in Miami training with Mitch Trubisky, who was signed by the Steelers last month to a two-year deal, Sports Illustrated reported. Haskins was expected to compete for the starting job in Pittsburgh following veteran Ben Roethlisberger's retirement.
After redshirting his freshman year at Ohio State, Haskins served as backup quarterback, throwing for 565 yards, four touchdowns, and one interception. The following season he was named the starter and went on to have a tremendous season, throwing for 4,831 yards, 50 touchdowns, and eight interceptions.
He was the second runner-up in the Heisman Trophy voting that year and in 2019 he was drafted 15th overall by the newly named Washington Commanders.
Idaho Supreme Court Blocks 'Texas Style' Abortion Law
https://townhall.com/tipsheet/madelineleesman/2022/04/09/idaho-supreme-court-blocks-texas-style-abortion-law-n2605688
On Friday, the Idaho Supreme Court blocked a law from going into effect that would outlaw abortions after fetal heartbeat detection, which occurs at roughly six weeks gestation. The law is mirrored after legislation in Texas that was upheld by the Supreme Court of the United States.
According to The New York Times, the court issued an order temporarily blocking enforcement of the law until it can further review it. The law was scheduled to take effect on April 22.
According to our friends at the Idaho Family Policy Center, the Idaho Attorney General cut a deal with Planned Parenthood, in which both parties agreed to let the court temporarily block the law in exchange for slowing down court proceedings.
The Office of the Attorney General – which is statutorily responsible for defending the law in court – says the compromise was necessary because the process was moving too quickly for their team to mount an adequate legal defense.
The law allows the father of the unborn child, the grandparents, siblings, aunts and uncles to pursue legal action against a medical provider who performs an abortion. The family members of the unborn child can sue for a minimum of $20,000 in damages within four years after the abortion.
Texas' law, S.B. 8, on the other hand, allows anyone to sue an individual who provides an illegal abortion or aids a woman seeking an illegal abortion. Those who successfully bring lawsuits under S.B. 8 can receive $10,000.
When GOP Idaho Gov. Brad Little signed the bill into law, he mentioned that he had concerns regarding this portion of the legislation, noting that other states could utilize the same approach to encroach on gun ownership rights. Rebecca reported how California Gov. Gavin Newsom (D) touted that he would use this approach against firearms.
Late last year, President Joe Biden's Department of Justice (DOJ) and abortion clinics in Texas challenged the state's "heartbeat" abortion ban at the Supreme Court. The Court fast-tracked its decision and did not allow the DOJ's lawsuit to continue and returned the abortion clinics' lawsuit back to a federal appeals court.
This year our national conference is in Knoxville, TN October 6th-8th. The theme of this year's conference is Lies, Propaganda, Storytelling and the Serrated Edge. Satan is the father of lies, and the mother of those lies is a government who has rejected God. We have especially been lied to these last two years, and the COVIDpanic has been one of the central mechanisms that our government has used to lie to us and to grab more power. Because Christians have not been reading their bibles, we are susceptible to lies and weak in our ability to fight these lies. God has given us His word to fight Satan and his lies, and we need to recover all of God's word, its serrated edge and all. Mark your calendars for October 6th-8th, as we fight, laugh and feast with fellowship, beer and Psalms, our amazing lineup of speakers, hanging with our awesome vendors, meeting new friends, and more. Early bird tickets will be available starting in the middle of March.
Congressman introduces bill to restart building border wall
https://justthenews.com/nation/states/center-square/nc-congressman-introduces-bill-restart-building-border-wall
A North Carolina congressman has introduced a bill to require the federal government to restart rebuilding the border wall, which was halted by President Joe Biden.
U.S. Rep. Ted Budd, R-NC, introduced the Build the Wall Now Act, which removes all legal impediments to building the border wall. Among other things, it unlocks an additional $2.1 billion that was appropriated in fiscal years 2018, 2019, 2020, and 2021 that weren't spent.
Congress allocated $6 billion for the wall's construction between fiscal years 2018 and 2021, according to the General Accounting Office.
Texas Attorney General Ken Paxton and Missouri Attorney General Eric Schmitt sued the administration last fall, asking the court to require the administration to resume building the wall using funds already appropriated by Congress.
Within a month of the AGs' lawsuit, the U.S. Department of Homeland Security said it was using the money on environmental and cleanup projects in certain areas of Arizona, California and Texas. Funds would be used to "address life, safety, environmental, and remediation requirements for border barrier projects" in the San Diego, El Centro, Yuma, Tucson, El Paso, and Del Rio Border Patrol sectors.
As the AGs' lawsuit makes its way through court and as border communities brace for an estimated roughly 18,000 people expected to come through the southern border after Title 42 is repealed next month, Budd said, "The best way to end the Biden Border Crisis is to finish the border wall now."
Title 42 is a public health authority that allows Customs and Border Protection (CBP) agents to quickly process and deport illegal immigrants under a public health emergency. It was used by the Trump administration to slow the spread of the coronavirus. The Biden administration announced it was ending it May 23.
As long as Democrats hold a majority in Congress and Biden remains president, the bill isn't expected to become law. But it's an example of Republicans increasingly frustrated with the administration's open border policies filing legislation in Congress as immigration lawsuits remain tied up in courts.
Even while Title 42 was being used, in Biden's first year in office, roughly two million people from over 150 countries were apprehended or encountered by CBP agents entering the U.S. illegally. This number excludes an estimated several hundred thousand who evaded law enforcement.
All funding for the border wall was suspended on Biden's first day in office. It costs taxpayers $3 million a day to not build the wall due to contractual obligations with the construction firm tasked with building it.
As the federal wall remains unfinished, Texas Gov. Greg Abbott began building a border wall on Texas soil.
"Texas is taking what truly is unprecedented action by any state ever," Abbott said in December when a section of the wall was erected in Rio Grande City. Texas was building a wall "on our border to secure the sovereignty of the United States as well as our own state," he said. "And this unprecedented action is needed for one single reason, and that's because the Biden administration has failed to do its job as required by law as passed by Congress to enforce the immigration laws of the United States of America."
Thanks for tuning in to this CrossPolitic Daily News Brief! If you liked the show, share it! And as always, if you're a CEO or business owner who wants to partner with CrossPolitic, email me, at garrison@fightlaughfeast.com. For CrossPolitic News, I'm Garrison Hardie. Have a great rest of your day, and Lord bless.