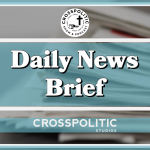 Daily News Brief for Monday, April 12, 2021
https://notthebee.com/article/gracelife-has-become-the-first-official-underground-church-in-canada-after-authorities-fenced-off-their-building-john-macarthur-says-they-are-meeting-somewherewe-dont-know-where
Statement regarding Sunday, April 11 protest near Grace Life Church grounds
POSTED ON: APRIL 11, 2021
The Justice Centre for Constitutional Freedoms represents Pastor James Coates and Grace Life Church, of Stony Plain, Alberta.
On behalf of Grace Life Church, we would like to state the following:
Grace Life Church appreciates the public outpouring of support to fully open churches in Alber. Grace Life Church congregants were not at the protest that occurred on Sunday, April 11, 2021 near the Church's facility. Grace Life Church recognizes the place for peaceful protest within the context of a democracy.
Grace Life Church has no control of our Church or grounds at this time. The Church grounds are fully under the responsibility and control of the RCMP and Alberta Health Services. The closing of the Grace Life facility has understandably resulted in significant public outrage and caused even larger crowds to gather in one place. Albertans have a constitutional right to assemble, associate, and worship. By taking the measures the government has, while the matter is still pending before the Courts, the Alberta Government has created an even more divisive situation.
It is time to end these unscientific, unjustified and arbitrary lockdown measures.
Did you wrap up your Easter thinking, "I'm tired of being the congregational mumbler" or, "I need to give my kids the music training that I never got?" Or just maybe you said, "If something like the Canadian Gestapo comes to shut down my church, I want them to tremble before God's praises."
If so, it's time for music lessons with Sean Bohnet. Learn to read, create, and understand the craft that our reformed forefathers cherished.
Beginning with voice and piano, Sean teaches kids and adults how to be musically literate. Lessons are available locally in Moscow, ID or online. Oh yeah, he makes the process a lot of fun too.
Contact him at 702-477-9090 for a consultation.
Brooklyn Park Minnesota
https://www.conservativereview.com/massive-crowd-riots-after-officer-involved-shooting-in-minneapolis-2652502492.html
This is the story from Daunte Wrights' mother https://www.youtube.com/watch?v=08mvp9CZsd0
Police cam footage
https://www.fox9.com/video/921048
Remember: If you have a news story you think we might need to cover, please send articles and links to News@CrossPolitic.com. And check out DeftWire.com, our news aggregator. 
https://www.cnbc.com/2021/04/12/will-smith-antoine-fuqua-will-no-longer-film-emancipation-in-georgia.html
"Emancipation," a slave drama directed by Antoine Fuqua and starring Will Smith, will no longer be filmed in the state of Georgia due to a new voting law that was signed there by Gov. Brian Kemp in late March.
In NYC
Christian wedding photographer sues New York over LGBT anti-discrimination law
https://www.christianpost.com/news/wedding-photographer-sues-ny-over-lgbt-anti-discrimination-law.html?utm_source=dlvr.it&utm_medium=facebook&fbclid=IwAR0bXm6gOYHbHXq50SihYpvD9GI4d7PqRUA0SpWHJn1OkkCY9ANUL_9iTvQ