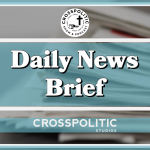 Johnson & Johnson said blood clots have been reported with all Covid-19 vaccines. The author of the study they cited says they're wrong.
https://www.cnn.com/2021/04/19/health/johnson-vaccine-blood-clots-statement/index.html?utm_source=feedburner&utm_medium=feed&utm_campaign=Feed%3A+rss%2Fcnn_topstories+%28RSS%3A+CNN+-+Top+Stories%29
Pfizer CEO says third Covid vaccine dose likely needed within 12 months
https://www.cnbc.com/2021/04/15/pfizer-ceo-says-third-covid-vaccine-dose-likely-needed-within-12-months.html
Have you always wanted to play guitar but thought it was too late to start? Maybe you are in a season of your life where taking in-person lessons wouldn't fit your schedule. For less than the cost of 1 private lesson a month, you could be a part of the community of guitarists at GuitarSuccess4U and learn guitar at your own pace, from the comfort of home. Through video lessons, worksheets, expert interviews, and a proven path to success, fellow Cross Politic listener David Harsh will share with you some of the most relevant tools from his almost 30 years of teaching, touring, writing and leading worship on guitar, to help you become the musician you were made to be. Learn more and join now at www.GuitarSuccess4U.com. That's Guitar Success, the number "4" and the letter "U," dot com. Support the people who support us go check them out.
Patrisse Cullors has been busy making the media rounds amid financial criticism of the Black Lives Matter Global Network that she co-founded. On Thursday night, Cullors appeared on the Black News Channel (BNC) for an interview with Marc Lamont Hill to set her record straight by addressing the controversy around her organization, her career, the right-wing media that she says is targeting her.
BLM leadership has been accused of not sharing the organization's recently acquired wealth with activists and other like-minded Black liberation groups. Meanwhile, Cullors, in particular, has been alleged to have gone on a home-buying spree in purported evidence of the lavish lifestyle she allegedly enjoys by profiting off of Black death and trauma.
So about those houses tho?
Oh, ok, I get it…So, they don't need to funnel money through BLM they can pay you direct…
But how would Marx feel about this?
How does BLM spend it's money?
Apple will reinstate Parler
Apple will allow controversial social media app Parler back onto the iPhone App Store, according to a letter released Monday by Rep. Ken Buck, R-Colo.
Apple removed the app in January after Parler was used to publicize the Jan. 6 U.S. Capitol riot when the app's content featured calls for violence and other illegal activity.
"And so, if they get their moderation together, they would be back on there," Apple CEO Tim Cook said on Fox News in January.
Parler has updated its app and improved its content moderation, an Apple official wrote in the letter. As of April 14, Apple's App Review department had approved the changes and an updated version of Parler will be approved by Apple, the letter said.
"Apple anticipates that the updated Parler app will become available immediately upon Parler releasing it,"
The Parler app was not available for download on an iPhone on Monday morning, and Parler didn't immediately respond to a request for comment.
Apple said it did not coordinate with the other companies to remove Parler.
"Apple made an independent decision to remove Parler for non-compliance with the guidelines, and it did not coordinate or otherwise consult with Google or Amazon with respect to that decision,".