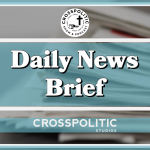 Good Monday, this is Garrison Hardie with your CrossPolitic Daily News Brief for Monday, April 25th, 2022.Our CrossPolitic Liberty Tour is coming to a close as of May 19th, as we'll be in Phoenix Arizona, talking about the five stones of true liberty. The Water Boy, The Chocolate Knox, and Pastor Toby, will be joined by Pastor Jeff Durbin, and Delano Squires, so you don't want to miss out! Sign up today at crosspolitic.com/libertytour. Tickets are only $20 by the way… You'd be losing money by NOT signing up to hear such a great lineup.
Some big news for you guys right off the bat, Twitter board in final negotiations with Elon Musk over buyout bid.
https://thepostmillennial.com/breaking-twitter-board-in-final-negotiations-with-elon-musk-over-buyout-bid?utm_campaign=64487
Twitter's 11-member board of directors met on Sunday to discuss selling the social media platform to big tech entrepreneur Elon Musk and could finalize a deal as soon as this week, or even Monday, CNBC reports. Shares in Twitter rose 5 percent on Monday in reaction to the news.
This after Musk revealed made his public, $43 billion bid for the influential platform, then secured the financing. The board, and current CEO Parag Agrawal, appeared opposed to the deal at first, but the offer per share is well in excess of the current price. Musk offered $54.20 per share, saying that this was his "best and final" offer. Twitter shares were valued at over $60 through much of 2021.
According to the Wall Street Journal, Twitter was planning to reject Musk's April 14 offer, and looked at a plan to issue a "poison pill" to block him from increasing his stake.
Twitter changed its attitude and began negotiations after Musk announced that he had obtained the financing to back hid bid, The Journal reported earlier Sunday.
According to Reuters, Musk "wooed many of the social media company's shareholders with financing details on his $43 billion acquisition offer," but noted that, per sources familiar with the process, "The company's decision to engage with Musk… does not mean that it will accept his $54.20 per share bid," but that "It signifies, however, that Twitter is now exploring whether a sale of the company to Musk is possible on attractive terms."
Twitter is scheduled to report first-quarter earnings Thursday and is expected to address the bid by then, if not sooner.
Musk reportedly met privately with several shareholders on Friday to discuss his proposal and has also pledged to solve the free-speech issues on the platform, his main reason for undertaking the takeover.
Twitter is reportedly facing increased pressure from a number of its shareholders to negotiate with Musk.
___________________________
The left can't meme. It's true. Because they live off borrowed capital. They only corrupt what has already been built. But Christians are meant to be makers. Because we know the Bible, we know history, and we know God in Christ, the Creator and Maker of all things.
_____________________________
Back in 2017, Netflix tweeted, that "love, is sharing a password." But now, Netflix would love it, if you stopped doing that.
https://twitter.com/netflix/status/840276073040371712?ref_src=twsrc%5Etfw%7Ctwcamp%5Etweetembed%7Ctwterm%5E840276073040371712%7Ctwgr%5E%7Ctwcon%5Es1_&ref_url=https%3A%2F%2Fwww.cnbc.com%2F2022%2F04%2F23%2Fhow-netflixs-password-sharing-crackdown-is-likely-to-work.html – Show Tweet
Netflix surprised the world this week, saying it plans to finally address the rampant practice of password sharing.
More than 100 million households are using a shared password, Netflix said Tuesday, including 30 million in the U.S. and Canada.
But the video streamer doesn't plan to simply freeze those shared accounts. Instead, the company will likely favor the setting of an extra fee for those accounts being used by multiple people outside of the home.
Netflix's plan to capture that lost revenue would start with an alert being sent to account holders whose passwords are being used by other households.
This announcement comes after Netflix's first quarter report came out, showing that Netflix had lost subscribers for the first time in over a decade.
The company reported a loss of 200,000 subscribers globally compared to Q4, and it's forecasting even bigger losses to come. Netflix estimates it could lose up to 2 million subscribers in the second quarter.
I mean, maybe it also has to do with the simple fact, that Netflix now costs between $15, and $20 per month… There are free streaming services available like Tubi… It's time for Christians to invest in Christian media… Which begs the question, are you a club member? Because if not, you can sign up for the low, low price of $5 per month! That's a lot better than Netflix's $15-$20, especially when you consider some of the harmful content on there. Sign up now at flfnetwork.com/membership.
____________________________
"When a man and woman say, "I do," they are launched together into a grand adventure with numerous unexpected twists and turns. Along with all the blessings from marriage, there are also sleepless nights with crying babies, expensive car repairs, burnt dinners, potential drama with extended family, and turmoil in the world. The world thinks that when a marriage is confronted with hardship, either spouse can push the emergency eject button and simply move on due to "irreconcilable differences." But Christian couples are commanded, in sickness and health, riches and poverty, good times and bad, to display the glory of Christ and the church. To do this takes gritty faith, covenant fidelity, and joyful forbearance.
Grace Agenda 2022: Marriage Bootcamp aims to equip Christian couples to ride into the turbulence of the world in which we live with a fearless resolve to glorify God in their home and so advance the kingdom of God in the midst of the smoking crater that is Western Civilization." Go to https://www.graceagenda.com to sign up, and we will see you in Moscow. I'll be there by the way, make sure you come say hi at our booth!
__________________________
The Supreme Court ponders the right to pray on the 50-yard line
https://www.npr.org/2022/04/25/1093116619/the-supreme-court-ponders-the-right-to-pray-on-the-50-yard-line?utm_source=facebook.com&utm_campaign=npr&utm_medium=social&utm_term=nprnews&fbclid=IwAR0c9a1XCEKLFvDa2WHRuaTM091yNb4MqdanyRKuxUadz5Fve5KYlAf5FmI
This is according to NPR: The U.S. Supreme Court jumps back into the culture wars Monday in a case that involves a football coach's asserted right to kneel and pray on the 50-yard line at the conclusion of a public school football game.
Joseph Kennedy, a coach for the Bremerton, Wash., High School Varsity and JV football teams began praying with his players before and after games in 2008. At the end of a game, he would take a knee and say a prayer with his players at midfield.
By the 2015 season, Kennedy was often joined at the 50-yard line as well by players from the opposing team. Indeed, it was an approving comment by an opposing coach that finally alerted school district officials to the practice.Oh that HORRIBLE PRACTICE, Those Christians are at it again! Stop them! We want them worshipping Baal instead!
The prayers prompted the athletic director, and later the superintendent, to order the coaching staff to stop praying with students. Kennedy stopped his locker room prayers completely, and for a least one game left the home field, returning later when the crowds had gone, to pray by himself on the 50-yard line.
But the Marine veteran didn't like doing it that way.
So Kennedy returned to his praying practice right after the game, mainly at away games, and with little fanfare. By the time of the big homecoming game, Kennedy had retained lawyers from the First Liberty Institute. In a letter to school officials, they said that the coach had a constitutional right to pray on the 50-yard line at the end of the game, and that students should be free to voluntarily join in.
But as events unfolded, "it was a zoo," said John Polm, Bremerton High's principal, describing the homecoming game during his deposition. Attendance doubled, five TV stations showed up, and a group of Satanists unsuccessfully attempted to take the field to perform their own competing ritual.
That right there, ladies and gentleman, is the power of prayer. If you ever feel like prayer to our creator doesn't pack a punch, you need to think of this story.
The school argued, the problem was this was never personal or private or solitary or any of those other adjectives that Mr. Kennedy's lawyers describe. He chose to put himself in the center of the field at the end of the game to make a spectacle. That's why I never had a problem with Tim Tebow, Tebow-ing on the field. I heard the same exact arguments from critics. "He's bringing all the attention to himself!"
Imagine for a second, that coach Kennedy, was praying to Allah… or that Tebow was bowing down towards Mecca to celebrate his Touchdowns… Then imagine, that opposing players would sack Tebow, and then mockingly bow towards Mecca, like they mocked Tebow when he honored God after his Touchdowns… all hell would have broken loose. The school district would 100% let coach Kennedy continue to pray to Allah, or heck, if he wanted to dress as a drag queen… and dance for his team like a pervert, that'd be okay.
Now, NPR noted in the article, that coach Kennedy's case, could eventually lead to the over-turning of a 60-year-old decision banning official prayer in public schools. Now some might think that's a good thing, but for me, I frankly don't give a damn. I'm of course appreciative of the courage coach Kennedy is showing, but we need our kids out of public schools. Period. By the way, if you need help doing that, visit our sponsor, Classical Conversations…
So, you remember how I mentioned the word drag queen? Well, Matt Walsh of the Daily Wire, posted a 4-year old video, showing a Good Morning America clip, of an 11-year old boy, dressed up as a woman, dancing to the delight of all the adults in the audience.
https://notthebee.com/article/matt-walsh-reminds-us-that-the-groomers-at-disney-and-abc-have-been-sexualizing-children-literally-for-years/
Heck, even Michael Strahan, an athlete I once looked up to was clapping and smiling throughout the whole segment… I won't play the whole thing, but if I had to see this, you do too.
https://youtu.be/JxdvOLdG_34 -Play 1:11-3:34
Now, if that wasn't bad enough, they brought out three men parading around as women out to talk to Desmond, and they gave him gifts, including makeup, girls' toys, and then dance classes, so he can dance for all the perverts that his parents are setting him up for. I won't play that clip for you, because otherwise that'd be 8-minutes of hell for you all. But here's a picture of them in all their hideous get-up.
By the way, to those parents… shame on you. I'm glad we serve a God, who will hand out perfect, and righteous judgement on you both. Because that is cruel, what they are setting that child up for. Walsh's point in bringing this up, is that Disney didn't just NOW become woke… they've been trending this direction for years and years, all while the Church slept… Thank God for bringing judgement on our nation. If you haven't seen our Sunday Special, we had Pastor James White of Apologia Church, and Jared Longshore join us… and they talk about how we as a nation, got where we are today. Jared even mentions, how he's hopeful we see more judgement, because we as a nation, have SUCH a short memory. Heck, I didn't even remember this clip until Matt Walsh shared it this morning. Now that the mask mandates have been lifted, we can not stop there. We have to keep fighting our wicked culture, so go forth, and Fight Laugh & Feast.
This has been your CrossPolitic Daily News Brief. If you liked the show, share it. If you want to sign up for a club membership, sign up at flfnetwork.com/membership. And as always, if you'd like to partner with CrossPolitic, email me, at garrison@fightlaughfeast.com. For CrossPolitic news, I'm Garrison Hardie. Have a great rest of your day, and Lord bless.