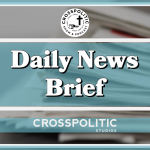 Hi this is Garrison Hardie with your CrossPolitic Daily News Brief for Monday, April 4th, 2022. Today, we'll go through the Final Four, as a lead in for the NCAA Championship game tonight between North Carolina and Kansas, a transgender cyclist getting booted from a women's championship, after the female competitors threatened to boycott, more of that please… and Elon Musk, buys a huge stake in Twitter! Good news.
But first, the world in which we live is moving towards total techno tyranny at an incredible rate. This tyranny includes spying, censorship, data theft all through electronic means. Iron Apples is a small cybersecurity consultancy firm seeking to give churches, organizations, businesses, schools and individuals the education, resources and tools needed to be able to circumvent techno tyranny. Over the next year, Iron Apples will be hosting a series of virtual meetings to inform, educate and equip attendees with actual solutions to the problem we find ourselves in. Visit ironapples.com, and click events, in the bottom right corner of their site, to sign up today! That's ironapples.com.
Elon Musk Takes 9.2% Stake in Twitter After Hinting at Shake-Up
https://finance.yahoo.com/news/elon-musk-takes-9-2-102640581.html
Twitter shares surged as much as 27% after Musk's purchase was revealed Monday in a regulatory filing. The gain marked the stock's biggest intraday increase since its first day of trading following the company's 2013 initial public offering. The stake is worth about $2.89 billion, based on Friday's market close.
Musk polled his more than 80 million followers on Twitter last month, asking them whether the company adheres to the principles of free speech. After more than 70% said no, he asked whether a new platform was needed and said he was giving serious thought to starting his own.
Musk has been one of the biggest personalities on Twitter and has regularly run into trouble on the platform. The Tesla chief executive officer is currently seeking to exit a 2018 deal with the U.S. Securities and Exchange Commission that put controls in place related to his tweeting about the electric-car maker.
The announcement will be yet a test for new Twitter CEO Parag Agrawal, who replaced Jack Dorsey after he unexpectedly resigned in November. Agrawal vowed to increase accountability, make decisions faster and to improve product execution. The company set ambitious goals for growth including increasing annual revenue to $7.5 billion and getting to 315 million daily users by the end of 2023.
Musk posted a cryptic meme in December after Twitter announced that Agrawal was taking over from Dorsey as Twitter's CEO. It depicted Agrawal as Soviet dictator Joseph Stalin and Dorsey as a Soviet secret police head being shoved into water.
It's unclear what Musk is planning with his stake. The filing with the SEC shows that the date of the event that triggered the disclosure was March 14. The type of form used often indicates the investor isn't seeking to acquire control of a company, or to influence who controls it.
Hey, all I know is, I'm happy Musk is involved.
Shifting gears here, This year our national conference is in Knoxville, TN October 6th-8th. The theme of this year's conference is Lies, Propaganda, Storytelling and the Serrated Edge. Satan is the father of lies, and the mother of those lies is a government who has rejected God. We have especially been lied to these last two years, and the COVIDpanic has been one of the central mechanisms that our government has used to lie to us and to grab more power. Because Christians have not been reading their bibles, we are susceptible to lies and weak in our ability to fight these lies. God has given us His word to fight Satan and his lies, and we need to recover all of God's word, its serrated edge and all. Mark your calendars for October 6th-8th, as we fight, laugh and feast with fellowship, beer and Psalms, our amazing lineup of speakers, hanging with our awesome vendors, meeting new friends, and more. Early bird tickets will be available starting in the middle of March.
https://www.dailywire.com/news/transgender-cyclist-booted-from-womens-championship-after-female-competitors-threaten-boycott?utm_source=facebook&utm_medium=social&utm_campaign=dwbrand
Transgender Cyclist Booted From Women's Championship After Female Competitors Threaten Boycott
A biologically male cyclist who now identifies as female was barred from competing in a women's championship race this weekend, following threats of boycott from female competitors.
Emily Bridges, who formerly competed against men as Zach Bridges, was cut from the women's British National Omnium Championship on Saturday.
This would have been Bridges' first race against women. The athlete only began hormone therapy last year, according to the BBC.
Bridges was determined "ineligible" to compete by the UCI, cycling's governing body, after women threatened to boycott the race.
"Bridges – who set a national junior men's record over 25 miles in 2018 – had been due to compete against several British Olympians, including Dame Laura Kenny, in her first race in the women's category," The Guardian reported. "However the UCI ruled the 21-year-old, who began hormone therapy last year to reduce his testosterone levels, was currently not compliant with its regulations as he is still registered as a male cyclist – and therefore cannot compete as a woman until her male UCI ID expires."
The Guardian noted that the UCI's decision "came amid a growing backlash from within the sport, with the Guardian understanding that a number of female riders were talking about boycotting the event in Derby because they felt that Bridges, who was on the Great Britain Academy programme as a male rider until being dropped in 2020, had an unfair advantage."
The BBC noted that the UCI can bar Bridges from cycling against women even if the athlete meets "eligibility criteria," in an effort to "protect health and safety" and "guarantee fair and meaningful competition that displays and rewards the fundamental values and meaning of the sport."
Good… more of this please!
Now, onto the Final Four. Over the weekend, Kansas took on Villanova, and for the first time in history, Duke took on North Carolina in the NCAA tournament… how did it go? Let's take a look with today's Final Four recap. First, with Kansas and Villanova.
https://youtu.be/985DiLrp7qE -Kansas vs. Villanova Highlights
Ochai Agbaji got things going for the Jayhawks with his opening three pointer, more from him later. (Use 0:05-0:15)
I said more from him later, well here he is again, Agbaji, splashes the corner three, putting Kansas up by 11, early in the first half. (Use 0:15-0:23)
Later on in the first half, Agbaji becomes the facilitator to the BIG MAN, David Mccormack, who jams it home, giving Kansas a 15-point lead. (Use 0:24-0:31)
Fast forward to the second half, Nova is trying to make it more interesting as they have it cut to 8 here, but Agbaji strikes again from deep! Agbaji hit 6-three pointers on the night, and 21 points overall. (Use 0:58-1:05)
Then half-way through the second half, Kansas by 10, gets the ball inside to the big man, Mccormack, who SENDS IT IN WITH AUTHORITY, MY GOODNESS. Mccormack would finish with 25 points, a season high… but those points were easily the highlight of the night. (Use 1:16-1:25)
But Nova, not done yet! As they get it inside to Jermaine Samuels, who uses his strength to get the AND ONE. The Wildcats cut it to 6 with just over 6 minutes to go! (Use 1:36-1:46)
Kansas would respond IMMEDIATELY, as they went inside once again to Mccormack, who gets another tough basket to go… keeping a cushion between themselves and the trailing wildcats. (Use 1:47-1:57)
Then finally, late in the second half, Kansas would go on to put the nail in the coffin, as Christian Brown, knocked down a three-pointer as the shot clock was expiring… Brown would have 10 points in the second half alone, and Kansas, goes on to win, 81-65. (Use 1:58-2:10)
It's worth mentioning that the last time Kansas beat Villanova in the tournament, they went on to win the NCAA Championship back in 2008.
North Carolina vs Duke – Game Highlights | Final Four | April 2, 2022 March Madness
Now, onto the other Final Four game, Duke, versus North Carolina… Coach K's last game, and the first time the two schools met in the NCAA tournament in their storied programs' respective histories.
This game was close the entire way, as Paolo Banchero, gets a nice outlet pass, and jams it home… Duke goes on top 17-16 early in the first half. (Use 0:39-0:47)
Fast forward to one minute remaining in the first, UNC forces the turn over, and converts in transition, with the pretty move by Caleb Love, Love would lead all scorers for the Tarheels with 28 points. What a game for him. (Use 0:47-0:56).
Just before the break on the other end of the court, Jeremy Roach gets the bucket, and the foul! Duke would go into halftime with a 37-34 lead. (Use 0:56-1:04)
Second half now, Banchero gets the ball from a pick & pop, pump fakes it, and drives inside, slamming it home… The 6'10 forward had 20 points on the night. (Use 1:05-1:13).
North Carolina would respond however, FROM DEEP. Hand down, man down. A tough shot right there from Caleb Love, cutting Duke's lead back down to 1. Use (1:13-1:21).
Then, North Carolina's ball movement carves up Duke's defense like a Christmas ham, and Caleb Love, once again takes advantage, with a pretty scoop & score over a MUCH taller defender. The Tarheels go up by 1. (Use 1:56-2:03)

On the other end, Bancherro, tips the ball back out from the miss, and Duke's Wendell Moore DELIVERS. Moore had 10 points on the night. Duke goes up by 1 late in the game. (Use 2:04-2:13).
Then, with just 30 seconds left, perhaps the shot of the night from Caleb Love, top of the key, BANG… That would give the Tarheels a CRUCIAL 4-pt cushion. Then on the other end, Roach goes from half court, in for the quick lay-up, cutting North Carolina's lead back to two. (2:14-2:27).
The Tarheels would convert 1 free throw on the other end, making the lead just 3, Duke needs a three here…which then lead to a contreversial call… as Duke's Trevor Keels drives inside and gets fouled, and the basket's GOOD!!! Or is it? No! The refs wave it off and instead, Keels goes to the line, for two shots… Keels misses the second free throw, and North Carolina grabs the board, securing their spot, in the NCAA Championship game. North Carolina wins it. 81-77. Use (2:27-2:47)
A shame that coach K goes out that way, as he ends his coaching tenure at Duke, with a 50-50 record against North Carolina… but on the other side, coach Hubert Davis of the Tarheels is an outspoken Christian. Not a bad start for the first-year head coach, leading your team to the NCAA Championship game. You can watch the championship game tonight on TBS at 9:20PM EST. Kansas vs North Carolina, should be a good one.
That's going to do it for this CrossPolitic Daily News Brief. If you liked the show, share it. If you're a business owner or CEO, who wants to partner with CrossPolitic, email me, at garrison@fightlaughfeast.com. Have a great rest of your day, and Lord bless.