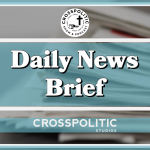 Good Monday, This is The Chocolate Knox with your CrossPolitic Daily News Brief for Monday, April 5, 2021
The Cave of Adullam
https://www.facebook.com/thechurchcaveofadullam/about/?ref=page_internal
art@streetchurch.ca
FLF Rally
Have you registered for the Fight Laugh Feast Rally in Rapid City, South Dakota, April 29, 30, May 1? Excited to see many of you as we learn to Love God, Sing Psalms, Defy Tyrants. Come hear talks from Pastor Doug Wilson, Ben Merkle, Steve Deace, Sheriff Daryl Wheeler from Bonner County, Idaho, Pastor Toby, Pastor Joe Boot with be smuggles in from Canada And last but not least Mr. Nate "N.D." Wilson. Gather with likeminded Christians who love freedom, confess Jesus Christ is Lord over all, and be equipped to stand firm in these insane days. Go to FLFNetwork.com/Rally and register today.
Gov. Kemp on Fox
https://video.foxnews.com/v/6246392075001#sp=show-clips
GA GOP says no to Coke products https://www.conservativereview.com/georgia-gop-ask-coca-cola-to-get-their-products-out-of-the-statehouse-after-ceo-blasts-new-election-laws-2651367853.htm
Remember: If you have a news story you think we might need to cover, please send articles and links to News@CrossPolitic.com. And check out DeftWire.com , our news aggregator.
Gov. Greg Abbott turned down an invitation to throw the first pitch at the Texas Rangers' home opener
https://www.politico.com/news/2021/04/05/texas-governor-rejects-mlb-first-pitch-invite-479049