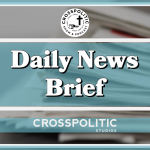 Good Monday everyone, this is Garrison Hardie with your CrossPolitic Daily News Brief for Monday, August 15th, 2022.
FLF Conference Plug:
Folks, our upcoming Fight Laugh Feast Conference is just 2-months away from happening in Knoxville TN, October 6-8! Don't miss beer & psalms, our amazing lineup of speakers which includes George Gilder, Jared Longshore, Pastor Wilson, Dr. Ben Merkle, Pastor Toby, and we can't say yet…also dont miss our awesome vendors, meeting new friends, and stuff for the kids too…like jumpy castles and accidental infant baptisms! Also, did you know, you can save money, by signing up for a Club Membership. So, go to FightLaughFeast.com and sign up for a club membership and then register for the conference with that club discount. We can't wait to fellowship, sing Psalms, and celebrate God's goodness in Knoxville October 6-8.
Now, here's what you may have missed over the weekend:
https://www.foxnews.com/politics/idaho-supreme-court-abortion-bans-will-be-allowed-challenges
Idaho Supreme Court: Abortion bans will be allowed to take effect amid challenges
The Idaho Supreme Court ruled Friday that strict abortion bans will be allowed to take effect.
The ruling comes as legal challenges over the laws continue and the court sped up the timeline for lawsuits to be decided.
Two justices agreed with expediting the cases, but noted that they felt laws should not be enforced until the legal process has been completed.
A doctor and a regional Planned Parenthood sued Idaho over three anti-abortion laws.
The Justice Department is also suing Idaho in federal court over a near-total abortion ban; the judge has not yet ruled in that case.
The state Supreme Court's ruling means that potential relatives of an embryo or fetus can now sue abortion providers over procedures done after six weeks of gestation and another stricter ban criminalizing all abortions is slated for later in August.
Potential relatives can sue for up to $20,000 within four years of an abortion.
On Aug. 25, per the Idaho Supreme Court's decision, a near-total criminalizing of all abortions – still allowing doctors to defend themselves at trial by claiming the abortion was done to save the pregnant person's life – will take effect.
Planned Parenthood has also sued over a third ban that criminalizes abortions done after six weeks of gestation except in cases where it was needed to save a pregnant person's life or done because of rape or incest.
That law was written to take effect on Aug. 19.
The Supreme Court said the plaintiffs both failed to show that allowing enforcement of the laws would cause "irreparable harm" and that there was not enough evidence that they had a "clear right" to a remedy.
This ruling comes as other states face similar challenges following the U.S. Supreme Court's decision to overturn Roe v. Wade.
In nearby Wyoming, a judge blocked the state's near-total ban on Wednesday.
The Louisiana Supreme Court on Friday denied an appeal filed by plaintiffs, allowing the ban there to stay in effect.
In Kansas, the elections director said the state would go along with a request for a hand recount of votes from every county after last week's decisive statewide vote affirming abortion rights.
https://hotair.com/karen-townsend/2022/08/13/monkeypox-is-getting-a-new-name-because-the-who-says-the-name-is-racist-n489435
Monkeypox is getting a new name because the WHO says the name is racist
Dr. Tedros Adhanom Ghebreyesus, WHO Director-General, met with scientists this week to discuss best naming practices for diseases. The focus is to avoid offending any "ethnic, social, or professional groups and minimize harm to trade, travel, tourism, or animals." Monkeypox is at the top of the agenda to receive a new name. Two clades (variants) of the disease have already been given new names.
The WHO released a statement on Friday announcing the new names of two variants of monkeypox. Using Roman numerals instead of geographic areas, the Congo Basin variant is now Clade one or 1 and the West Africa clade is Clade two or II. This is to avoid stigmatization. Is all of this political correctness run amok? It looks like it. Who are they afraid of offending? Monkeys? Africans from the Congo or West Africa? Other diseases are named using geographic locations and they aren't being renamed. It's like the coronavirus that came from Wuhan, China. No one was supposed to call it the Wuhan virus because it might offend Communist Chinese leaders.
Monkeypox has been around since 1958. The world's population has managed to live with that name since then. It was a commonsense name at the time – research monkeys in Denmark were observed to have a pox-like disease. Monkeys are not thought to be the animal reservoir. Now that it is spreading globally and health experts are beginning to panic, calling it a health emergency, suddenly the virus needs a new name. The WHO declared the disease an international emergency in July. The U.S. declared its epidemic a national emergency this month. Before that, back in May, Sleepy Joe was pushing the panic button and telling Americans that "everybody" should be concerned about monkeypox.
The first human case of monkeypox was reported in the Democratic Republic of the Congo in 1970, thus the name of that variant. The WHO is now reporting that it held an open forum to discuss a name change for the disease after a group of 30 scientists from Africa warned of an "urgent need" to change the name. It has a stigmatizing potential, they said. The virus has been reported in several other African countries and abroad. The Western outbreak began in May in the U.K., Portugal, and Spain. It has spread to the U.S., Canada, France, and Germany. Scientists are concerned about racist connotations and also stigma for the LGBTQ community. There have also been attacks on and poisoning of monkeys.
I think there is an urgent need to alert gay men of how monkeypox spreads. Outside of Africa, 98% of cases are men who have sex with men. There is a limited global supply of vaccines. Health officials are rushing to stop monkeypox from becoming entrenched as a new disease. There's been a lot of tippy-toeing around that fact out of fear of offending gay men. It isn't exclusively gay men, it's also bisexual men who have sex with women. Anyone can get it. Even children can get monkeypox from skin-to-skin contact. It is, however, stoppable. Scientists know how it is spread and how to stop it.
If Team Biden has declared monkeypox a national emergency, why hasn't he ramped up vaccine production. There's a shortage. The longer the virus hangs around and spreads, the more likely it produces variants, like what happened during the coronavirus pandemic. It gets more contagious. The Biden administration continues to prove how inept it is in dealing with emergencies. Where are the public service announcements targeting the communities most at risk? Biden seems to be asleep at the wheel once again.
Call the virus anything they want, more education and outreach is needed. Treat it like other STDs. Don't ignore it and hope it goes away. Name changes are just window dressing, politically correct window dressing.
Boniface Woodworking LLC:
Boniface Woodworking exists for those who enjoy shopping with integrity; who want to buy handmade wooden furniture, gifts, and heirloom items that will last for generations. From dining tables and church pulpits to cigar humidors and everything in between; quality pieces that you can give your children's children, tie them to their roots, and transcend the basic function of whatever they are!
So, start voting with your dollars, and stop buying cheap crap from people who hate you! Visit www.bonifacewoodworking.com to see our gallery, learn our story, and submit your order for heirloom quality wood items.
https://thepostmillennial.com/seattle-hospital-over-130-percent-capacity-no-longer-admitting-non-emergency-patients?utm_campaign=64487
Seattle hospital over 130 percent capacity, no longer admitting non-emergency patients
Harborview Medical Center in Seattle announced Thursday that the facility is over capacity by approximately 150 patients, and will have to temporarily stop admitting patients with less acute conditions, diverting people to other facilities for treatment.
The hospital's licensed capacity is 413 but has more than 560 inpatients, meaning that capacity is over 130 percent. Other area hospitals report ready and willing to work with the medical center which all said they could "surge" to accommodate additional patients.
According to a release from the hospital, there are also over 100 patients who are waiting to be discharged.
Harborview CEO Sommer Kleweno Walley said, "Given the unique position Harborview has in the community as the level 1 trauma center, as the disaster center, and here for all critical illness, we had to make a very difficult decision today – one that has been weighing on our minds as UW Medicine leadership."
"In order to ensure that we maintain our critical capacity for any type of trauma that is needed in our region and for any type of critical illness, we have moved to going on what we call 'basic life support divert.' Patients not in need of more urgent care will be needed to be taken care of and brought by ambulances to other hospitals surrounding Harborview in the area. Harborview for this time period will no longer be able to take care of the less acute patients in order to maintain our capacity."
"In order to ensure that we maintain our critical capacity for any type of trauma that is needed in our region and for any type of critical illness, we have moved to going on what we call basic life support divert," Walley said.
Dr. Steve Mitchell, acting medical director of Harborview Medical Center, said "What has been happening is that when ambulances arrive at Emergency Departments, they are unable to offload patients into beds inside the Emergency Department and they're having to wait for longer and longer periods of time, sometimes for hours, which is then impacting their ability to serve their communities for emergencies when they occur."
According to an internal email obtained by the Postmillenial: "Harborview is currently at 130% capacity. Factors include the lack of staffing at nursing/rehab facilities that would normally receive patients needing that level of care. That is creating a backlog of patients in the emergency department, impacting Harborview's ability to receive additional non-critical patients."
Medical facilities in Washington state have been suffering from a staffing crisis following a Covid vaccine mandate that was enacted by Democrat Governor Jay Inslee for state and hospital workers.
Earlier this week, the Yakima Board of Health sent a letter to Inslee asking him to rescind the vaccine mandate.
County Commissioner Amanda McKinney criticized Proclamation 21-14.5, which requires employees, volunteers, and contractors for state agencies, schools, and health care organizations to be vaccinated against the coronavirus.
Last Friday, Inslee removed the requirement for boosters but left the vaccine mandate in place following negotiations with labor unions.
According to a survey conducted by the Washington State Hospital Association this year, hospitals in the state suffered a net loss of about $929 million in the first three months of 2022, due in part to high inflation and labor shortages, which have resulted in labor, drug and supply cost increasing faster than payment rates.
https://nypost.com/2022/08/12/fernando-tatis-jr-suspended-80-games-for-violating-mlb-ped-policy/
Fernando Tatis Jr. suspended 80 games for violating MLB PED policy
The Padres will be without Fernando Tatis Jr. for the rest of the season.
Tatis Jr. tested positive for Clostebol, and will be suspended for 80 games. The news of the suspension was first reported by ESPN's Jeff Passan.
"I've been informed by Major League Baseball that a test sample I submitted returned a positive result for Clostebol, a banned substance," Tatis Jr. said in a statement, through the MLBPA. "It turns out that I inadvertently took a medication to treat ringworm that contained Clostebol. I should have used the resources available to me in order to ensure that no banned substances were in what I took. I failed to do so.
"I want to apologize to Peter, AJ, the entire Padres organization, my teammates, Major League Baseball, and fans everywhere for my mistake. I have no excuse for my error, and I would never do anything to cheat or disrespect the game I love."
The 23-year-old phenom had missed the entire season due to a fractured wrist but had been expected to return soon.
This is a blow to the Padres, who went all in trading a haul of highly-ranked prospects to the Nationals for superstar outfielder Juan Soto and formidable first baseman Josh Bell.
The Padres are 63-51. While they trail the Dodgers by 16 games in the NL West, they would qualify for the postseason as a Wild Card team if the playoffs started today.
Tatis Jr. signed a 14-year, $340 million contract with the Padres last February.
This has been your CrossPolitic Daily News Brief. If you liked the show, hit that share button down below. If you wanted to sign up for our conference, sign up for a club membership, or sign up for a magazine subscription, you can do all of that at fightlaughfeast.com. And as always, if you'd like to send me a news story, ask about our conference, or become a corporate partner of CrossPolitic, email me, at garrison@fightlaughfeast.com. For CrossPolitic News, I'm Garrison Hardie. Have a great day, and Lord bless.