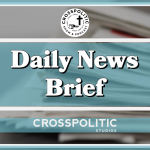 Good Monday everyone, this is Garrison Hardie with your CrossPolitic Daily News Brief for Monday, August 1st, 2022.
Seeing as it's August now… it's probably time to sign up for our conference right?
FLF Conference Plug:
Folks, our upcoming Fight Laugh Feast Conference is just 2-months away from happening in Knoxville TN, October 6-8! Don't miss beer & psalms, our amazing lineup of speakers which includes George Gilder, Jared Longshore, Pastor Wilson, Dr. Ben Merkle, Pastor Toby, and we can't say yet…also dont miss our awesome vendors, meeting new friends, and stuff for the kids too…like jumpy castles and accidental infant baptisms! Also, did you know, you can save money, by signing up for a Club Membership. So, go to FightLaughFeast.com and sign up for a club membership and then register for the conference with that club discount. We can't wait to fellowship, sing Psalms, and celebrate God's goodness in Knoxville October 6-8.
https://www.dailywire.com/news/indiana-state-senate-passes-abortion-ban-first-since-dobbs-decision
Indiana State Senate Passes Abortion Ban, First Since 'Dobbs' Decision
The Indiana State Senate passed a bill that bans nearly all abortions, the first such ban to be advanced after the Supreme Court overturned Roe v. Wade.
In a special session Saturday, the State Senate passed Senate Bill 1, which bans abortions from the moment of conception. The bill classifies abortion as a felony, although it makes exceptions for rape and incest, and to protect the life of the mother. The bill also empowers the state attorney general to prosecute abortion cases at a county level if a county prosecutor categorically refuses to prosecute abortions. The bill narrowly passed the Senate, 26-20.
The bill prohibits all abortions, with few exceptions. First, an abortion is legal if "[t]he physician determines, based on reasonable medical judgment, that an abortion is necessary to prevent a substantial permanent impairment of the life of the pregnant woman."
If a pregnant woman is less than 16 years old, an abortion is legal if the pregnancy resulted from rape or incest, and the gestational age of the unborn child is less than 12 weeks. If a pregnant woman is at least 16, an abortion is legal if the pregnancy resulted from rape or incest, and if the unborn child is less than eight weeks old. In both cases, the pregnant woman must provide the physician "with a notarized affidavit, signed by the woman under penalties of perjury, attesting to the rape or incest. The physician shall place the affidavit in the woman's permanent health record," the bill states.
The bill also provides an exception in cases "where the fetus suffers from an irremediable medical condition that is incompatible with sustained life outside the womb, regardless of when the child is born."
For abortions covered under these exceptions, an abortion is only lawful if it is performed by a licensed doctor, at a hospital or a surgical center; if the abortion is performed by an abortifacient drug, the patient must take the drug in the presence of the physician, who must perform an exam and inform the patient about the drug. The woman must consent to the abortion, unless the abortion is for the life of the mother.
The bill passed the Senate by a vote of 26-20; 26 Republicans voted for the bill, while
10 Republicans joined Democrats voting against it. According to the Indianapolis Star, opposition to the bill was split: moderates voted against the bill because they thought it went too far; more conservative senators voted against the bill because it did not go far enough.
Hey some other positive pro-life news:
https://www.breitbart.com/politics/2022/07/30/west-virginia-lawmakers-advance-strict-abortion-bill-wake-roe-reversal/
West Virginia Lawmakers Advance Strict Abortion Bill in Wake of Roe Reversal
House Delegates in West Virginia have advanced a bill to the state Senate that puts restrictions on abortion in the wake of the U.S. Supreme Court's reversal of Roe v. Wade's federal protection of the procedure.
House Bill 302 is slated to be taken up in the upper chamber as early as Friday, according to the West Virginia Metro News:
House Bill 302 encompasses a range of abortion policies, eliminating any period after conception for a choice to end pregnancy. In recent years, West Virginia law had allowed abortion up to 22 weeks of gestation. The bill maintains criminal penalties of three to 10 years of incarceration for medical providers who perform abortions — the main provision of a law from the 1800s that had been inactive while Roe was observed — but specifies that the pregnant woman would not be charged.
The bill allows exceptions for a nonmedically viable fetus, an ectopic pregnancy, which is when a fertilized egg implants and grows outside the main cavity of the uterus, or a medical emergency, which is defined as a condition that requires an immediate abortion to avert the patient's death or to avoid serious risk of damage to a major bodily function.
The bill specifies several things that are not considered an abortion: a miscarriage, a stillbirth, use of established cell lines derived from aborted human embryos, treatment by a licensed medical provider that accidentally terminates or severely injures the fetus and in vitro fertilization.
https://thefederalist.com/2022/07/29/pay-attention-to-the-dutch-farmer-protests-because-america-is-next/
Pay Attention To The Dutch Farmer Protests Because America Is Next
Americans should start paying closer attention to the ongoing farmer protests in the Netherlands, which this week transformed long swaths of Dutch highways into what looked like a post-apocalyptic warzone: roadside fires raging out of control, manure and farming detritus heaped across highways, traffic stalled for miles, and massive protests across the country in support of the farmers.
Why is the Netherlands, of all places, experiencing such unrest? Americans need to understand what's happening over there because the ruinous climate policies that triggered these protests are precisely what President Joe Biden and the Democrats have in mind for the United States.
Specifically, Dutch farmers are protesting a government plan to cut fertilizer use and reduce livestock numbers so drastically that it will force many farms out of business. Earlier this month, farmers used tractors and trucks to block highways and entrances to food distribution centers across the country, saying their livelihood and way of life are being targeted by the government.
And they more or less are. The ruling coalition government claims its radical plan, pushed by Prime Minister Mark Rutte, who branded the protests "unacceptable," is part of an "unavoidable transition" to improve air, land, and water quality. The goal is to reduce emissions of nitrogen oxide and ammonia, which are produced by livestock but which the government is labeling "pollutants," by 50 percent nationwide by the year 2030.
The only way to do that, many Dutch farmers say, is to slaughter the vast majority of their livestock and shutter their farms. The government knows this and admitted as much earlier this year, saying in a statement, "The honest message … is that not all farmers can continue their business," and that farmers have three options: "Becoming more sustainable, relocating or ending their business."
Last year, Rutte spoke to the World Economic Forum about "transforming food systems and land use" at Davos Agenda Week, announcing that the Netherlands would host something called the "Global Coordinating Secretariat of the World Economic Food Innovation Hubs," whose job would be to "connect all other food innovation hubs."
In Davos-speak, that means agricultural production and the supply of food will be centrally controlled by intra-governmental bodies and "stakeholders" consisting mainly of the world's largest food corporations and international NGOs. Private farms and independent farmers will be a thing of the past, supplanted by global bodies making decisions about how much and what kinds of food are produced. The private sector and the independent farmers will have no place in the future that the UN and the WEF are planning.
Dutch farmers understand this. They know Rutte and his ministers want above all to eradicate their farms and way of life. But they're not going down without a fight.
All of which brings us back to the U.S. This week news broke that congressional Democrats had finally reached a deal on the largest piece of climate legislation in American history. The bill is a tax-and-spend cornucopia of some $369 billion for wind, solar, geothermal, battery, and other industries over the next decade, along with generous subsidies for electric vehicles and incentives to keep nuclear plants open and capture emissions from industrial plants.
After pretending to oppose Senate Majority Leader Chuck Schumer's climate legislation, West Virginia Sen. Joe Manchin relented this week, clearing the way for the bill to proceed. Senate Democrats say the bill will allow the U.S. to cut greenhouse emissions by 40 percent below 2005 levels by 2030 — matching up nicely with the UN's "Agenda 2030."
Understand that the Senate bill isn't the end, it's the beginning. Climate activists and ideologues are working at the highest levels to transform not just the global food supply, but the nature of private property and property rights, all in the name of saving the planet. What Rutte and his government are doing to Dutch farmers, Schumer and Biden are planning to do to American farmers and American industries.
So pay attention to the roadside fires and blocked highways and mass civic unrest in places like the Netherlands and Sri Lanka. America is next.
Armored Republic
The Mission of Armored Republic is to Honor Christ by equipping Free Men with Tools of Liberty necessary to preserve God-given rights. In the Armored Republic there is no King but Christ. We are Free Craftsmen. Body Armor is a Tool of Liberty. We create Tools of Liberty. Free men must remain ever vigilant against tyranny wherever it appears. God has given us the tools of liberty needed to defend the rights He bestowed to us. Armored Republic is honored to offer you those Tools. Visit them, at ar500armor.com
https://www.cnn.com/2022/07/29/politics/biden-border-wall-gaps-arizona/index.html
Biden administration to close border wall gaps in Arizona
(CNN)The Biden administration said Thursday it had authorized US Customs and Border Protection to close gaps in a border wall in Arizona near the Morelos Dam in order to protect migrants from drowning and sustaining injuries while trying to cross the Colorado River into the United States.
The Yuma Morelos Dam Project will close four gaps located within an "incomplete border barrier project" near the dam, the Department of Homeland Security said in a news release. In addition to posing "safety and life hazard risks for migrants," the department said the gaps in the wall presented "life and safety" risks to first responders in the area.
Upon taking office, President Joe Biden called for a review of ongoing border wall projects and rescinded the national emergency declaration authorized by his predecessor that allowed then-President Donald Trump to dip into additional funds to build his signature border wall.
But DHS said in December it planned to close small gaps in the US-Mexico border wall and make adjustments to prevent flooding and complete prior construction of access roads.
Democratic Sen. Mark Kelly of Arizona, who is facing a tough reelection this fall, praised the decision to close the wall gaps. He said in a statement that he first pressed the President to approve the gap closures in December and has had "numerous calls" with the White House and Homeland Security Secretary Alejandro Mayorkas.
The Biden administration has been criticized by allies and critics alike over its management of the US southern border. The administration has struggled to handle an influx of migrants coming to the border and lawsuits and infighting have stalled policy changes, which has resulted in more of the same Trump immigration policies.
The Supreme Court earlier this month declined to freeze a lower court order that blocked DHS from implementing new immigration enforcement priorities. The court's 5-4 order was a loss for the Biden administration, which is trying to return to Obama-era policies that limit immigration arrests in order to focus on security risks instead of the more aggressive approach taken under the Trump administration.
https://www.foxnews.com/sports/nba-legend-bill-russell-dead-at-88
NBA legend Bill Russell dead at 88
Bill Russell, one of the greatest basketball players of all time who led the charge on and off the court, has died, his family announced Sunday. He was 88.
Russell's family said in a statement that he passed away "peacefully" with his wife by his side. It was unclear how Russell died.
"It is with a very heavy heart we would like to pass along to all of Bill's friends, fans & followers," the statement started.
"Bill Russell, the most prolific winner in American sports history, passed away peacefully today at age 88, with his wife, Jeannie, by his side. Arrangements for his memorial service will be announced soon.
"Bill's two state championships in high school offered a glimmer of the incomparable run of pure team accomplishment to come: twice an NCAA champion; captain of a gold-medal winning US Olympic team; 11 times an NBA champion; and at the helm for two NBA championships as the first Black head coach of any North American professional sports team.
"Along the way, Bill earned a string of individual awards that stands unprecedented as it went unmentioned by him. In 2009, the award for the NBA Finals most valuable player was renamed after two-time Hall of Famer as the "Bill Russell NBA Finals Most Valuable Player Award."
His family said that while his wins on the court were one thing, his accomplishments and his fight in the civil rights movement should also be remembered.
"But for all the winning, Bill's understanding of the struggle is what illuminated his life," the statement read. "From boycotting a 1961 exhibition game to unmask too-long-tolerated discrimination, to leading Mississippi's first integrated basketball camp in the combustible wake of Medgar [Evers'] assassination, to decades of activism recognized by his receipt of the Presidential Medal of Freedom in 2010, Bill called out injustice with an unforgiving candor that he intended would disrupt the status quo, and with a powerful example that, though never his humble intention, will forever inspire teamwork, selflessness and thoughtful change.
Russell was the No. 2 overall pick of the St. Louis Hawks in the 1956 draft. He was picked behind Si Green, who was chosen by the Rochester Royals, and in front of Jim Paxson Sr., who was selected by the Minneapolis Lakers. Russell would go on to score more points than both players combined.
At San Francisco, Russell helped the Dons win two consecutive NCAA titles in 1955 and 1956. He also led Team USA to a gold medal at the 1956 Olympics.
Russell was traded to the Hawks on draft day for Cliff Hagan and Ed Macauley. He would continue his dominance in the pros, leading Boston to 11 championships, including a run of eight straight. He led the NBA in rebounds five times and is only one of two players to record at least 50 rebounds in a game.
Russell broke the coaching color barrier when he became the first Black NBA head coach in history in 1966. He coached Boston to two NBA championships. He would later coach the Seattle SuperSonics and Sacramento Kings.
During his illustrious career, Russell was a 12-time All-star, 11-time NBA champion, five-time MVP and an 11-time All-NBA selection.
This has been your CrossPolitic Daily News Brief. If you liked the show, go ahead and share it for me would ya? If you want to become a club member, sign up for our conference, or become a magazine subscriber, you can do all of that at fightlaughfeast.com. Why not do all three? And as always, if you want to become a corporate partner, send me a news story, or ask me about our conference, email me at garrison@fightlaughfeast.com. For CrossPolitic News, I'm Garrison Hardie. Have a great day, and Lord bless.