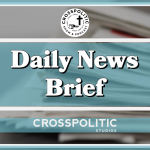 Good Monday everyone, this is Garrison Hardie with your CrossPolitic Daily News Brief for Monday, August 22nd, 2022.
FLF Conference Plug:
Folks, our upcoming Fight Laugh Feast Conference is just 2-months away from happening in Knoxville TN, October 6-8! Don't miss beer & psalms, our amazing lineup of speakers which includes George Gilder, Jared Longshore, Pastor Wilson, Dr. Ben Merkle, Pastor Toby, and we can't say yet…also dont miss our awesome vendors, meeting new friends, and stuff for the kids too…like jumpy castles and accidental infant baptisms! Also, did you know, you can save money, by signing up for a Club Membership. So, go to FightLaughFeast.com and sign up for a club membership and then register for the conference with that club discount. We can't wait to fellowship, sing Psalms, and celebrate God's goodness in Knoxville October 6-8.
Now, here's what you may have missed over the weekend:
https://fox8.com/sports/transgender-kids-can-be-considered-to-play-girls-sports-in-utah-after-ruling/
Transgender kids can be considered to play girls sports in Utah after ruling
Transgender girls in Utah will be given the opportunity to participate in girls' sports as the school year begins, after a judge on Friday reversed a ban pending legal challenges from parents.
Instead of an outright ban, transgender girls will now be sent before a commission that will determine on a case-by-case basis if their participation compromises fairness. Utah's Republican lawmakers created the commission in a law passed earlier this year as a fallback plan to be implemented in case of an injunction against the law.
Under the law, the panel will be allowed to ask for and assess the child's height and weight in making decisions about whether a transgender girl would have an unfair advantage.
The commission, which is set to be convened in the coming weeks, will include politically appointed experts from athletics and medicine.
When proposed, the commission was criticized by advocates for transgender student-athletes — who worried they would feel targeted having their bodies measured — and proponents of an outright ban, who argued it didn't go far enough.
The commission is set to go into effect while the court weighs the legal challenge to the outright ban.
Members have not yet been appointed but will be in the coming weeks, legislative leaders said.
The state's association overseeing more than 80,000 students playing high school sports has said only one transgender girl competed in their leagues last year and, with school sports already underway, it's unclear how many will go before the commission and when its decisions will take effect.
Utah's ruling marked the latest court development in a nationwide debate over how to navigate the flashpoint issue.
At least 12 Republican-led states — including Utah — have passed laws banning transgender women or girls in sports based on the premise it gives them an unfair competitive advantage.
Transgender rights advocates counter the rules aren't just about sports, but another way to demean and attack transgender youth. Similar cases are underway in states such as Idaho, West Virginia and Indiana.
Utah's ban took effect in July after its Republican-supermajority Legislature overrode a veto by Gov. Spencer Cox, also a Republican.
The transgender girls and the parents filed the lawsuit last May, contending the ban violates the Utah Constitution's guarantees of equal rights and due process.
Utah state Sen. Stuart Adams, a Republican, said in a statement Friday that the commission that will now make decisions in a way "to protect equitable and safe competition while preserving the integrity of women's sports."
The commission will include a medical data statistician, a physician with experience about "gender identity healthcare", a sports physiologist, mental health professional, collegiate athletic trainer, representative of an athletic association and a rotating member who is a coach or official in the sport relevant to each case.
Minter said he hopes the commission will act merely as a safety net, with the presumption being that transgender girls can play unless there is an obvious issue of competitive fairness.
https://thepostmillennial.com/principal-calls-police-on-4-year-old-who-refuses-to-wear-face-mask?utm_campaign=64487
Principal calls police on 4-year-old who refuses to wear face mask
A California father is calling for change after police escorted him and his son, 4, from school property for attempting to drop his son off without a mask.
The father, who is only identified as Shawn by the Daily Mail, was confronted by local police on Thursday at Theuerkauf Elementary School in Mountain View, a city in Silicon Valley.
In a video recorded by Shawn, the little boy is maskless and being escorted from school by a staff member.
https://twitter.com/i/status/1560413879888257025 – Play Video
The seven-day rolling average for positive COVID cases in the area, which is one of the most affluent in the nation, is 544, significantly down from the peak of 5,127, reported Daily Mail.
On Friday, the day after the incident, Mountain View Whisman School District changed its policy, in accordance with a new CDC guideline. The students at their nine elementary and two middle schools are now no longer required to wear face masks.
However, Shawn claims the mask mandates have not gone away for good because the rule could be easily reinstated.
"They have not rescinded the policy," he explained. "Ultimately what we are trying to do is get parental choice or parental opt out."
According to the disgruntled father, the district's policy on masking is a week-by-week on/off switch.
Shawn said he and his wife believe their son may have special needs. He also said the son has never worn a face mask before. When he was asked to at routine doctor's visits, he became distressed.
To help ease the transition into school, Shawn said he began voicing his concerns about mandatory masks to Mountain View Whisman School District in the spring, but the superintendent was unresponsive.
"They told me to force it on him," Shawn told Daily Mail. "They are basically telling me to assault and batter my son."
I sympathize with the father, but I also put the blame on him… get your kid out of public school. End of story. Perhaps this is the Lord opening his eyes to the issue?
Accountable 2U
​​https://Accountable2You.com/FLF
Using a smartphone or computer opens the door to a host of digital temptations. In a world saturated with pornography and other harmful content, what's a Christian to do? We need to take a proactive approach, welcoming transparency in our digital media choices—and Accountable2You makes that easy. Their accountability software shares detailed activity reports from all your devices, and your kids' devices, in real time to the accountability partners that you choose. With accountability in place, your family can effectively guard against temptations online and live with purity and integrity. Learn more and try it free at Accountable2You.com/FLF
https://townhall.com/tipsheet/saraharnold/2022/08/20/biden-may-use-amtrak-to-send-illegal-aliens-to-american-towns-n2612029
Moving on… another bright idea from our commander in chief: Biden Plans to Use Tax-Payer Money to Fund Amtrak to Send Illegal Aliens to American Towns
Rumor has it the Biden administration is on the verge of using Amtrak to transport illegal migrants from parts of the U.S. Mexican border.
According to 19 House Republicans, President Joe Biden's Department of Homeland Security is planning on using hard-earned taxpayer money to fund the transportation of illegal aliens from the border to cross into the country.
The House Transportation Committee blames Biden's urgent need to end Title 42 for the massive spike of illegals crossing the border, inciting GOP members to heighten the need to expose the president's plans.
In a letter to Amtrak officials, Republicans cautioned that Biden may use their transportation services for processing if immigration checkpoints are inundated with new arrivals, furthering the crisis at the border.
"We are concerned about the impact that a significantly greater border surge could cause to your services and the potential use of Amtrak in the Administration's response to its self-created border crisis," the letter reads.
"Such a situation would cause disruptions for Amtrak customers as well as interrupt freight traffic that could further exacerbate the supply chain crisis…would also constitute an unconscionable use of significant amounts of taxpayer funds and resources to aid in the vast movement of illegal migrants into American communities," the letter continued.
The Republicans said they are "deeply concerned" that Amtrak's resources will be used to move undocumented people.
"We are deeply concerned that Amtrak's resources – especially those supporting the Sunset Limited route – will be used to transport these undocumented persons. Such a situation would cause disruptions for Amtrak customers as well as interrupt freight traffic that could further exacerbate the supply chain crisis. Such actions would also constitute an unconscionable use of significant amounts of taxpayer funds and resources to aid in the vast movement of illegal migrants into American communities," the GOP members' letter said.
The Customs Border and Protection (CBP) announced earlier this week that nearly 200,000 illegal migrants have entered the U.S. in July alone, taking the total so far this fiscal year to 1.946 million encounters.
https://www.theepochtimes.com/4-9-million-illegal-aliens-crossed-us-border-in-18-months-since-biden-took-office-report_4678365.html?utm_source=partner&utm_campaign=BonginoReport
4.9 Million Illegal Aliens Crossed US Border in 18 Months Since Biden Took Office
Nearly 5 million illegal immigrants have crossed U.S. borders in the 18 months since President Joe Biden took office, according to a new report.
A total of 4.9 million illegal aliens, including some 900,000 "gotaways" who evaded apprehension and have since disappeared into American communities, have entered the country by the end of July, the Federation for American Immigration Reform (FAIR) said in a statement on Aug. 16.
"Roughly the equivalent of the entire population of Ireland has illegally entered the United States in the 18 months President Biden has been in office, with many being released into American communities," FAIR President Dan Stein said in the press release.
He blamed Biden for putting the unprecedented surge down to external factors, not the administration's own "sabotage" of immigration laws. After rolling back key Trump-era policies, Biden presided over the largest number of apprehensions of illegal immigrants at the U.S.–Mexico border in a calendar year in history, recording almost 1.9 million arrests last year.
https://www.boundingintosports.com/2022/08/dwyane-wade-files-to-legally-change-the-name-of-his-son-in-order-to-conform-with-gender-identity/
Dwyane Wade Files To Legally Change The Name Of His Son In Order "To Conform With Gender Identity"
The Blast reports they obtained the legal documents noting that Wade wants his 15-year-old son's name legally changed from Zion Malachi Airamis Wade to Zaya Malachi Airamis Wade. The documents purportedly explain the reason for the name change is "to conform with gender identity."
Wade's ex-wife Siohvaughn Funches, who is the mother of Zion, was notified of the decision with The Blast quoting the documents, "Pursuant to the terms of the Final Custody Judgment, (Wade) has full authority to make decisions on behalf of the petitioning minor, and he is not required to receive consent from Ms. Funches-Wade. As a courtesy, Ms. Funches-Wade has received notice of this petition."
Wade claimed his son believed he was a girl when he was 12-years-old during an appearance on The Ellen Show.
Dwyane Wade's Candid Talk About Supporting His 12-Year-Old's Gender Identity– Play 0:00-2:40
Well there's the problem… Dwayne Wade has abdicated his role as the father of the home, and is letting his wife and son wear the pants or dress in the family. Wade as the captain has crashed his families ship into our cultures insanity, and now his children are paying the price, for his weak, and effeminate leadership.
Wade also wrote in a now deleted Instagram Post, "Everyone allow her to re-introduce herself, her name is Zaya Wade! Last night was Zaya's first red carpet and we couldn't have been prouder of how she handled the questions that were asked of her."
Heartbreaking stuff. Wade thinks he's helping his son by supporting his gender dysphoria, but if you ask me, he's just guaranteed that his son is going to despise his father in the long run.
This has been your CrossPolitic Daily News Brief. If you liked the show, hit that share button down below. If you wanted to sign up for our conference, sign up for a club membership, or sign up for a magazine subscription, you can do all of that at fightlaughfeast.com. And as always, if you'd like to send me a news story, ask about our conference, or become a corporate partner of CrossPolitic, email me, at garrison@fightlaughfeast.com. For CrossPolitic News, I'm Garrison Hardie. Have a great day, and Lord bless.