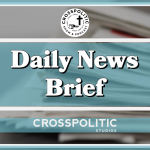 This is Garrison Hardie with your CrossPolitic Daily Newsbrief for Monday, August 29th, 2022. I hope you had an excellent weekend of rest, and worship with you and yours, so without further adieu, here's what you may have missed over the weekend!
https://www.theblaze.com/news/covid-booster-shots-omicron-fda
FDA to authorize new COVID booster shots for Omicron before trials on humans, will instead rely on testing on mice
The Food and Drug Administration (FDA) is expected to authorize new COVID-19 booster shots this week. The booster shots will be released months before trials on humans are completed, according to a new report.
New COVID-19 booster shots that target the latest Omicron variant will be approved by the FDA this week, the Wall Street Journal reported. The new booster shot will be "bivalent" – which means it can target the original COVID-19 strain and the Omicron BA.5 subvariant.
The booster shot will likely be available to Americans despite not having been tested on humans. Instead, the FDA will rely on testing on mice, data from current COVID-19 vaccines, and earlier iterations of boosters.
The Wall Street Journal noted, "The Food and Drug Administration is expected to authorize new COVID-19 booster shots this week without a staple of its normal decision-making process: data from a study showing whether the shots were safe and worked in humans."
FDA Commissioner Robert Califf issued a statement on Twitter regarding how the government agency will likely make a decision in granting emergency use authorization (EUA) for booster shots from Moderna and Pfizer.
"FDA will rely on the totality of the available evidence in making a decision, including: Clinical trial data from other bivalent mRNA COVID-19 boosters RWE from current COVID-19 vaccines administered to millions of people, non-clinical data for the bivalent BA.4/5 vaccines, bivalent and multivalent vaccines are very common and modifying a vaccine to include different virus strains often does not require a change in other ingredients," Califf said on Twitter.
Earlier this month, White House COVID-19 Response Coordinator Dr. Ashish Jha expected the boosters to be available by "early to mid-September."
https://www.theepochtimes.com/3-dead-after-shooter-opens-fire-at-oregon-shopping-center_4695212.html?utm_source=partner&utm_campaign=BonginoReport
In Oregon, tragic news, as 3 Dead After Shooter Opens Fire at Oregon Shopping Center
A gunman armed with an AR-15-style rifle opened fire in a shopping center in Bend, Oregon, on Sunday evening, killing at least two people, authorities have confirmed.
An individual who is believed to be the shooter was also found dead at the scene, police said, taking the death toll to three.
Officers and emergency medics responded to multiple 911 calls of shots being fired at the Forum Shopping Center in Brend, which is approximately 160 miles southeast of Portland, Oregon, at about 7:04 p.m.
Officials believe the shooter, who was only identified as a male, entered from a residential area behind the shopping center and moved through the parking lot while shooting rounds from an AR-15-style rifle.
When officers arrived at the grocery store, police believe shots were still being fired, Krantz said. Officers found the suspected shooter dead inside the store.
The investigation into the shooting is still ongoing, Krantz said, and multiple agencies are involved including the FBI.
https://www.foxbusiness.com/politics/gov-glenn-youngkin-vows-stop-ridiculous-state-ban-gas-vehicles
Oh look! A governor with some brains! Take note Newsome & Inslee, Gov. Glenn Youngkin vows to stop 'ridiculous' state ban on gas vehicles
Republican Virginia Gov. Glenn Youngkin is working to dismantle Virginia's push toward electric vehicles, calling the move "ridiculous" in a Sunday statement.
Virginia's former governor, Democrat Ralph Northam, signed legislation in 2021 tying the state's emissions policies to the California Air Resources Board. The board has imposed a regimen to eliminate the sale of gas and diesel vehicles by 2035, forcing Virginia to do the same thanks to the 2021 law.
"In an effort to turn Virginia into California, liberal politicians who previously ran our government sold Virginia out by subjecting Virginia drivers to California vehicle laws," Youngkin wrote in a statement on Twitter. "Now, under that pact, Virginians will be forced to adopt the California law that prohibits the sale of gas and diesel-fueled vehicles."
"I am already at work to prevent this ridiculous edict from being forced on Virginians. California's out of touch laws have no place in our Commonwealth," he continued.
Youngkin already has support for the move from the Republican-held House of Delegates.
"House Republicans will advance legislation in 2023 to put Virginians back in charge of Virginia's auto emission standards and its vehicle marketplace. Virginia is not, and should not be, California," House Speaker Todd Gilbert said in a statement.
Northam and his fellow Democrats passed the legislation when the party held full control of the Virginia government last year.
Club Membership Plug:
Let's stop and take a moment to talk about Fight Laugh Feast Club membership. By joining the Fight Laugh Feast Army, not only will you be aiding in our fight to take down secular & legacy media; but you'll also get access to content placed in our Club Portal, such as past shows, all of our conference talks, and EXCLUSIVE content for club members that you won't be able to find anywhere else. Lastly, you'll also get discounts for our conferences… so if you've got $10 bucks a month to kick over our way, you can sign up now at flfnetwork.com
https://www.breitbart.com/asia/2022/08/28/taliban-conducting-door-to-door-raids-to-confiscate-guns/
Members of Afghanistan's Taliban conducted door-to-door raids of homes in the northern city of Mazar-e-Sharif on Thursday in part to search for and confiscate weapons, including firearms, deemed "illegal" by the terror group, which seized control of Afghanistan's government in August 2021, the Kabul-based Khaama Press News Agency reported.
The raids took place on the morning of August 25 in Mazar-e-Sharif, which is the capital of Afghanistan's Balkh province, Khaama Press reported citing unnamed sources. The news agency said Taliban spokesman Asif Waziri, who serves Balkh's "office of the chief of police" confirmed the raids in the northern capital.
"Taliban forces are conducting door-to-door searches in an effort to combat ISIS, obtain state weapons and collect undocumented guns, as well as track down suspected criminals," the Taliban spokesman added.
Waziri referenced the Islamic State of Iraq and Syria (ISIS), which is an international jihadist terror group present in Afghanistan in the form of an offshoot called ISIS-Khorasan Province (ISIS-K). ISIS-K claimed responsibility for a deadly suicide bombing at Kabul's Hamid Karzai International Airport on August 26, 2021, that killed 13 U.S. servicemembers and hundreds of Afghans.
The attack took place as the administration of U.S. President Joe Biden oversaw a chaotic withdrawal of American troops from Afghanistan after the Taliban seized control of Kabul, the nation's seat of government, on August 15, 2021.
The Taliban had previously ruled Kabul from 1996 to 2001 before Washington launched a nearly 20-year-long War in Afghanistan in late 2001 that ousted the Sunni Islam-based terror group from the capital and replaced it with a U.S.-backed Afghan government administration. In a reversal of the action almost two decades later, the Taliban reconquered Kabul last summer and have since reestablished sharia, or Islamic law, as the basis of Afghanistan's legal system.
Armored Republic
The Mission of Armored Republic is to Honor Christ by equipping Free Men with Tools of Liberty necessary to preserve God-given rights. In the Armored Republic there is no King but Christ. We are Free Craftsmen. Body Armor is a Tool of Liberty. We create Tools of Liberty. Free men must remain ever vigilant against tyranny wherever it appears. God has given us the tools of liberty needed to defend the rights He bestowed to us. Armored Republic is honored to offer you those Tools. Visit them, at ar500armor.com
https://townhall.com/tipsheet/mattvespa/2022/08/29/brace-yourselves-we-might-need-to-send-troops-back-to-afghanistan-n2612341
Speaking of Afghanistan, Brace Yourselves: We Might Need to Send Troops Back to Afghanistan
It doesn't seem like a question of "if," but "when" we redeploy troops to Afghanistan again amid rising terrorism concerns. This security situation wasn't an item that caught us off-guard. It didn't sneak up on us—it's just another consequence of Joe Biden's destructive policies. For all his time in DC, it's still amazing that he remains one of the worst foreign policy minds in American politics. The Delaware liberal has been wrong on every significant American foreign policy effort for the past 40 years, and this Afghanistan pickle is no different.
On Fox News Sunday, retired Gen. Kenneth F. McKenzie Jr. admitted that going back to Afghanistan, the graveyard of empires, was only a matter of time, given the increased activities of radical Islamic terrorists. McKenzie was the last commander of US-NATO forces in Afghanistan before our shambolic withdrawal. The Council of Foreign Relations had a detailed memorandum about the rising terror threat and how, unsurprisingly, the Taliban being allies of groups like al-Qaeda, have given their terror pals a lifeline to conduct their global campaign of jihad. The nation's third-world dynamics and failing state status also serve as a magnet for terror groups.
Genderal McKenzie Jr. was asked:
"Do you think troops will have to be sent back to Afghanistan?" He responded: "That's a difficult question…the threat is growing in Afghanistan, and it's merely a matter of time."
https://www.dailywire.com/news/libs-of-tiktok-locked-out-of-twitter-again
Oh look, censorship is back! Libs of TikTok Locked Out of Twitter – Again
Twitter reportedly blocked the popular Libs of TikTok account on Saturday, keeping its owner from posting or logging in over alleged violations of the social media platform's guidelines.
Libs of TikTok has become a prevalent Twitter account over its posts that share examples of far-left videos from TikTok, including topics like LGBT activism, critical race theory, and public education issues.
Babylon CEO Seth Dillon shared a screenshot of the "hateful conduct" message the Libs of TikTok account claimed to have received.
"Hi Libs of TikTok, your account, @libsoftiktok has been locked for violating the Twitter rules," the message read.
"You may not promote violence against, threaten, or harass other people on the basis of race, ethnicity, national origin, sexual orientation, gender, gender identity, religious affiliation, age, disability, or serious disease," the message added. "Please note that repeated violations may lead to a permanent suspension of your account. Proceed to Twitter now to fix the issue with your account."
The message did not mention the particular post or posts that led to the locked-out account.
One of the account's last messages before being locked out was posted on Thursday. The post included audio that claimed that the Children's National Hospital performed "gender-affirming" hysterectomies on minors, including those 16 years old and younger.
It's not the first time the popular account has been targeted in recent weeks. Libs of TikTok was permanently suspended from Facebook just one week earlier.
Now we gotta wrap up today's newsbrief with my favorite topic… sports!
https://www.breitbart.com/sports/2022/08/28/watch-aaron-rodgers-says-nfl-stooges-threatened-players-their-jobs-vaccines/
Green Bay Packers' quarterback, Aaron Rodgers is at it again! Aaron Rodgers Says NFL 'Stooges' Threatened Players with Their Jobs over Vaccines
Another revelation by Green Bay Packers QB Aaron Rodgers in his interview with Joe Rogan revealed how the NFL threatened players by holding their jobs hostage unless they got vaccinated.
During the August 27 Joe Rogan podcast in which Rodgers admitted that he purposefully misled the media on his vaccination status, Rodgers also blasted the NFL for its efforts to force players to take the jab.
Rodgers slammed the NFL for "virtue signaling" over the vax and added that the league sent out "stooges" to force compliance.
https://twitter.com/i/status/1563713875421315075 – Play Video 0:05- LANGUAGE WARNING
Rodgers said that the teams were bullied to force compliance and were told that they would have to forfeit games if they had a certain number of players and staffers out with positive COVID results. The league began telling teams of the forfeit rule in July of 2021.
Rodgers added that the NFL told players that they would also sacrifice their pay for any forfeited games as another way to force compliance.
Ya know, Aaron Rodgers has annoyed me in the past, but I gotta give him props here for having a spine… he and Novak Djokovic, who by the way, isn't allowed to play at the U.S. Open this year because of his vaccination status. This after he JUST WON Wimbledon… Oh interestingly enough… Moderna, is a sponsor at the U.S. Open this year… Coincidence? I'll let you decide.
This has been Garrison Hardie with your CrossPolitic Daily News Brief. If you liked the show, hit that share button down below. If you want to sign up for a club membership, then sign up for our conference with that club discount, and THEN sign up for a magazine, you can do all of that at fightlaughfeast.com. And as always, if you'd like to email me a news story, ask about our conference, or become a corporate partner of CrossPolitic, email me, at garrison@fightlaughfeast.com. For CrossPolitic News… I'm Garrison Hardie. Have a great day, and Lord bless!