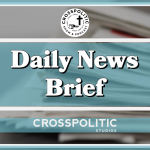 Good Monday this is the Chocolate Knox bring you your Daily News Brief for Monday February 1 2021 aka 2020 B Hey Happy Black History Month!
Any news stories you want to share with us you can do that at [email protected]
That's N[email protected]
Army changes it's Standards for women officers. 
https://goodmorningamerica.com/style/story/us-army-standards-women-ponytails-nail-polish-breastfeeding-75516541
Cuomo Says New York City's Indoor Dining Can Restart Feb. 14
https://www.wsj.com/articles/cuomo-says-new-york-citys-indoor-dining-can-restart-feb-14-11611943127
Testing positive for Covid after having the vaccine
https://apple.news/AUS_xwPrfSh6cBQS-liKWMA
Two National Events: Fight Laugh Feast Rally in Rapid City, South Dakota, April 29, 30, May 1 & the Fight Laugh Feast Conference in Nashville, TN, October 14-16th. 
Why a rally in South Dakota in April? Because we want to stand with Kristi Noem – the only Governor in the Union to not overstep her authority. And we also want to encourage you wherever you are. Many churches are not meeting and many Christians feel all alone. But you're not alone. So the theme of the Rally in South Dakota is Love God, Sing Psalms, Defy Tyrants. Gather with likeminded Christians who love freedom, confess Jesus Christ is Lord, and be equipped to stand firm in these insane days. Go to flfnetwork dot com forward slash rally. 
Rep test positive for CV19 after getting the Vaccine
https://apple.news/AUS_xwPrfSh6cBQS-liKWMA
The CDC—No Longer Constrained By Trump—Issues Order That Makes Not Wearing A Mask On Public Transportation A Federal Crimehttps://www.forbes.com/sites/tommybeer/2021/01/30/cdc-order-makes-not-wearing-a-mask-on-public-transportation-a-federal-crime/?sh=373afc8516d4
https://themodelhealthshow.com/maskfacts/
https://www.cdc.gov/quarantine/masks/mask-travel-guidance.html
Listen to this from the CDC…
The following are attributes of masks needed to fulfill the requirements of the Order. CDC will update this guidance as needed.
A properly worn mask completely covers the nose and mouth.

Cloth masks should be made with two or more layers of a breathable fabric that is tightly woven (i.e., fabrics that do not let light pass through when held up to a light source).

Mask should be secured to the head with ties, ear loops, or elastic bands that go behind the head. If gaiters are worn, they should have two layers of fabric or be folded to make two layers.

Mask should fit snugly but comfortably against the side of the face.

Mask should be a solid piece of material without slits, exhalation valves, or punctures.
The following do not fulfill the requirements of the Order.
Masks worn in a way that does not cover both the mouth and nose

Face shields or goggles (face shields or goggles may be worn to supplement a mask that meets above required attributes)

Scarves, ski masks, balaclavas, or bandannas

Shirt or sweater collars (e.g., turtleneck collars) pulled up over the mouth and nose.

Masks made from loosely woven fabric or that are knitted, i.e., fabrics that let light pass through

Masks made from materials that are hard to breathe through (such as vinyl, plastic or leather)

Masks containing slits, exhalation valves, or punctures

Masks that do not fit properly (large gaps, too loose or too tight)
Remember these are federal offenses to do this wrong.
Soon we will all have government issued masks to wear. This is getting really scary. If you are waiting to take a stand on the second amendment it will be too late. If you don't fight for the first one the second one is already gone. If they can get you to put on a mask they've already got your guts to use your gun. Period.
AND IT'S NOT JUST A MASK NO… IT's double masking and and in some cases triple maskin…
It just maks sense…
So much news so little time
 Up From Slavery byBooker T Washington The book describes his personal experience of having to work to rise up from the position of a slave child during the Civil War, to the difficulties and obstacles he overcame to get an education at the new Hampton Institute, to his work establishing vocational schools.