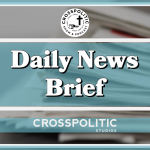 Israel ends its great vaccine experiment, scraps all shot requirements for tourists
https://www.wnd.com/2022/02/israel-ends-great-vaccine-experiment-scraps-shot-requirements-tourists/
Boris Johnson axes Covid rules on Thursday with changes to self isolation and testing
Boris Johnson has unveiled plans to repeal the last remaining pandemic restrictions as part of his new 'living with Covid' blueprint
https://www.mirror.co.uk/news/politics/breaking-boris-johnson-axes-covid-26291716
Canada has moved to make the asset freezing part of its Emergencies Act, which was used to target supporters of the Freedom Convoy protests, a permanent fixture.
https://www.zerohedge.com/political/canada-moves-make-asset-freezing-under-emergencies-act-permanent
"Theonomoney is a podcast exploring what the Bible teaches us about money and finance from a theonomic perspective. Listen and learn what God's Law teaches Christians today about how to manage their finances as well as how King Jesus says governments should run their economies. After all, economics comes from "house-law" in Greek. Theonomoney is available on Spotify, Apple Podcasts, and many other podcast catchers." You can find links to the Theonomoney Podcast in our show notes.
Apple Podcasts link: https://podcasts.apple.com/us/podcast/theonomoney/id1576898210
Spotify link: https://open.spotify.com/show/4AEls1eCXR4uLeDNFDdoYv
https://www.theguardian.com/world/2022/feb/20/canadian-police-ottawa-truckers-protest
Canadian police secure downtown Ottawa as truckers' protest ends
Three-week occupation over Covid precautions and Trudeau government ends with 76 vehicles towed and 191 arrests
CDC guidelines for children at 30 months
https://thepostmillennial.com/cdc-quietly-lowers-early-childhood-speech-standards