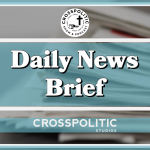 Hi, this is Garrison Hardie again with your CrossPolitic Daily News Brief for Monday, February 7th, 2022. Today, we'll be covering a stupid take by an ESPN Host, a major update in the Joe Rogan Cancellation saga, the Whitehouse press secretary suggesting Biden had never been in favor of lockdowns, and then the tense standoff between Russia and Ukraine continues… but first, let's pick up with GoFundMe.
https://www.dailywire.com/news/after-backlash-gofundme-says-it-will-automatically-refund-freedom-convoy-donors
After Backlash, GoFundMe Says It Will Automatically Refund 'Freedom Convoy' Donors
According to the Daily Wire, when first announcing it was shutting down the Freedom Convoy, GoFundMe told donors they would need to use a "dedicated refund form" to request their money back, otherwise, the funds would be sent to a "credible and established" charity verified by GoFundMe. On Saturday morning, however, GoFundMe changed the decision and said the funds would be automatically returned.
Go Fund Me released the following statement, saying:
"To simplify the process for our users, we will be refunding all donations to the Freedom Convoy 2022 fundraiser. This refund will happen automatically—you do not need to submit a request. Donors can expect to see refunds within 7-10 business days.
The update we issued earlier enabled all donors to get a refund and outlined a plan to distribute remaining funds to verified charities selected by the Freedom Convoy organizers. However, due to donor feedback, we are simplifying the process and automatically refunding donations."
This is quite the change of tune from the statement they made on Friday. When Go Fund Me announced that it had shut down the Freedom Convoy page, claiming the page violated its terms of service… In part, the statement said this:
We now have evidence from law enforcement that the previously peaceful demonstration has become an occupation, with police reports of violence and other unlawful activity.
Organizers provided a clear distribution plan for the initial $1M that was released earlier this week and confirmed funds would be used only for participants who traveled to Ottawa to participate in a peaceful protest. Given how this situation has evolved, no further funds will be directly distributed to the Freedom Convoy organizers — Here's the part that really upset people: we will work with organizers to send all remaining funds to credible and established charities verified by GoFundMe.
GoFundMe did not provide any of the "evidence" it claimed to have shown the Freedom Convoy was no longer peaceful, nor did it specify what charities could receive the money people donated for this specific cause.
However, I would like to note, that as Black Lives Matter was busy destroying cities across the country back in 2020, GoFundMe didn't cancel their pages, even though they had clear evidence that the "protests" had become violent.
Play video: https://twitter.com/i/status/1298837099026800640
Oh never mind… that was peaceful. Of course!
https://www.outkick.com/j-a-adande-china-genocide-id/
ESPN Host, Jay Adande, says China's genocide of the Uyghurs is no worse than red states requiring voter ID.
Play Video: https://twitter.com/i/status/1489724194564751363
Unbelievable. Adande is seriously comparing voter ID, to genocide, forced prison labor, forced abortions, and forced sterilizations… Adande should be fired for these comments, but we all know ESPN doesn't have the balls to discipline or fire a black TV personality. ESPN doesn't care about Uyghurs, and is afraid to discipline a black person, as the network shows time and time again.
By the way, Jay Adande lives in Chicago… a city that currently requires your ID to even enter restaurants, bars, or gyms. The hypocrisy is insane.
https://www.dailywire.com/news/spotify-stands-by-joe-rogan-after-n-word-controversy-canceling-voices-is-a-slippery-slope?utm_source=facebook&utm_medium=social&utm_campaign=benshapiro&fbclid=IwAR2psbjxcsomAyidB2BBnyWFp1ZGGIfcT_Y11IRpO73TsJGBN-bFcGcNogw
Spotify Stands with Joe Rogan
Over the weekend, Spotify removed 113 episodes of the Joe Rogan Podcast, after a compilation video of Joe Rogan was released, appearing to show Rogan using the N-word, around 20 different times… though no context was provided for any of these clips. Rogan has since released a video responding to those clips.
Play Video: https://youtu.be/YXupo-FHFgc Use 0:00-2:10
You get the idea… Joe… STOP APOLOGIZING. The people trying to cancel you, will, not, stop. The best course of action is for you to continue about your business. I'm sure you've heard the quote, if you give an inch, they'll take a yard… that's what Joe Rogan is dealing with. Numerous media organizations like CNN. NBC, etc. are attempting to paint Rogan in a bad light with this. The narrative is set. Or is it? Because it appears Spotify is "kind of" standing with Joe Rogan. Spotify CEO Daniel Ek released a statement on Sunday announcing that the company would stand by podcast host Joe Rogan following the "N-word controversy".
"While I strongly condemn what Joe has said and I agree with his decision to remove past episodes from our platform, I realize some will want more. And I want to make one point very clear – I do not believe that silencing Joe is the answer," Ek said. "We should have clear lines around content and take action when they are crossed, but canceling voices is a slippery slope. Looking at the issue more broadly, it's critical thinking and open debate that powers real and necessary progress." I mean, I guess you could say that's a bold move from Spotify, but I think Rumble just topped it…
As of this morning, Rumble has offered Joe Rogan a 4-year, $100 million contract, to bring his show over to their platform, where it will be censorship free!
https://twitter.com/rumblevideo/status/1490718158449172481?ref_src=twsrc%5Etfw%7Ctwcamp%5Etweetembed%7Ctwterm%5E1490718158449172481%7Ctwgr%5E%7Ctwcon%5Es1_&ref_url=https%3A%2F%2Fnotthebee.com%2Farticle%2Fbreaking-rumble-just-offered-joe-rogan-100-million-to-switch-to-their-censor-free-platform-seriously-
Show Tweet –
The CEO of Rumble wrote a brief statement to Joe saying:
"Dear Joe, we stand with you, your guests, and your legion of fans in desire for real conversation. So, we'd like to offer you a million reasons to make the world a better place.
How about you bring all your shows to Rumble, both old and new, with no censorship, for $100 bucks, over 4-years?
This is our chance to save the world, and yes, this is totally legit.
Signed, Chris Pavlovski – CEO of Rumble
What a man's move! Speaking of a man's move, I want to talk about the sponsor of today's show, The Reformed Sage. Nick Farar, left his job as an air traffic controller, where he had to bend the knee to federal tyranny, but now, he's working full-time at the Reformed Sage, to make incredible merchandise for you and yours.
Founded in 2018, The Reformed Sage exists to edify Christians with products and services that build the kingdom of God and proclaim the gospel to all. If you have yet to go take a look at their website, what are you doing?! Get over there right now, and check them out at reformedsage.com, and tell them we sent you, by using promo code FLF22 for 10% off your first order. Again, that's reformedsage.com, and promo code FLF22. Support those who support us!
https://www.dailywire.com/news/jen-psaki-claims-joe-biden-has-never-been-pro-lockdown
Jen Psaki Claims Joe Biden Has Never Been Pro-Lockdown
During the daily press briefing, a reporter asked for comment regarding a recent working paper by Johns Hopkins University that found lockdowns had "little to no effect on public health" during the COVID-19 pandemic. On Tuesday, The Daily Wire reported on the paper's findings:
The study, published by the Institute for Applied Economics, Global Health, and the Study of Business Enterprise conducted and by three professors from around the world, also found that lockdowns "imposed enormous economic and social costs" and are "ill-founded and should be rejected as a pandemic policy instrument."
In response to the reporter's questions, Psaki advised the media to ask the White House medical experts about the findings of the study, while also saying it was inaccurate to say the Biden White House ever pushed lockdowns.
Play Video https://youtu.be/-gAUHG-WPTc Use 9:30-10:37
Oh, I'm sorry, I must have misremembered that… Let's take a look and see what Joe Biden had to say!
Play Video https://youtu.be/OszLvf_6Cnk
Huh… that didn't sound like someone who was against lockdowns…
I would also add, that while on the campaign trail in September 2020, then-candidate Biden also stated that he would be in favor of "shutting down" the country if that's what his medical team advised:
Bide said quote: "I would shut it down; I would listen to the scientists," Biden told ABC's David Muir in a joint interview with his running mate, Sen. Kamala Harris, to air Sunday. "We're going to do whatever it takes to save lives."
Well the science, Mr. President, would go against that narrative… which of course, now the goalposts are shifting to suggest, oh I've never been pro-lockdown… that was Trump!
https://www.cnn.com/2022/02/05/politics/russia-military-ukraine/index.html
Russia has 70% of the military capabilities in place for full-scale invasion of Ukraine.
Russian President Vladimir Putin has now assembled 70% of the military personnel and weapons on Ukraine's borders he would need for a full-scale invasion of the country, according to two US officials familiar with the latest estimates.
The figure is an estimate based on the latest intelligence assessments, but officials would not specify the intelligence they had or how they developed their assessments, citing the sensitivity of how they collect the information. The assessment represents the continuing significant buildup of Russian forces on Ukraine's borders, but it's unclear how long it would take Putin to ramp up further, or whether the Russian president would need full capabilities in order to invade.
The human cost could be dire: Some assessments calculate civilian casualties in Ukraine could run into the tens of thousands with up to five million refugees.
Based on publicly available weather calculations, the optimal time for a Russian invasion would be while there is a hard ground freeze, so heavy equipment can readily move. US officials have said Putin would understand he needs to move by the end of March.
In response, the U.S. has moved thousands of troops to Eastern Europe… On Wednesday, the Pentagon announced the deployment of roughly 2,000 troops from Fort Bragg, N.C., to Europe. This includes some 1,700 troops from an 82nd Airborne Division infantry brigade combat team who are heading to Poland.
Another 1,000 soldiers currently based in Germany will move to Romania. Those troops are part of a Stryker squadron. They join some 900 U.S. troops already stationed in Romania. Both Poland and Romania share a border with western Ukraine. An additional 8,500 troops remain in the U.S. on "heightened readiness." In addition, 7,000 U.S. troops rotate through NATO countries as part of Atlantic Resolve, headquartered in Poznan, Poland.
According to NPR, about 70,000 U.S. troops are permanently stationed in Europe, half of which are in Germany. The Harry S. Truman carrier strike group has been in the Mediterranean Sea since December. This week, the aircraft carrier was in the Adriatic Sea conducting joint exercises with NATO.
Senior adviser with the CSIS International Security Program Mark F. Cancian believes that conflict with Russia is extremely unlikely, adding, "It's 100% signaling reassurance to the eastern allies and signaling to Putin. There's no intention of using these forces in a war-fighting mission."
Meanwhile, Russian President Vladimir Putin has accused the United States and its allies of ignoring Moscow's security concerns over Ukraine but says he hopes the two sides will be able to negotiate a solution to the intensifying standoff.
Speaking in Moscow on Tuesday, Putin said the Kremlin was studying a response from the US and NATO to demands Russia presented – including keeping Ukraine out of the Western security alliance – but said the replies had been far from adequate.
Still, he argued that it was possible to find an end to the crisis if the interests of all parties, including Russia's security concerns, are taken into account.
"I hope that we will eventually find a solution, although we realize that it's not going to be easy," he said.
The comments – Putin's first on the crisis in more than a month – suggested that a Russian invasion of Ukraine, as the West fears, may not be imminent and that at least one more round of diplomacy is likely.
This has been your CrossPolitic Daily News Brief… to find all of our content, download our app, by searching "Fight Laugh Feast" in your favorite app store. And if you'd like to see your business or company as a sponsor on our show, email me at [email protected].
Thanks for tuning in, and have a great day. Lord bless.