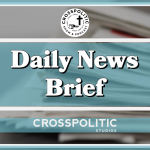 '
Covid is affecting everything, some of the effects are immediate, like the supply chains, work, lockdowns and education but others might take years to realize just how bad we messed things up. One of those areas might be in the development off our children…
A study from Columbia University Irving Medical Center says Babies born during the first year of the pandemic are displaying less social and motor skills than other children born prior to the health crisis. They're noticing this in young children regardless of whether their mothers had COVID-19 or not.
Pandemic babies displaying developmental delays — even if their mothers didn't have COVID
Lets take a tour around the west shall we?
Republican governors in the United States may be championing the cause <https://www.washingtonpost.com/business/2021/11/21/disney-world-vaccine-mandate-desantis/?itid=lk_inline_manual_3> of the vaccine resistant and suing to stop <https://www.washingtonpost.com/politics/courts_law/supreme-court-biden-vaccine-mandate/2022/01/06/93b4d45c-6f2e-11ec-a5d2-7712163262f0_story.html?itid=lk_inline_manual_3> mandates imposed by the Biden administration. But elsewhere in the West, the jab-less are increasingly becoming personae non gratae.
In much of the West, the walls are closing in on anti-vaxxers
https://www.washingtonpost.com/world/2022/01/10/european-unvaccinated-anti-mandate/
<The Reformed Sage DNB:>
Founded in 2018, The Reformed Sage exists to edify Christians with products and services that build the kingdom of God and proclaim the gospel to all. We have created products that are unique, useful, beautiful, and humorous. We have wood art, engraved wall art, apparel, drinkware, decals, stamps, and much more. We also regularly make custom merchandise at wholesale prices for churches, ministries and businesses that want to add or expand their product offerings in turn increasing revenue. Please use promo code FLF22 for 10% off your first order.
AND HAPPENING NOW: All apparel is marked down until Super Bowl Sunday! (No promo code necessary) Shirts: $20 Hoodies: $30 and more! They are changing apparel vendors and removing some designs. We do not know at this time what color/sizing options we will have available come March 1. So, if there is an apparel combo you want (design/size/color) better grab it before it is gone for good! This sale ends on February 6th.
Mayor Lori Light Foot the Mayor in Chicago is in a knock down drag out fight with the Chicago teachers union canceling school again today and maybe the rest of the week.
https://www.conservativereview.com/chicago-teachers-union-president-calls-mayor-relentlessly-stupid-for-asking-teachers-to-return-to-work-as-union-walkout-results-in-classes-being-canceled-for-4th-straight-day-2656328381.html
Classical Conversations, They support homeschooling parents by cultivating the love of learning through a Christian worldview in fellowship with other families. They provide a classical Christ-centered curriculum, local like-minded communities across the United States and in several countries, and train parents who are striving to be great classical educators in the home. For more information and to get connected, please visit our website at ClassicalConversations.com. Classical. Christian. Get Connected. Get Community. https://www.classicalconversations.com/
COVID Deaths in U.S. Military Spike in Last Four Months Despite 96 Percent Being Vaccinated
https://www.newsweek.com/covid-deaths-us-military-spike-last-four-months-despite-96-percent-being-vaccinated-1667513