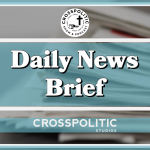 Joint Chiefs Chairman Gen. Mark Milley tests positive for Covid-19
https://www.cnn.com/2022/01/17/politics/milley-covid-19/index.html
Novak Djokovic's last-ditch attempt to salvage his hopes of defending his Australian Open title has failed
https://www.nytimes.com/live/2022/01/15/sports/djokovic-australia
Salt Lake City Tribune editorial calls for National Guard to keep unvaccinated people in their homes
https://www.foxnews.com/media/salt-lake-city-tribune-op-ed-calls-national-guard-keep-unvaccinated-people-locked-down
Doctor Scott Gottlieb who is on the Board of Pfizer was on Face the nation Sunday.
https://www.cbsnews.com/news/transcript-dr-scott-gottlieb-face-the-nation-01-16-2022/
Idaho Family Policy Center.
I wanted to let you all know about Idaho Family Policy Center. IFPC is currently the only explicitly Christian policy organization in Idaho politics. Toby Sumpter and Israel Waitman serve on the board, and the president is Blaine Conzatti, a member of our sister CREC church, Kings Congregation down in Meridian.
Blaine and IFPC have been leading the efforts to defund Planned Parenthood, end abortion in Idaho, and protect children from the transgender agenda.
Basically, Blaine is a really strategic voice in Idaho politics, and he represents many of our biblical and constitutional concerns in Boise.
IFPC is a brand new ministry and as such is in significant need of donations to help fund it.
I know we all have many commitments to other good ministries, but if you are particularly concerned about Idaho politics, this is one way you can have a very direct impact. Go to www.idahofamily.org <http://www.idahofamily.org/>to learn more and make a donation.
Glenn Youngkin is officially the governor of Virgina. Saturday he was swore-in as Virginia's 74th governor and he has waisted no time trying to deliver on his promises.
https://www.nbc12.com/2022/01/15/gov-youngkin-signs-11-executive-actions-first-day-administration/