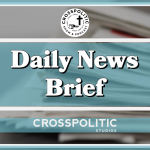 This is Garrison Hardie with your CrossPolitic Daily Newsbrief for Tuesday, January 31st, 2023. We're already almost into February, can you believe it? Better start your Christmas shopping!
Fight Laugh Feast Magazine
You know it's not too late to make a New Year's Resolutions for 2023. This year, resolve to support hard-hitting, truth-telling, culture-shaping publications and subscribe to the Fight Laugh Feast Magazine. Join our Fight Against an Evil Culture through print media by getting a subscription to the Fight Laugh Feast magazine. The Fight Laugh Feast Magazine is our Rowdy Christian mojo incarnated into print media. While Tech Giants try to Shut Down our avenues to deliver the Truth to you, we are the underground resistance, delivering theologically-driven cultural commentary from faithful and heavy hitting authors – Right to your door! Psalms to Sing, Recipes for Feasting, Humor to Encourage Belly Laughs, serrated theological essays, All to the Glory of God! Sign up your Church, your Grumpy Uncle, The Pope, Elon Musk, and all your kids and grandkids (even if they're not baptized)!
Platinum club members! You get a magazine subscription for free! So if you're not a club member yet…Sign up today! Four issues are only $60 per year. Go to fightlaughfeast.com right now to subscribe today.
https://pjmedia.com/news-and-politics/rick-moran/2023/01/29/minnesota-legislature-passes-barbaric-bill-to-legalize-abortions-up-until-birth-n1666028
Minnesota Legislature Passes Barbaric Bill to Legalize Abortions Up Until Birth
The Minnesota state senate passed an abortion rights bill that guarantees a right to an abortion up to the time of birth.
The bill, known as the Protect Reproductive Options (PRO) Act, passed by a vote of 34-33 and now goes to Gov. Bill Walz's desk. He has indicated he will sign it.
H.F. 1, authored by Sen. Jennifer McEwen, would create a "fundamental right" to abortion and would allow abortions for any reason, even late in pregnancy. Since a fetus can feel pain as young as 20 weeks into gestation and no later than 28-30 weeks, some states have mandated anesthesia for babies to be aborted.
Minnesota has no such law.
LifeNews:
Many amendments that would have made H.F. 1 less extreme were voted down or thwarted. The defeated amendments included ones to protect unborn children in the third trimester (with exceptions), to protect against the barbaric procedure known as partial-birth abortion, to provide the option of anesthesia when unborn children can feel pain, and to protect women's health by requiring that third-trimester abortions take place in a hospital.
Additional abortion-expanding bills have also been introduced at the Capitol. One bill, H.F. 91/S.F. 70, would repeal numerous abortion-related laws, including a law protecting newborns who survive abortion.
Backers of the bill claim it only legalizes what was already legal and will codify the "human right" to abortion into law.
Fox News:
Opponents disagree, arguing the bill establishes a right to abortion up until the moment of birth. Republicans had attempted to amend the bill with "guard rails" that would restrict abortions in the third-trimester, but the newly-elected Democratic majority blocked their amendments.
"Today we are not just codifying Roe v. Wade or Doe v. Gomez, as the author has indicated, we are enacting the most extreme bill in the country," said Republican Senate Minority Leader Mark Johnson, of East Grand Forks during debate.
https://redstate.com/bonchie/2023/01/29/finland-introduces-first-transgender-figure-skater-and-things-go-very-badly-n695692
Finland Introduces First 'Transgender' Figure Skater, and Things Go Very Badly
Far-left ideology continued to make a mockery of Western civilization over the weekend. Finland, which hosts the European Figure Skating Championships, decided it'd be a great idea to hold an opening ceremony that featured a "transgender" figure skater.
As you'll see, things went very badly.
https://twitter.com/i/status/1619560033985130496
Make sure you actually watch the video, because the joke here is not just that this man that is pretending to be a woman fell down. It's the entire performance. As the clip rolls, I don't know whether to laugh or cry because it looks like he's never stepped into an ice rink before. If you strapped skates on some random hobo, I'm pretty sure they could do the same job.
As someone quipped on Twitter in response, it's like watching one of those videos where a football team lets the young kid with cancer score a TD. Except in this case, this isn't a young kid with cancer. It's a full-grown man living out his mental illness for all the world to see. Worse, that mental illness is being affirmed as good and proper by entire nations.
https://www.foxnews.com/media/bill-gates-addresses-jeffrey-epstein-relationship-awkward-interview-i-had-dinner-with-him-thats-all
Bill Gates addresses Jeffrey Epstein relationship in awkward interview: 'I had dinner with him and that's all'
Microsoft co-founder and billionaire philanthropist Bill Gates continued to downplay his relationship with convicted pedophile Jeffrey Epstein, claiming for the "100th time" they were merely dinner pals.
Australia's ABC 7.30 host Sarah Ferguson noted during an interview with Gates on Monday "one of the issues that dogged" his relationship to ex-wife, Melinda French Gates, was his ties to Epstein.
WATCH: Bill Gates says meetings with Jeffrey Epstein were 'a mistake'
Epstein died at age 66 while awaiting trial on sex trafficking charges. He was found hanged to death inside a Manhattan federal jail cell on August 10, 2019. In 2008, he pleaded guilty to soliciting a prostitute who was a minor.
https://www.foxnews.com/us/sixth-memphis-police-officer-involved-tyre-nichols-investigation-relieved-duty
Sixth Memphis police officer involved in Tyre Nichols investigation relieved of duty
The Memphis Police Department has relieved of duty a sixth police officer who was involved in the investigation into Tyre Nichols' death this month.
An MPD spokesman confirmed the department relieved Officer Preston Hemphill of duty in a Monday statement to Fox News Digital. The 26-year-old officer joined the force in 2018 and allegedly used his taser on Nichols prior to the beating by five other officers.
Preston, who is white, has not yet been charged with a crime in connection to the incident. Memphis police say he is the subject of an ongoing investigation, however.
The five other officers, who are black, include Tadarrius Bean, Demetrius Haley, Desmond Mills Jr., Emmitt Martin III and Justin Smith. They were each terminated on Jan. 18 and are facing seven counts: second-degree murder; aggravated assault, act in concert; two counts of aggravated kidnapping; two counts of official misconduct; and official oppression.
Officials released footage of Nichols' beating on Friday. It shows the five officers punching, kicking, and hitting Nichols with batons as he lies prone on January 7. He died of his injuries in the hospital three days later.
In addition to firing the officers, Police Director Cerelyn "CJ" Davis also permanently disbanded the city's so-called Scorpion unit on Saturday. The Unit included the five officers and was focused on preventing and punishing street crime.
Nichols' beating and death has led to outrage acrossthe country, with the Congressional Black Caucus (CBC) requesting to meet directly with President Biden to discuss police reforms.
The group will meet with the president Wednesday.
https://thepostmillennial.com/breaking-pro-life-activist-mark-houck-found-not-guilty-in-philadelphia?utm_campaign=64487
Pro-Life activist Mark Houck found NOT GUILTY in Philadelphia
On Monday, a Philadelphia jury found pro-life activist Mark Houck not guilty of violations of the Freedom of Access to Clinic Entrances (FACE) Act.
According to Life News, Houck testified during the trial that on October 13, 2021, now-former Planned Parenthood Elizabeth Blackwell Health Center escort Bruce Love chased Houck 100 feet down the sidewalk and across the street to stop Houck from counseling two individuals who had left the planned Parenthood location. The two made contact, with Houck moving Love out of the way.
In a second incident the same day, Houck and his then-12-year-old son were standing by temselves 50 feet from the clinic entrance and were praying, when Love walked over and stood two feet away from the son and started saying "vile and nasty things."
Despite being told by Houck to stop harassing his son and go away, Love did not, which ended in Houck pushing Love away.
Charges stemming from the 2021 incident had initially gone through the state court system and was thrown out. The case was picked up by the Biden administration's Department of Justice nearly a year later.
On September 23, 2022, Houck's home, where his wife and children were, was swarmed by roughly 15 vehicles and dozens of armed federal SWAT officers. Houck was arrested during the incident.
Video evidence shown by the prosecution during the trial reportedly showed Love approaching Houck, who then shoved the 72-year-old back. After the shove, Love fell down.
The prosecution alleged that the altercation happened after a previous engagement between the two men, but Planned Parenthood did not save any of their camera footage from the day except the excerpt shown.
Speaking outside the courthouse on Monday, Houck thanked those who supported him and his family over the duration of the trial and leading up to it.
https://twitter.com/i/status/1620164374118961153 – Play Video
Smart Pricing Table:
Do you own a business and write a lot of proposals? If so, you should check out SmartPricingTable.com.
Smart Pricing Table allows you to create quick and accurate proposals; and it's loaded with features like recurring fees, quantities and line item upsells. When your prospect is ready, they can e-sign and you're off to the races.
Visit SmartPricingTable.com and mention Cross Politic to get 25% off your first 2 months
https://www.foxnews.com/sports/djokovic-wins-2023-australian-open-mens-singles-final-sweep-tsitsipas-claims-10th-title
Djokovic wins 2023 Australian Open men's singles final with sweep of Tsitsipas, claims 10th title
Serbian superstar Novak Djokovic swept Stefanos Tsitsipas 6-3, 7-6, 7-6 to claim the title in the Australian Open men's singles final on Sunday.
Djokovic, 35, burst into the major final with a dominating 6-3 win against Greece's Tsitsipas in the opening set. After breaking No. 3 Tsitsipas' serve in the fourth game of set, No. 4 Djokovic jumped to a 3-1 lead and maintained the advantage. The 35-year-old repeated the feat in the third set to take home the victory.
Sunday's match marked the second time Djokovic met Tsitsipas in a major final, both ending in a win for the Serbian player. Tsitsipas claimed two sets against Djokovic in 2019, but ultimately lost the match in five.
With the win, Djokovic snags the 10th Australian Open title of his career, which comes a year after he wasn't allowed to compete at Melbourne Park because he wasn't vaccinated for COVID-19. The win also marks his 22nd Grand Slam singles title, tying him with Rafael Nadal for the men's record.
In addition to the title, Djokovic now moves to the No. 1 spot in the ATP rankings.
By the way… Bill Gates was in attendance…