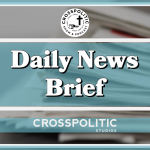 Happy Monday everyone, this is Garrison Hardie with your CrossPolitic Daily News Brief for Monday, July 11th, 2022. Before we get into what you may have missed over the weekend, this is just a reminder that our conference is just 4 months away!
FLF Conference Plug:
This year it's happening in Knoxville TN, October 6-8! Don't miss beer & psalms, our amazing lineup of speakers which includes George Gilder, Jared Longshore, Pastor Wilson, Dr. Ben Merkle, Pastor Toby, and we can't say yet…also dont miss our awesome vendors, meeting new friends, and stuff for the kids too…like jumpy castles and accidental infant baptisms! Also, did you know, you can save money, by signing up for a Club Membership. So, go to FightLaughFeast.com and sign up for a club membership and then register for the conference with that club discount. We can't wait to fellowship, sing Psalms, and celebrate God's goodness in Knoxville October 6-8.
So, here's what you may have missed over the weekend:
https://www.foxbusiness.com/business-leaders/twitter-lawyers-sue-elon-musk-broken-deal-report
Twitter lawyers up to sue Elon Musk over broken buyout deal:
Twitter has retained the services of a heavyweight merger law firm to sue Tesla CEO Elon Musk for moving to drop his $44 billion takeover of the company, according to a report.
The company has hired Wachtell, Lipton, Rosen & Katz LLP to represent it in a forthcoming suit, Bloomberg reported Sunday. Bloomberg cited sources who declined to be identified due to the private nature of the matter.
A law firm representing the Tesla CEO sent a letter to Twitter on Friday, alleging that it appears "to have made false and misleading representations" when Musk agreed to buy the company on April 25 and has "breached" multiple provisions of the initial agreement.
Musk's team has raised concerns with "spam bots" on the platform, and the Tesla CEO has threatened to walk away from the deal if the company fails to show that less than 5% of its daily active users are automated spam accounts.
Musk has argued that Twitter significantly underestimated the number of these "spam bots" on its service. Last month, Twitter offered Musk access to its "firehose" of raw data on hundreds of millions of daily tweets, according to multiple reports at the time, though neither the company nor Musk confirmed this.
Twitter said it removes 1 million spam accounts each day in a call with executives Thursday during a briefing that aimed to shed more light on the company's fake and bot accounts.
Twitter said on the call that the spam accounts represent well below 5% of its active user base each quarter. Private data, which isn't available publicly and thus not in the data "firehose" that was given to Musk, includes IP addresses, phone numbers and location. Twitter said such private data helps avoid misidentifying real accounts as spam.
Neither SpaceX nor Tesla nor Twitter immediately responded to FOX Business' request for comment Sunday.
A receptionist for Wachtell, Lipton, Rosen & Katz declined to confirm or deny the report.
More from our booming economy:
https://www.foxbusiness.com/lifestyle/us-postal-service-rate-increases-takes-effect-sunday
US Postal Service rate increases takes effect Sunday
The next time you mail through the United States Postal Service (USPS), it's going to cost you extra.
The USPS' rate hike, upping First-Class Mail prices by 6.5%, took effect Sunday, according to the agency. When the USPS made its announcement in April it noted that the 6.5% increase would still be below inflation, which is sitting at a rate of 8.6%.
However, this likely won't be the last increase from the USPS.
In May, Postmaster General Louis DeJoy said Americans should get used to "uncomfortable" postage rate increases in coming years as the U.S. Postal Service seeks to become self-sufficient.
The Postal Service Board of Governors sets postage rates, but DeJoy said he'll advocate for raising prices until "we have accomplished our objective of projecting a trajectory that shows us being self-sustaining."
That objective is laid out in the USPS' 10-year plan, Delivering for America. As part of this plan, the USPS is working to break even by the fiscal year 2023 and avoid $160 billion in projected losses over the next 10 years.
The price adjustments taking effect Sunday "will help with the implementation of the Delivering for America plan, including a $40 billion investment in core Postal Service infrastructure over the next ten years," according to the USPS.
https://www.breitbart.com/environment/2022/07/11/world-economic-forum-says-democracy-is-dying-ditch-fossil-fuels-and-save-it/
World Economic Forum: Gas Prices Must Go Even Higher — to Save Democracy
The World Economic Forum (WEF) released a position paper Monday that inexorably links two claimed global crises as one – "climate change" and the "decline of democracy."
The WEF paper argues for the past 15 years, democracy has been in decline worldwide. To protect and promote freedom, "leading democracies must strengthen their economies and safeguard liberty."
It goes on to say ignoring progress toward a "low-carbon economy could put democracies in greater economic peril, not less" while repeating the broader demand of environmental activists for companies to stop investing fossil fuels.
Russia's invasion of Ukraine has brought renewed focus on this economic weakness, the WEF says.
What is the answer for the U.S. and Europe? Pricing the alternatives to green energy out of the market. It says:
First, leading democracies should agree to end the underpricing of fossil fuels, which is the principal factor preventing a clean energy transition. The underpricing associated with producing and burning coal, oil and gas amounted to $5.9 trillion in economic costs in 2020. Nearly a quarter of these losses – $1.45 trillion – occurred in 48 major and smaller democracies.
The leading democracies of the G20 should collectively commit to phasing out cost and tax breaks for the production and consumption of fossil fuels. They should also phase in more efficient pricing of fossil fuels through taxes or tradable permits to cover the costs of local air pollution, global warming, and other economic damages.
The paper goes on to argue that compliance can and must be enforced.
Taxes can be imposed on carbon-intensive imports to reduce the risk of unfair competition for their domestic industries "and to deter companies from relocating overseas to avoid compliance at home."
Doesn't that just scream democracy?
Forcing other economies to reform their under-pricing of fossil fuels to avoid the penalties imposed by the policy should also be actively pursued, according to the WEF, with U.S. President Joe Biden already committed to punishing the fossil fuel industry out of existence.
The paper concludes that by delaying a clean energy transition, "leading democracies are making their economies more vulnerable through continued reliance on fossil fuels."
Collectively acting to foster a green transition "is not only good for the climate but also critical for protecting democracy," ……… that's the conclusion of the paper…
Gold River Trading Co.
Are you tired of buying sugary drinks and coffee from large woke corporations? Throw a tea party!
Gold River Trading Co. is an American company that offers premium alternatives for Americans who enjoy a delicious cup of tea. Start your day with Gold River's invigorating American Breakfast Blend, cool down with a pitcher of crisp & refreshing Iced Tea, or unwind with Chamomile Herbal tea. Explore a variety of high-quality blends and enjoy a healthy, flavorful alternative from an American company that shares your values.
Go to goldriverco.com and save 10% off all orders using discount code CROSSPOLITIC at checkout.
Now, it's time for the topic that I love, trade regulations! No… not really, sports!
https://www.breitbart.com/sports/2022/07/08/report-nfl-teams-to-start-training-camp-with-no-covid-protocols/
NFL Teams to Start Training Camp with No Covid Protocols
For the first time since the pandemic began, NFL teams will start training camp without any Covid protocols or restrictions, according to a report in the Washington Post.
That means the league will not mandate that players wear masks, participate in contact tracing, wear bracelets, or otherwise partake in any of the standard Covid protocols the league has had in place since 2020.
The NFL did, however, leave open the possibility of reinstating Covid protocols should the need arise.
"Should there be a reason to reimpose aspects of the protocols or to take other measures, we will work closely with clubs, the NFLPA and our respective experts, and local, state and federal public health officials to continue to safeguard the health of the NFL community," the memo to all teams stated.
While the league will not place players or coaches under any restrictions, all employees of the 32 league franchises are expected to conform to whatever coronavirus safeguards local authorities have put in place.
The NFL and NFLPA agreed to end the league's coronavirus testing regimen in March.
And finally, Novak Djokovic, won at Wimbledon for the seventh time: Djokovic beats Kyrgios to win 4th consecutive Wimbledon title 😤🎾 – Play 2:00-2:23
Novak Djokovic proved again why he's one of the best tennis players ever with a four-set victory Sunday over Nick Kyrgios at Wimbledon, picking up his seventh championship at the All England Club.
Djokovic defeated Kyrgios 4-6, 6-3, 6-4, 7-6 (7). He moves into a second-place tie for most wins at Wimbledon. He's tied with Pete Sampras and William Renshaw and one behind Roger Federer for most all time. He now has 21 total Grand Slam titles and is one behind Rafael Nadal for the most all time.
It was Djokovic's first Grand Slam title this season. He wasn't allowed to play the Australian Open due to his decision to forgo the coronavirus vaccination. He lost to Nadal in the French Open quarterfinals.
This has been your CrossPolitic Daily News Brief… If you liked the show, go ahead and hit that share button for me would you? If you'd like to sign up for a club membership, subscribe to our FLF Magazine, or register for our conference, you can do all of that at fightlaughfeast.com, and as always, if you want to become a corporate partner of CrossPolitic, let's talk. Email me, at garrison@fightlaughfeast.com. For CrossPolitic News, I'm Garrison Hardie. Have a great day, and Lord bless.