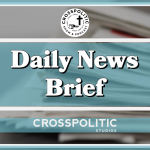 Have you registered for the Flight Laugh Feast Conference in TN just outside of Nashville.
Sex is inherently political. Just being made a man or made a woman has implications in everything we do in the world.Marriage, Kids, work… It always impacts the world. A culture is either built on the fruitfulness of a godly union between one man and one woman, or else it dies from self-inflicted fruitlessness and sexual rebellion against God. Our obedience to God in our sex is building and cultivating a particular kind of public square and culture.
Join us in Lebanon, TN with Pastor Douglas Wilson "Gay Pulpits", Voddie Baucham "Critical Sex Theory", Doug TenNapel "Sex, Lies, and the Prophetic Peot", David Bahnsen "Punk Rock Home Economics", and then on Saturday will have 9 SWAT talks with over 20 speakers arming you to go out into the world to take dominion with your gifts and abilities. Sheologians: Diapers, Dishes, and Dominion and All People Matter with Dennis Sarfate, Zach Lautenschlager, and Rob Sentz. Registration is live now: flfnetwork.com/politics-of-sex/ Club members get $100 off registration. Seating is limited!
TX Dems test positive for CV19
https://www.statesman.com/story/news/politics/state/2021/07/17/texas-democrats-walk-out-three-test-positive-covid-in-washington-dc/8002121002/
https://www.businessinsider.com/israel-50-of-delta-variant-cases-vaccinated-severe-2021-6
Israel saying the Delta variant is infecting vaccinated people, representing as many as 50% of new cases.
https://www.businessinsider.com/israel-50-of-delta-variant-cases-vaccinated-severe-2021-6
Door to door jabs
Pregnant Vaccines
https://www.cdc.gov/vaccines/covid-19/clinical-considerations/covid-19-vaccines-us.html?CDC_AA_refVal=https%3A%2F%2Fwww.cdc.gov%2Fvaccines%2Fcovid-19%2Finfo-by-product%2Fclinical-considerations.html#pregnant
This is the Chocolate Knox with Crosspolitic News Brief Support Rowdy Christian media by joining our club at fightlaughfeast.com, downloading our App, and head to our annual Fight Laugh Feast Conference in Lebanon, TN, just outside of Nashville.
Join us to sing, fellowship, and grow in God's word. We will have tried and true, cancel free speakers, including Pastor Wilson, Voddie Baucham, Pastor Toby, Doug TenNapel, David Bahnsen, and then on Saturday we will have an Academy of SWAT talks full of 9 workshops with over 20 speakers arming you to go out into the world to take dominion with your gifts and abilities. So sign up now at https://flfnetwork.com/coming-soon/. Seating is limited! With your partnership, together we will fight outdated and compromised media, engage news and politics with the gospel, and replace lies and darkness with truth and light. Go to fightlaughfeast.com to take all these actions. Have a great day. Lord bless