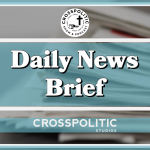 Good Monday everyone, this is Garrison Hardie with your CrossPolitic Daily News Brief, for Monday, July 25th, 2022. I'm here to bring you your weekly dose of what you may have missed over the weekend.
For those keeping count, there have been over 100 attacks against pro-life groups, many carried out by Jane's Revenge since May. Ah yes ladies and gentleman, the side of tolerance and acceptance is at it again!
https://thepostmillennial.com/over-100-attacks-against-pro-life-groups-many-carried-out-by-janes-revenge-since-may?utm_campaign=64487
A new report detailed over 100 attacks against pro-life organizations across the country since the leak of Justice Samuel Alito's draft majority opinion in the Dobbs v. Jackson Women's Health Organization case that eventually led to the overturning of Roe v. Wade.
Many of the attacks have been attributed to Jane's Revenge, a far-left activist group that has claimed responsibility for the violence. Lawmakers called for the group to be designated a terrorist organization.
According to articles compiled by the Family Research Council, the "Summer of Rage" across the country has included not only demonstrations in front of the Supreme Court and the homes of justices but also dozens of acts of violence, destruction, and harassment aimed at intimidating anti-abortion conservatives and Christians.
Jane's Revenge took its name from the Jane Collective, a 1960's pro-abortion group, and has gained support from leftwing activists, especially those in the Madison, Wisconsin area. A homeland security analyst theorized that Jane's Revenge was a "loose-knit" collection of activists rather than a formal organization.
https://twitter.com/i/status/1524749969994883079 – Play Video
However, Robert Evans, who first obtained the initial statement from Jane's Revenge, theorized that the group was aiming to inspire copycats through their tactics and messaging online where the organization has thrived, especially on Twitter.
Two days before the first Molotov cocktail attack on Wisconsin Family Action on May 8, 2022, a Facebook page of a group called International Workers of the World (IWW) of Madison Wisconsin posted a history of the Jane Collective.
The outlet added that last year, the IWW Madison shared multiple posts promoting violent behavior, including, "a primer on how to fight 'state oppression' by protesting and evading law enforcement."
Other activist groups rallied around the attack on Wisconsin Family Action. A group calling themselves Unnamed Autonomous Collective published a statement lauding the attack and calling for more.
Let's change gears for a minute… Remember when Pastor Doug Wilson wrote, Ride Sally Ride, and then not long after, a man actually married a robot not long after his book was released? Well, how about the people who have accused him or condemned him of being friends to pedophiles? On Darren Doan's show, all my friends are heretics, check it out by the way… Doug mentioned how those very same people, will be friends to pedophiles at some point…
https://youtu.be/TEpsoQqfWtk – Play 16:10 – 17:40
well, maybe we're closer to that than we realized.
https://www.metroweekly.com/2018/07/tedx-speaker-argues-that-pedophilia-should-be-accepted-as-an-unchangeable-sexual-orientation/
TEDx speaker argues that pedophilia should be accepted as "an unchangeable sexual orientation"
Play Video: https://twitter.com/wheresourlogic/status/1550935543785041921?s=12&t=1k2Nz8xDL3WyU0gDmI6ciw
Mirjam Heine presented her talk "Pedophilia is a natural sexual orientation" at the University of Würtzberg in Germany, and said that pedophilia is like any other sexual orientation.
While Heine clarified her comments by noting that "abusing children is wrong without any doubt," she said that a "pedophile who doesn't abuse children has done nothing wrong."
Well, Jesus mentioned something about committing adultery after llusting after a woman in your heart…
Due to the backlash it received, TEDx eventually removed the video, though I'm sure you can find it on Twitter, or Youtube. It may have received backlash now, but nowadays, homosexuality is widely excepted, even by so-called conservatives… 71% in a recent gallup poll if I recall my last newsbrief correctly…
FLF Conference Plug:
Folks, our upcoming Fight Laugh Feast Conference is just 4-months away from happening in Knoxville TN, October 6-8! Don't miss beer & psalms, our amazing lineup of speakers which includes George Gilder, Jared Longshore, Pastor Wilson, Dr. Ben Merkle, Pastor Toby, and we can't say yet…also dont miss our awesome vendors, meeting new friends, and stuff for the kids too…like jumpy castles and accidental infant baptisms! Also, did you know, you can save money, by signing up for a Club Membership. So, go to FightLaughFeast.com and sign up for a club membership and then register for the conference with that club discount. We can't wait to fellowship, sing Psalms, and celebrate God's goodness in Knoxville October 6-8.
In other news, Biden is once again trying to hit an all-time low… this time, with our emergency oil reserve!
https://justthenews.com/government/white-house/us-strategic-petroleum-reserve-lowest-level-1985
With Strategic Petroleum Reserve at lowest level since 1985, US sells stockpiled oil to China
While U.S. Strategic Petroleum Reserve stockpiles have fallen to their lowest level since 1985, every congressional Democrat voted Wednesday to continue sending oil from the SPR to China.
Supplies have continuously dwindled since President Joe Biden entered office, but they started rapidly declining after Russia invaded Ukraine. In response, Biden sold millions more barrels from the reserves in April.
During Biden's first month in office, the U.S. had about 638 million barrels in its reserve. By March, one month into Russia's invasion of Ukraine, reserves had fallen to 565 million barrels, and by July, 480 million barrels were left in the SPR, according to data from the U.S. Energy Information Administration.
America's reserves have not been so low since June 1985, when the country was still building the SPR.
Last week, Biden touted his actions to bring down oil prices. "I've been releasing about 1 million barrels of oil a day from the Strategic Petroleum Reserve and rallied our global partners to release a combined 240 million barrels of oil onto the market," he tweeted. "Our actions are working, and prices are coming down."
While average U.S. gas prices have tapered down from a peak of $5 a gallon — their highest level ever — gas is still significantly more expensive under Biden than under any previous administration, GasBuddy data shows.
In response to the dwindling SPR, Rep. David Valadao (R-Calif.) offered a motion in the House last week to "immediately consider legislation that would prohibit the sale of oil drawn from the Strategic Petroleum Reserve to entities under the control of the Chinese Communist Party or for export to China," he said in a press release.
Every House Democrat voted against his motion.
That same day, 19 House Republicans sent a letter to Energy Secretary Jennifer Granholm demanding to know why her department sold nearly a billion barrels of SPR oil to an American subsidiary of Sinopec, a Chinese company in which Hunter Biden invested heavily.
Earlier this month, Republican Senators introduced legislation seeking to stop oil sales to China, Russia, North Korea and Iran.
"It's inexplicable that Biden would allow oil from the Strategic Petroleum Reserve to be exported to China," Sen. Ted Cruz (R-Texas) said at the time.
https://www.theepochtimes.com/us-postal-service-set-to-make-40-percent-of-new-mail-trucks-electric_4618365.html?utm_source=partner&utm_campaign=BonginoReport
US Postal Service Set to Make 40 Percent of New Mail Trucks Electric
The United States Postal Service (USPS) has announced plans to make at least 40 percent of its new delivery fleet electric.
Back in February, the USPS had already said that it would procure 165,000 New Generation Delivery Vehicle (NGDV) trucks from Oshkosh Defense, of which 10 percent would be electric.
But in a July 20 news release, the organization announced a new plan to buy 84,500 vehicles, of which 40 percent are estimated to be battery electric vehicles (BEVs). The 84,500 vehicles will include 50,000 NGDVs and 34,500 commercial off-the-shelf (COTS) vehicles.
Of the 50,000 NGDVs, the minimum BEV percent is set to rise to 50 percent, up from 10 percent. The 34,500 COTS vehicles will be purchased over a two-year period.
"The Postal Service reiterates its commitment to the fiscally responsible roll-out of electric-powered vehicles for America's largest and oldest federal fleet. New NGDVs are expected to start servicing postal routes in late 2023," the release said.
The postal department is anticipating to evaluate and procure more vehicles over shorter time frames so as to be "more responsive" to changing market conditions, technology improvements, and "evolving operational strategy," USPS stated.
USPS's original decision to buy 165,000 vehicles with 10 percent BEVs had attracted criticism from environmental groups. Sixteen states and several pro-environment groups filed lawsuits seeking to prevent USPS from buying gas-powered vehicles, arguing that such a move would trigger environmental harm for several decades.
The push to make USPS adopt electric cars is based on the assumption that electric vehicles are more environmentally-friendly than combustion engine vehicles. Multiple studies have shown this to be false.
In a 2018 article for Politico, Jonathan Lesser, the president of Continental Economics, revealed that newer combustion engine vehicles tend to be "really clean" when compared to old ones.
"Today's [combustion engine] vehicles emit only about 1 percent of the pollution than they did in the 1960s, and new innovations continue to improve those engines' efficiency and cleanliness," Lesser wrote.
After taking into consideration the U.S. Energy Information Administration's projected number of new electric vehicles, Lesser found that the net reduction in CO2 emissions between 2018 and 2050 will only be "about one-half of one percent of total forecast U.S. energy-related carbon emissions." This is a change so small that it will have "no impact whatsoever" on climate, Lesser asserts.
A 2020 study by Michael Kelly (pdf), the emeritus Prince Philip professor of technology at the University of Cambridge, found that if the UK were to replace all its combustion engine vehicles with electric vehicles, the country will need almost twice the annual global production of cobalt, almost the entire world's neodymium, over 50 percent of the world's 2018 copper production, and three-quarters of the global output of lithium carbonate.
If all vehicles in the world were to be electrified, it would need such a large output of raw materials that even exceeds the known reserves of these materials. The environmental impact of mining these materials on such a large scale, some of which are toxic, would be massive.
Classical Conversations
Classical Conversations supports homeschooling parents by cultivating the love of learning through a Christian worldview in fellowship with other families. We provide a classical Christ-centered curriculum, local like-minded communities across the United States and in several countries, and we train parents who are striving to be great classical educators in the home. For more information and to get connected, please visit our website at ClassicalConversations.com. Again that's ClassicalConversations.com.
And finally, the topic that I love… sports!
https://nypost.com/2022/07/24/pete-rose-will-be-on-phillies-field-for-first-time-since-mlb-ban/
Pete Rose will be on Phillies' field for first time since lifetime MLB ban
Pete Rose is back — sort of.
The 81-year-old will return to a major league diamond soon, making his first appearance in Philadelphia in August since he was banned from baseball.
The sport's all-time hits leader will be at the Phillies' alumni weekend and be introduced on the field along with his former teammates from the 1980 World Series championship team on Aug. 7. That team's shortstop, Larry Bowa, broke the news on Saturday night during the Phillies' TV broadcast of their game against the Cubs.
The Phillies said in a statement that they "received permission from the commissioner's office" to invite Rose, and the team consulted with Rose's teammates from the 1980 club and "everyone" wants him there."
In August of 1989, Rose was banned from the game following an investigation that found he bet on the Reds to win several games between 1985-87 while he was their manager.
Rose applied for reinstatement in 2015, but it was rejected by commissioner Rob Manfred.
It's now been 33 years since Pete Rose accepted a permanent ban for betting on baseball, and it's still one of the most hotly debated topics in all of professional sports.
This has been your CrossPolitic Daily News Brief. If you liked the show, share it far and wide. If you want to sign up for our conference, become a club member, or subscribe to our magazine, you can do all of that at fightlaughfeast.com! And as always, if you'd like to become a corporate partner with CrossPolitic, email me, at garrison@fightlaughfeast.com. For CrossPolitic News, I'm Garrison Hardie. Have a great day, and Lord bless!