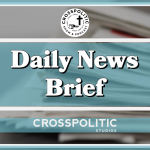 Big news coming out of NY, but we'll get to that in a second.
Good Monday, this is the Chocolate Knox with your Crosspolitic Daily News Brief for Monday July 26th 2021
"In the beautiful town of Moscow, ID, Erber Automotive is looking for Christians to join forces and wage war together on broken cars. Since Adam's fall, cars have been suffering at the hand of the second law of thermodynamics, starting with that very first Eden Model 1 that Adam puttered out of the garden. Paul said that all creation groans, and he'd never even heard a poor car owner on the side of the road with a steaming engine! At Erber Auto, you'll work to make auto repair fun for customers with bouncy castles, motorcycle cruises, and honest service. Most importantly, you'll work alongside Christians to show entropy the Uno reverse card! Erber Auto is looking for service advisors, shop managers, and repair technicians, who are ready to do battle with the forces of evil, or at least metal fatigue. They have 4 positions to fill at competitive salaries. Please send your resume to [email protected]."
Remember you can send us news stories to [email protected] NEWS LIKE THIS…
Center for countering digital hate.
https://252f2edd-1c8b-49f5-9bb2-cb57bb47e4ba.filesusr.com/ugd/f4d9b9_00b2ad56fe524d82b271a75e441cd06c.pdf
Veterans Affairs to mandate COVID vaccine for health care personnel, first such mandate for federal agency
Veterans Affairs Secretary Denis McDonough just today made COVID-19 vaccinations mandatory for all VA health care personnel, the first such mandate by a federal agency.
The mandate includes physicians, dentists, nurses and others who work in patient-facing roles.
The VA said each employee will have eight weeks to be fully vaccinated.
WHITE HOUSE SAYS COVID VACCINATIONS 'PICKING UP' AMID CONCERNS OF DELTA VARIANT
"We're mandating vaccines for Title 38 employees because it's the best way to keep Veterans safe, especially as the Delta variant spreads across the country," McDonough said Monday.
07/21/2021: Lab Alert: Changes to CDC RT-PCR for SARS-CoV-2 Testing
https://www.cdc.gov/csels/dls/locs/2021/07-21-2021-lab-alert-Changes_CDC_RT-PCR_SARS-CoV-2_Testing_1.html
Audience: Individuals Performing COVID-19 Testing
Level: Laboratory Alert
After December 31, 2021, CDC will withdraw the request to the U.S. Food and Drug Administration (FDA) for Emergency Use Authorization (EUA) of the CDC 2019-Novel Coronavirus (2019-nCoV) Real-Time RT-PCR Diagnostic Panel, the assay first introduced in February 2020 for detection of SARS-CoV-2 only. CDC is providing this advance notice for clinical laboratories to have adequate time to select and implement one of the many FDA-authorized alternatives.
In preparation for this change, CDC recommends clinical laboratories and testing sites that have been using the CDC 2019-nCoV RT-PCR assay select and begin their transition to another FDA-authorized COVID-19 test. CDC encourages laboratories to consider adoption of a multiplexed method that can facilitate detection and differentiation of SARS-CoV-2 and influenza viruses. Such assays can facilitate continued testing for both influenza and SARS-CoV-2 and can save both time and resources as we head into influenza season. Laboratories and testing sites should validate and verify their selected assay within their facility before beginning clinical testing.